January 10, 2010 - 6:01am
Hi again. 
I liked the way my stock pot loaves came out last week, so I figured I would try it again. I also wanted to make my loaves with no additional flour which typically gets added during all that dusting for stretch and folds, again for stretch and folds, shaping, whatever. Not that this was really high hydration dough, this is a basic white flour sourdough with hydation of 65%, I just wanted to keep it like that all the way to the bake, and also to completely avoid adding any unfermented flour into the mix.
At the same time, I was trying to reduce the mess that I make in the Missus' kitchen, and I believe I did a pretty good job of that. I try to keep my starter mess to a minimum to begin with, even though I have a nice crock that looks good in her kitchen, it really camoflages a peanut butter jar that I can just toss out and replace if it gets really gunked up.
I made my levain build in a plastic bowl, from which the dough never really left until going into the bannetons. I did my stretch and folds, if you could call it that, in the bowl using a plastic scoop using no flour to dust with at all, scraping down the sides and pulling up and over, to avoid having to flour my hands and the counter top. After two sets of those, I divided the dough in two, again in the bowl, and by then the dough was still tacky but I had been careful to keep the gluten cloak intact, so I was able to shape the boules without any real trouble, then back into the bowl they went for a bench rest. I reshaped them again and they went directly into my bannetons (I did still use my rice flour on the bannetons, I am not crazy). Even though I try always to be stingy with the flour during dusting, it is surprising just how much flour gets incorporated into the dough in the normal course of events, because this is the same recipe I used last week, yet by this point the boules feel quite different from the last time.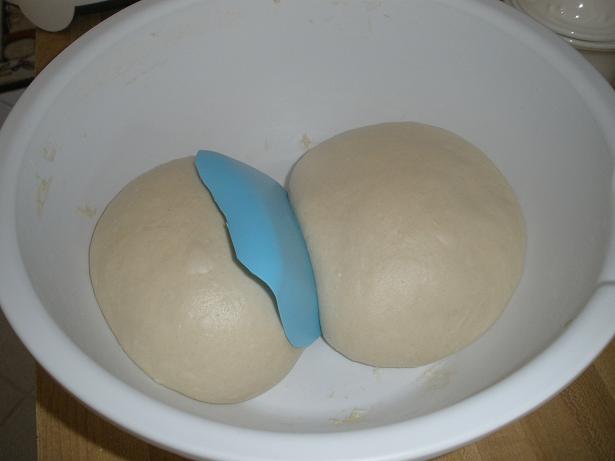 I placed them in the fridge for long overnight retarding, but another thing I did a little differently was that I took the boules out to warm up a little for a couple hours midway through, then put them back in to finish a 15 hour retarding time. I wanted to see a bit more rising activity during the fridge time, which worked out well. They had a really nice sour aroma by the end.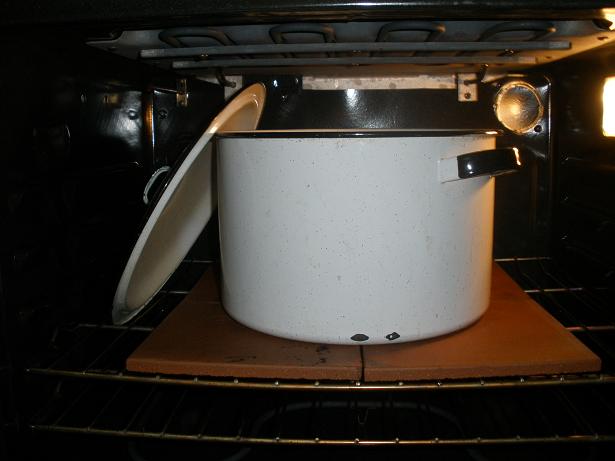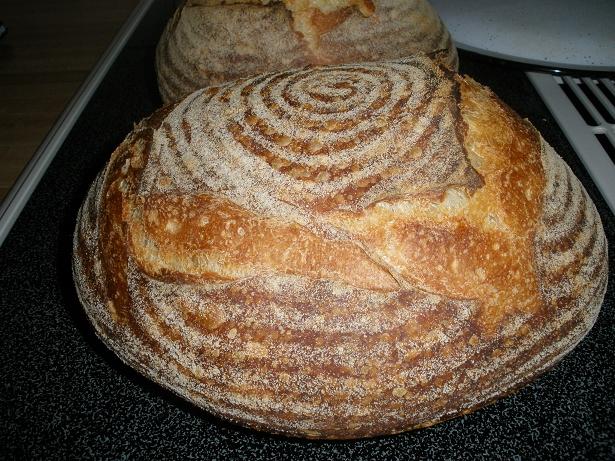 Again I had to bake one at a time in the stock pot, I am thinking this could be done better in an oblong roasting pan, at least I could do two at a time.  I will post a pic of the crumb once they cool and I cut into one. The kitchen smells awsome right now, and it is totally clean!
Here is the recipe I used as requested. 
In large bowl add:
1 oz active starter
4.8 oz flour
6 oz lukewarm water
When the levain shows lots of creases in it (like it was domed and had collapsed recently, this took roughly 14 hours in my house, middle of winter as it is) I added my remaining ingredients:
27 oz flour
14.8 oz lukewarm water
1 Tablespoon salt
Mix with a scoop or spoon just long enough to get the salt mixed in. Cover.
50 minutes later, stretch and fold without dusting with flour.
50 minutes later, repeat
50 minutes later, divide with scoop in bowl, remove each for shaping, again using no flour for dusting, replace in bowl leaving scoop as divider.
Let rest for 10-15 minutes (when they start to droop a little it is time)
Remove each and shape again, place in bannetons prepared with rice flour.
Cover at room temp until showing some signs of rising, then move to fridge.
Retard 6 1/5 hours. Move to room temp for two hours. Retard 6 1/2 hours more.
Remove from fridge. Place tiles or stone in oven, and stock pot & lid.
Preheat to 500 degrees.
When oven reaches temp, uncover first boule, rub some rice flour on top.
Take pot out of oven, careful it is hot, put more rice flour in the bottom.
Invert the banneton into your hand, work it into two hands, and drop it into the pot. I had a razor blade taped to a chopstick and had to reach into the pot and try to do the slashing. Not very elegant, but the best I could do. Cover and bake 20 minutes at 500, uncover and bake 20 more. In order to get the first one out, I used some rather large tongs from my barbeque set. Repeat for the second boule. 
Russ from RI