January 30, 2023 - 10:46am
Sour Rye - Still no crackle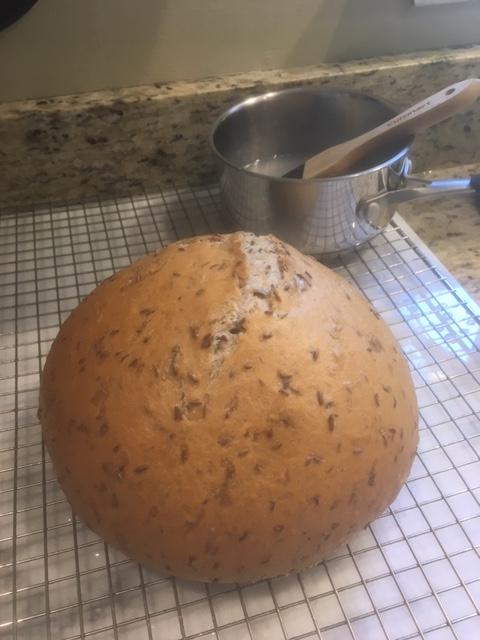 I restarted baking sour rye recently and I'm pretty satisfied with the taste and texture.  I'm trying to get the krinkly ?sp cracked crust and found some posts on achieving it.  Nada, nothing, zero, zilch.  I baked 5 mins in a preheated over at 425 degrees.  I used a 1/4" baking steel at mid height.  On the very lowest rack I have a big cast iron Lodge frying pan to which I had 1/2 cup of boiling water as soon as the loaf goes in the oven.  I have have a round cast iron griddle above the frying pan and below the baking steel to have lots of mass in the oven.  I preheat for 1 hour before baking.
So my regiment is put the round load in the oven and immediately add 1/2 cup of boiling water to the frying pan to produce steam.  After 5 minutes i remove the loaf, dock it, and brush with corn starch mix (1 tsp into 1 cup of water to a boil, then cooled).  My oven has a fan that kicks on every time the heating element fires up, even in CONVENTIONAL mode (not convection), so I have to place a big stainless steel bowl over the loaf to protect it.  I turn the oven down to 400 degrees and bake another 35 minutes.  At the end of bake I remove the stainless steel bowl and let the load remain in the oven with the door slightly ajar.  I did this for 12 mins.  When I removed the loaf, no cracking.  So I brushed with room temp corn starch mix again.
The rye of my youth had tons and tons of cracks, very much like an old worn leather jacket.  The 'units' were 1/2" to maybe 5/8" jagged 'squares'.  I've spoken to the baker who bought the bakery that made the rye of my youth and he says he remembers the rye bread making cracking sounds when removed from the oven.  (It was a HUGE oven, the door was ?8 feet wide) and the baking surfaces were on a conveyor mechanism. The baker would press a button (If I recall correctly) and the door would slide up?/down?  The baker would load the bread (or remove the bread) and press a button.  The next table/surface would advance.  The current baker said the oven had very hot and cold spots and that the previous owner ran one temp.  They baked light sour rye, dark Lithuanian rye, a white sandwich loaf, and then all sorts of sweets like sticky buns, cakes, cupcakes, etc so they baked more than just bread. 
Like many, I'm chasing the bread of my youth since it's not available from that home town bakery nor anywhere else I can seem to find it.  FYI my conjured up recipe...
Altus
91 gr (1 cup pyrex cup filled with old sour rye from the freezer) dumped into mixing bowl
225 gr water at room temp
Mash bread with pastry blender until mushy ... save off.
Bread
300gr Clear
200gr white rye flour
12 gr Morton course Kosher Salt
2 generous TBLsp of vital wheat glutin
3 TBLsp caraway seeds
1 TBLsp IDY
250 gr rye sour @ 150% hydration  (59 degrees- out of fridge for about 3 hours...)
Add the altus to the flour mix and mix in Kitchen Aide classic mixer until dough pulls cleanly from side of bowl.  Knead for ??? 3-4-5 minutes???  Sorry I knead for a bit and didn't keep exact time... First rise 1 hour in warmed, moist microwave,
Deflate, knead 2-3 minutes, form into ball and rise again, 1 hour.
Bake per the above.
Any ideas on getting the crack/krinkle?  Also any other tips are greatly appreciated.
Thanks, Dave K.