January 27, 2010 - 8:15pm
MC's Gerard Rubaud Miche ala Shiao-Ping
I am totally exhausted after packing and cleaning my house for the last three weeks in anticipation of perspective renters coming to look at it on Saturday....I can see the light end of the tunnel with my fingers crossed. One more day of cleaning and then a quick trimming of my sleeping garden and I can get to the real business at hand, taxes, getting a plane ticket, studying French, once again packing and of course, the weekly bread fix!
I want to really thank all the people at FreshLoaf for making this site what it is, a place to learn and exchange ideas about the one thing that brings us all together... the passion for flour, water and salt!
This weeks bread, MC's Gerard Rubaud Miche ala Shiao-Ping is probably the tastiest bread that I have made in my limited baking experience. I used to be a by the book Loafer, but that has all changed since I became aware of the talented baker here at The FreshLoaf and out in the Blogosphere who have expanded my knowledge and comfort zone. The Gerard Rubaud Miche with a whopping 80% hydration had me second guessing myself  the whole time, talk about comfort zone! Will it come together or will it remain the blob that came from the deep lagoon? I have tried several of Shiao-Ping's recent posts, so a wet dough was nothing new and I should of realized it would come together in the end. I followed her basic methodology with a few variations. I used a KA for a quick mix to get the dough into shape for a autolyse and poured it into wood bin to develop the structure with 5 sets of stretch and folds. At this point I thought the dough would yield to a good gentle shaping...but it had other plans! At this point I just laughed...looking down into the bin and said "You want to be difficult do you?" and remained calm. I had to remember that is was 80% hydration after all and to be patient. In the back of my mind I remembered a comment that MC made to Shiao-Ping about the way Gerard treats wet doughs....so I turned out the dough onto a floured surface and did several more gentle full S+Fs at 10' intervals and that was the ticket!  The rest of the process was uneventful, after an overnight rest in the frig., they went into a hot oven with plenty of steam. When they came out of the oven they began to sing and crackle...and oh.... the smells. I watched the crumb shrink as  the loaves cooled and the crackel pattern become more prominent like a crackle glaze pattern on a fine celandine porcelain vase. The taste was nutty, creamy and moist with a slight tang to the mouth. This is definitely one that will become a favorite.
Thank you Gerard, MC and Shiao-Ping for this wonderful bread.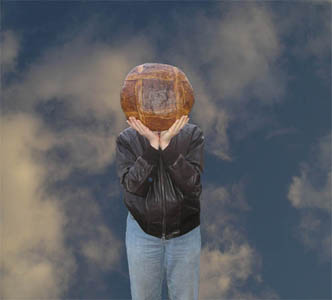 "Heavenly....your bread put my head in the clouds..."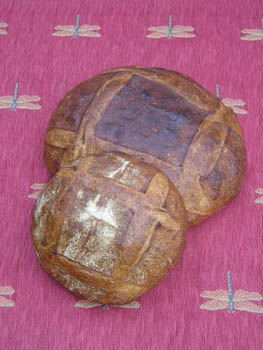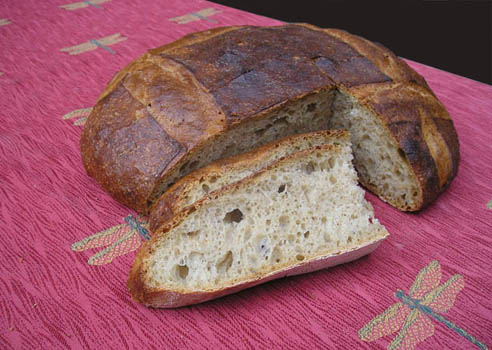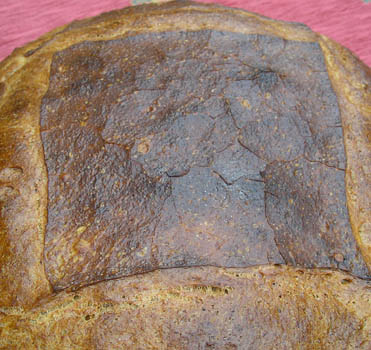 This is being sent to Susan@YeastSpotting