December 24, 2020 - 5:08pm
New? The Struggle is Real.
My message picks up from a challenge posed by a friend in another thread to the whole community here. I hope this message finds you and yours in fine health, peace, and prosperity.
The original challenge was on how to manipulate your recipe to achieve either a tangy or mellow flavor in your loaf.
My friend's recipe called for...
500g flour
350g water
10g salt
I was ultimately unsuccessful because I still struggle with the basics. Tangy or mellow is a secondary consideration to time and temperature.
Time is important because I only have a window of opportunity before work and another window after work.
These "windows of opportunity" are roughly 12 hours apart and last for 2-4 hours each. And then I have to go do something else: Like sleep. Or work.
Temperature is important because warmer speeds things up, colder slows them down.
Time and temperature are essential ingredients. They are just as important as the flour, water, salt, and  yeast.
This thread documents my struggle with something as mundane as baking a decent first loaf.
One thing I did learn in joining a "challenge" is to avoid posting into a thread with the word "community" in it until you bake that first loaf. Experienced bakers tend to frown on that.
Baking that first loaf is just as valid a struggle as baking the perfect ciabatta. If you look, you can find threads that exceed 2,000 posts on a single bread! That's the caliber of baker you will find at The Fresh Loaf.
Me? I'm still struggling with baker's math and putting a photo in my post. I think I have the photo part down, at least.
Here's a shot of the levain I made for tonight's bake. Getting past the photo-posting, wrestling with arithmetic (and failing), and considering the comments from the creator of the Tangy/Mellow Challenge thread - while not losing my temper or causing him to lose his - made me too late for a bake tonight.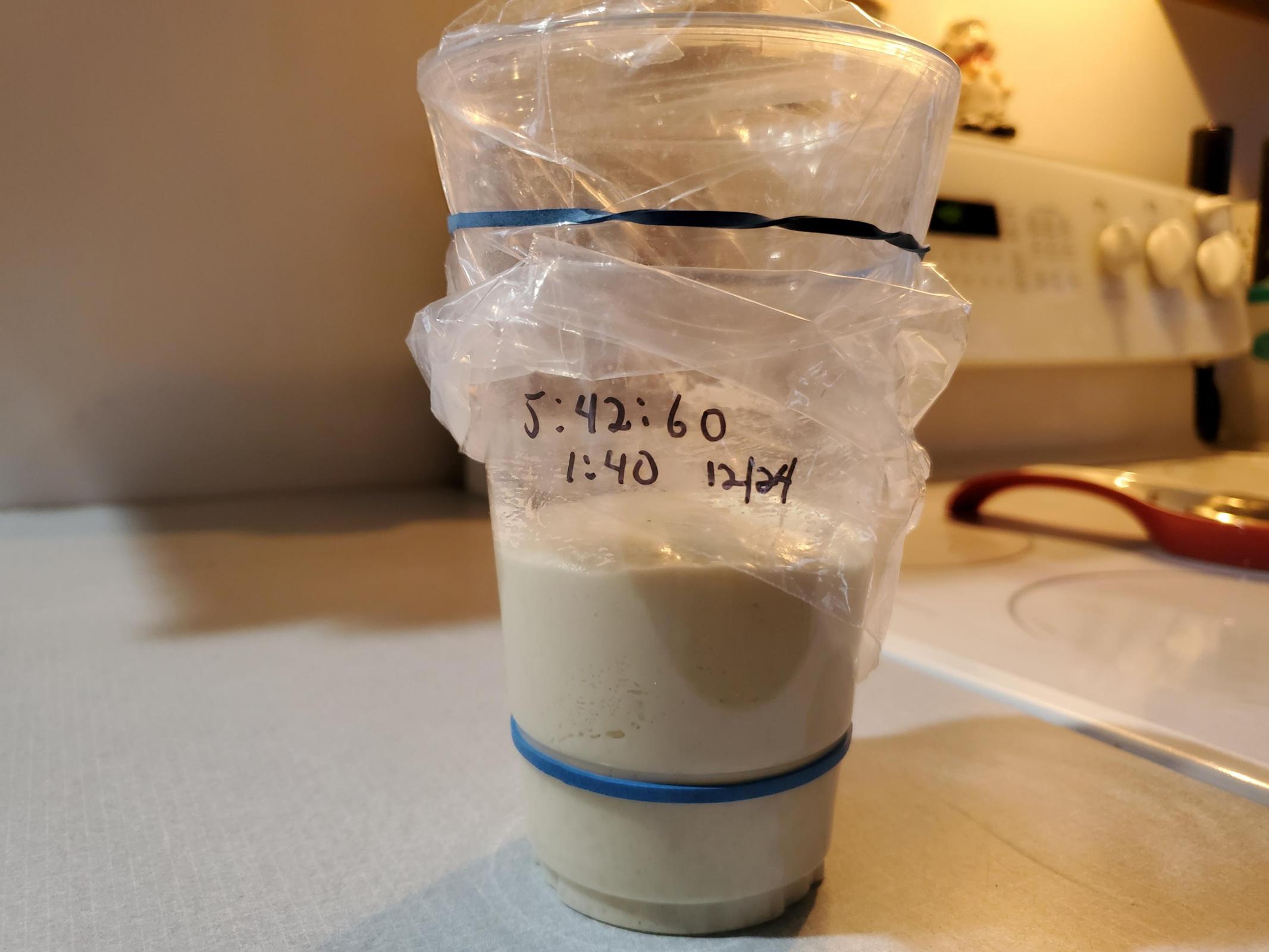 I spun this up at 1:40 this morning. It's 4:00 in the afternoon when I took the photo. It will triple if I let it. (It did. I got 3.5x before it started falling. It's in the refrigerator now.)
This levain is 5g starter, 42g bottled water, 60g Bob's Red Mill Bread Flour.
I'm going to use 90g of it to levain the Tangy/Mellow dough.
I tried to get as close as I could to accounting for the flour and water in the levain so I could perfectly match that Tangy/Mellow recipe hydration.
The starter that created this levain is 85% hydration with a total weight of 107g. It is 3g:42g:60g (seed:water:flour). I struggled to account for the flour in the 5g of starter that went into the levain.
Long story short, my (incorrect) recipe for the Tangy/Mellow recipe is...
90g levain
450g flour
315g water
10g salt
And then whatever happens next... I'll find out.
New bakers are encouraged to post their struggles here. I won't bite. Maybe I can help, maybe somebody else will jump in. This hobby is pretty interesting, though!
Don't think, bake!
Murph