Community Bake - Pt2 The Bread - Hamelman's Swiss Farmhouse
Swiss Farmhouse YW
by Jeffrey Hamelman
Jeffrey Hamelman has given us permission to post his copyrighted formula and instructions.  The Swiss Farmhouse bread is taken from his book, BREAD: A Baker's Book of Techniques and Recipes (second edition), by Jeffrey Hamelman. Copyright 2013. Published by John Wiley & Sons. If you don't own this book, it is an all time favorite on TFL and definitely one to consider.
The actual bake was scheduled for Friday, August 6, but some of the bakers already have their YW ready to go.
If you need to make a Yeast Water (YW) and have never done so before, have no fear. It is super simple to make. MUCH EASIER than a sourdough starter. If you are not a sourdough baker, this is a great way to start the learning process. See THIS LINK for full instructions and help.
NOTE - the Total Dough weight was set to 1000 grams for easy recalculation. Suppose you wanted to bake a 750g loaf. You would multiply each ingredient by .75 to get the correct amount. Or, let's say you want to make two 750g loaves. Simply multiply each ingredient by 1.50 (750 + 750 = 1500). 1500 is 1 & 1/2 (1.5) times larger than 1000. If anyone needs help with this or anything else let us know. We are all here to help. Novice bakers are especially welcomed in all of out Bakes. Learning from, and sharing with others is the reason for our Community Bakes.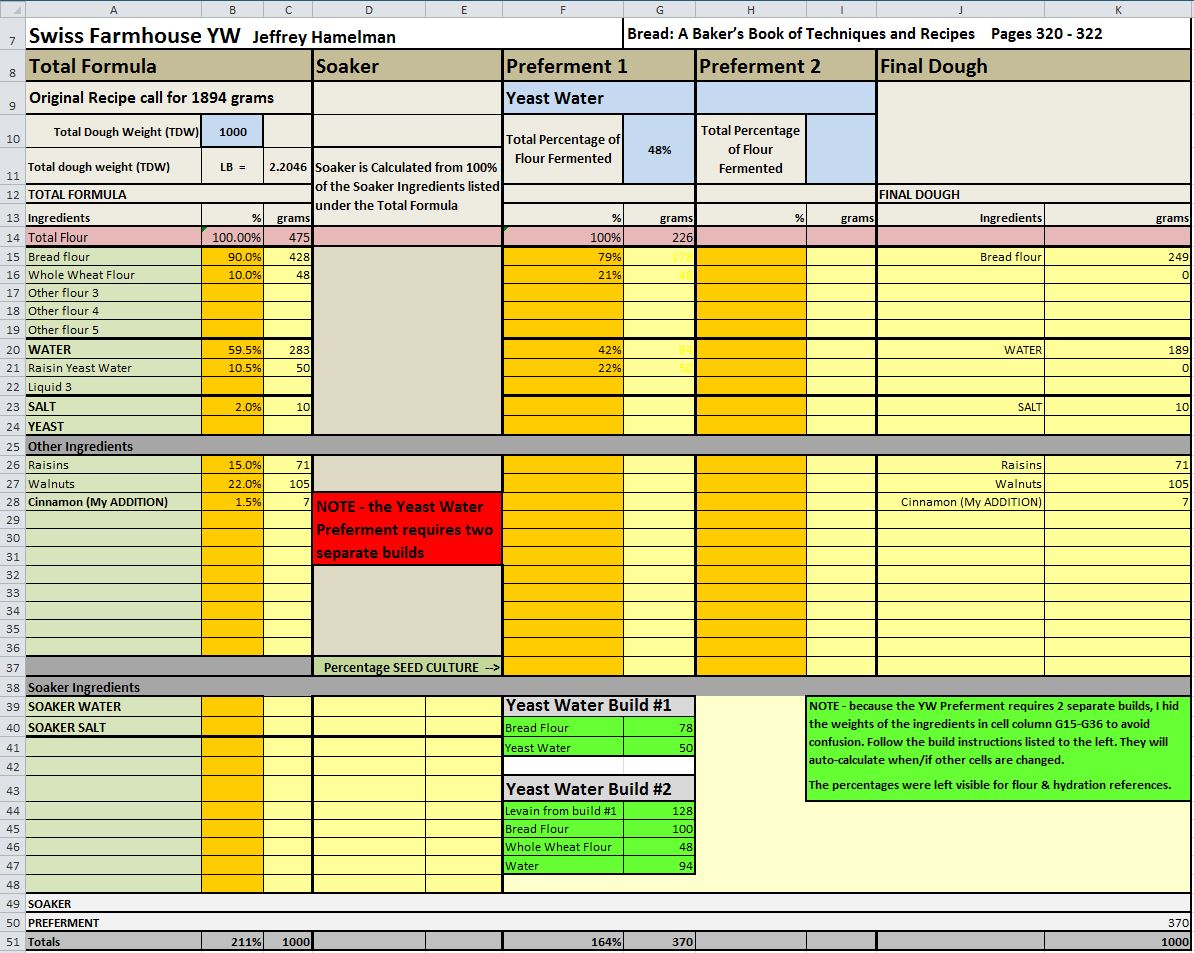 Here is a reply I got from Jeffrey concerning the proper type of flour. "Bread flour is the term the Bread Bakers Guild uses for flour with a protein content of about 11.5 to 11.8. Unfortunately this is also what most people refer to as all purpose."
1.    Prepare Raisin Yeast Water   --- 5 to 6 days before the bake, soak the raisins (organic raisins are recommended) in water. Cover and leave at warm room temperature (75-80F). White mold normally begins to cover the surface of the raisins, an indication that the liquid is ready. Once the ferment starts to actively bubble, it should be ready.
2.    Build #1   --- Discard the spent raisins and measure the required amount of juice, add flour and mix to incorporate. Lightly cover and leave at room temperature for 6-8 hours, until well risen. NOTE – you can keep the remaining YW to refeed and perpetuate. Give the YW another handful of raisins for food and refrigerate.
3.    Build #2   --- Add water for second build to the first, then mix to incorporate. Incorporate the bread flour and the whole wheat flour into the mix. Lightly cover and leave to ripen for 12-14 hours until fully doomed. Note – if the room is too warn and/or humid you may retard the preferment a couple of hours or so to slow things done. The important thing to achieve is a fully risen and doomed preferment.
4.    Mixing--- Add all ingredients to the mixing bowl, except the walnuts and raisins. Mix until the gluten has attained moderate development. After mix in the nuts and raisins at slow speed until evenly incorporated. Desired dough temperature (DDT): 76F.
5.    Bulk Ferment   --- Ferment at room temperature (~76-78F) for 2 ½ to 3 hours.
6.    Folding   --- Fold the dough half way through the bulk fermentation.
7.    Dividing & Shaping   --- Divide, preshape, and shape the dough. Cover the dough to prevent drying.
8.    Final Fermentation   --- Ferment 1 ½ - 2 hours @ 76F.
9.    Baking   --- Slash dough and load into a preheated and steamed oven set to 450F. After 15 minutes lower oven to 430F to avoid excess darkening due to the raisins. Loaves scaled to 1 ½ pound will bake in approximately 36 minutes.