December 22, 2017 - 6:18am
I'm desperate to learn why my starter will not rise past 8 hours.
I am desperate to learn why my starter will not rise past 8 hours. I started a post a week or so ago dealing with this same issue. http://www.thefreshloaf.com/node/54588/how-can-i-increase-time-between-feeding-starter
But I thought maybe the waters got too cloudy, so it might be best to start a new post. Instead of reading through the many and informative comments, I thought it best to condense it here. I'd like to take this time to thank all of the TFL users that posted comments to the prior post. I tried each and everyone of them. Stirring, singing, you name it. ;-) The image below tells most of the story. I ran in excess of a dozen test. My starter shuts down after 8 hours. You could almost set your watch by it. One of the most productive suggestions came from Mariana. She told me to thoroughly knead the starter in order to develop the gluten. And after a complete kneading I did experience a 3 - 3 1/2 time growth (see image below). But after 8 hours all activity ceased.
Some will ask, "why does it matter if the starter quits growing after 8 hours. What more could you want with a 3 times or more expansion"? I don't want to feed my starter 3 times a day. Twice is way plenty enough for me. I often cold retard my levain overnight, so for 4 or so of the 12 hours the levain will probably cease to rise.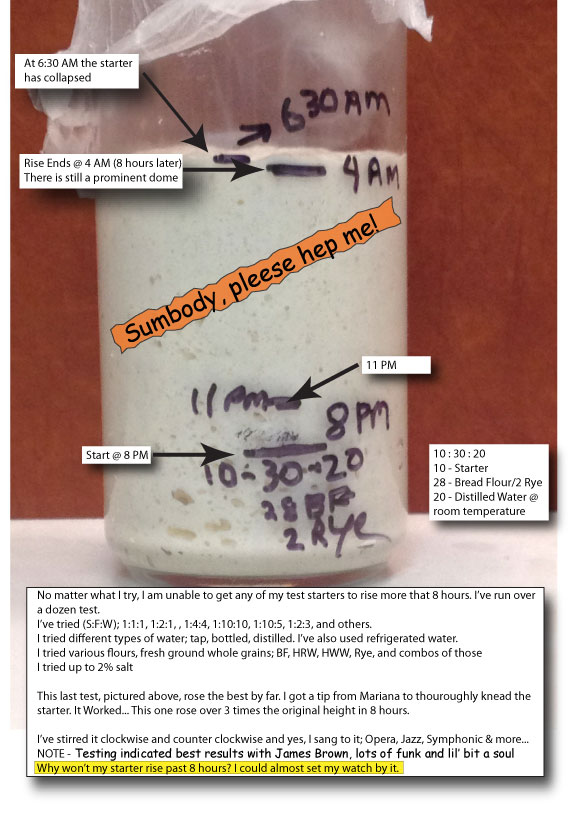 Any help is GREATLY appreciated,
Dan