December 16, 2017 - 6:22am
How can I increase the time between feeding starter
How can I increase the time between feeding starter? I've been watching BreadBabies "Reverse Tutorial" post and became inquisitive about my starter. So I performed a test using 4 different types of starter mixes.
5-10-10 Ground Whole Rye
5-50-50 Ground Hard White Wheat with 1 Salt - Abe's Recipe - (The Salt didn't seem to make a difference)
10-25-50 Mix of 40 Bread Flour and 10 Ground Whole Rye - Abe's idea - (54.5% Hydration)
10-100-100 Bread Flour mix

I place all 4 of the sealed test bottles in a Brod and Taylor proofer and set the temperature to 76° The shots below are taken at beginning of test and then the bottles are marked 8 hours later. In all cases when I came back to record the progress at 11 hours, none of them had risen any more. Actually, I checked the starters after 8 hours (@ 4 AM) and marked the bottles, but the actual photos weren't taken until 11 hours later. I looked closely to see if the starters had risen more and then receded but I could find no indication of that.
Why did all 4 starters maximize the rise @ 8 hours even though the mix was very different and the flours varied?
How can I extend the time between feedings?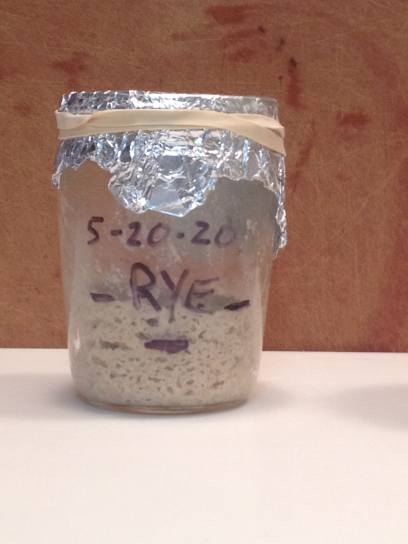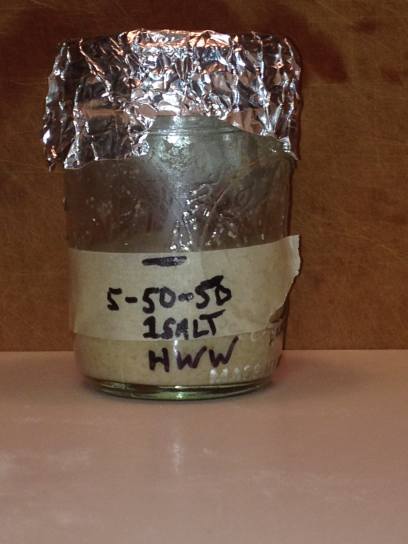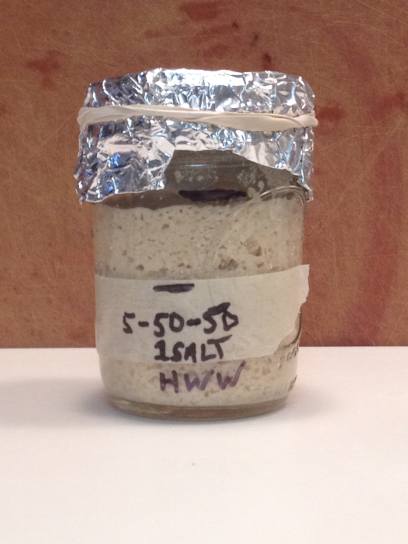 Do you think the starter below is the most powerful. At 55% hydration it was able to over double in 8 hours. Lifting the heavy weight should have been more difficult than the others. By-the-way, I kneaded this into a ball but pushed it flat inside the bottle for testing accuracy.
Update; I noticed in the image below that I showed starter : water : flour I believe the convention on the TFL is starter : flour : water. I get confused because I see it listed different wayes on different sites. Too bad Bread bakers couldn't get on the same page concerning all things bread. Including baker's percentage.