SFBI Miche - another variation - and a SFBI Sourdough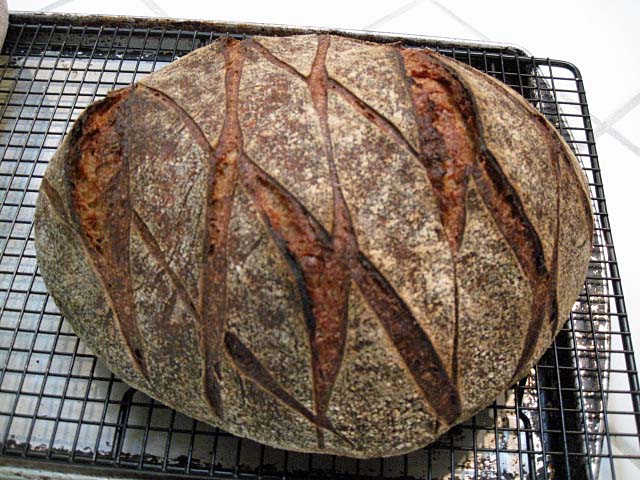 This weekend, I baked another miche using the formula from the SFBI Artisan II workshop I attended last December. The SFBI formula and method can be found in my previous blog entry: This miche is a hit!
I amended the formula and methods as follows: For this bake, I used my usual sourdough feeding mix of 70% AP, 20% WW and 10% dark rye for the levain. The Final Dough was mixed with about 1/3 Central Milling "Organic Type-85 malted" flour and 2/3 WFM Organic AP, which is also a Central Milling flour. The SFBI method does not include an autolyse, but I did one. (Mixed the water, liquid levain, toasted wheat germ and flour and autolysed for an hour. Then mixed in the salt and proceeded.)
The bread flavor was the best yet, to my taste. I tasted it about 18 hours after baking. I had left it on the counter, wrapped in baker's linen overnight before slicing. This is the sourest miche I've baked. I like the sour tang and the flavor of the flour mix I used a lot.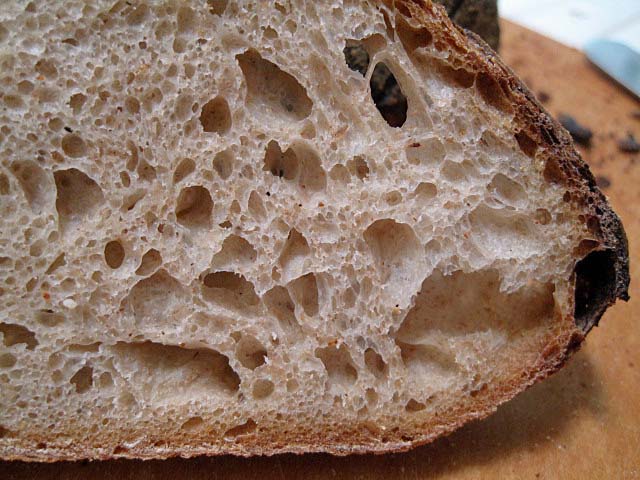 SFBI Miche crumb
I also baked a couple loaves of one of the sourdoughs we made at the SFBI workshop. This one uses a firm levain fed at 12 hour intervals at 40% (by levain weight) of the final dough flour weight. After last week's trial of different methods of forming bâtards, I wanted to try the method portrayed in the KAF videos ( See Shaping) I think this method will become my method of choice.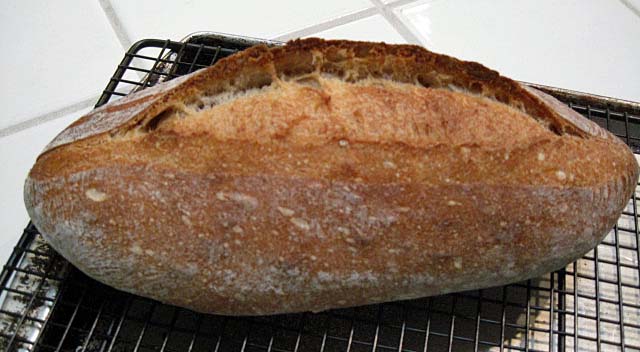 The other loaf, which had an essentially identical appearance, was gifted to a neighbor before I took the photos.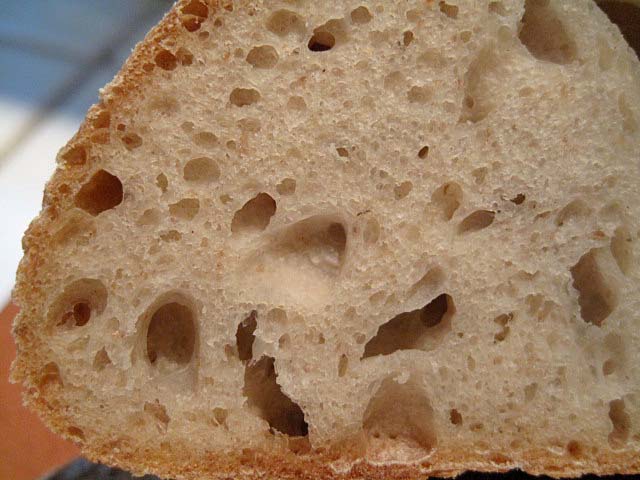 SFBI "Sourdough with 2 feedings and 40% levain" crumb
This bread is meant to be a French-style pain au levain with little sour flavor. My wife's assessment sums it up pretty well: "It's just good bread."
Happy baking!
David