Hello,
I tried making sourdough semolina this weekend, after getting some pointers and help from Franko (Thanks, Franko!).

I mixed up a batch of dough, enough to make 4 big loaves, and was happy to have this opportunity to practice scoring.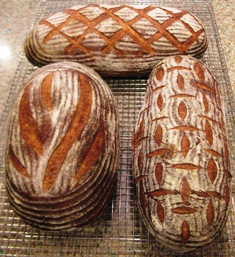 The scoring on the top loaf was on a whim, wanting to see how diamond scoring would look on a batard.
The scoring on the left loaf was inspired by something I saw on The Back Home Bakery's video, "Three Breads from Start to Finish" (0:57 mark). I am grateful for all of the helpful information in Mark's videos, including the batard shaping in this one (Thanks, Mark!). 
The scoring on the right loaf was on another whim, trying for "basketweave" scoring (thinking of Easter baskets this weekend!).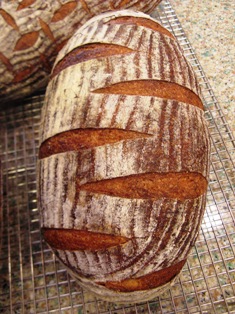 The shaping on this loaf was an attempt at an "Easter egg" shape.
The scoring was to try to replicate something I saw in the second photo David shared in his post about his
Artisan II class at SFBI (the small, dark oval loaf, at front, second from left). The cuts on the SFBI loaf opened up so beautifully; I hope to try this one again, to get a result more like the SFBI loaf.
There are a wealth of scoring ideas in that post of David's. (Thanks, David!)

Happy baking everyone,
from breadsong