January 26, 2011 - 3:17pm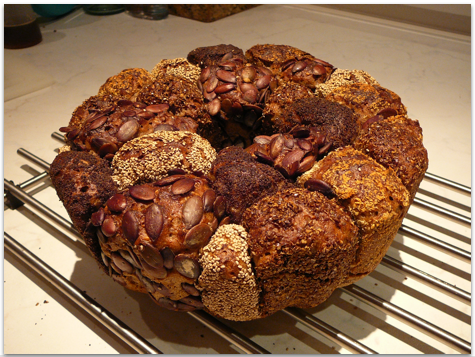 Seeds everywhere!  Lots of seeds!  Seeds in the dough seeds around the dough.  Seeds, seeds, seeds!  A few nuts too and my favorite flours, Rye and Spelt.   Lots of fibre! 
DOUGH    in order:
170g rye sourdough starter 100% hydration
600g water at about 20°C  (68°F)    Stir until starter is well dispersed
70g dried walnut rye sourdough altus crumbs
5g bread spices (blend of crushed coriander, caraway, fennel)
100g spelt flour
600g rye flour
       Mix until all flour is wet, cover and set aside for about 2 hours.  Then add:
13.5g salt
70g hemp seeds
8g roasted sesame seeds (1 tbs)
good handful sunflower seeds
a good handful of crushed poppy seeds 
Work everything in well and let it rest covered 2 hours (22°C)
Here is where things got hung up... getting ready to shape the loaf... didn't like the last loaf shape in the last bake...  Had a couple of hours to think this out so I started debating with myself what other seeds variations I wanted in the loaf, what shape or form to use, banneton or no banneton, clay baker or free form.  I wanted seeds on the outside, liked the way chia seeds made a sort of support on the outside crust and then again, I wanted something interesting going on too.   Ready for a change...  approx. 1650g of dough or too much for a 9x5x4 bread tin.
Staring at a fresh bag of crushed flax and having just had potato flakes on my mind, what if?  What if I rolled the dough in mixed seeds?  What if I rolled them in seeds and piled them up inside my woks to bake?  Would the dough support itself better as smaller dough pieces?  Or would it go flat?  It likes to go flat.  Unmixed seeds?  Testing seed covers?  Little blobs of dough in different colors piled up on each other?  This was beginning to sound like a "monkey bread."  Then I could see rolling balls of rye dough (or dropping globs of wet cement) falling into bowls of various seeds, rolling around and stacking themselves up to make a loaf.  Might prove interesting...  or one big mess.   Will the bread balls separate or allow for slicing?  Mmmm.
Unlike the overly sweet sticky monkey bread, this is the savory version:  Seedy Nutty Monkey Rye
It is actually quite easy with two large wet soup spoons!  Once covered, the dough balls are easy to place and move around.
Drop large spoonfuls of dough (about the size of an egg) into soup bowls with about 1cm deep
crushed poppy seed (dark gray/black)
crushed flax seed (brown with shiny specks)
whole green pumpkin seeds (they turn a beautiful chestnut brown)
chia seeds (light gray)
potato flakes (turn dull brown) 
Arrange into a buttered bundt pan (or a pullman pan) cover and allow to rise 3-4 hours.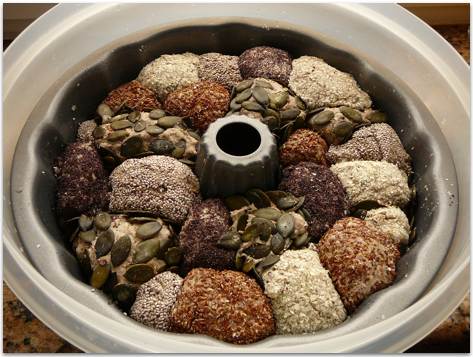 I actually used a poke test!  Amazing!  I first steamed the bundt pan inside two woks, one inverted over the other.
Preheat the oven with one wok (2 cm of water inside) to 225°C using the fan setting. 
Place the filled bundt pan inside, cover and steam bake 30 minutes, then remove from oven, quickly take out bundt pan with loaf returning it to the oven to brown and finish baking at 200°C using upper & lower heat setting.  Done when inside loaf temp reaches 96°C and it has rich brown color.   Place rack onto bread and invert.  Remove pan and allow to cool.  Bag overnight.  Cut the next day.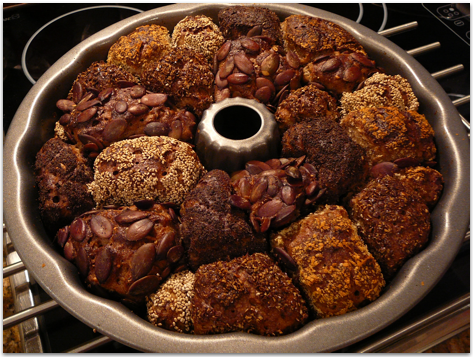 I don't know which side of the loaf should be up, the top or the bottom.  I started out calling it monkey bread.  When it landed on its rack it had mutated into turtle shell bread.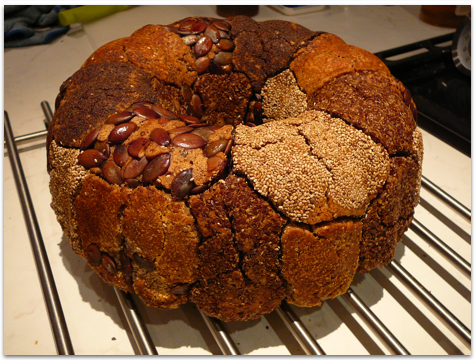 And now for the crumb shots.   An interesting thing happened and it shouldn't be of any surprise... but the coatings that absorb the most amount of water, tend to create the separating problems in the crumb.  The oil containing seeds seem to let the rye dough pass around them to join with neighboring dough balls.  Potato flakes and chia seeds seemed to create natural seams  .  This might be corrected if sprayed with water while arranging.  I could still cut off 1cm slices nicely but to cut .5cm  led some sections to separate. 
The bread tastes like a vollkorn should (yum!) and has an enjoyable bite and flavor that lingers.  We've been eating from it and have not yet spread anything on it.  It is not dry.  Still waiting on the sunshine but as the snow is beginning to fall again...  I'll post what I have.  I used a sharp knife to first cut the loaf in half and then the electric slicer.  Chia was a knife deterrent with its thin tight shell on the crust.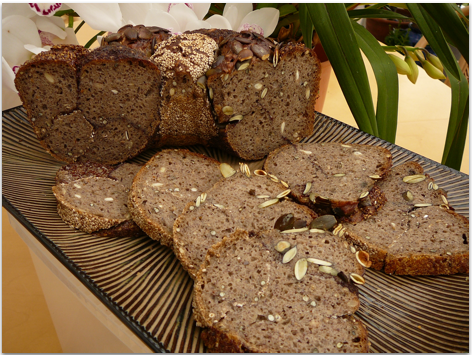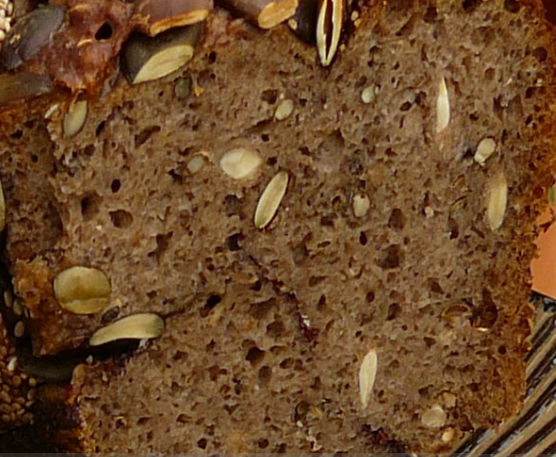 Not too patch work like inside.  Some interesting lines between the sections that run together.  Crumb looks very consistant.