More on scoring, ears and bloom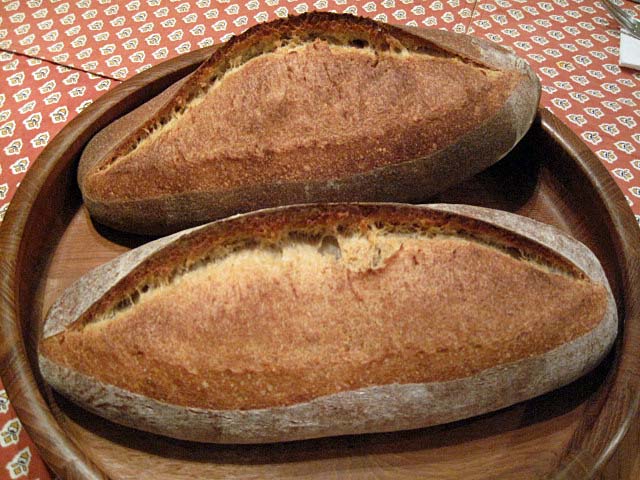 These are a couple of 755 gm bâtards of Hamelman's Pain au Levain I baked today. I think they illustrate the points made recently in discussions of scoring, ears and bloom, for example in Varda's topic To ear or not to ear.
To quote Michel Suas from Advanced Bread and Pastry again,
If the angle is not achieved and the cut is done with the blade vertical to the loaf, the two sides of the dough will spread very quickly during oven spring and expose an enormous surface area to the heat. The crust will begin to form too soon - sometimes before the end of oven spring - penalizing the development of the bread. If the cut is properly horizontal, the sides of the loaf will spread slower. The layer of dough created by the incision will partially and temporarily protect the surface from the heat and encourage a better oven spring and development. (Suas, pg. 116.)
These loaves were scored with a razor blade mounted on a metal lame. The blade was held at a 30º angle. The cuts were about 1/2 inch deep. I think the coloration of the bloom attests to the slow spread to which Suas refers.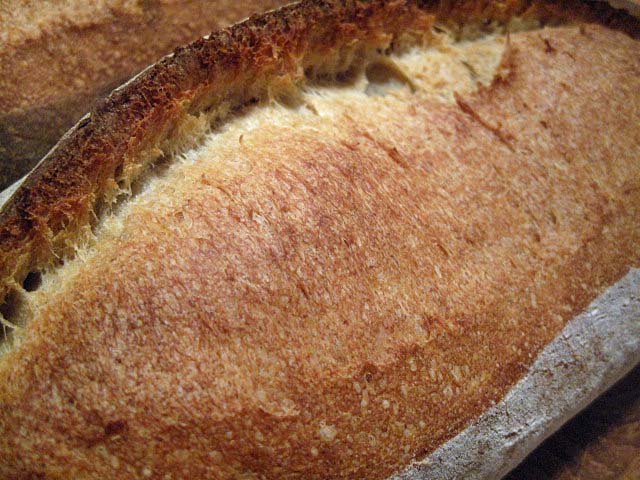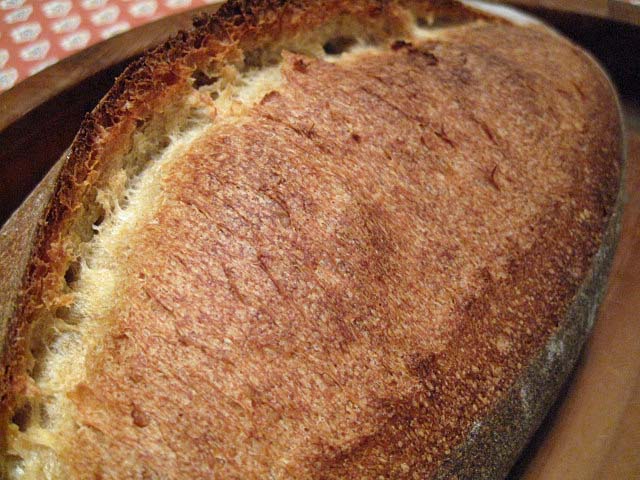 I think you can clearly see three distinct colors in the bloomed crust, progressively lighter in color from right to left, with the lightest color being that under the ear. As the cut opens up during the bake, it does so slowly over a prolonged period. The darkness of the bloom demonstrates the length of time each area was directly exposed to the oven's heat. The ear keeps the area under it sheltered from the heat so it doesn't form a crust, but, as the bloom widens, the previously sheltered area becomes uncovered by the ear, and it begins to brown.
Scoring with the blade perpendicular to the loaf surface thus results in less bloom, and the blooming is terminated sooner in the bake. The coloration of the bloom is more uniform. An example - a Vermont Sourdough I also baked today: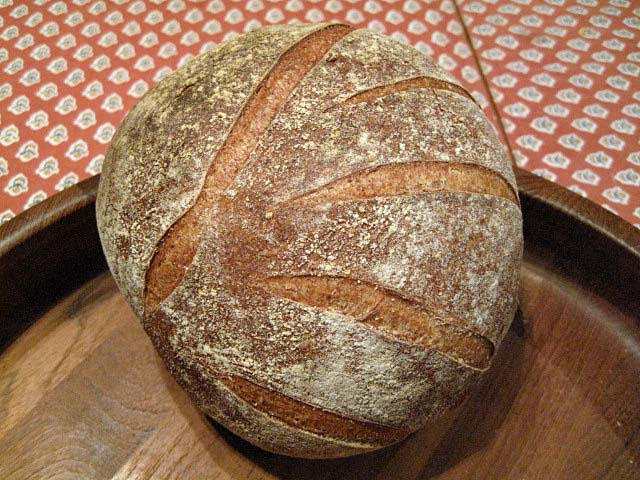 I hope this helps clarify the point of the ear - how you get it and why you might want to.
David
Submitted to YeastSpotting