February 19, 2010 - 10:35pm
Hansjoakim's Favorite 70% Sourdough Rye: My second baking
Hansjoakim described this gorgeous rye bread in his blog last Fall, and I made Hansjoakim's Favorite 70% Sourdough Rye myself in September. I made it again today, inspired by the delicious-looking ryes Mini and Eric have showed us recently.
This time, I made a few changes: I used KAF First Clear flour rather than AP flour. I mixed the dough a bit longer (6 minutes). And I proofed the loaf seam-side down in the brotform, expecting the folds to open up during baking. As you can see, I must have sealed the loaf too well and, perhaps, proofed it too long. The result was an intact loaf with no bursting at all. And I got pretty good oven spring, too. Sometimes you can't get those attractive "imperfections," even when you try for them.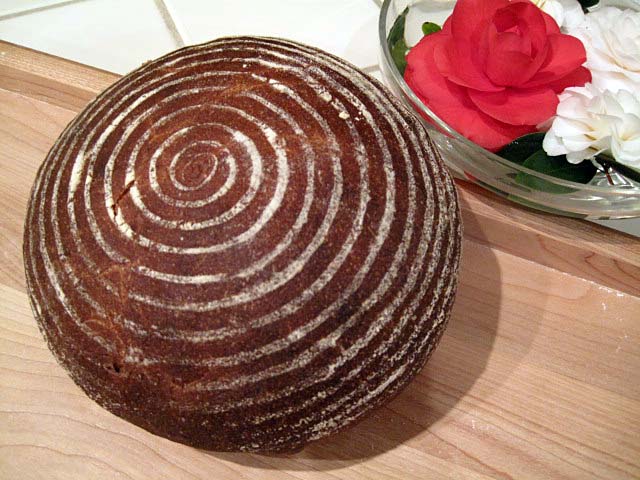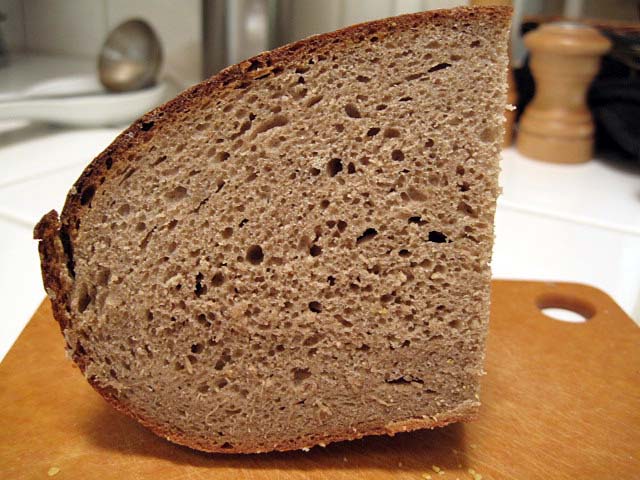 The crust was pleasantly chewy. The aroma of the cut bread was earthy-rye with a definite subtle sourness. The crumb was moist and tender. The flavor was earthy-sweet. It was wonderful, thinly sliced with cream cheese and smoked salmon for breakfast. It was also good open-faced with a bit of mayo and smoked turkey breast, accompanied by a bowl of lentil soup, for lunch.
David