September 9, 2009 - 4:30am
Sourdough rye and sourdough rye with walnuts
The cover of "Bread" and plate 21 "Assorted Rye Breads from Chapter 6" depict a delicious, rustic looking rye bread that's not slashed. I love the look of this dark, "lava rock" with deep fissures running in random lines along the top of the bread. I wanted to bake a loaf with similar cracks on top, so I prepared the dough for my favourite 70% rye. I'm using medium rye flour, and pre-ferment half of the rye in a sourdough. The remaining 30% is AP flour. I do not put any commercial yeast in this one, so it's important that the rye sourdough is ripe before mixing the final dough. I try to keep this one pretty wet, and usually aim for a hydration around 75%. I mix it very gently in the mixer, approx. 3 mins. on 1st speed followed by 1.5 mins. to 2 mins. on 2nd speed. The dough has some strength to it, although it's more like a thick paste than a "proper" dough at this stage.
Without commercial yeast, I've found 1hr. bulk and 2 hr. final proof to work well for this dough. You know your sour best, however, so these times might be too long or too short for your culture. So: Poke before loading :)
To get the fissures on top, I did the final proof with the seam side down in the brotform. Here's the dough just after final shaping: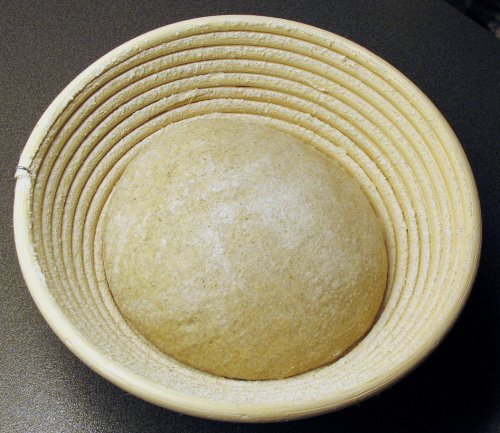 And here are two snaps of the final loaf after 60 mins. in the oven - first 15 mins @ 250dC then 45 mins at temperature gradually falling to 205dC.
I really like the way the loaf turned out. There's some rustic, unique look to it that I love. As I mentioned, this is probably my favourite rye formula as well - a very simple recipe that has a clean taste and a notable sour due to the longer proofing time, and a loaf that keeps very well with the relatively high hydration. It's a bit tricky to work with, but the crumb and flavour make it worth the extra effort.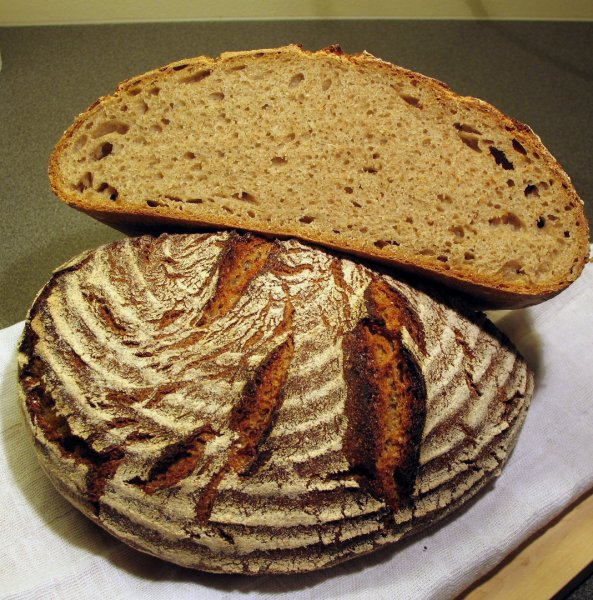 Added Sep. 13th:
Craving more, yesterday I baked the sourdough rye with walnuts from "Bread". This is a 50% whole-rye flour recipe with a substantial amount of walnuts - the walnuts weigh in at 25% of the overall flour weight. I had some lovely chevre already in the fridge, so there was really no excuse not to bake the walnut rye. Five minutes prior to mixing, however, I realised that I was just slightly short on walnuts. I added some pine nuts to get the desired 25% weight. The nuts were lightly toasted, and I followed the procedure for the 70% rye loaf above: a) AP flour instead of high-gluten flour, b) made away with the commercial yeast and increased final proof to 2 hrs., and c) increased the overall hydration from 68% to 75%. Initially I thought 68% would be terribly dry for this kind of dough, so I aimed at 72% at first. Even that didn't cut it, so I gradually mixed in more water until I reached 75% hydration and the desired stickiness. Once again, baked seams side up: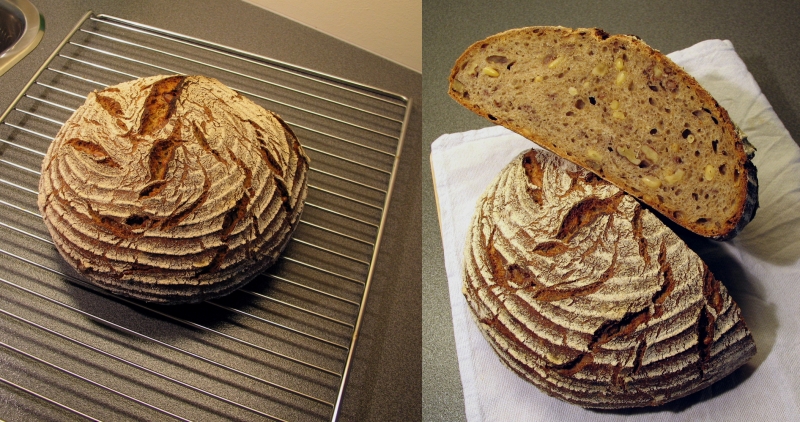 The crumb was nice and tender, and the whole-rye flour provides a more notable rye taste than if medium rye would've been used.