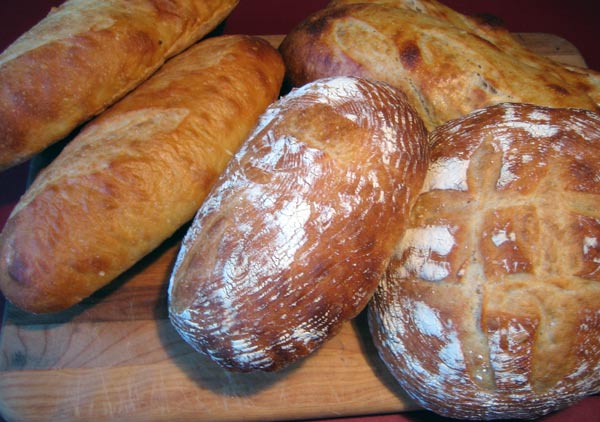 I've been baking something along the lines of what Americans call French Bread (a simple bread containing flour, salt, yeast, and water baked directly on a hearth or baking stone) almost every weekend for over a year now. Sometimes I bake more than one batch a weekend.
Over these 50 or 60 batches of bread there has been consistent improvement in the quality of my breads. Certainly there have been failures but, without question, I've gotten a lot better. Compare the tightness of the crumb of the breads I baked in my early lessons with the openness of my recent loaves. Much closer to what French Bread is supposed to be.
Through trial-and-error, by reading a lot of good baking books, and through numerous discussions with folks on this site I've learned a number of things worth passing on to other folks who want to try making artisan bread at home. Most of these rules hold true whether you are trying to bake pain sur poolish, pain de campagne, Ciabatta, or a rustic bread by any other name. Keep these tips in mind and bake regularly and you'll be making top notch artisan breads (whatever you want to call them) in no time.
Without further ado, the list:

Ten Tips For Better French Bread
Lesson Five: Ten Tips for Better French Bread