September 24, 2020 - 2:48am
Dough rising too much before going in the oven?
I've picked up sourdough baking since lockdown and have had some great loaves and some not great loaves. Recently I changed my method to include an overnight proof in the fridge which ended up with two great loaves, then the most recent one turned out a bit odd.
Recipe:
350g flour (315g strong white bread flour, 35g wholeweat flour)
275g water
70g starter
7g salt
Method (loosely based on Chad Robertson's method from his Tartine book):
- Fed starter 1:1:1 in the morning around 9am
- At around 1.45pm when starter had more than doubled, mixed with water and flour and autolyse for 40 mins
- At around 2.30pm mixed in salt and started the bulk ferment for around 5hrs with a stretch & fold every 30 mins. I kept the dough in a makeshift proofing box (my oven with a small bowl of boiling water) during the ferment.
- At around 7pm the dough was very light and aerated, had increased in size (maybe doubled?) so I took it out for the preshape and 20 mins bench rest. During the bench rest the dough did spread out quite significantly, although it did maintain reasonably rounded edges.
- The final shape didn't got too well, the dough was slightly sliding off itself as I was shaping it and I accidentally tore the surface as I was rolling it into a batard.
- Put the dough into a oval banneton and into the fridge for an overnight final rise (about 12.5 hrs)
- Baked the next morning around 9am at 250°C in a dutch oven for 23mins with lid on and 23 mins with lid off at 230°C.
My issue is that I think the dough rose quite significantly during both the bulk ferment and the final rise, which seems like it may have affected the oven spring? (Although I'm sure the shoddy shaping didn't help). As you can see from the pic the loaf has no ear. It also hasn't maintained its shape particularly well, I did notice that the dough was spreading out quite quickly as I was scoring it before going in the oven. I haven't sliced it open yet but I think the crumb will be fine as it's risen quite significantly during the fermentation stage. Should I be reducing the bulk ferment / final rise time to improve the oven spring? Was thinking about trying this method again but maybe dropping the hydration a bit. Any tips greatly appreciated, thanks!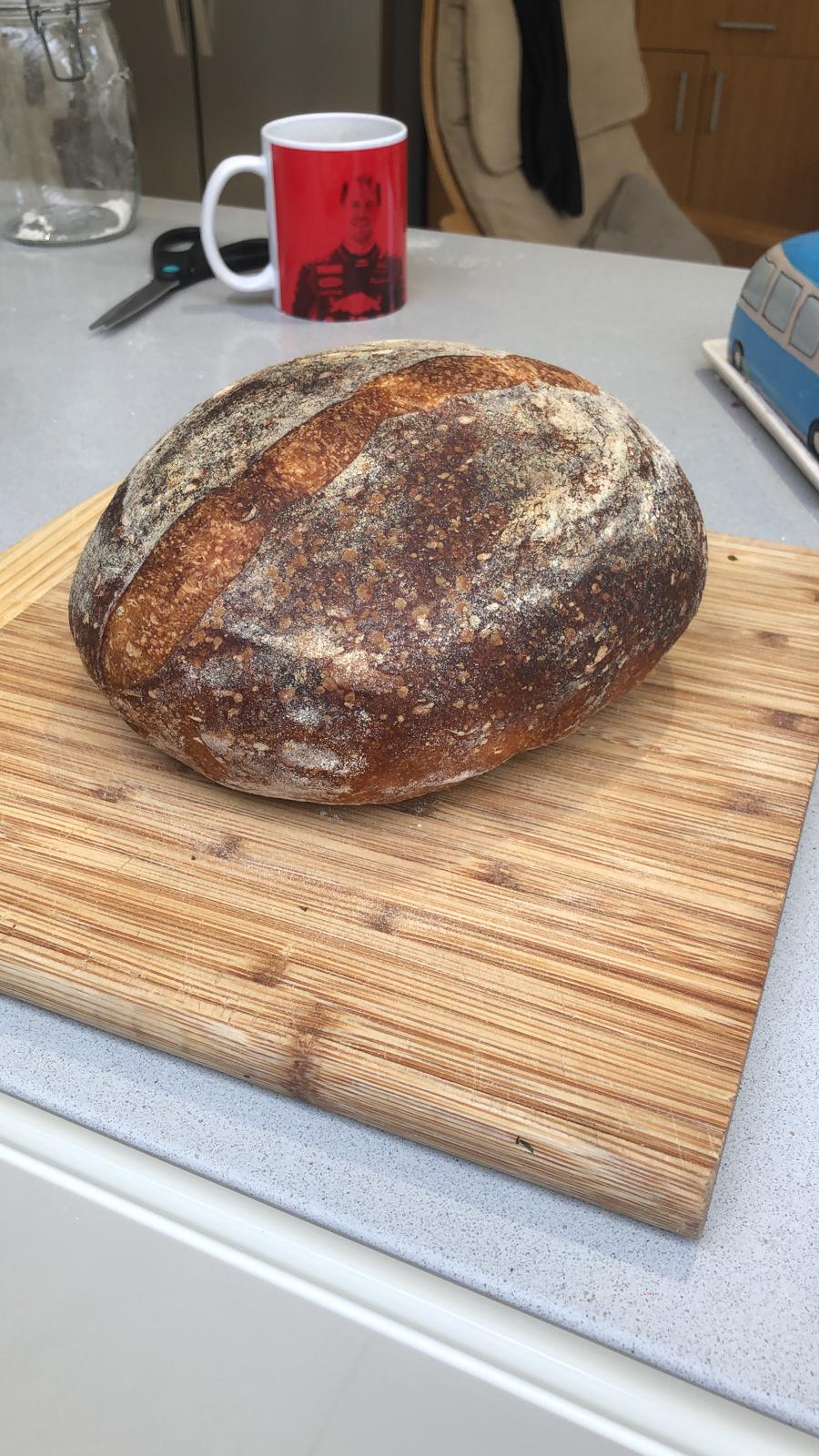 Update: just sliced into it and the crumb seems alright? Quite even and it's really airy and light