FWSY Walnut Levain - SUCCESS...THANK YOU, GUYS!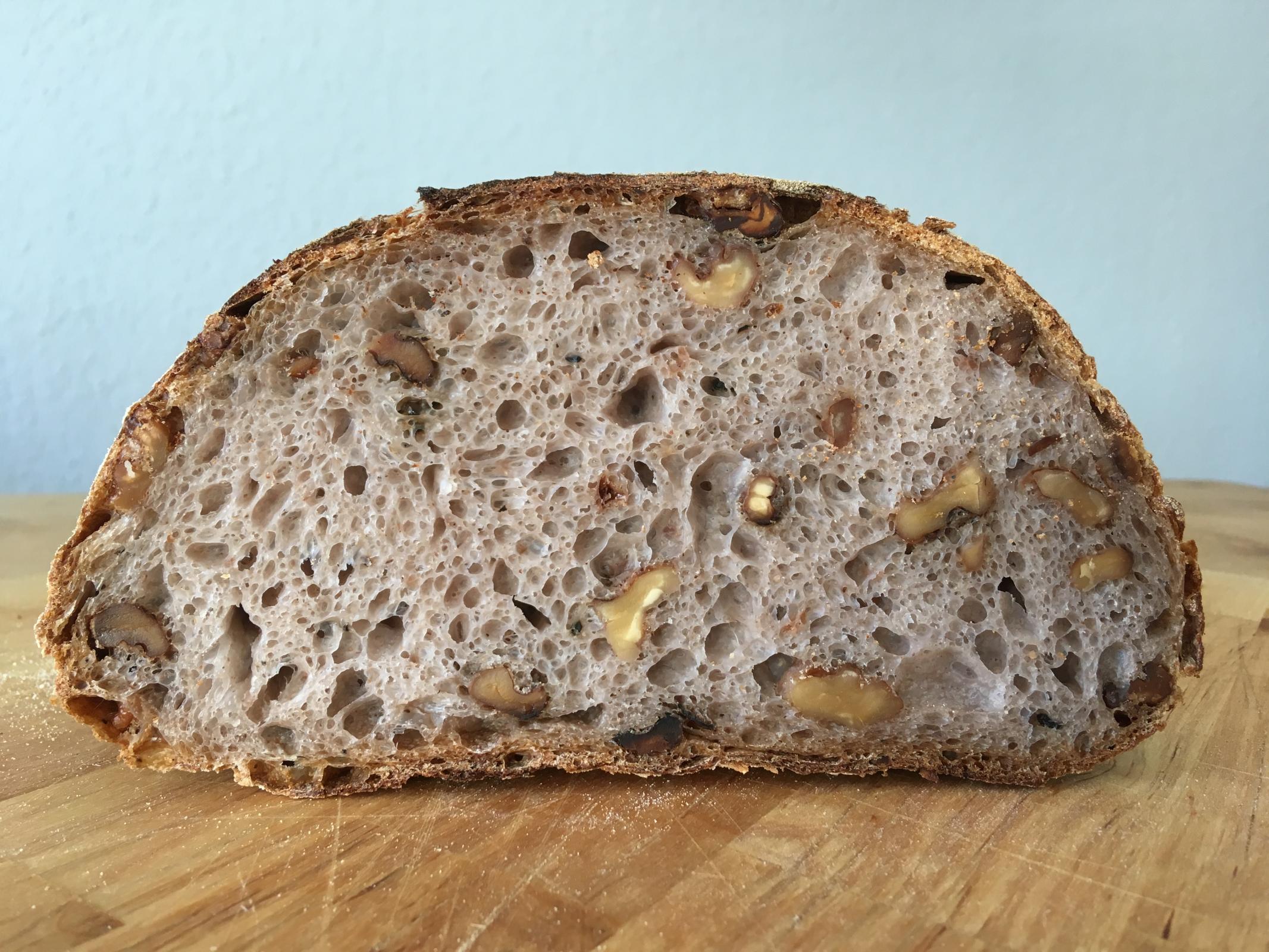 Hi there,
a month or two ago I beseechingly approached you guys after failing at Forkish's Walnut Levain recipe. It was my very first post on this forum and you were more than generous with your advice and encouragement. Today I'm writing you to present you with the fruits of your labor (and mine, of course).
[FYI, Here's the original post with all your great advice in the comments: http://www.thefreshloaf.com/node/56574/fwsy-walnut-levain-bread-fail-help-needed]
You will see in my notes below that I completely disregarded Forkish's schedule this time around, as I understand many of you do.
I am very pleased with the outcome. Thanks to using different (better) flours and being introduced to the brilliant Rubaud method (hat tip to Lazy Loafer and others) I was even able to stick with Forkish's hydration (78%).
What do you think: Is there anything I could do better still next time around? Where do you see room for improvement?
Alright, here's my notes and a few pictures: 
INGREDIENTS:
740g AP
60g WW
360g Forkish levain (80% AP, 20% WW, 80% hydration)
620g water (~32°C / 90°F)
220g roasted walnuts
22g sea salt 
1/2 Tsp. IDY (RED)
Room temp at ~23.5°C / 74° F
SCHEDULE:
Refresh starter the night before
water temp. 22°C / 72°F
room temp. 24°C / 75°F
mix and let sit for 10:15 hrs
Autolyse (35 mins)
Mix in the levain, salt and IDY using the Pincing & Folding method (but not extensively, just 2-3 rounds to loosely incorporate the ingredients)
Rubaud mix #1
10 mins
let rest for 15 minutes
Rubaud mix #2
five minutes
Bulk fermentation (refrigerator*)
Total duration: 6:30h
*fridge temp ~8-10°C / 46-50°F 
Stretch & Fold
seven rounds of S&F (first four every 30 mins, last three hourly)
Divide & shape
Final proof (refrigerator)
for 3:00 hrs
Bake
at ~250°C / 482°F
for 55-60 mins
Again, a big thank you to all of you who've chipped in!!!
Sending oven warm regards from Germany,
-Nils