third 100% whole wheat sourdough -- still overfermenting! still pale! but more cohesive dough :-)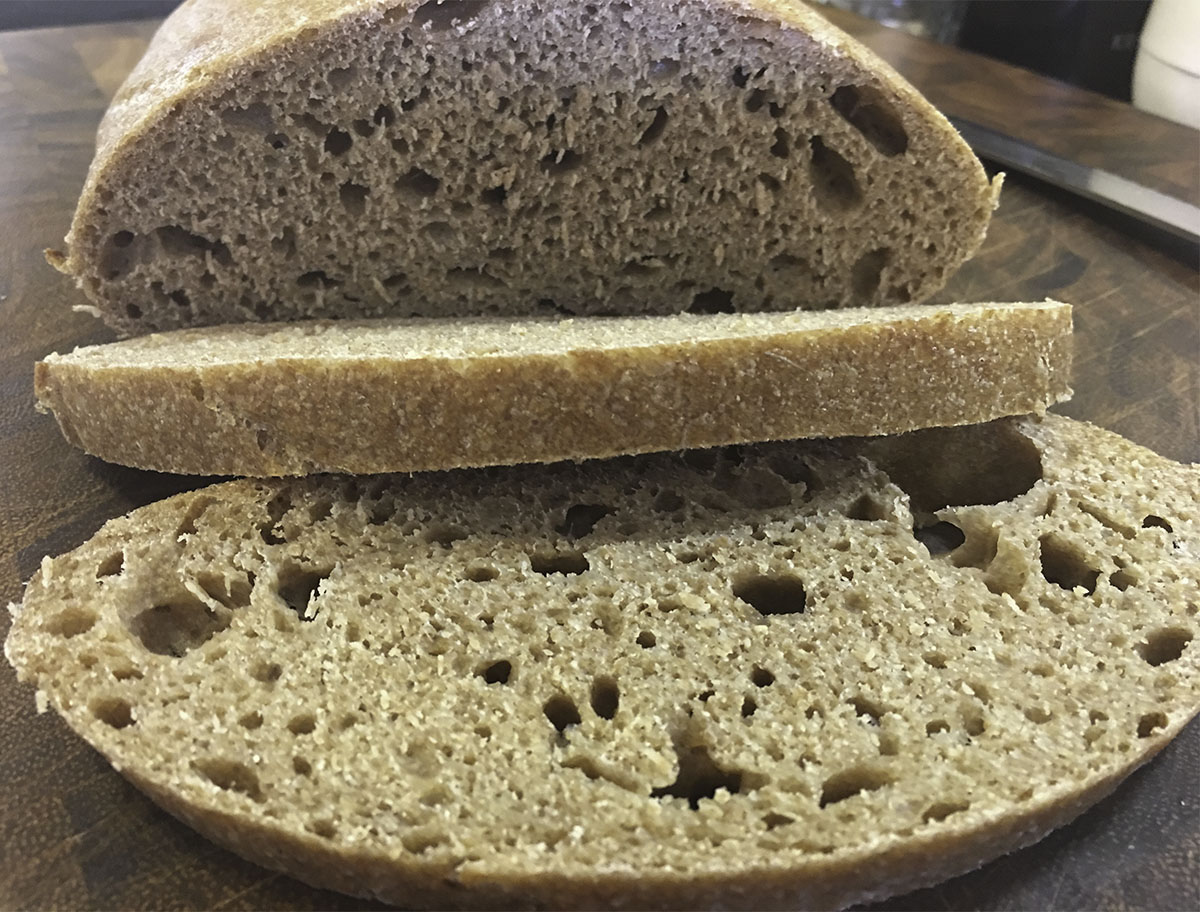 The good news is that the breads are tasting good and getting eaten, and the white bread from the store, in its plastic bag, is languishing away in its corner of the breadbox, largely unused. In fact, this loaf got cut open before I was up this morning!  :-)
The bad news is that I keep making the same mistake. Overfermenting. Dabrownman, I'm glad that Lucy is not here to chastise her most unworthy apprentice 4th class, who just can't seem to learn!
Things that were different this time: mixed more water with the bran in the levain so that I'd be able to tell if it rose; the levain fermented for a shorter time; the autolyze was shorter; I used the 1.8% salt called for in the recipe, instead of the 1.6% I had tried previously; I added 1% diastatic malt, to try to get the crust to brown; started mixing/kneading at 80% hydration as always, and added water as needed, ended up at 87% hydration; counted 300 slap and folds, which only took me 15-20 minutes, although I stopped much less frequently to scrape the board, because the dough was more cohesive and less sticky this time; I was sure I got a decent windowpane test; did all my pre-shaping and shaping with just water on the board, my hands, and my dough scrapers, no flour; less white rice in the basket than last time, none on top of the loaf, and detached the edge of the dough that stuck to the cotton banneton liner with copiously sprayed water; copious spritzing on the way into the oven; uncovered at 15 minutes at 450F, checked internal temp after 15 more minutes at 425F, and, as it was 210F, took it out of the oven.
The dough was really more cohesive this time, and a bit less sticky. It held its shape after pre-shaping -- relaxing and spreading out a little in 10 minutes, but not immediately turning into a puddle. I was actually able to get the hint of a beginning of a skin on it, and was able to shape it properly and lift it into the basket without it just being a saggy, floppy blob. It had a little bit of life to it. Some of this may have been the increase in salt percentage, I think. I actually also think that my dough handling skills are getting a teeny bit better and that that had something to do with it.
It seems that, when I'm doing stretch and folds, I just can't tell if the dough is rising or not. I'm not a good judge of how fermentation is progressing yet. I seem to have difficulty believing how quickly it can proceed.
But, after proofing 45 minutes, I could definitely tell that the dough had risen in its basket, and there was one big bubble near the surface, so I decided to bake. It had taken those 45 minutes for my oven to thoroughly pre-heat, too. I think I should have bulk fermented less than 3 hours at 79-80F and proofed for just 30 minutes. With the way that scoring didn't really work, I could tell it was overproofed.
One thing you can't tell from the photos is that it's so moist, that I'm worried that it might be gummy if it was any moister. A little bit of crumb wanted to stick to the knife as I cut it. I baked the last one to 212F by mistake, and the moistness was about perfect. Also, I didn't get the degree of browning of the crust that I thought I would from the addition of the diastatic malt, although at least it's not quite as pale as last time.
I think it's time for my doughs to make some acquaintance with the fridge at some point during fermentation. The problem is that most recipes with retards call for 12 hours in the fridge, and that would be really difficult for me, no fun at all. I wonder if I can learn to modify them for 16-18 hours in the fridge.
I have found one of Maurizio's that has an 18-hour bulk retard: https://www.theperfectloaf.com/100-whole-wheat-sourdough/ so maybe that's what I'll try next.
Or maybe I'll take a short break from this style of bread and try a 100% whole grain wheat and spelt pan bread instead (another of Maurizio's): https://www.theperfectloaf.com/100-whole-wheat-sourdough/
Or maybe I should try the community bake, which I think I could learn a lot from, but that 12 hours in the fridge has me daunted, besides the 50% WW instead of 100%.
But I have a couple of days to decide.