December 24, 2017 - 11:59pm
My Quest for Oven Spring (in-depth information)
Hello, everyone.
I'm really new to baking (like one month or so) and I am really in love with this universe. I watch lots of videos on Youtube and read lots of stuff online (mostly on these forums). I decided to start by trying Jim Lahey's no-knead method. Things are improving but still can't get a really nice oven spring along with a few other problems, so I'll walk you all through my troubleshooting process in the hope that someone can help me figuring out what's possibly keeping it from rising properly.
The recipe:
All purpose flour: 400g (brand: Rosa Branca)
Water: 300g (will specify the temperature)
Salt: 1 1/2 tsp
Instant yeast: 1/4 tsp
I will now describe my first attemps (but will go in-depth only in the third and last one).
First attempt:
I just mixed all the ingredients and allowed the dough to rise for 12 hours (overnight). I used tepid water. In the morning, the dough had tripled in size and was really sticky. I just folded it a few times (had to use lots of flour), tried to give it a round shape (like shown in Jim Lahey's video for The New York Times from 2006: https://www.youtube.com/watch?v=13Ah9ES2yTU ) and proofed it for 1 hour (in a floured kitchen towel inside the bowl). When I tried to take it out to bake, it stuck to my hand (I flipped the bowl over directly onto my hand) and it ended up sloppy and flat when I placed it into the cast iron skillet (will get to this later on).
30 minutes lid on. 15 minutes lid off. It tasted good, but was very flat.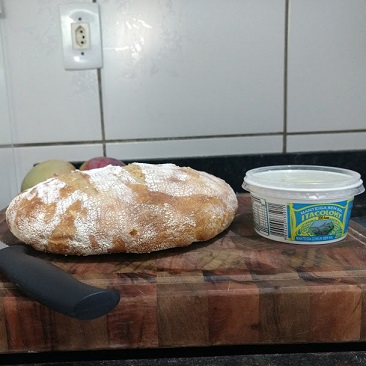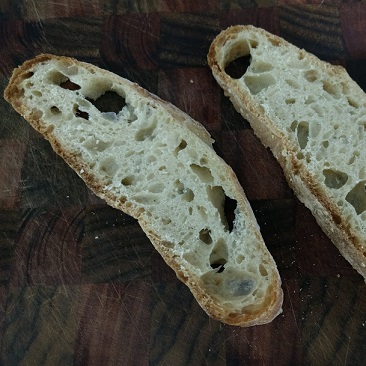 Second attempt:
I wondered why it was so sticky and didn't rise. So I did some research and thought it might have been - since I live in a tropical country and room temperature is pretty high - that the dough over proofed during bulk-fermentation and collapsed. So I decided to try using cool water and allowing it to rise for 4 and a half hours (the dough had already doubled in size). After the first rise, it was as sticky as before. I shaped it just like I've done previously and proofed for one hour. It stuck to my hand again and its shape was all messed up. I ended up with a loaf even worse.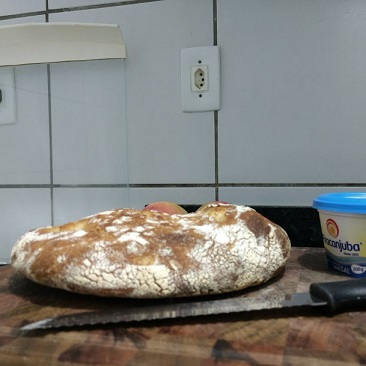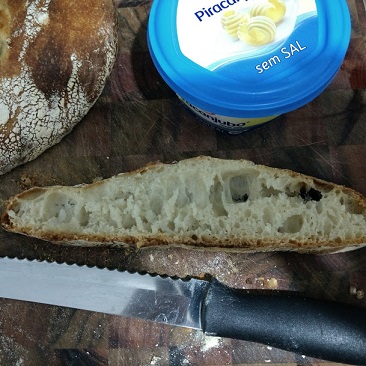 Third attempt:
Since I leanrt from previous experience that over proofed dough wasn't what's keeping it from rising in the oven, I went back to longer bulk-fermentation (only 10 hours because I wasn't taking any risks, anyway). Room temperature was 24~26 Cº; and humidity: 85%.
Now I decided to focus on shaping it as round and tight as I could, so I bought a smaller bowl (21,5 cm wide) for proofing to help keeping the shape (I had been using a larger and deeper one) . I know a banneton would work out better, but they are hard to find in Brazil.
Another change: In the previous attempts, I proofed it seam side up and baked it seam side down (I tried scoring, but it was too sloppy). Now I wanted to follow the recipe to the letter and proofed seam side down and baked seam side up (without scoring).
I made some videos and took more pictures to show exactly how things went.
Mixing all the ingredients: https://www.youtube.com/watch?v=gE2tQhm6wWI
After 12 hours of bulk-fermentation: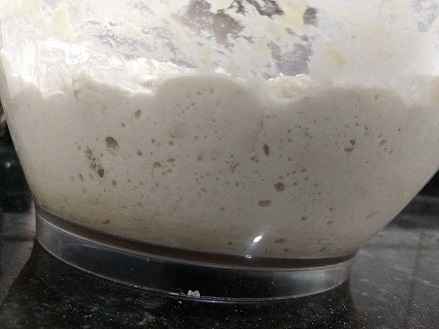 Trying to get a tight round shape: https://www.youtube.com/watch?v=75QBCLsDn2I
As you can see, it was sticky and didn't keep the shape well. I did the best I could anyway.
 Then I set it into the bowl to proof.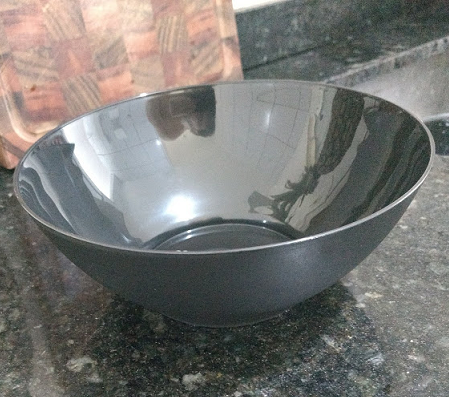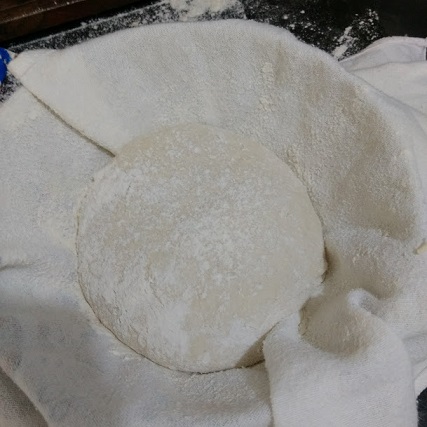 Denting test after proofing for one hour: https://www.youtube.com/watch?v=qb97Oo1BBk4
I decided it was time to bake and... :(
Taking it out of the bowl: https://www.youtube.com/watch?v=oCPufByaaQw
Very flat and sticky dough: https://www.youtube.com/watch?v=GkyI9mOTkYI
Total disaster! It stuck to the kitchen towel and was really sloppy and flat, just like previous experiences. I told myself I wasn't gonna bake that mess and decided to shape and proof it once again (I wasn't even sure if that should be done)
Trying to get a decent round shape: https://youtu.be/zkkO_y5Y_5g
After doing some folds it felt surprisingly better. I used exactly the same technique I did in the first shaping, but now it seemed to be stronger and tighter and hold the shape a lot better.
Denting test after proofing it for the second time (also one hour): https://www.youtube.com/watch?v=qb97Oo1BBk4
Then I took it out of the bowl and set it into the cast iron skillet (preheated for 30 minutes): https://www.youtube.com/watch?v=rBQzW9SrgYo
At this time, it didn't stick to the kitchen towel nor my hand. It wasn't as round and tight as I wanted it to be, but at least it wasn't too flat.
After 30 minutes with the lid on: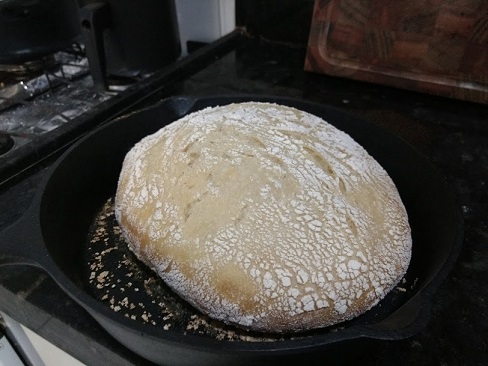 Then I baked it for 15 more minutes with the lid off and...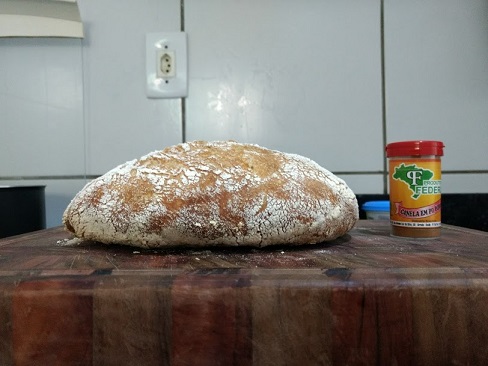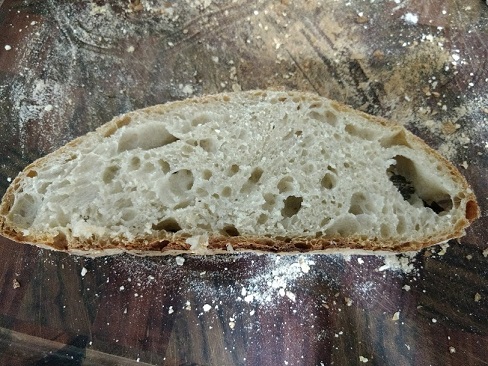 Heads-up:
I've learnt about some other methods that may be more efficient to develop gluten and would enrich flavor (like autolyse; stretch and fold; retarding bulk-fermentation; etc), but I don't want to get to them until I'm done troubleshooting this one and get the oven spring.
A few questions:
What would you say just by looking at the baked loaf and watching all the steps?


Am I right to come to the conclusion it's not over proofing during bulk-fermentation and therefore has nothing to do with collapsed dough?


Why is my dough always far more sticky than Lahey's when I take it out of the bowl after bulk-fermentation?


Since it rose higher when I was able to shape it tighter I assume it must have something to do with that. But Lahey doesn't even shape it tight, he just do some very gentle folds, it's flatter than mine and still it rises soooo much more. Why?


Besides shaping I can only think of two more things: The flour (I've been using all purpose and I'm not sure about its quality, but it's not fancy at all) and what I've been baking the bread on (will show pictures and explain below*).


Should I try decreasing hydration? If so, why?
* I am using a cast iron skillet and a baking pan as a lid. It certainly doesn't provide a very tight seal: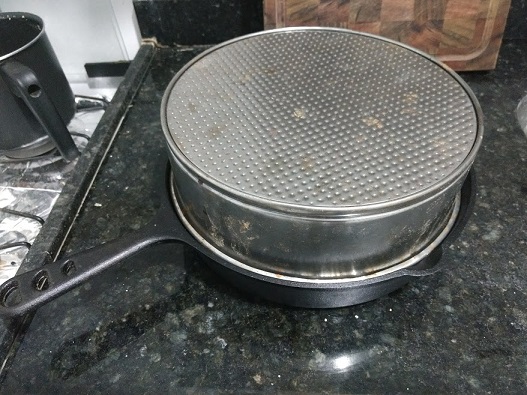 Another problem:
The crust underneath is really thick and tastes burnt. Honestly, I cut it off before eating the slice. By the way, I am not sure about the oven temperature, but I'd guess something about 220 Cº (I will buy a thermometer).