February 13, 2016 - 12:35pm
Crumbling/Falling apart einkorn bread (yeasted, Jovial recipe)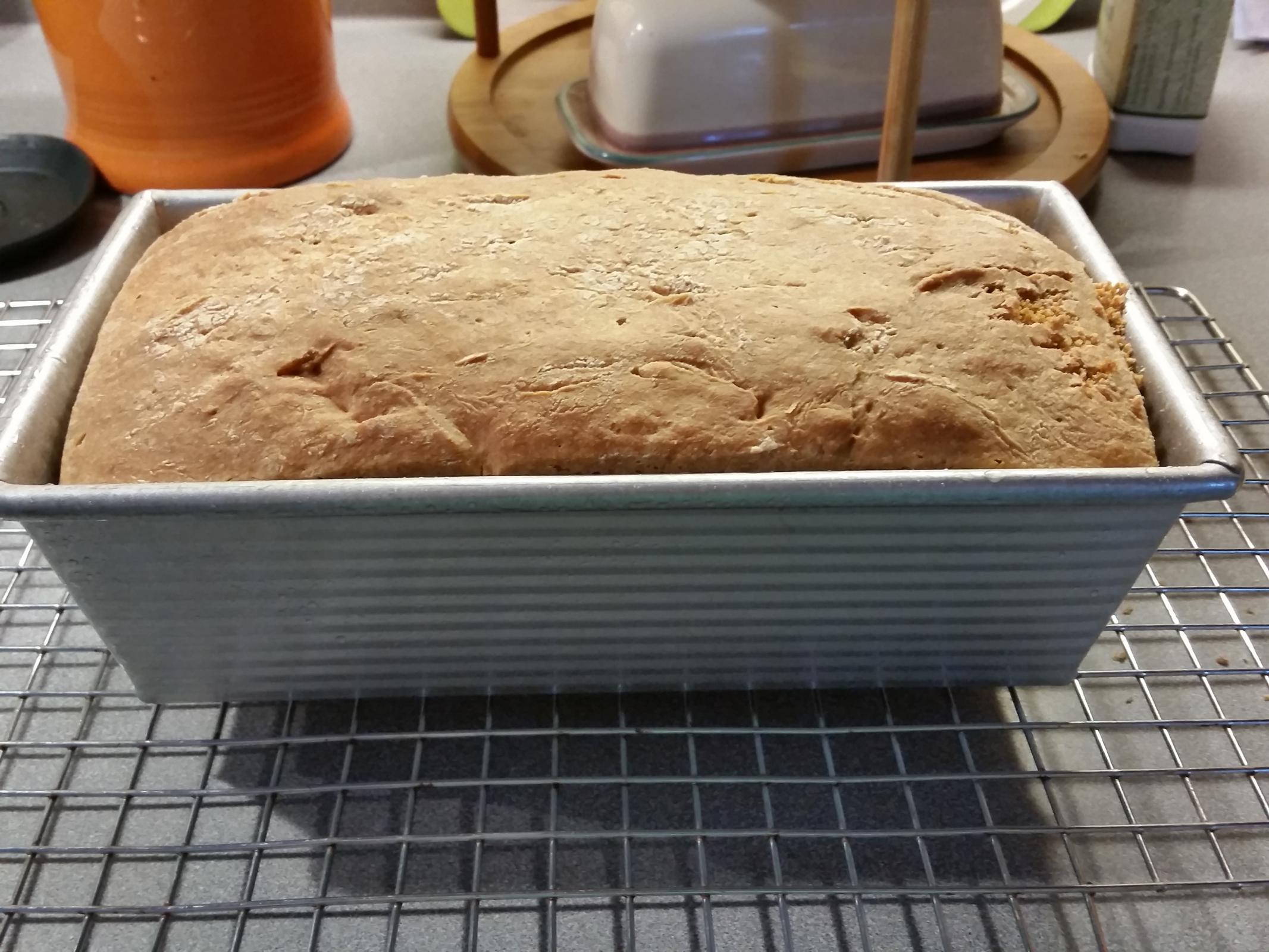 Hello everybody! :)
A few weeks back I jumped right into baking bread with einkorn!  I am on my 3rd loaf (baking as I type this) of the Dairy-Free Brown Bread recipe from the book Einkorn by Carla Bartolucci.  
A little background on me...I've not really gotten into the serious math and nuances of baking bread. But just by scanning some of the einkorn posts on this site...geesh, my head got spinning and maybe even a little smoke outta my ears ;)  Hehe.  But I'm starting to catch on to all this hydration stuff, etc...  So for this adventure I actually bought a nice kitchen scale and am weighing everything instead of measuring it, except for yeast and fats.
Also, I am using Jovial's all-purpose einkorn flour as well as using my own home-milled whole einkorn flour.  I have a Jupiter mill and am grinding it on the finest setting.
For now I am sticking to the yeast bread recipes because I'm in the process of getting a good einkorn sourdough starter going! Woohoo!  I love sourdough, and I think it's healthier for ya, so eventually that is mostly what I will be making unless I need a quick 2-hour yeast loaf :D
ANYHOO.  So, here is the recipe and my experience thus far:
325g 100 F degree water
1.5t active dry yeast
1T real maple syrup
3T refined coconut oil
288g home-milled whole einkorn flour (Jupiter mill on finest grind)
240g jovial all-purpose einkorn flour
.5t Redmond Real Salt
Recipe says to preheat to 425, then reduce heat to 375 when you put in the oven.  Bake 40 minutes, cool 15 in the pan and at least 2 hours out of the pan.
Loaf #1 of Dairy-Free Brown Bread: Dough wasn't sticky much at all, not as much as I was expecting it to be from all the descriptions I've read about einkorn dough.  I did not knead it.  Proofed fast, but I let it go the 30 minutes instructed in the recipe. Loaf sunk in the oven. Cooled for 2 hours covered with cloth. Bread tasted GREAT, but got crumbly/fell apart about half way through the loaf (ate it within 3 days, stored at room temp).
Loaf #2 of Dairy-Free Brown Bread: Final proof was fast again, but I only let it proof to the top of the pan this time. Didn't sink! Woohoo. Cooled for 2 hours covered with cloth. Tasted awesome, but was even crumblier and wimpier than first loaf. Couldn't even use the last half of it for sandwiches because it was falling apart. :(
Loaf #3 (cooling now! That's her in the pix!): Double milled the berries. Increased hydration from 315g to 350g.  First proof/rest was an hour instead of 45 minutes. Folded the loaf like an envelope this time. Dough was definitely a little more sticky! Final proof rose just barely past the top of the pan, about 20 minutes.  
SO. This crumbling issue.  My main use for this bread is for sammiches! And you can't have fall-apart bread for sammiches! lol. I know she has other recipes in the book, but I want to give this one a fair try :)  I love having a basic ingredient, go-to, no-fail recipe, ya know?
From what I've read, I understand einkorn's gluten structure is wimpy, which is why little to no kneading is good. Overproofing is bad.  
I stumbled across some posts talking about a water (Tangzhong) roux and of course I'd never heard of it, and it sounded complicated to know how much to add. lol. Also, I wanted to do some other basic tweaks first and see if they helped.  So like...am I baking it too long? Should I not cool it covered with a cloth (I did that for a softer crust, but it's no biggie). Should I knead it a LITTLE?  I just don't know enough about baking bread to know why it would fall apart. To me it seems like an issue with the grain not absorbing enough water, even though the loaf itself seemed moist enough after baking.  That is why on Loaf #3 I more finely ground the berries and added more water, plus let it proof a little longer the first time to get it all absorbed.  I know Carla (author of the book) advised someone else regarding the same issue by being sure to NOT slice the bread until the loaf has cooled, which I have done every time.  So I don't think (in my case) that is the issue.
Okay, whew, I think that's it ;)  I know other peeps are having this same issue, so I'm hoping if we all put our heads together we can all have happy sammiches and save the world!! ;)