Sprouted 4 Grain Sourdough Chacon with Whey, Walnuts and Sage
This is another take on Lucy's recent sprouted grain experimentation.   This time she used a 4 whole grain blend of equal parts of: spelt, rye, farro and wheat for the sprouted part and the whole grain part too.  But she cut the sprouted part in half hoping to further bring this kind of bread back down to earth without it fermenting away at ramming speed and over proofing.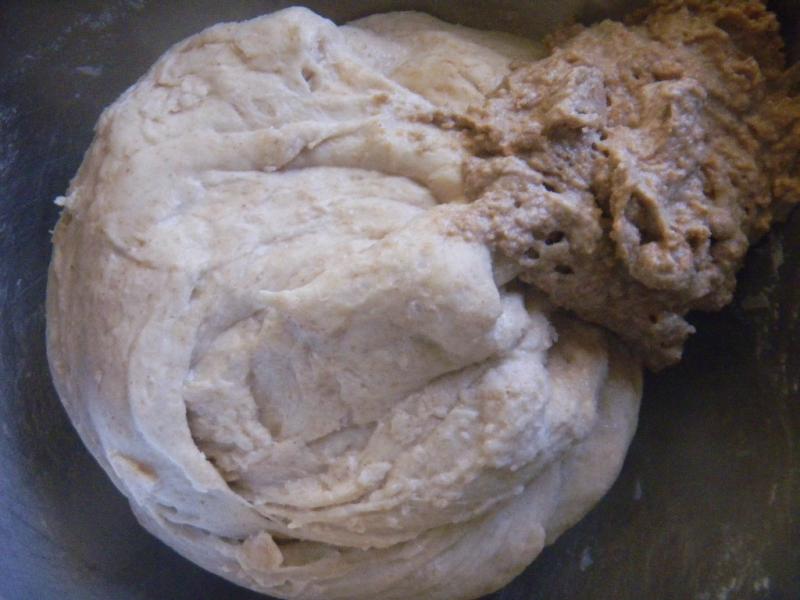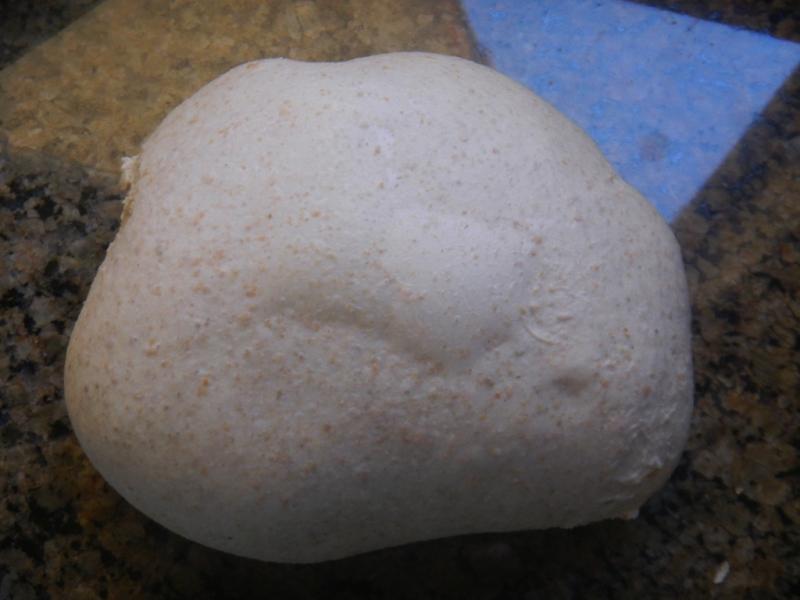 This time the levain amount was 9% of the total flour and water weight instead of 7%.  All of the hard bits sifted from the sprouted and the whole grain berries was used to feed the levain you get the hard bits as wet for as long as possible…plus the levain loves these hard bits.  In this case there, was only 14 g of hard bits at the 11.3% extraction so some of the 88.7% extraction was also used to feed the levain.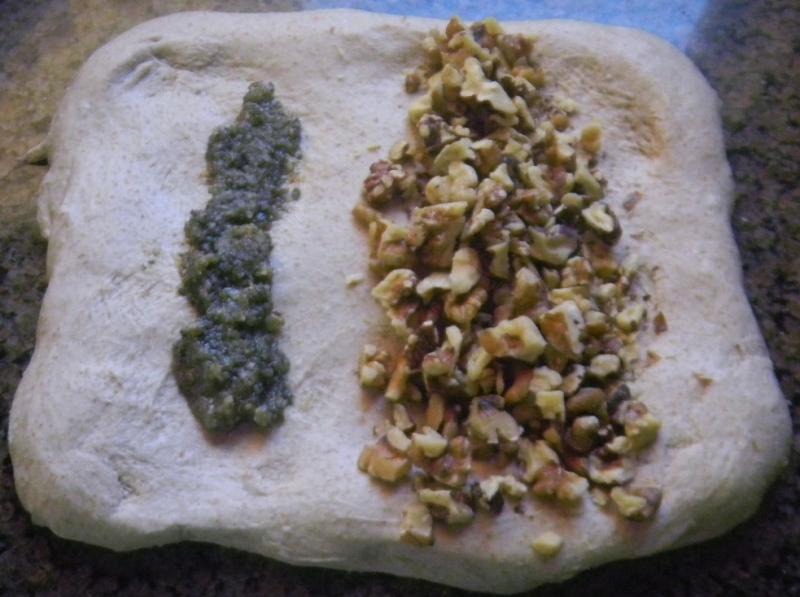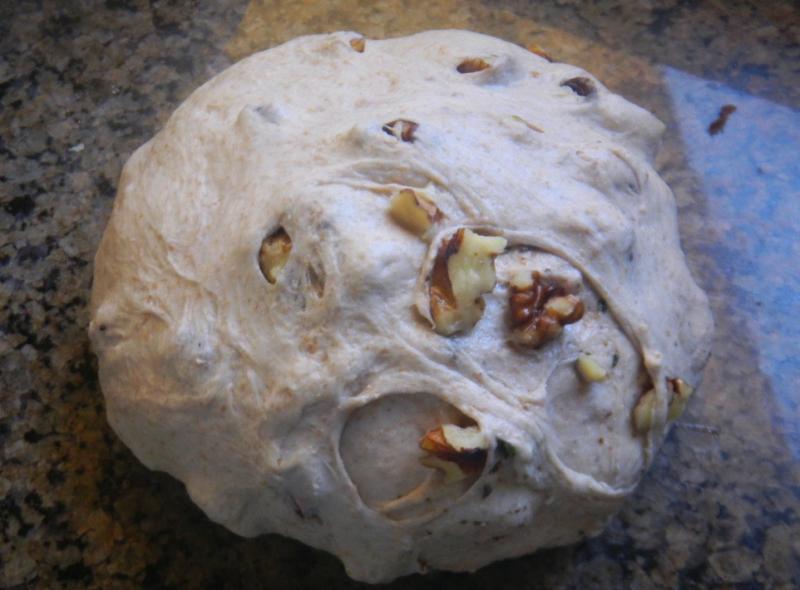 We sprouted on Monday for 24 hours and dried in the A sun on Tuesday.  On Wednesday we ground the sprouted and whole grains and got 10 g of rye starter from our 8 week old stash in the fridge.  We did our unusual 3 stage levain build of 2 - 4 and 4 hours where the levain was refrigerated for 24 hours 4 hours after the 3rd stage instead of our usual 1 hour following.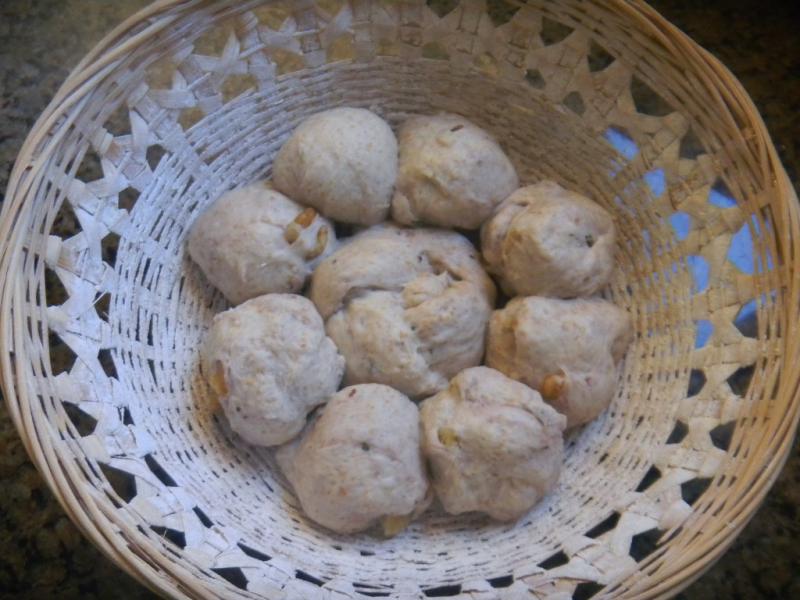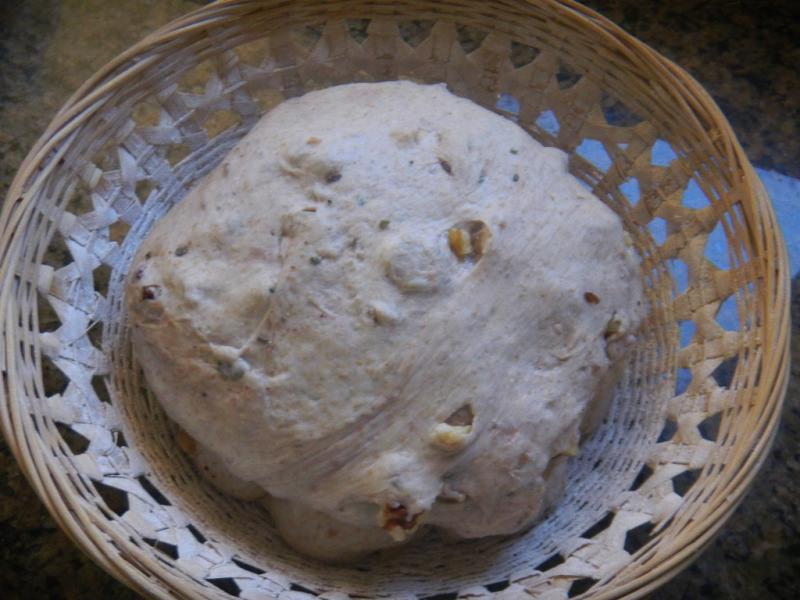 We got the levain out of the fridge on Thursday and while it was warming up we autolysed the remaining dough flour for 1 hour with a mix if yogurt whey and water with the salt sprinkled on top.  We also whizzed up 10 g of the walnuts to mix with the 10 g of walnut oil and the tablespoon of minced fresh sage to make the walnut and sage paste.  Walnuts and Sage is a specialty of Phil's (PiPs) - Super Hero, Purple People Eater Bread found here.
http://www.thefreshloaf.com/node/27219/tartines-aromatic-semolina-bread-walnut-and-sage-wholewheat  And my take on it here.
http://www.thefreshloaf.com/node/27373/pips-walnut-and-sage-100-whole-wheat
And another walnut and sage chacon here
 http://www.thefreshloaf.com/node/29002/sd-yw-chacon-revisited-%E2%80%93-87-whole-grain-multigrain-sprouts-walnut-and-sage-paste-and-pump  We do like walnuts and sage in bread with a little whey and walnut oil paste….but it isn't a bad thing!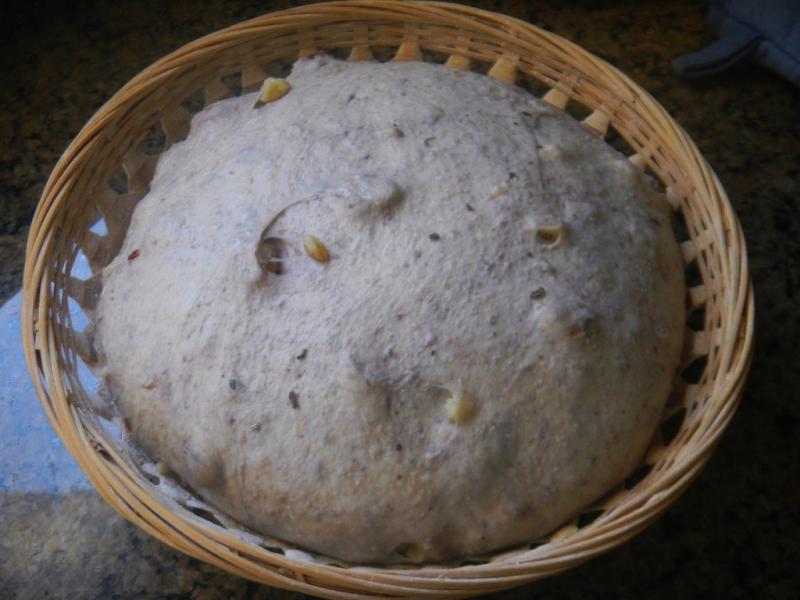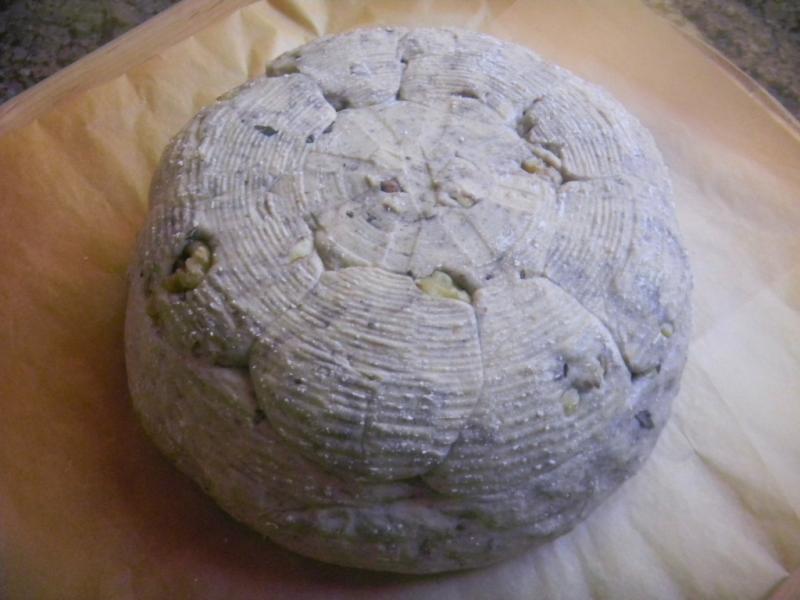 Once all the flour, liquid and salt came together, we did 3 sets of slap and folds of 7, 1 and 1 minute on 20 minute intervals.  After 3 sets of slap and folds were done we did 3 sets of stretch and folds on 45 minute intervals incorporating the walnut oil, walnut and sage paste with the walnuts on the first set pf S& F's.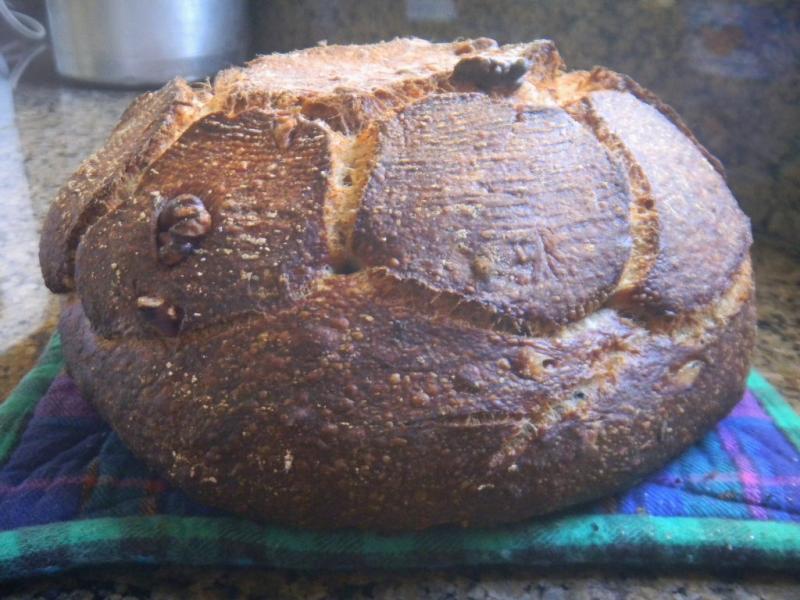 After a half hour rest we pre-shaped the dough into a boule and 10 minutes later we changed our minds and made the dough into a chacon by making a knotted roll with 100g of dough for the middle of the bottom of the basket and 8 balls of 30g each surrounding it.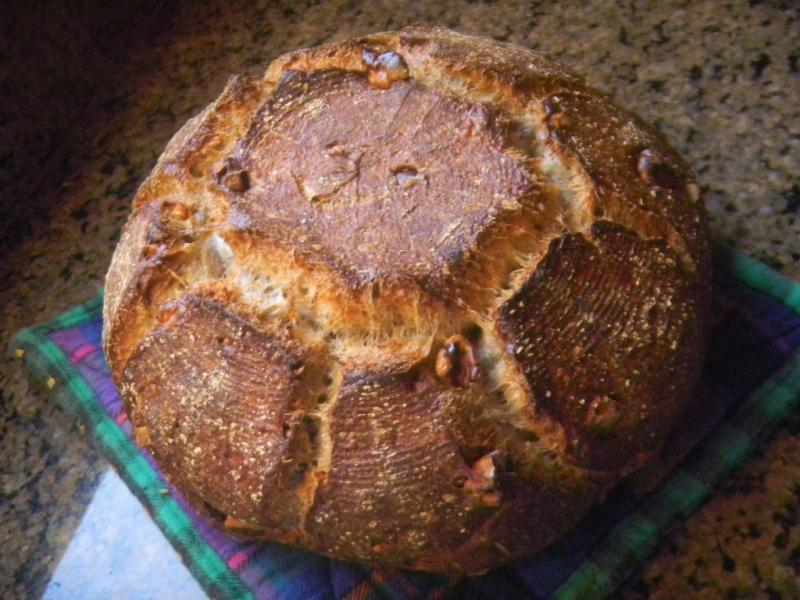 The remaining dough was shaped into a taught, squat, flattish round to cover the design in the bottom of the basket.  We let it proof for 45 minutes on the counter in a used trash can liner before retarding it for 20 hours in the fridge.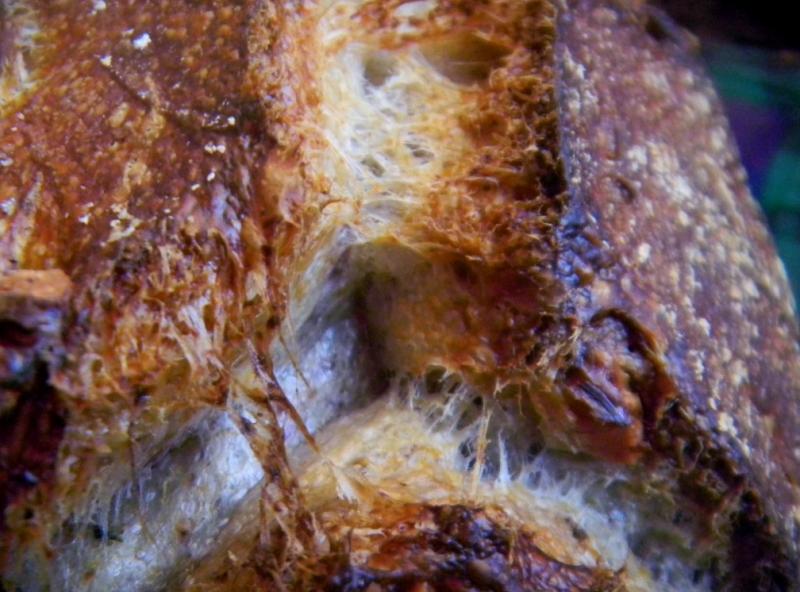 We haven't baked under the bottom of a DO for some time so thought we would do so for this bake.  The dough had risen very well in the fridge but since it was a chacon and no scoring necessary, we decided to let the dough warm up on the counter for a half an hour before Big Old Betsy was heated up to 550 F which took another 45 minutes.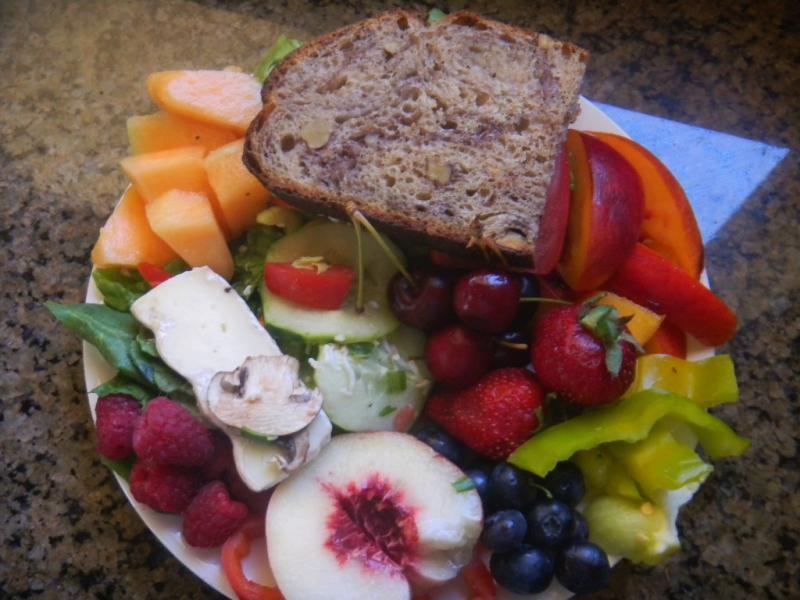 We overturned the bread onto parchment on a peel, slid the bread into the oven on the bottom stone and immediately covered it with the bottom of an aluminum DO for 20 minutes of steaming as we turned the oven down to 500 F or 2 minutes and then down to 475 F for 18 more.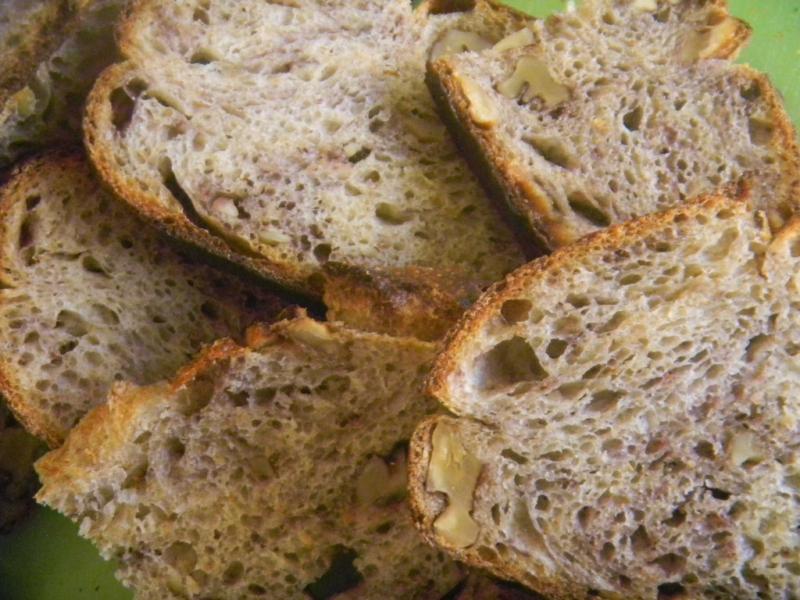 Once the lid came off, we turned the oven down to 425 F - convection this time and continued to bake or another 10 minutes until the bread read 208 F on the inside and was removed to the cooling rack.  It sprang well, cracked where the chacon design forced it to and browned up well enough.   It came out of the oven very crispy but went softer as it cooled.
The crumb came out that walnut shade of purple we love so much, was fairly open with the sage smell hanging around in a subtle way.  There was a little more of an acid tang due to the yogurt whey but it didn't detract from the fine flavor of this bread even though the sprouted flavor of the grain was less than usual..  We like this sprouted grain bread the best so far.  The taste is superb and if you haven't made a bread like this - you should  and soon - it is that good.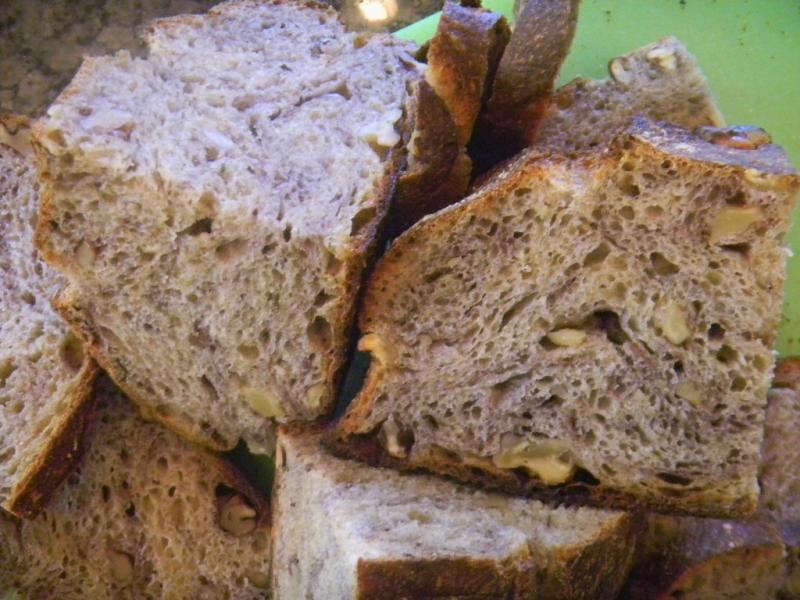 Formula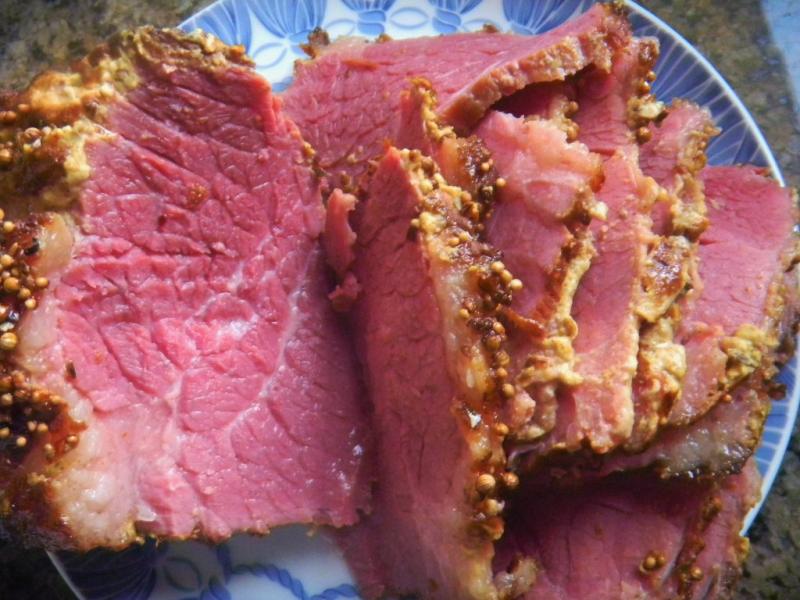 Wonder if this smoked corned beef would go well with this fine bread?  Or would it be better as hash?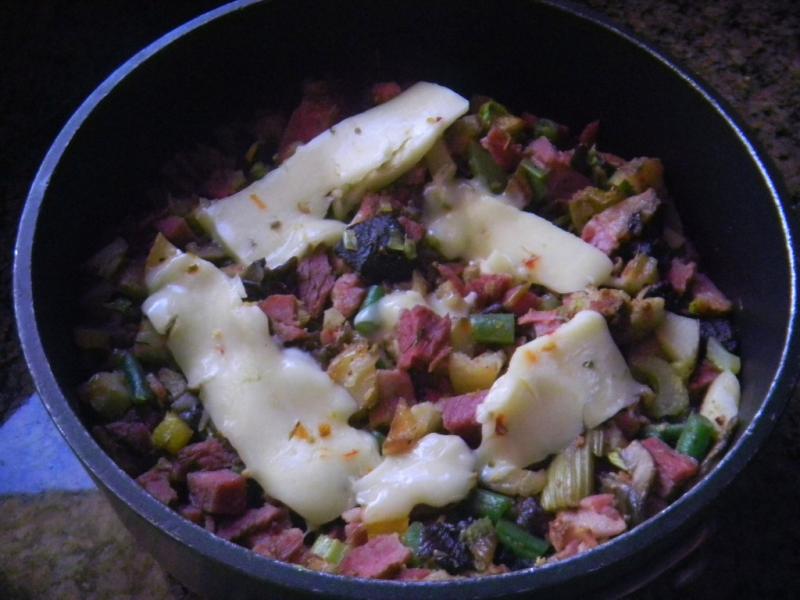 Rye SD Starter Build

Build 1

Build 2

 Build 3

Total

%

8 Week Retarded 66% hydro. Rye Starter

10

0

0

10

2.58%

88.7% Whole & Sprouted 4 Grain extraction

0

1

20

21

5.43%

11.3% Whole & Sprouted 4 grain Extraction

5

9

0

14

3.62%

Water

5

10

20

35

9.04%

Total

20

20

40

80

20.67%

 

 

 

 

 

 

Starter Totals

 

%

 

 

 

Flour

40

10.34%

 

 

 

Water

40

10.34%

 

 

 

Starter Hydration

100.00%

 

 

 

 

Levain % of Total

9.59%

 

 

 

 

 

 

 

 

 

 

Dough Flour

 

%

 

 

 

88.7 % griain extraction

87

22.48%

 

 

 

12% Protein White Flour Mix

300

77.52%

 

 

 

Total Dough Flour

387

100.00%

 

 

 

 

 

 

 

 

 

Salt

9

2.11%

 

 

 

Whey 147,water

268

69.25%

 

 

 

Dough Hydration

69.25%

 

 

 

 

 

 

 

 

 

 

Total Flour w/ Starter

427

 

 

 

 

Total Liquid w/ Starter

308

 

 

 

 

 

 

 

 

 

 

Walnut Oil

10

2.58%

 

 

 

Walnuts

80

20.67%

 

 

 

 

 

 

 

 

 

Total. Hydration with Starter

72.13%

 

 

 

 

Total Weight

834

 

 

 

 

% Whole Grain

32.04%

 

 

 

 

 

 

 

 

 

 

11.97% Protein flour mix is equal parts of LaFama 11.22% AP.

 

12.7% King Arthur bread flour amd 12% Winco AP flour

 

 

 

 

 

 

 

 

1 T Fresh Sage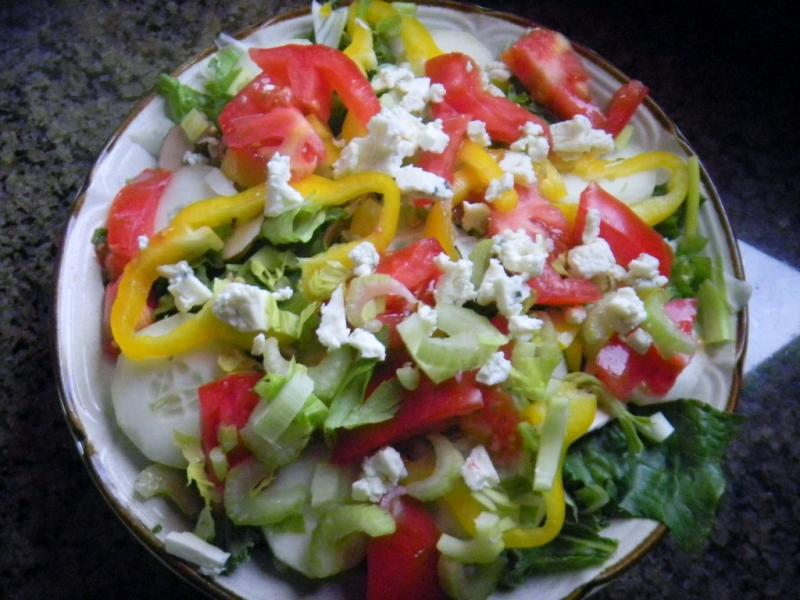 Lucy says not to forget the salad to go with the sunset and.....have a great weekend.