steaming, cooling, mistakes and successes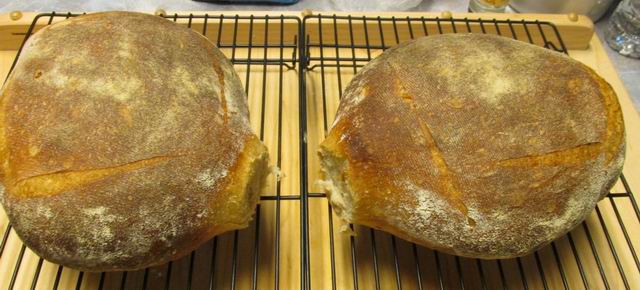 This is my second attempt at Vermont Sourdough from Bread by Jeffrey Hamelman.  The first attempt was edible and some folks loved it but I really screwed it up.  I used a rye starter that has proven quite healthy.  I welcome all advice, critiques and comments.
I used the tips from SylviaH for steaming.  Yep, it works.  Lots of steam.  Ouch, I need longer gloves.  But how long should I steam?  I let it steam for at least 10 minutes until the sides started to brown.  The towels were still wet and steaming.
Due to browning, I turned the oven down from 460F to 445F after about 25 minutes.
I had a steam pan at one edge of my stone.  This cramped things a bit and the loaves kissed.  I probably should have left the kiss intact until the loaves cooled off.  I'm sure that breaking up that hot kiss will haunt me.
I also did not make the cuts near deep enough.  I did get good oven spring.  These loaves each weigh a bit over 23 ounces out of the oven.
When the loaves were out of the oven they really started crackling.  I've not heard loaves so noisy.
I normally do pan loaves but decided to have a go at the steam and stone again.  I'm sure I'll feel the burns later.
I have plastic bags I can put these into.  What would be better to save the crunch of the crust?  At least for a day maybe.
I'll post a photo of the crumb in an hour or so
Mike