The Mystery of the Twin Bannetons
I have two bannetons: one oblong, one round. For the past few weeks, I've been making one big batch of sourdough and putting half in each banneton for the final rise/overnight retard. Both loaves are treated exactly the same way for exactly the same time--and yet, when I bake them, the oblong is always perfectly proofed, and the boule is always severely underproofed! How is this possible? 
Does it have something to do with the way the loaf shapes are formed? For the oblong banneton, I shape my dough into a batard, and I do a boule shaping for the round one. Maybe the batard is providing better structure for the rise? It's a pretty lean dough (76% hydration), so maybe it needs all the structural help it can get. That's all I can think of. Any ideas?
UPDATE:

This is a photo from the heel of the batard: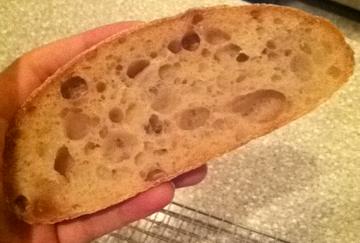 This is from the underproofed boule: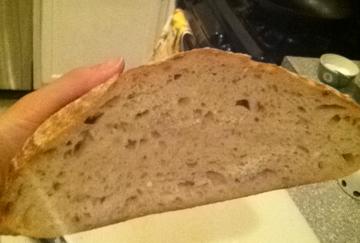 (Sorry about the terrible phone photos, which are giving the impression of grey loaves with no browning on the crust--not the case!)
People have been asking for more details about the baking. I do a bulk ferment at room temp for 2.5 hours, with s&f every 30 min. Then I plop them in the bannetons at room temp for 2 hours or so, and then they go in the same spot in the fridge for 12-16 hours. I don't weigh them, but they look about the same weight. In the morning, I bake them straight out of the fridge, one after the other. The batard goes first, so it's not a question of extra proofing time.