Poolish Calzones and Yeast Water Italian Bread
It seems ever since Sylvia posted her fine calzones we haven't had pizza night but have calzone night instead.  We like both my daughter loves seasoned ricotta and that is a calzone ingredient if there ever was one.  You could say that our calzones are a cross between lasagna and pizza.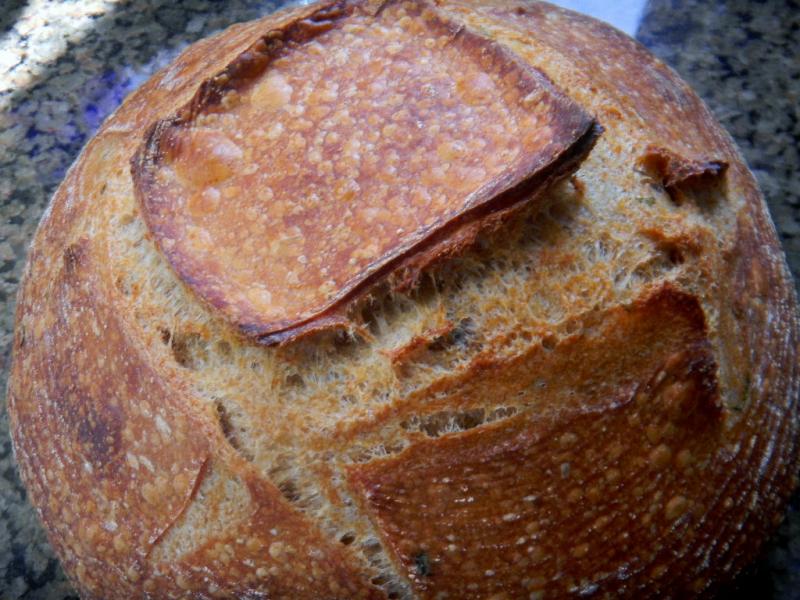 We made a simple poolish white dough sized for 4 calzones loosely based on our favorite pizza dough that is really a less hydrated Focaccia Romana, at 72% hydration, that has fresh rosemary and sun dried tomato in it.  Then I thought some friends of my daughter might show up as they can when something like home made pizza or calzones are on tap.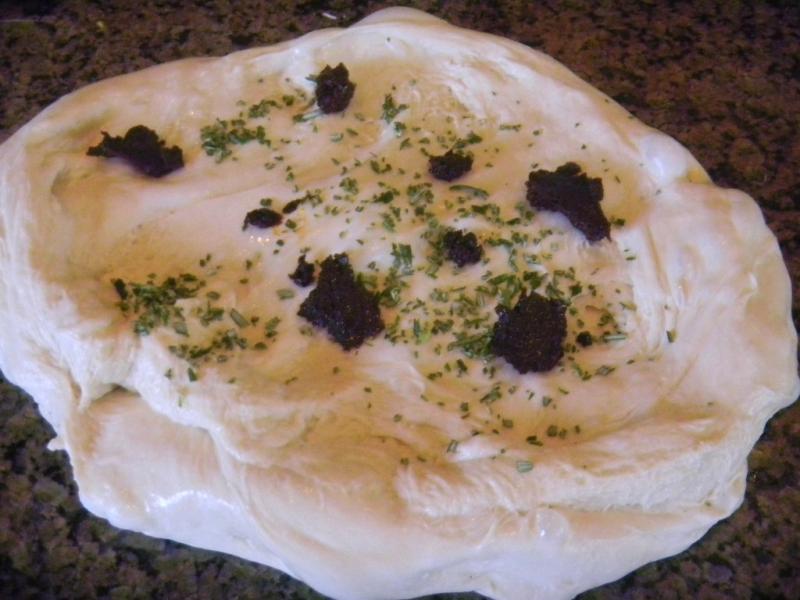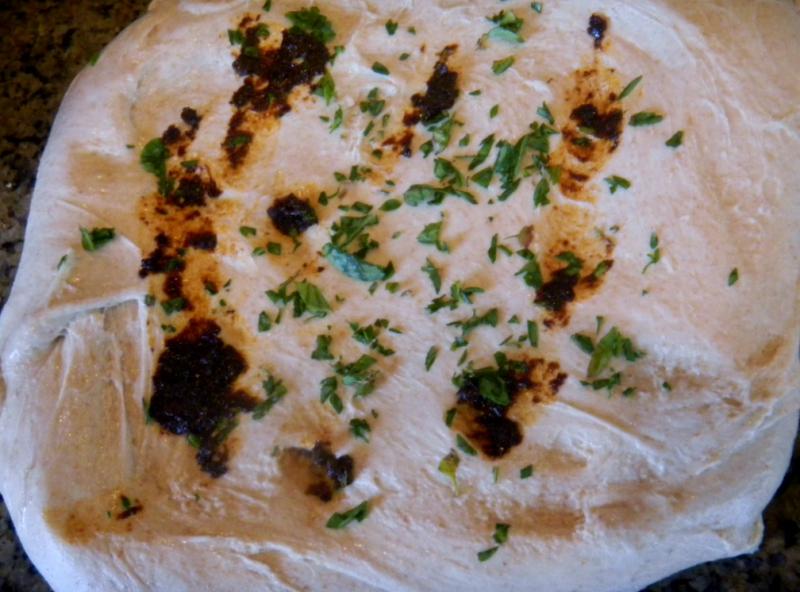 So we quickly whipped up another version of pizza dough, this time a yeast water one since we haven't used the poor thing in weeks and it was pretty useless just sitting in the fridge doing nothing.  We used whole; rye, spelt and wheat in the YW levain to give it some extra flavor at 17% whole grains, upped the hydration 4% to account for the whole grains and subbed basil for the fresh herb instead of using the rosemary.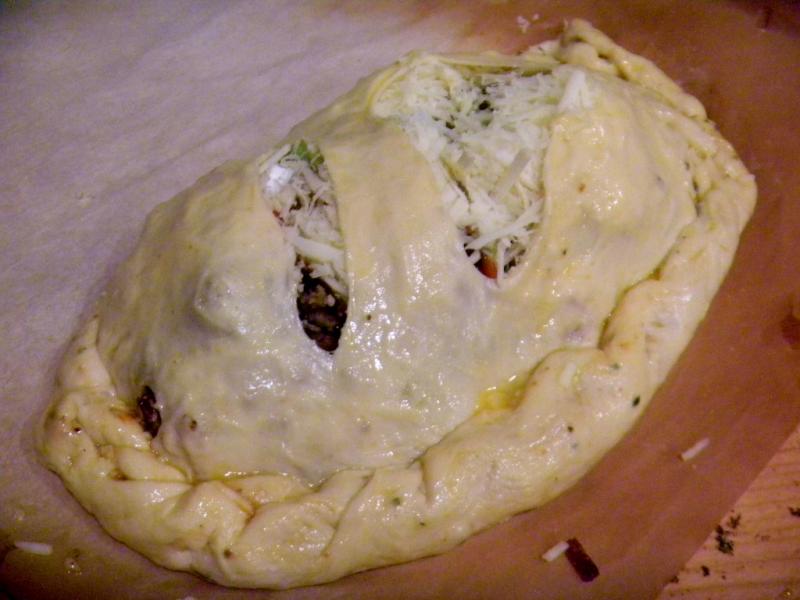 Then we found out that the other girls wouldn't be coming after all and we had double the calzone dough needed for the 3 of us.  So I shaped the 2nd yeast water version into a boule, put it in a rice floured basket and chucked it into the fridge for a 15 hour retard even though it was nearly fully proofed for calzones.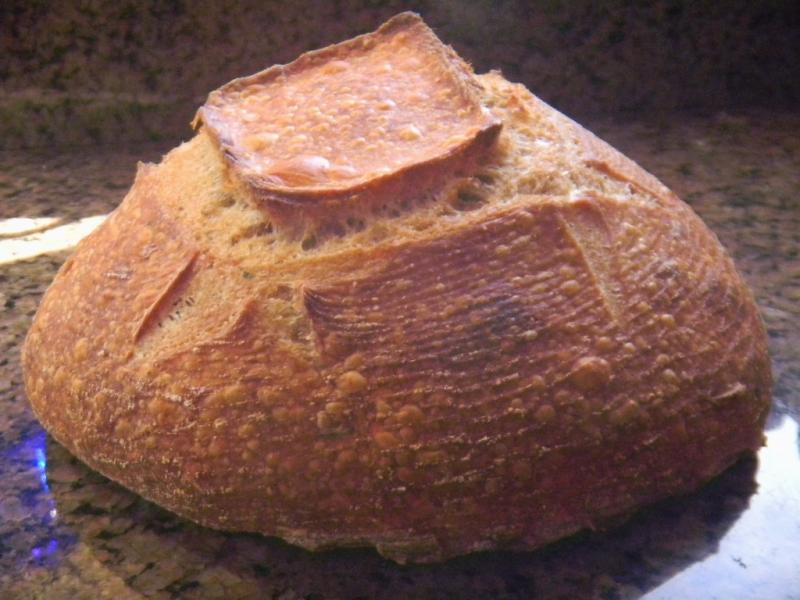 We are starting a test on doing less slap and folds (1) set at 5 minutes instead of our usual (3) sets totaling 10 minutes and increasing from 3 to 4 sets of stretch and folds and increasing the time between them from 20 minutes to 30 minutes to see if we could tell a difference in the crumb.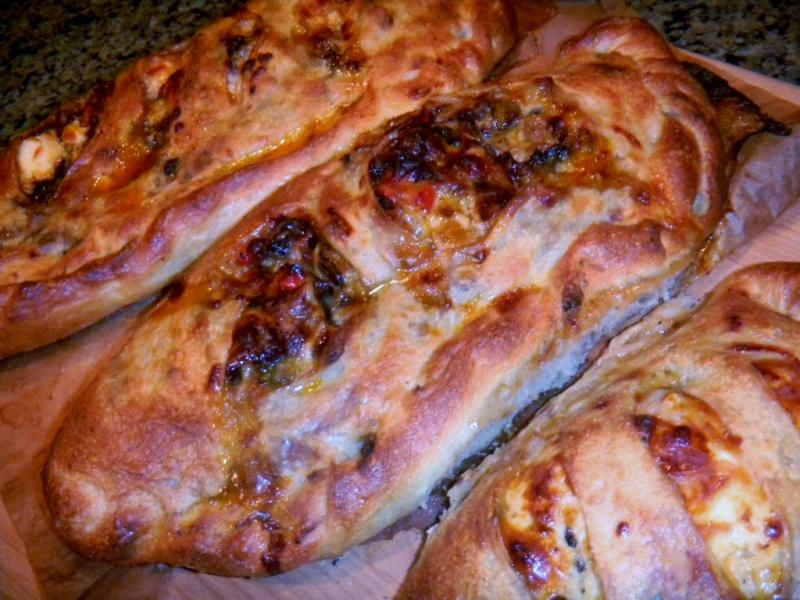 The poolish was a 12 hour counter affair before it was incorporated into the rest of the mix, the dough developed, the herbs and sun dried tomato added on the first S&F and then  fermented for 30 minutes before being bulk retarded in the fridge for 24 hours.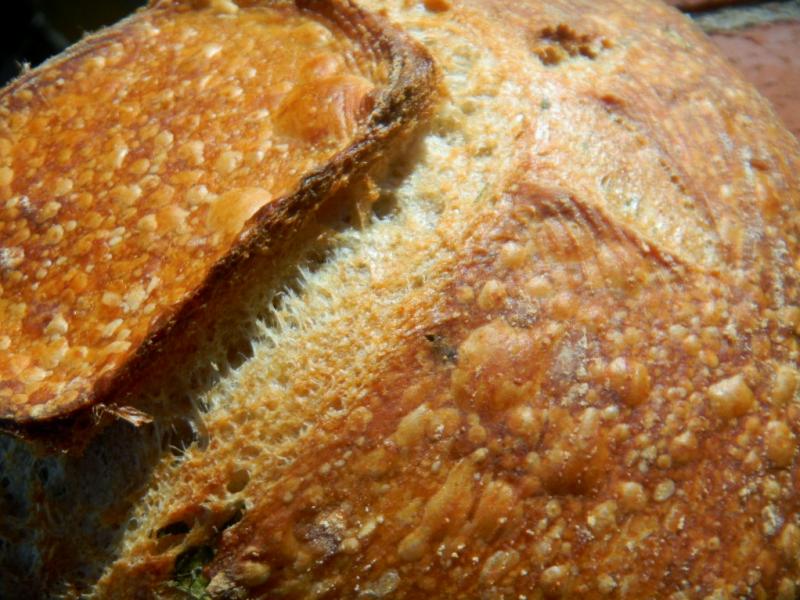 When the poolish dough went into the fridge we started the YW levain which also took 12 hours on the counter, overnight this time.  The next morning we developed the dough with slap and folds and incorporated the herbs and sun dried tomato the same as before but, instead of bulk retarding this time, we let the dough bulk ferment on the counter to hopefully let it catch up to the poolish dough in the fridge now going on 18 hours.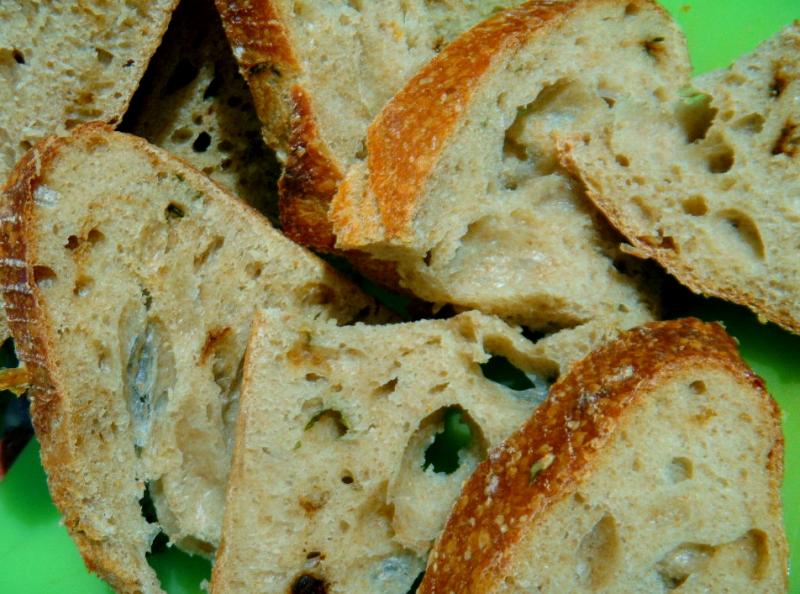 We took the fully risen poolish dough out of the fridge 3 hours before we wanted to use it to let it get to room temperature.   In 3 hours both batches if dough were ready to go and fully proofed.  This is when we shaped the YW one, put it in a a basket and retarded it.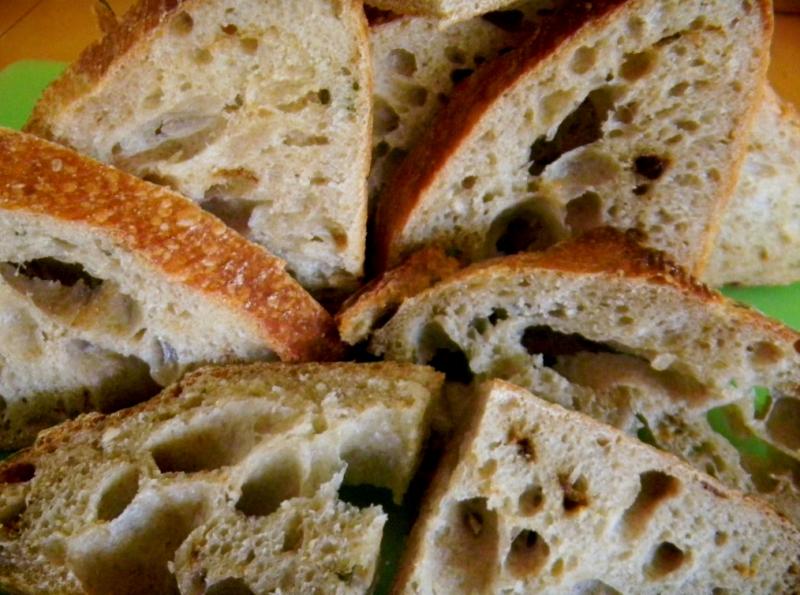 The calzone filling included the seasoned ricotta with an egg mixed into it and the other 4 cheeses included; Monterrey jack, mozzarella, pecorino and parmesan.  Hot Italian sausage and pepperoni were the meats.  The veggies included caramelized crimini and button mushrooms, caramelized red onions, red bell pepper and green onion.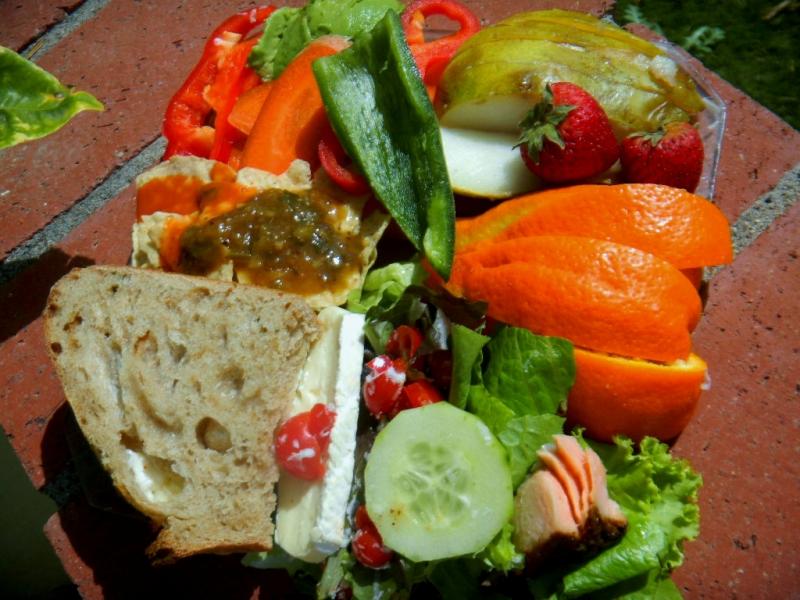 The calzones were baked at 425 F for 10 minutes with steam and then at 425 F convection for 15 minutes until browned and bubbly.   There were even some small blisters on the folded edges.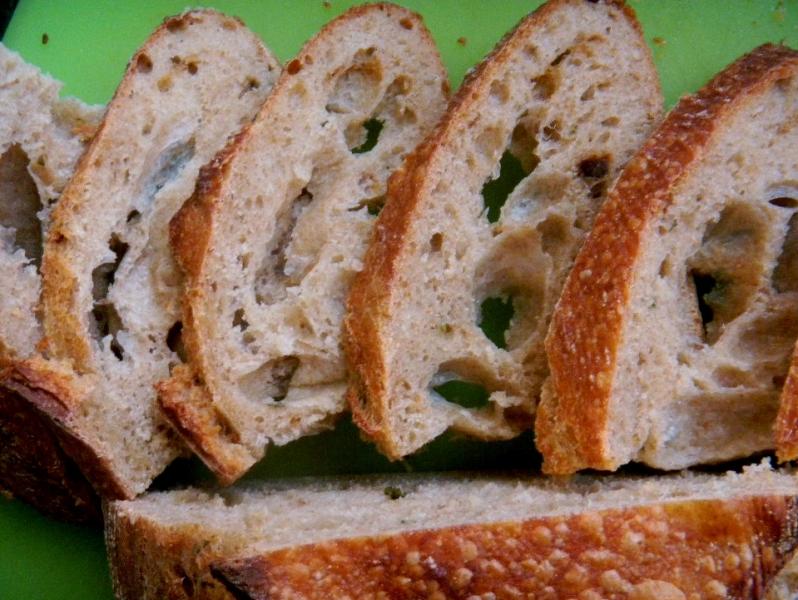 Last night's calzone dinner was delicious and the huge house salad was hardly touched as each of us went for maximum calzone intake.  We checked the YW bread in eh fridge before going to bed last night after it had been in he fridge for 6 hours and it looked like it was 100% proofed – not a good sign for dough that had another 8 hours to go.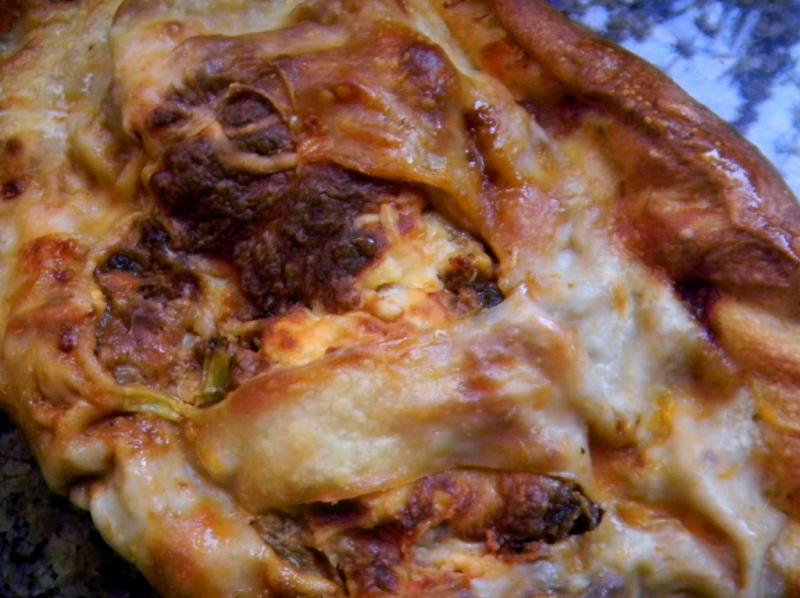 The calzone even looks good frozen!
Sure enough this morning the dough had given up 15% of its fridge proof the night before and was back to the 85% mark.   I figured the worse case it would continue to fall in the oven and bake up like a Frisbee.   So we got Big Old Betsy fired up to 525 F as fast as possible and put (2) of Sylvia's steaming pans on the bottom rack at the 475 F mark.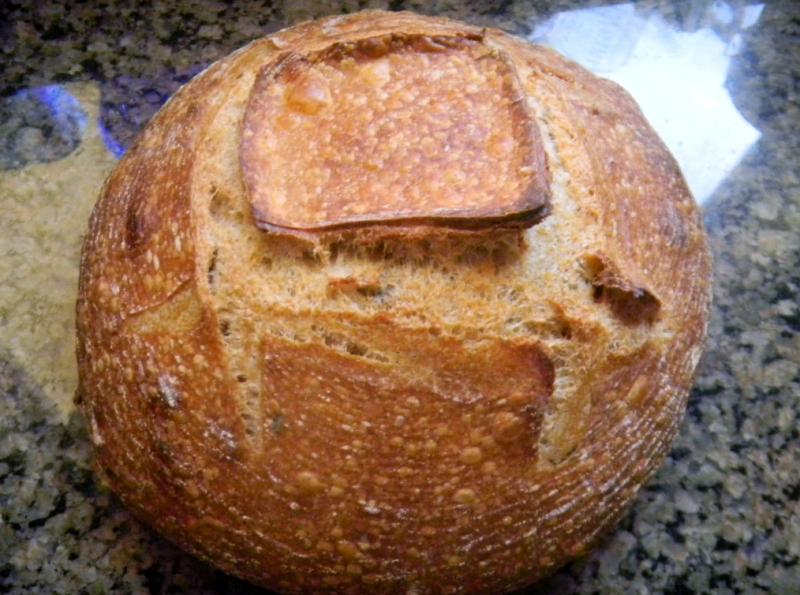 We got the cold dough out of the fridge, dumped it out of the basket onto parchment on a peel.  Lucy was heartened that when we scored it with a single edge razor the dough didn't deflate further.  We slid it onto the bottom stone, threw 1/2 C of water onto the bottom of the oven for instant steam, closed the door and turned the oven down to 475 F for 12 minutes of steam.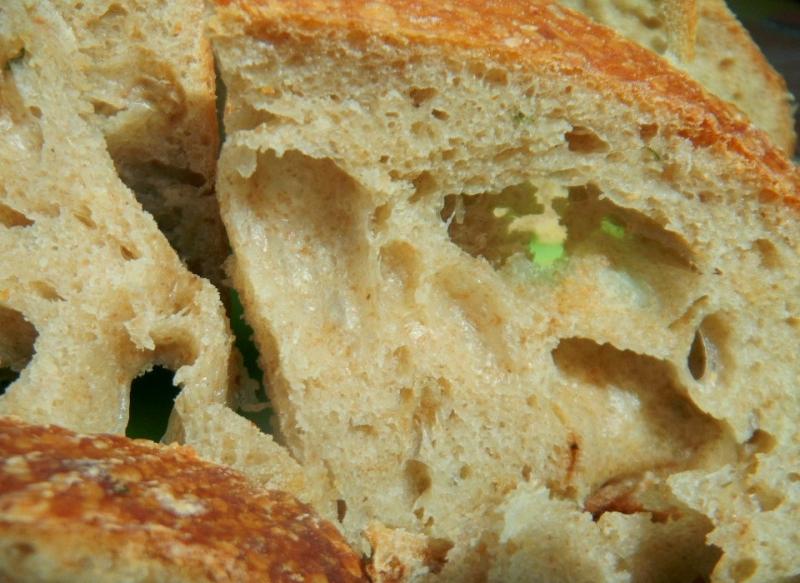 When we pulled Sylvia's steaming pans out we switched to convection at 425 F and noticed that the bread had surprisingly sprung and bloomed well.   But the huge blisters were also a welcome sign that this bread had resurrected itself from near collapse and death.  It hit 210 F before we could catch it at the 26 minute mark and by then the bread was a pleasant brown.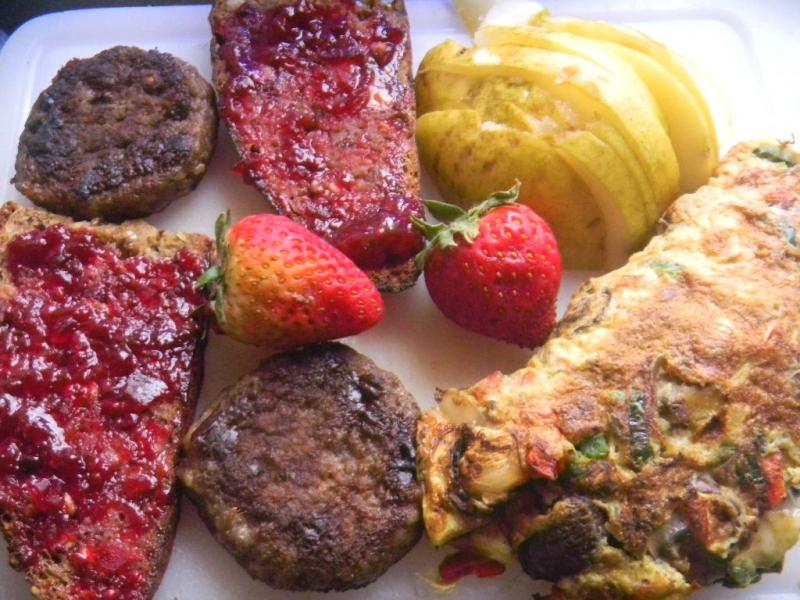 Let's not forget breakfast.
After cooling we sliced it t find the crust was still a little crisp and the crumb very open, soft and still moist.  It tasted like a really good poolish baguette that had been retarded - possibly a little sweeter?  My daughter loved it and the girls who prefer a non sour bread will eat this up in no time.  I wish it was a SD!  Can't taste the basil at all but every once and while you get a taste of sun dried tomato.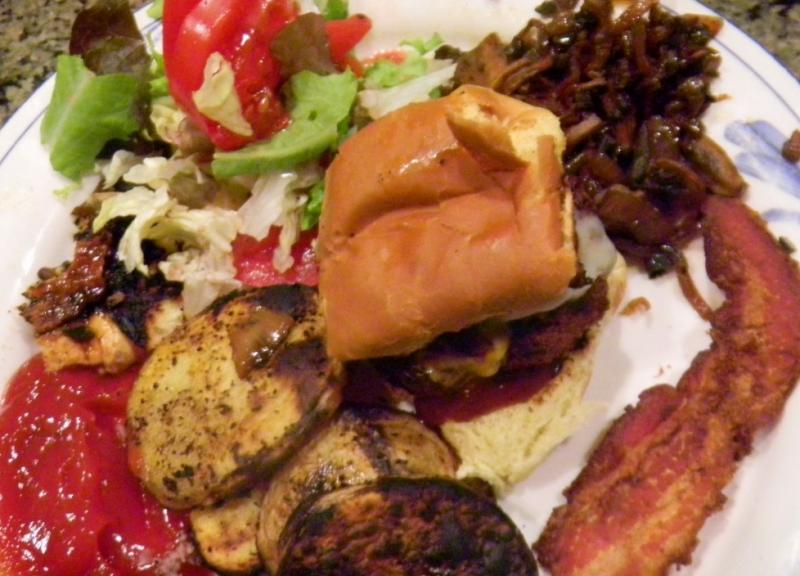 A hamburger slider dinner.
This is a very nice bread if you like white non sourdough bread and makes due as fine sandwich bread that the kids will love for their lunches.  I have to say I really liked today's lunch sandwich of Monterrey jack cheese, some mayo and peppered Italian salami.
Donlt overlook a great salad even if you don't eat it with calzones like you shouls!
The sides included a salad with cherry tomatoes, a knob of grilled salmon and a slice of brie. A half a pear and Minneola, half an avocado, red pepper, carrot elongated coins, a slice f fresh jalapeno, a couple of strawberries and small pile of tortilla chips with Dabrownman's chili, tomatillo, salsa verde and killer habanero hot sauce.  All of it was just delicious.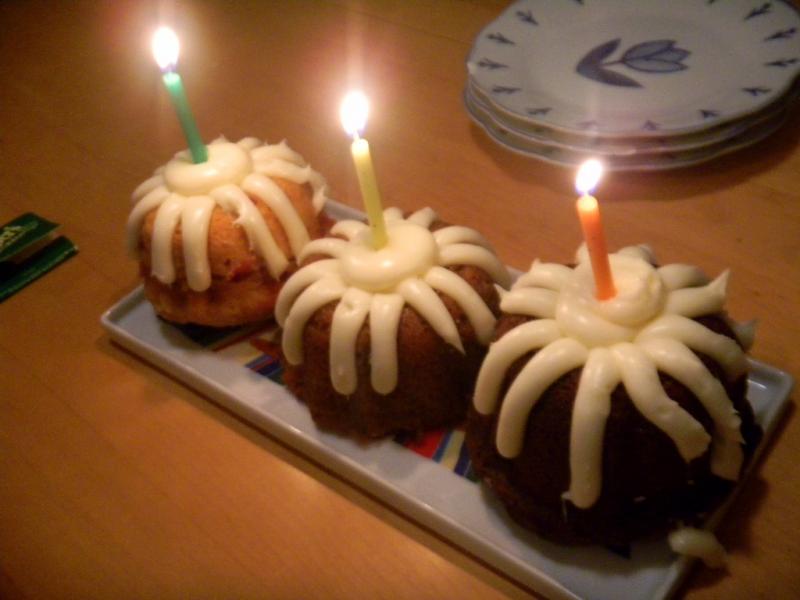 My wife's triple birthday cake.  One a raspberry and white chocolate cream delight, a traditional carrot cake and the last a triple death by chocolate chunk.  Delicious!
If you or yours want fine tasting 80% white sandwich bread that isn't sour, you can't go wrong with this one.
Formulas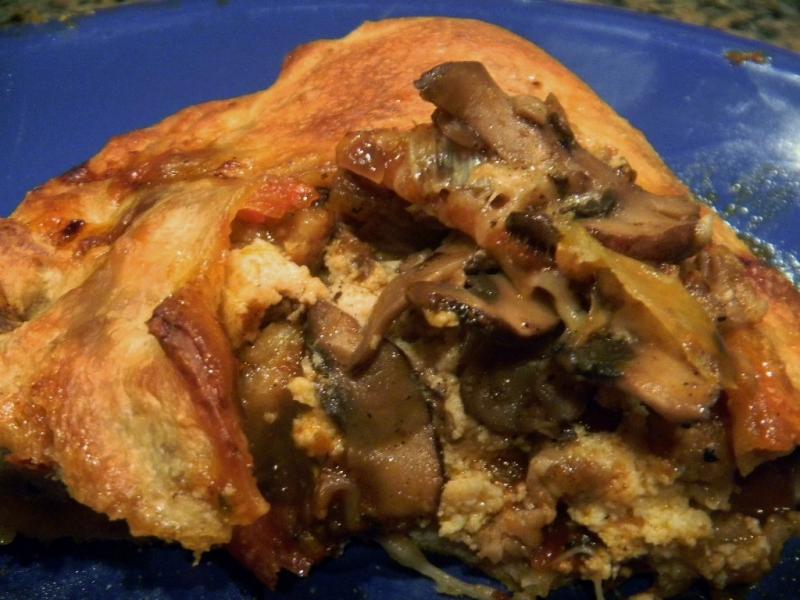 | | | | |
| --- | --- | --- | --- |
| Poolish White Calzone - Makes 4 Large Calzones |   |   |   |
|   |   |   |   |
| Poolish with a Pinch of ADY | Build 1 | Total | % |
| AP | 75 | 75 | 16.67% |
| Water | 75 | 75 | 16.67% |
| Total | 150 | 150 | 33.33% |
|   |   |   |   |
| Poolish Totals |   | % |   |
| Whole Multigrain Flour | 75 | 16.67% |   |
| Water | 75 | 16.67% |   |
| Hydration | 100.00% |   |   |
| Levain % of Total Flour & Water | 19.35% |   |   |
|   |   |   |   |
| Dough Flour |   | % |   |
| AP | 375 | 83.33% |   |
| Salt | 9 | 2.00% |   |
| Olive Oil | 10 | 2.22% |   |
| Dough Hydration | 66.67% |   |   |
|   |   |   |   |
| Total Flour | 450 |   |   |
| Water | 325 |   |   |
| Hydration with Levain | 72.22% |   |   |
| Total Weight | 794 |   |   |
| 2 tsp of sun dried tomato |   |   |   |
| 1 tsp of fresh rosemary |   |   |   |
| | | | |
| --- | --- | --- | --- |
| Yeast Water Italian Bread |   |   |   |
|   |   |   |   |
| Yeast Water levain | Build 1 | Total | % |
| Whole Rye | 25 | 25 | 5.88% |
| Whole Wheat | 25 | 25 | 5.88% |
| Whole Spelt | 25 | 25 | 5.88% |
| Yeast Water | 75 | 75 | 17.65% |
| Total | 150 | 150 | 35.29% |
|   |   |   |   |
| Levain Totals |   | % |   |
| Whole; Rye, Spelt and Wheat | 75 | 17.65% |   |
| Water | 75 | 17.65% |   |
| Hydration | 100.00% |   |   |
| Levain % of Total Flour & Water | 20.00% |   |   |
|   |   |   |   |
| Dough Flour |   | % |   |
| AP | 350 | 82.35% |   |
| Dough Flour | 350 | 82.35% |   |
| Salt | 8 | 1.88% |   |
| Olive Oil | 10 | 2.35% |   |
| Dough Hydration | 71.43% |   |   |
|   |   |   |   |
| Total Flour | 425 |   |   |
| Water | 325 |   |   |
| Hydration with Levain | 76.47% |   |   |
| Whole Grain  % | 17.65% |   |   |
| Total Weight | 768 |   |   |
| 2 tsp of sun dried tomato |   |   |   |
| 1 tsp of fresh basil |   |   |   |