October 7, 2013 - 11:36am
Multigrain Old Sourdough Makes 2 Retarded Pizzas
From the last whole grain multigrain SD bake with seeds and scald here:
http://www.thefreshloaf.com/node/35130/whole-multigrain-sd-bread-scald-seeds-and-more-aromatic-seeds
 we held back 60 g of the final dough before the scald was added to make some pizzas.
We added 30 g each of AP flour and water to the old dough for the first build and then 3 hours later we added 290 g of AP and 210 g of water,.  After another 3 hours we added 50 g of AP and 35 g of flour to the dough and immediately refrigerated it for 48 hours.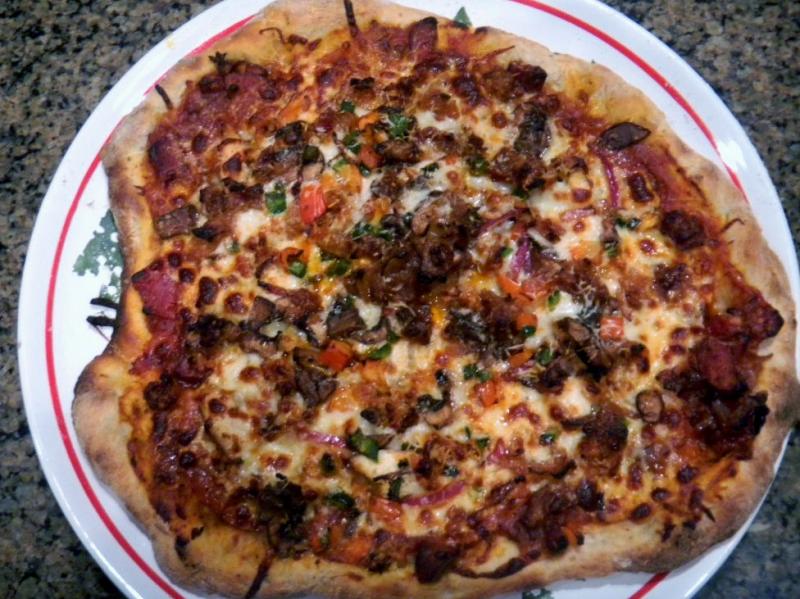 We divided it in half for one Pizza on Saturday night and the remainder was used of Sunday night with the addition of sun dried tomato, fresh rosemary and garlic to the dough.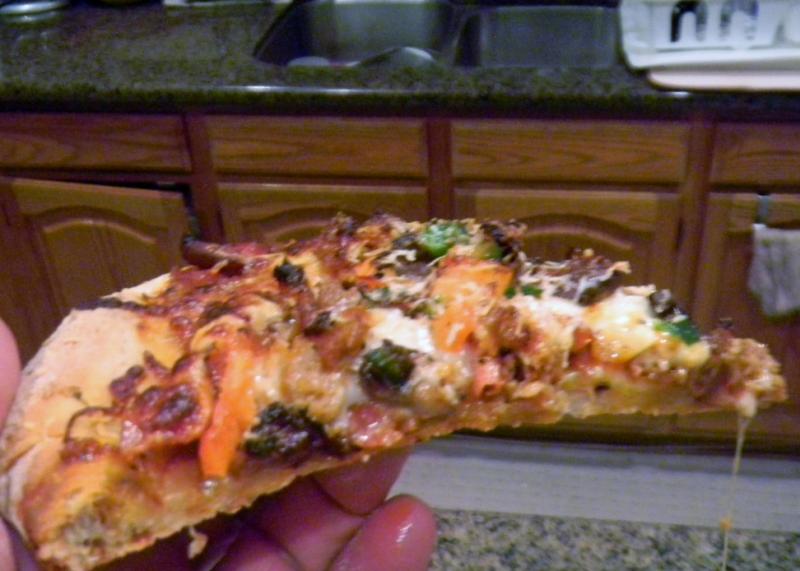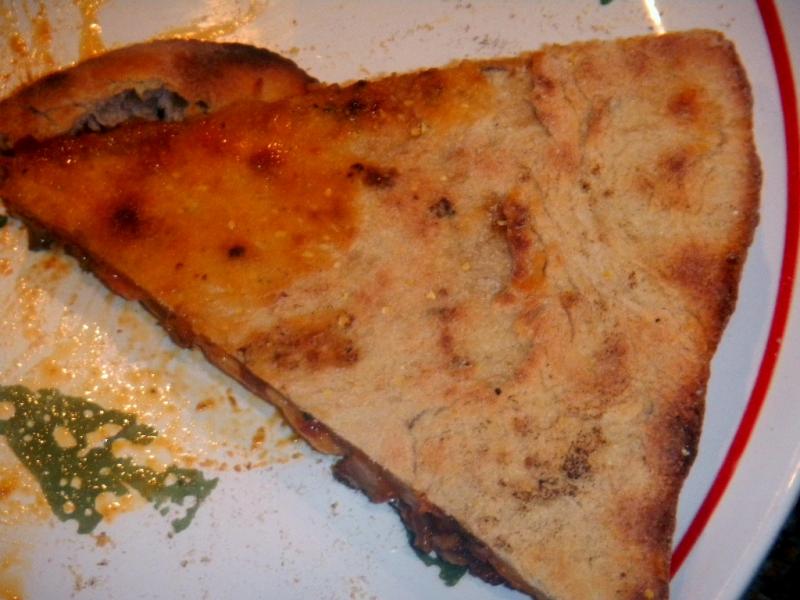 Look at that first piece of the first pizza bend!           And the bootom of teh 2nd Pizza
It was shocking how much the aromatic seeds of caraway, anise, coriander and fennel came though in the first pizza. There was such a small amount of these seeds, less than half a gram, in the first 350 g of pizza dough that one would think the flavor would disappear.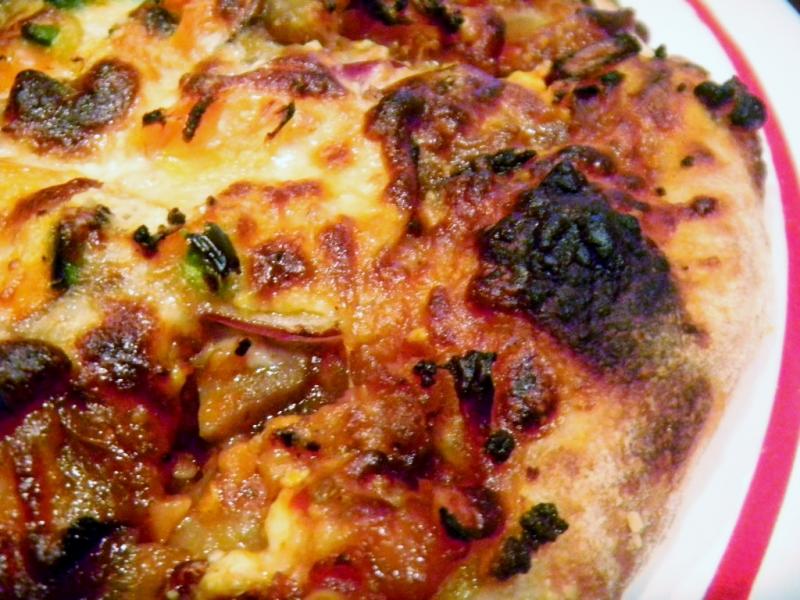 But, even with all the toppings of, grilled chicken, pepperoni, hot sausage, Poblano and red peppers, red onions, caramelized onions and mushrooms with mozzarella and pecorino cheese the first thing my wife said after the first bite was that the dough tasted like rye bread.  I though the same thing. I loved it but she thought it was little strange to have a rye pizza.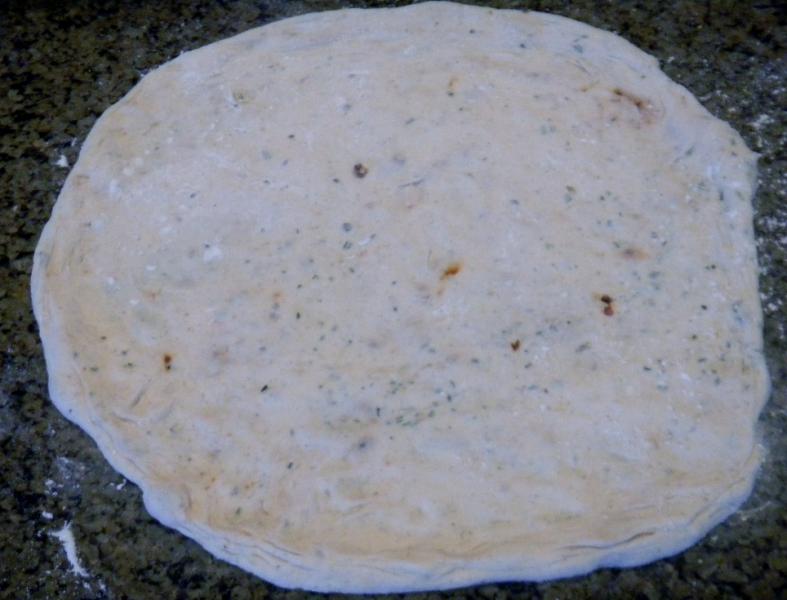 For the first pizza we didn't par bake the crust as we usually do and it was a little thicker than our super thon usual so it didn't bake up as crisp at 500 F – even with a stone top and bottom 10" apart.   My wife liked the texture better than the normal for some reason.  I thought it was like thicker fold over not crisp NY style pizza that I don't like very much.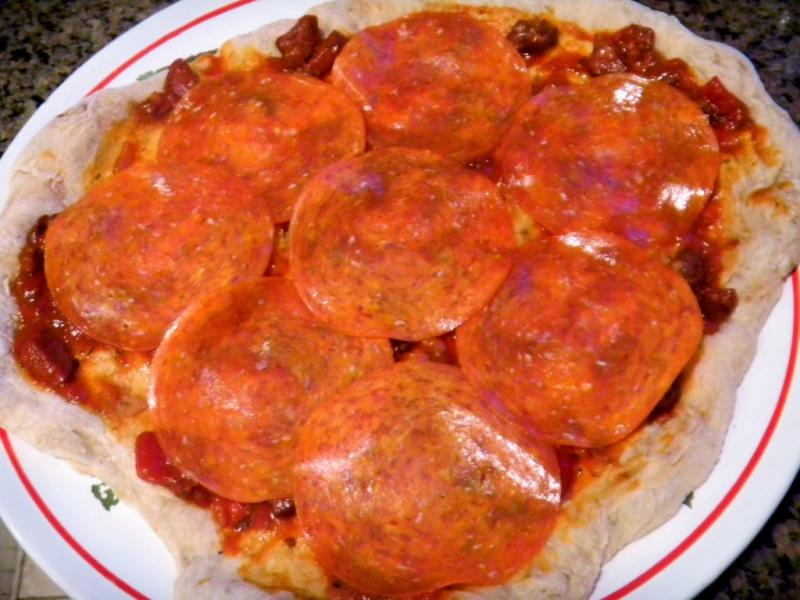 See through pepperoni.
The pizza tasted great even though it didn't have half the stuff we usually put in or on it.  The 2nd pizza was retarded for 72 hours.  When it came out of the fridge we added the sun dried tomato, fresh garlic and rosemary to it – like we do our favorite SD pizza crust that uses a modified Focaccia  Romana recipe.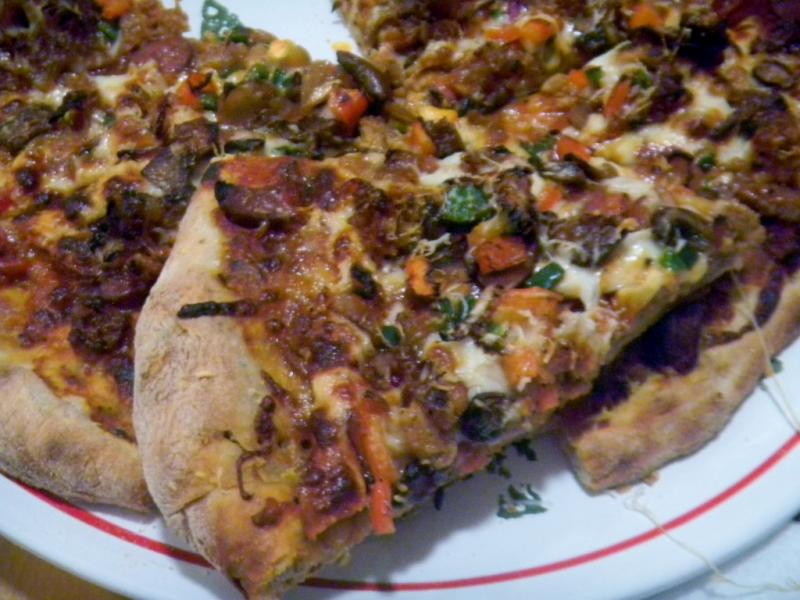 This curst had no rye flavor at all even though it had the same amount of aromatic seeds as the first one but you could taste the new additions. I liked this crust better for 3 reasons.  I baked it at 550 F, never knew the oven went that high, it was par baked for 2 minutes before being loaded up and it came out thinner and much more crisp – just the way I like it.  My wife said it tasted better without the rye!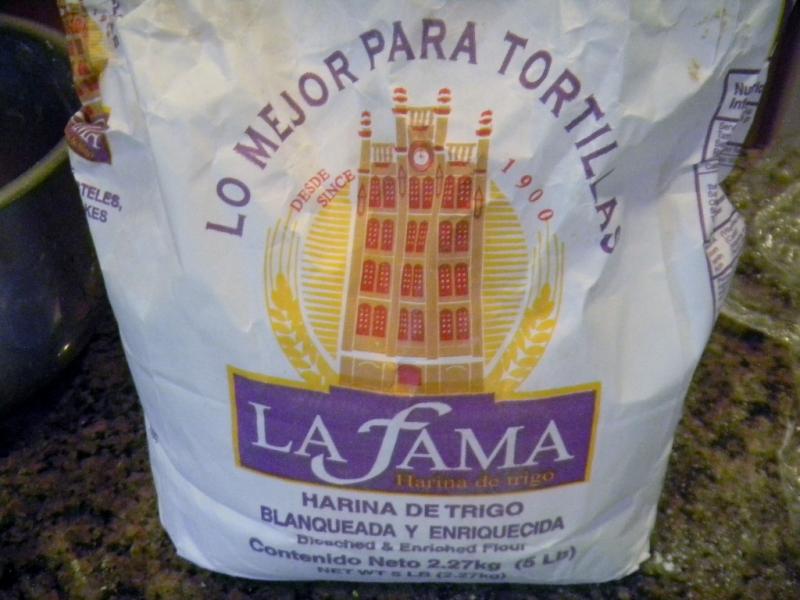 Our favorite tortilla and pizza flour at over 13% protein - from little Italy in Mexico :-)  $1.88 for 5 #s!
Still, no crust has been able to dethrone the Focaccia Romana made outside on a 650 F gas grill with a stone.
 

Build 1

Build 2

 Build 3

Total

%

86% hydro Old dough

60

0

0

60

14.93%

AP

30

290

50

370

92.04%

Water

30

210

35

275

68.41%

Total

120

500

85

705

175.37%

 

 

 

 

 

 

 

 

%

 

 

 

Flour

402

100.00%

 

 

 

Water

303

75.37%

 

 

 

Hydration

75.37%

 

 

 

 

 

 

 

 

 

 

Salt

7

1.74%

 

 

 

Total Weight

712

 

 

 

 

Pizza 2 included 1 T each sun dried tomato

 

 

 

& fresh rosemary & 1 tsp of fresh garlic