September 27, 2013 - 1:25pm
The 100% Whole Grain, Multigrain - Mashed by Melon Test - 3 Ways
I started out to see what the keeping qualities and crumb structure of a YW /SD combo levain and a straight YW levain would be compared to a SD levain bread.  I figured that if YW alone couldn't supply a decent keeping quality and was better in combination with SD for this while still mellowing the sour and providing YW's unique crumb structure - there was no sense making a straight YW bread if you could get the benefits of it and still get the SD keeping quality with a combo levain.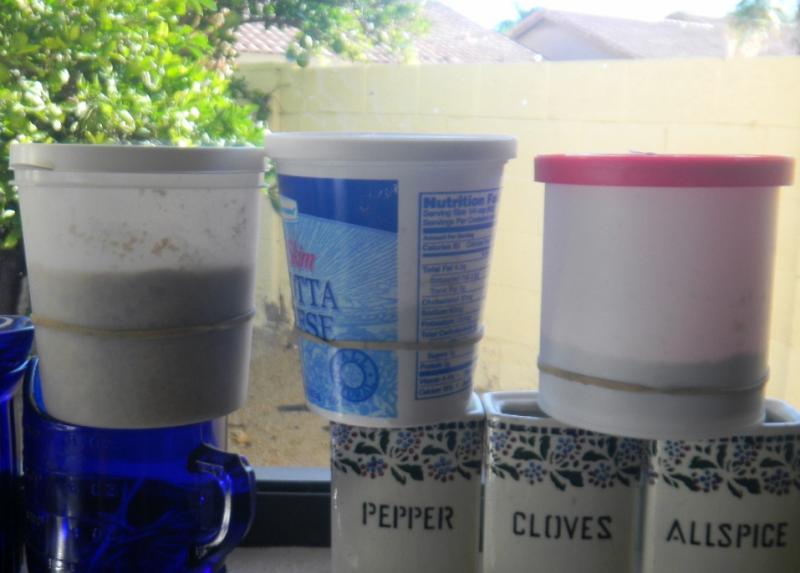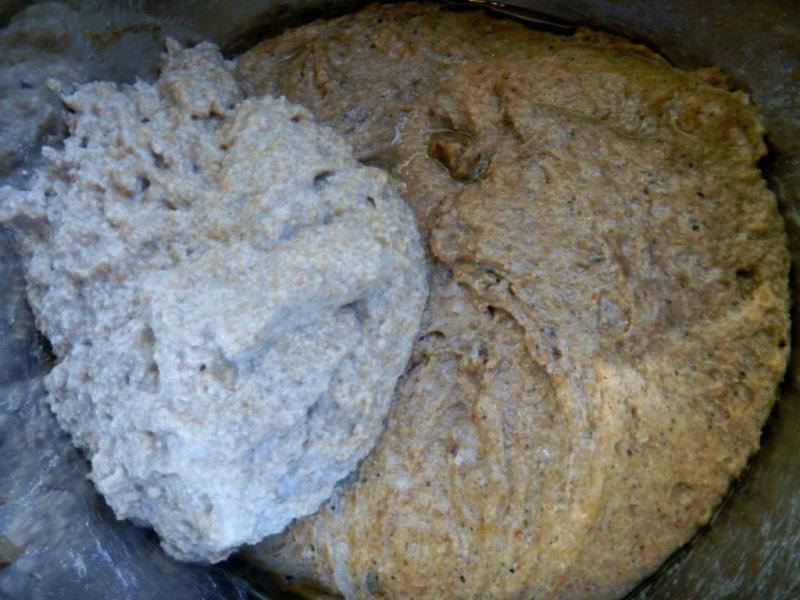 Sounds great except my apprentice wanted to do an even more important retarded proofing test too, a test she sort of snuck in there while I was asleep.  At first I was a little miffed but heck, life is too short and after contemplating it, I thought the YW overYW / SD melon recovery test was a great idea. Why not kill 3 breads with two melons!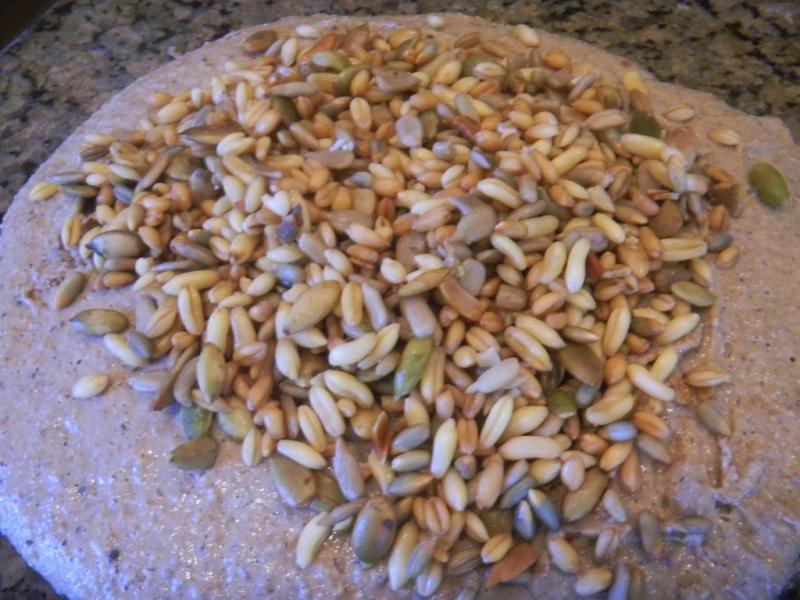 We took one of favorite 100% whole grain, home milled multigrain SD breads with whole berry 24 hour soak and 4 seeds, and made it 3 ways: SD, SD /YW Combo and YW levains.  To mix things up a little bit, 1 hour after the 3rd feeding, we retarded all 3 for 72 hours to bring out the sour in the SD portions.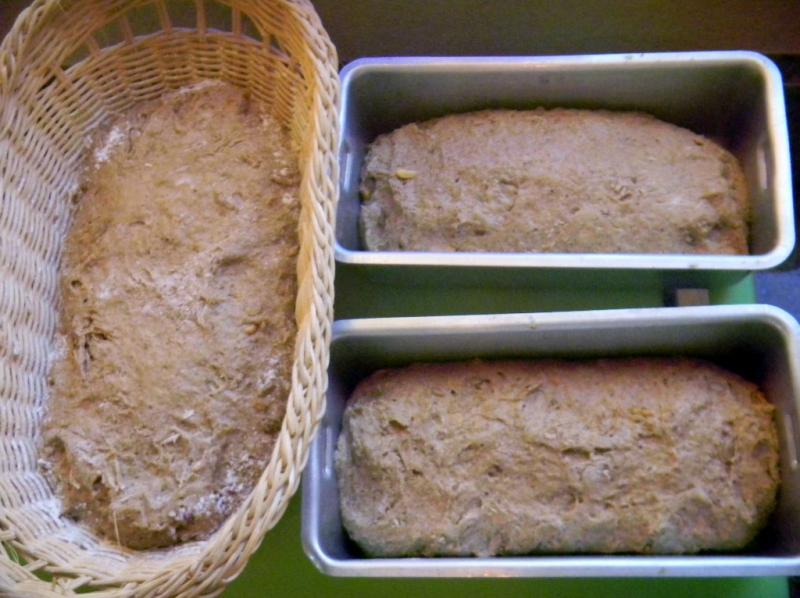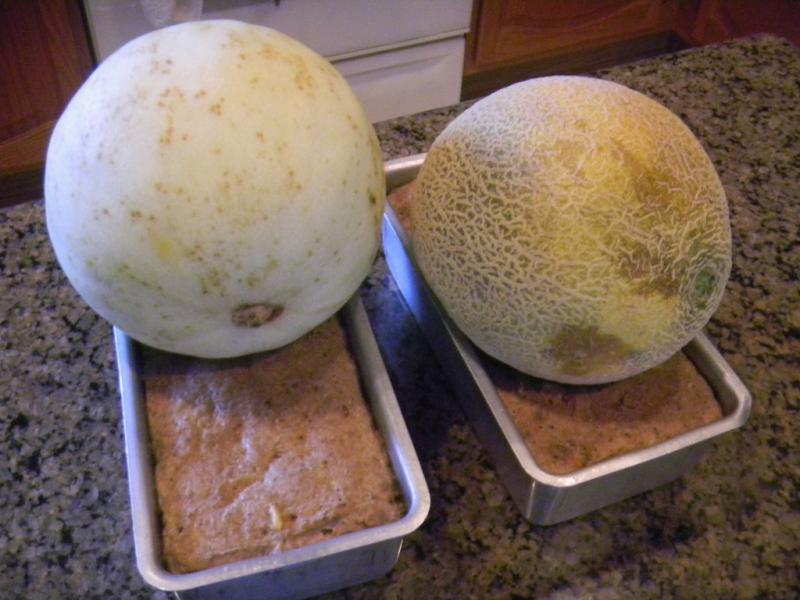 As per our usual when home milling we took the 25% sifted out portion of bran germ and what nots and feed that to the levains.  They don't seem to care and nit is a great way to get the hard bits of the wholegrain wet for as long as possible.  The grains used were 20% each whole berry: barley, Kamut, spelt, rye and wheat.  The AP in the formula was brought up to whole grains with the inclusion of the appropriate amount of Toadies.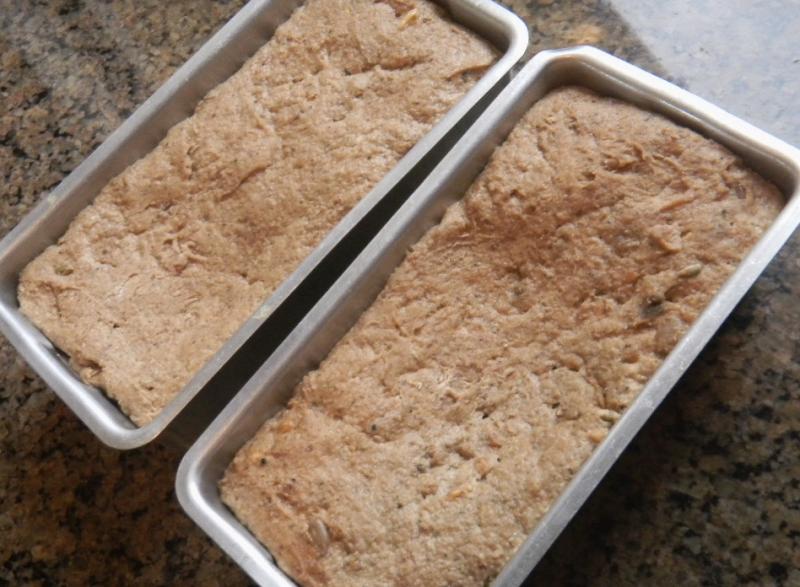 We let the levains finish doubling after removing them from the fridge which took 3 hours.  We started the autolyse for everything else less the soaked whole berry, pumpkin and sunflower seeds 1 hour before the levains came out of the fridge to warm up.  We used exactly 2 bottles (11 oz each at 5.4% alcohol – no tasting) of Full Sail's Session Black Lager for the autolyse liquid resulting in a 4 hour autolyse  for the 75% extraction flours, malts, VWG, sesame and flax seeds.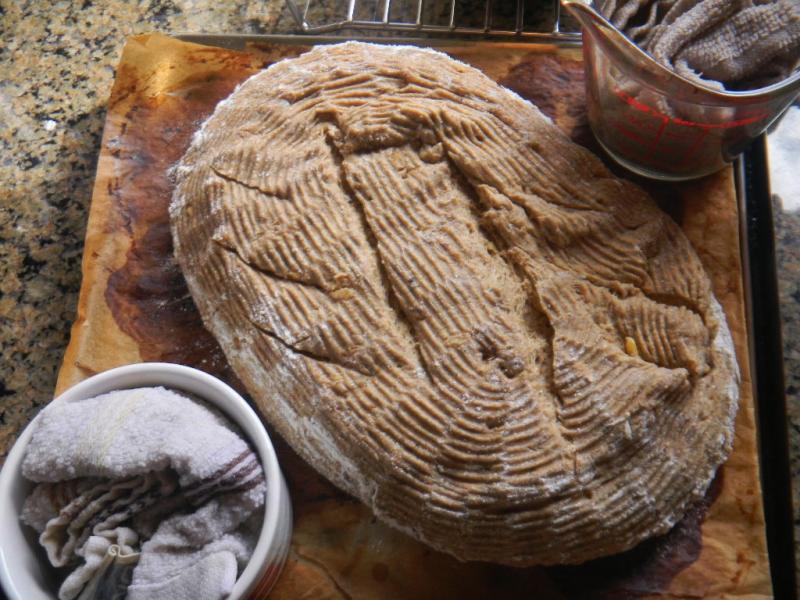 We divided the autolyse in half.  One half we mated with the SD levain to make a straight SD bread.  The other half we divided in half again and made one into a straight YW bread and the other half go the SD/YW combo levain.  All of these whole grain breads came in at over 90% hydration but less than 92%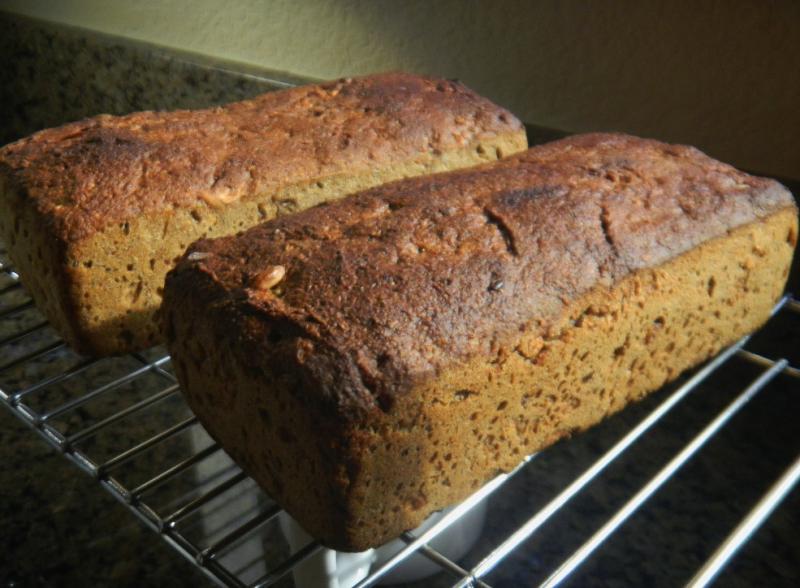 Each got our new 3 sessions of slap and folds that Lucy shamelessly stole from Josh – this time 10 minutes, 5minutes and 3 minutes and 3 sets of S&Fs where the left out soaker and seeds were incorporated on the 1st one and fully distributed by the end of the 2nd set.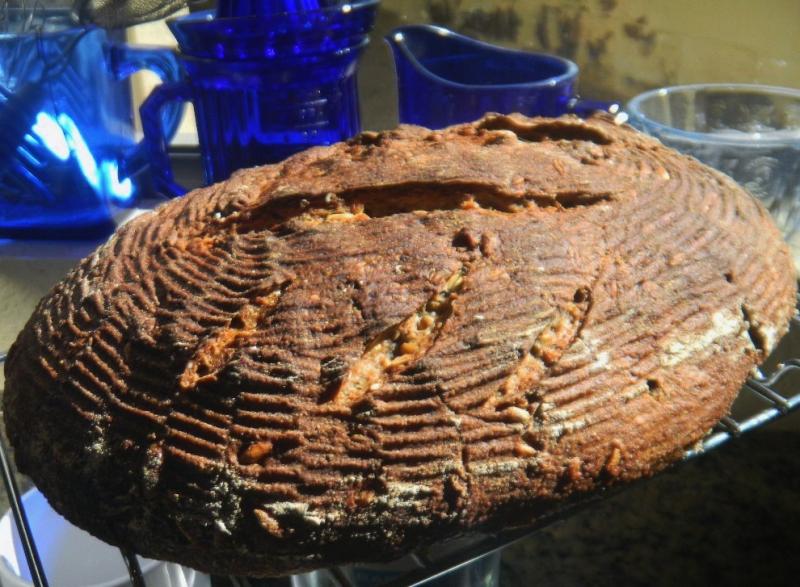 We were starting to like this method but doing 3 breads at a time was 46 minutes of slap and folds – whey.  But, at least I know that with the holidays looming, I'm ready for Michael Wilson's required 30 minute minimum of panettone slap and folds.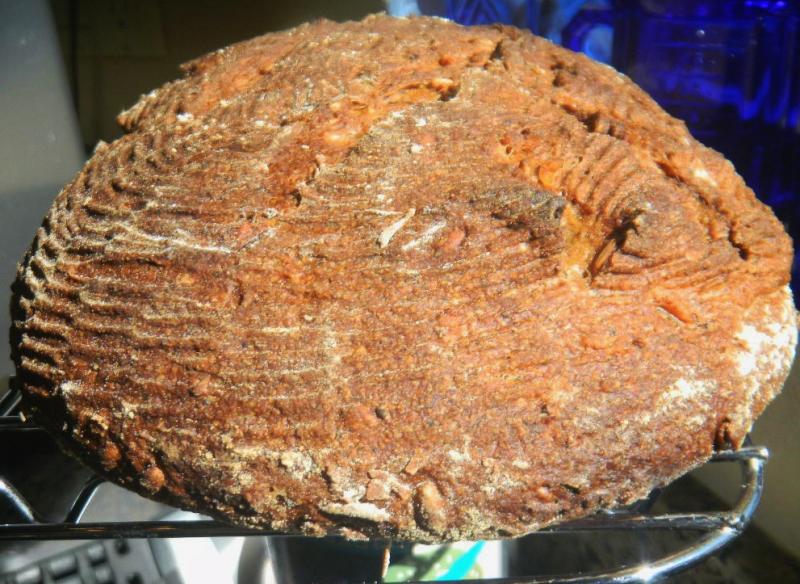 After a very short 30 minute rest the 3 separate dough balls were shaped.  The two smaller ones were going into cocktail loaf pans, due the high hydration and sized to have a 1 pound finished weight.  The larger lump was shaped into an oval and placed into a rice floured basket.  Once shaping was complete all 3 went into a used trash can liner and into the fridge for a 20 hour retard.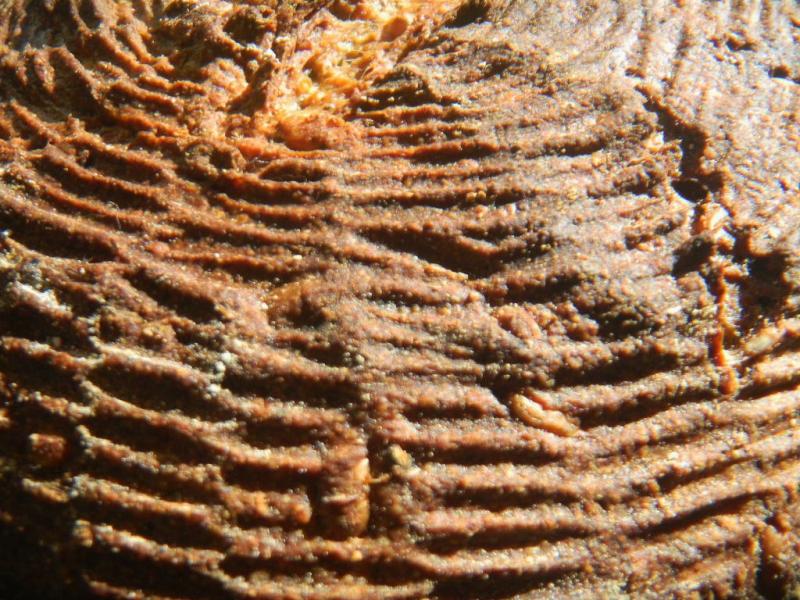 When I checked them at the 12 hour mark; midnight and all was well.  All three had already doubled and the cocktail loaves had risen above the rim in the middle.  I was worried that they would over proof in another 8 hours but figured they were good and cold after 12 hours and that the yeast would shut down while the dough got a little more sour.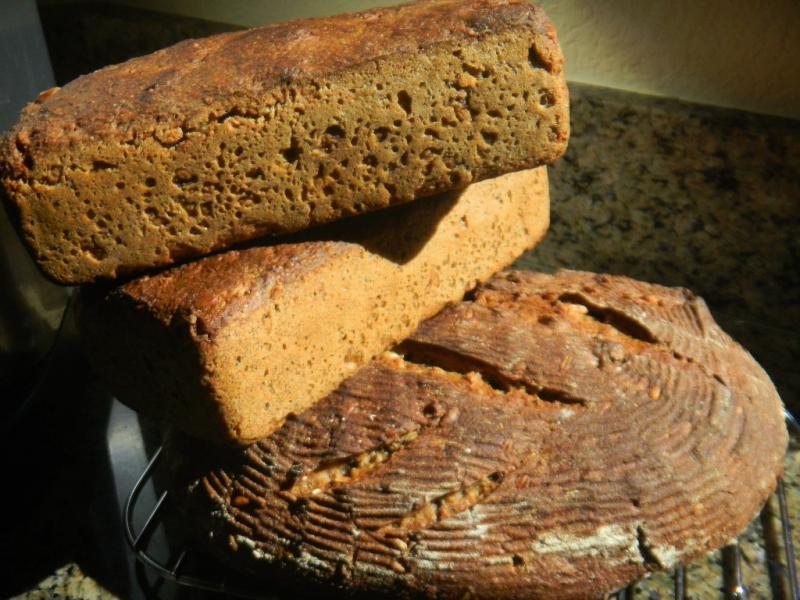 About here is when I think things started going strange.  Lucy got out of bed and went out the doggie door next to the kitchen to do her business.  Right after she came back in I heard a thump coming from the family room or kitchen.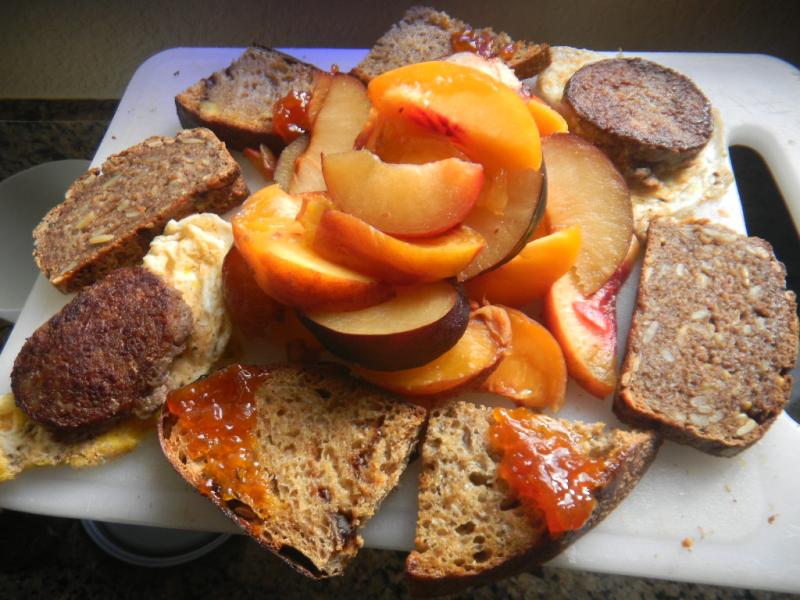 Lucy says everyone should start their day enjoying a good breakfast featuring Hanseata's Challenge Bread and have a fine lunch in the middle of the day of seafood pho, feta salad and Tzitzel pastrami sandwich.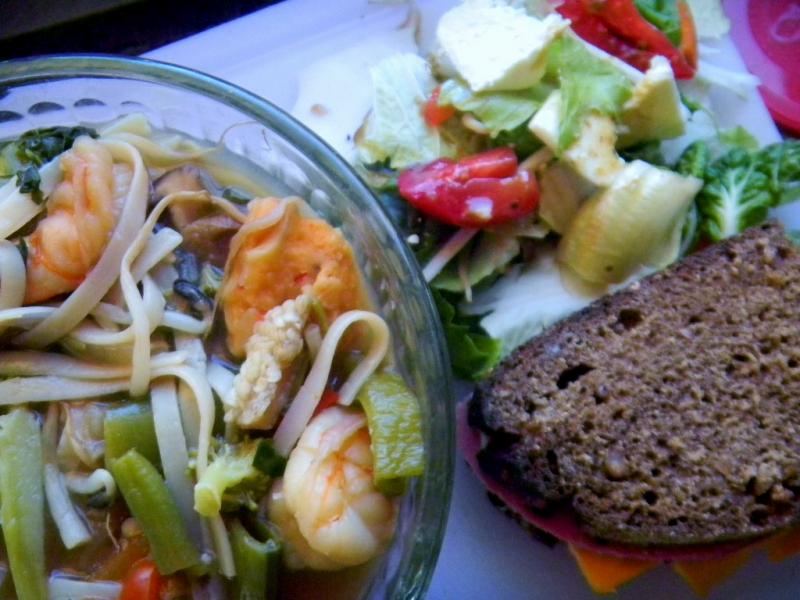 When I investigated I couldn't find anything wrong other than Lucy had a satisfied look on her mug.  Normally she would bark if a thump happened in the darkened house but not a peep came out of her this time.  So I figured it wasn't an evil intruder and it was probably just the ghost of my previous baking apprentice; Gretchen, who sometimes comes out to play with Lucy late at night.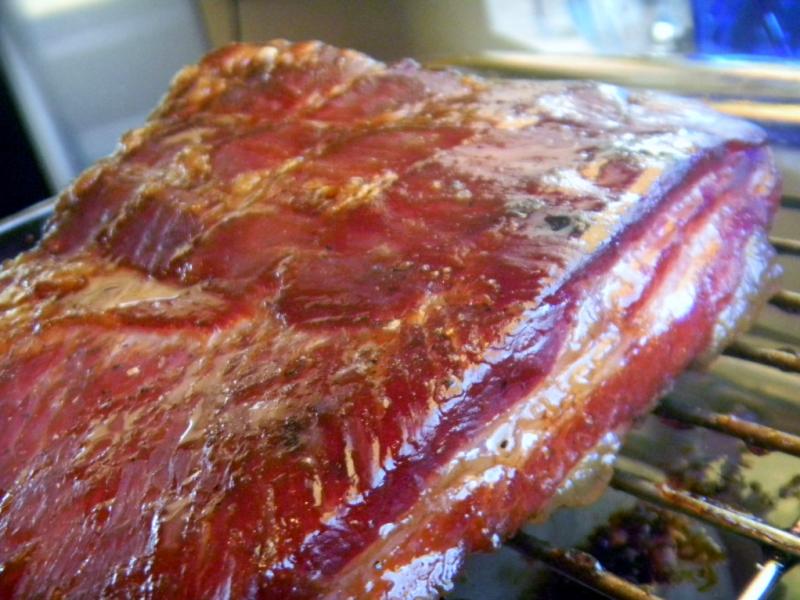 This weeks smoked meat is maple and brown sugar cured, apple wood smoked bacon.  If you don't make your own bacon, you are missing out on what real bacon should taste like when made properly without nitrates and used to make a BLT.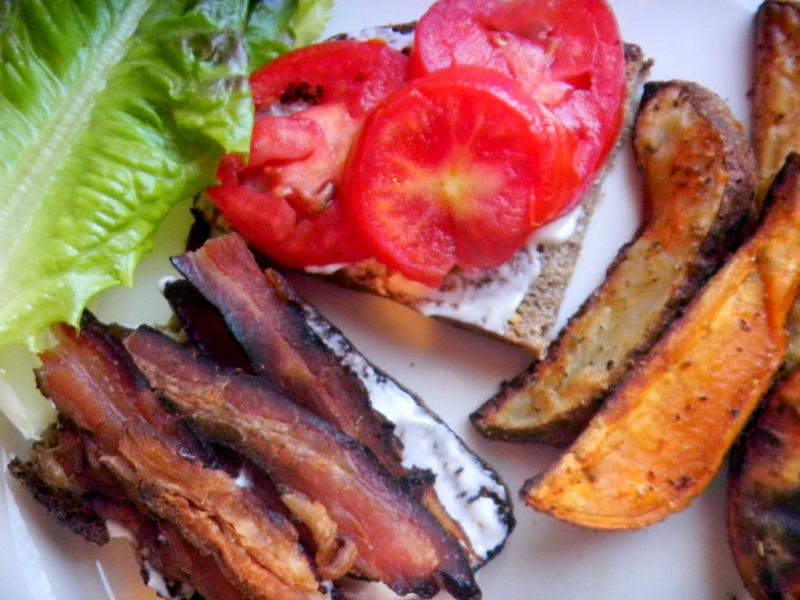 At the 20 hour mark I went to get the trash can liner and bread out of the fridge and I noticed that the cantaloupe and Honey Dew melons I had purchased at the Sprouts were sitting right one top each of the two tinned loaves.  Both had been smashed down from their midnight high marks!
A mixed apple and stone fruit crisp is a fine desert for any dinner and no dinner is complete without a salad.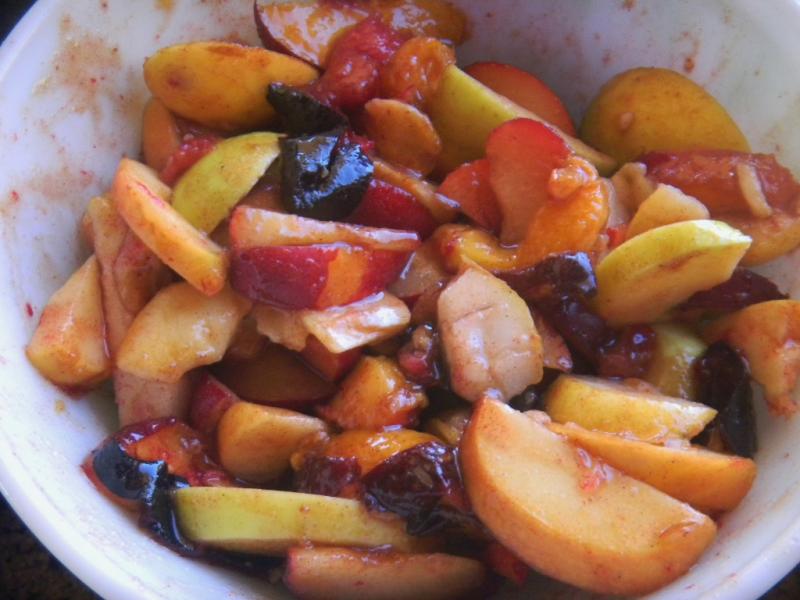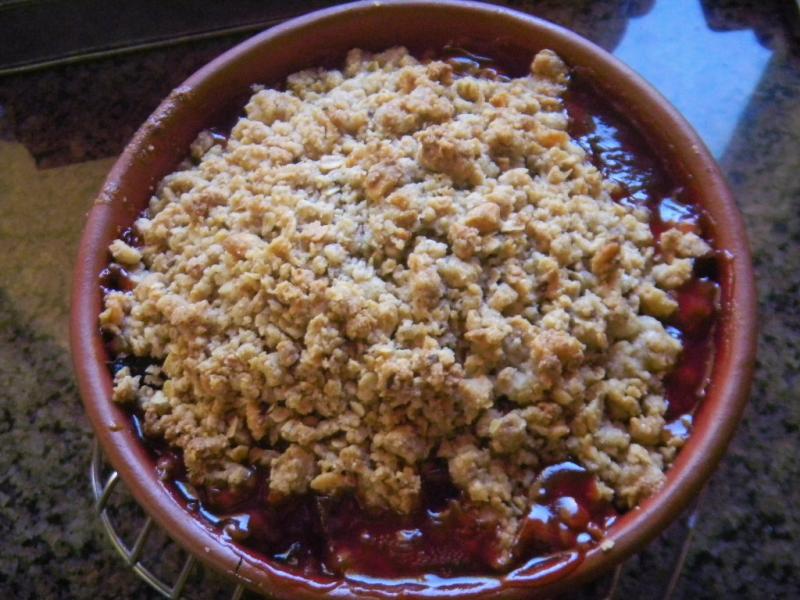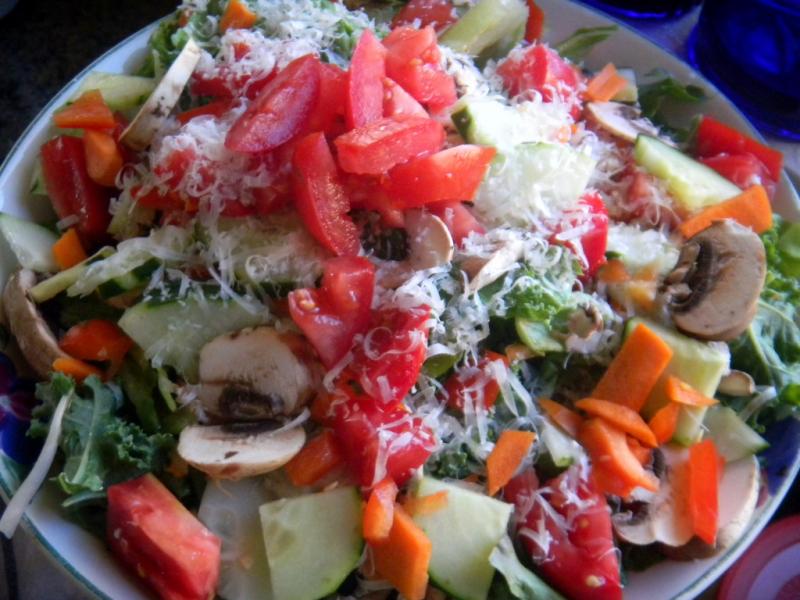 I though it was an accident since I had piled them up above and behind the bread in the fridge and perhaps they were unsteady and just rolled onto the bread, but nnnoooo!  Lucy had decided to do a Mashed by Melon Test on the YW and YW / SD tinned loaves to see if one could recover better than the other in the heat of the mini oven when baked.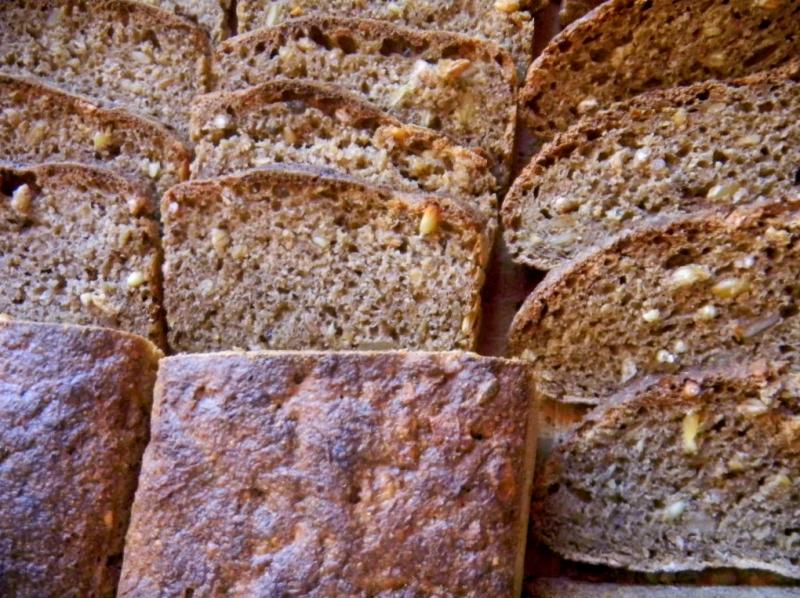 YW left SD right and the combo in the middle.
We decided to bake the two tinned melon mashed loaves first so they couldn't recover at room temperature.  They were placed in the tins seam side up hoping they would crack naturally on the seam anyway - if they cracked at all.  We chucked them onto the 500 F mini oven with 1 of Sylvia's steaming cups and 1/3 C of water thrown into the bottom of the oven's the door was shut to supply an instant burst of steam.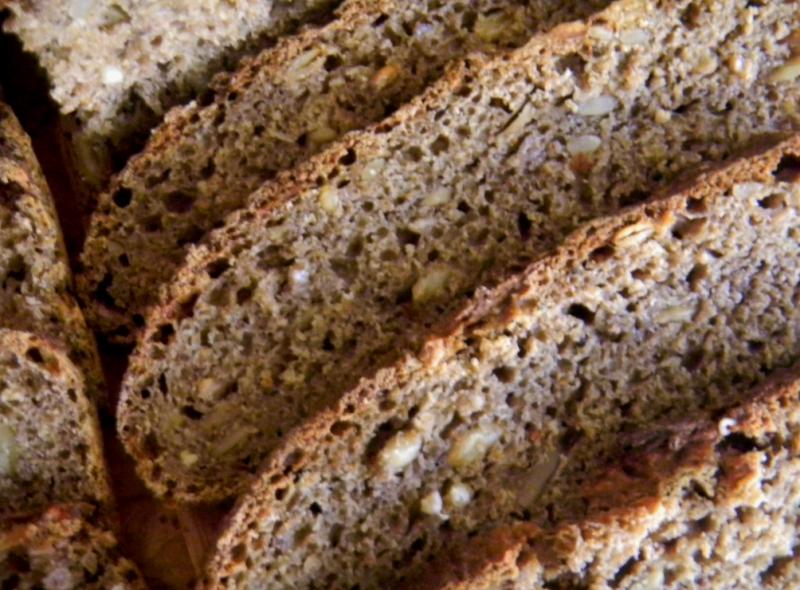 Sourdough
After 2minutes the temperature was turned down to475 F and then down to 450 F 2 minutes after that.  After a total of 15 minutes, the steaming cup was removed and the oven turned down to 425 F, convection this time.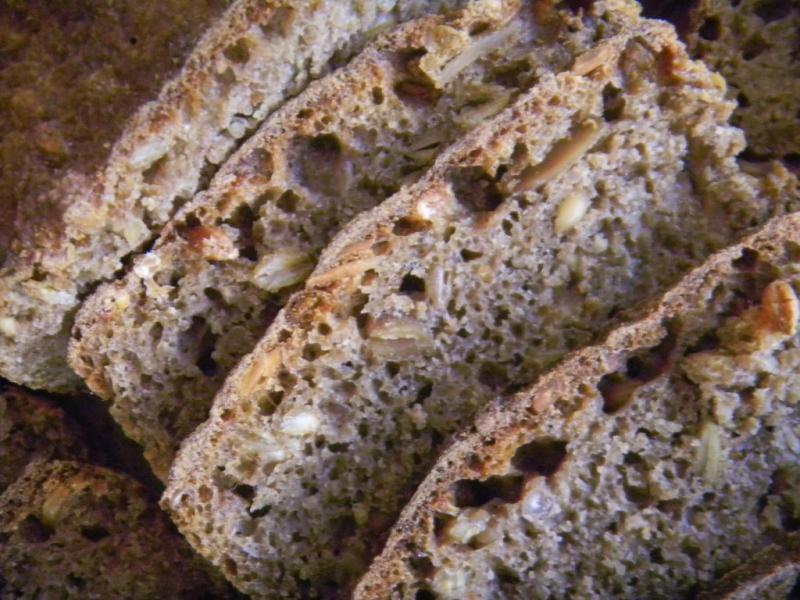 YW / SD combo 
5 minutes later, we removed the bread from the tins and turned them upside down in the mini oven to make sure the bottom got as well done as the top. After 5 minutes upside down the bread was rotated 180 degrees and flipped back over.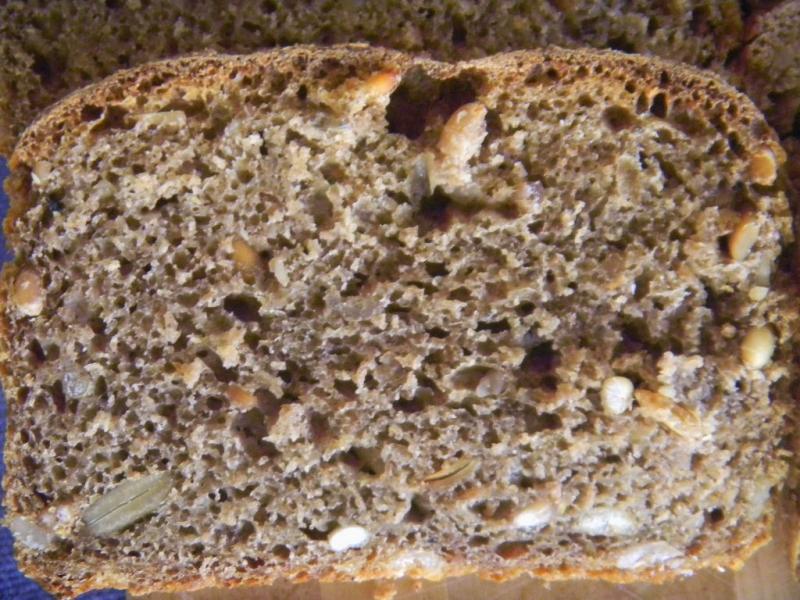 Yeast Water
In 5 more minutes the bread was 203 F and the mini oven was turned off.  When the bread hit 205 F on the inside it was removed to the cooling rack.  32 minutes total time in oven was all it took.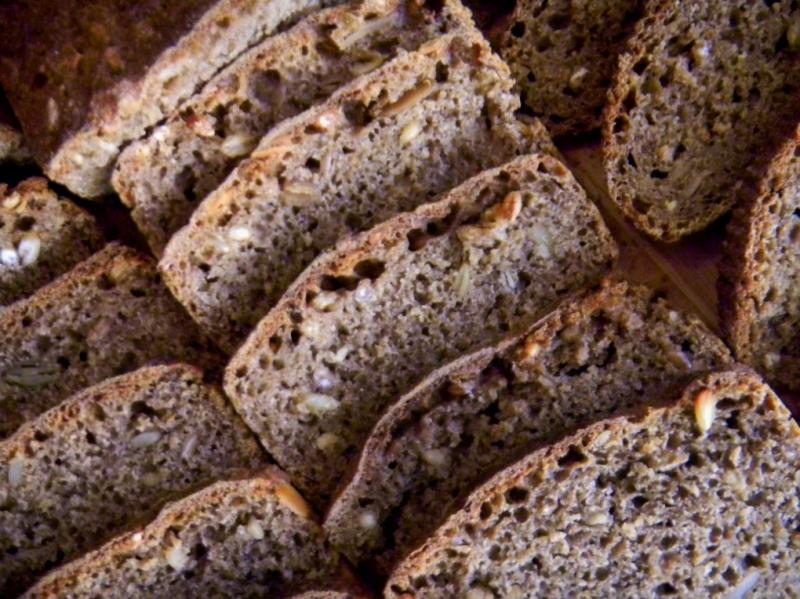 They both recovered somewhat from the Melon Mashing but the straight YW one recovered fully and not a hint of the MM was observable.  Plus one - for the YW over the YW / SD for the full Melon Mash recovery.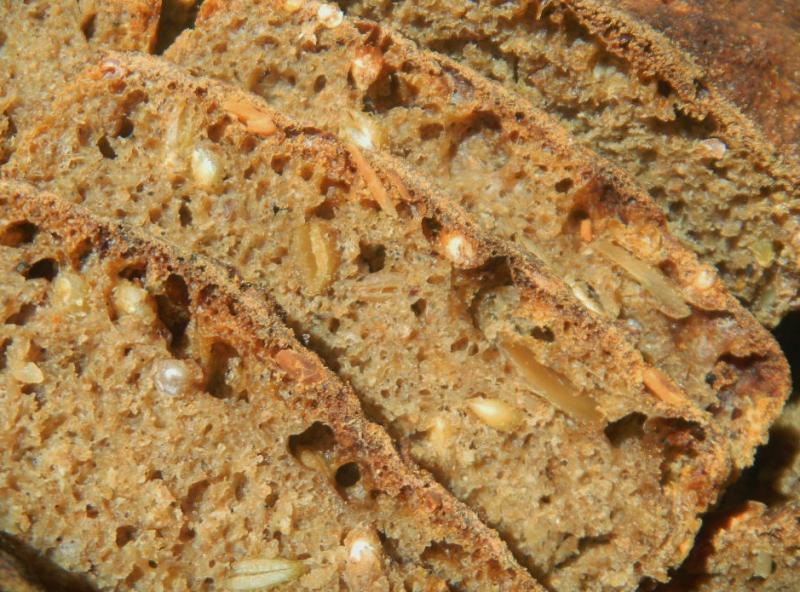 Combo YW / SD
We redid the entire process again with the oval in the basket.  This time the bread stuck in the basket and was deformed in one place so we immediately had a Basket Deformation test going for this loaf.   Lucy wanted to drop a melon on it too but we caught her just in time.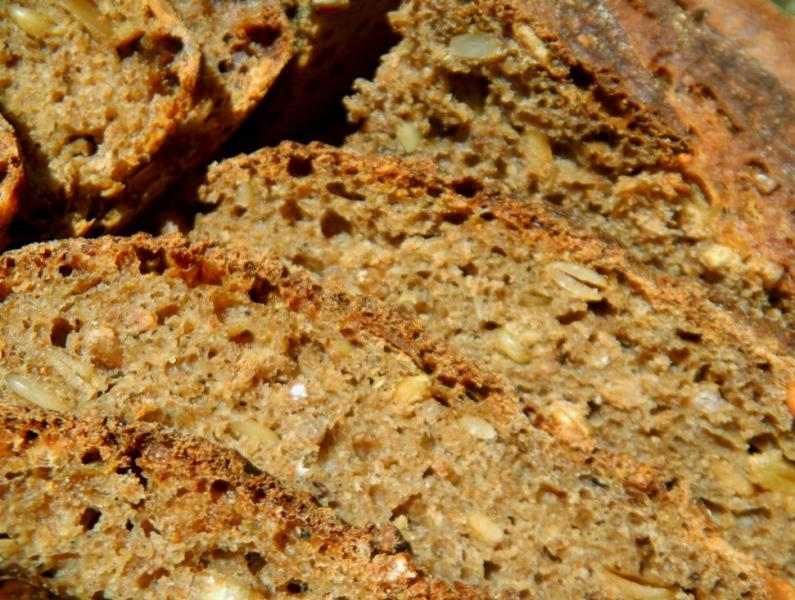 Soudough
The SD oval was out of the fridge for 45 minutes to warm up but was still cool when it was un-molded and slashed. Before going into the mini with 2 of Sylvia's steaming cups this time.  We used the same schedule as before including the flipping over and rotating; 15 minutes of steam and 17 minutes with out steam - with a falling temperature and convection with the no steam portion.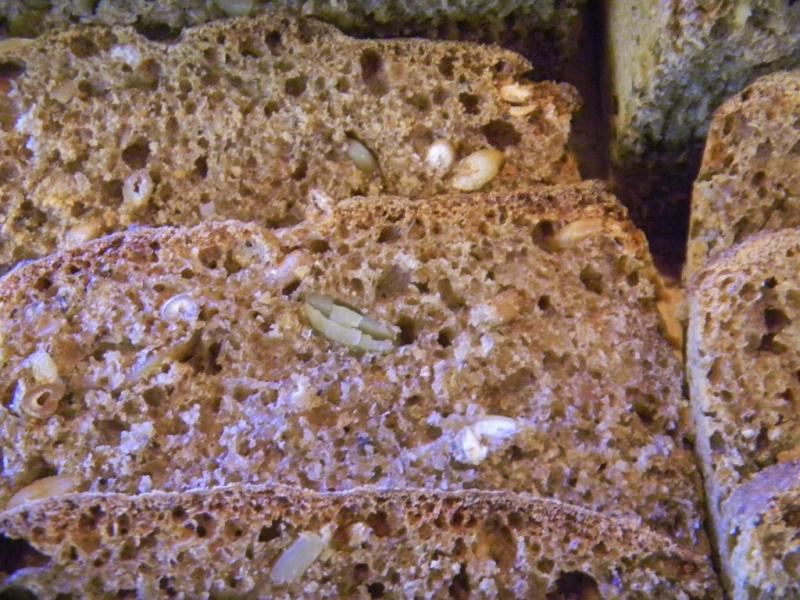 YW / SD
The oval spread mostly, but did spring and bloom a little.  All the bread browned well on top but the big blisters were hiding somewhere else this time for some reason - Tiny ones were there agin though.   The crust was crisp as usual though.  Can't wait to see the crumb of these 3 different but similar breads and how much different the taste is and how the keeping qualities compare.  As you can see the crumb is fairly open for these 100% whole grain breads.  All are soft, moist and tender. with the YW more so.  The YW has no sour and the SD / YW has a light tang and the SD is tangy as one could want.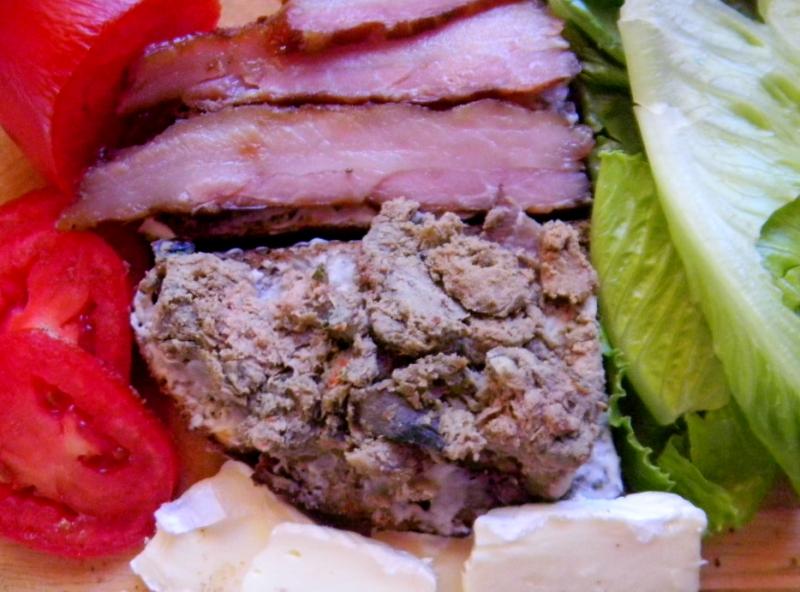 Lucy voted this the best bread for a sandwich ever - especially when it is paired as a brie, homemade pate & bacon lettuce and tomato sandwich.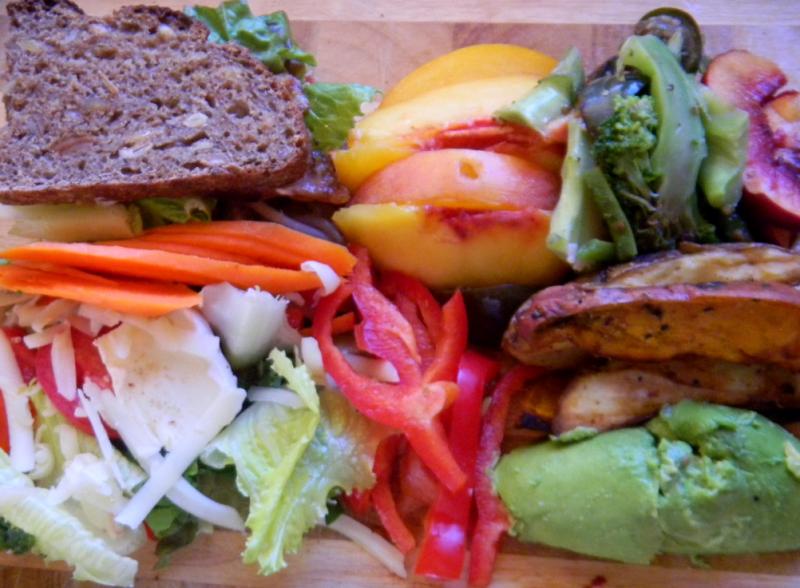 We love SD so it is no surprise we like SG bread the best - by far -  with the SD /YW second but those who don't like sour would likely prefer the YW.  They are excellent breads and would likely be nearly as good without the Session Black Lager and,  without the beer, the bread would have a lower GI and perfect for those with diabetes.   The crust stayed a little crisp but cooled much softer but it was very tasty on all 3 versions.  Now to see if the YW versions can withstand a week of counter and still be edible.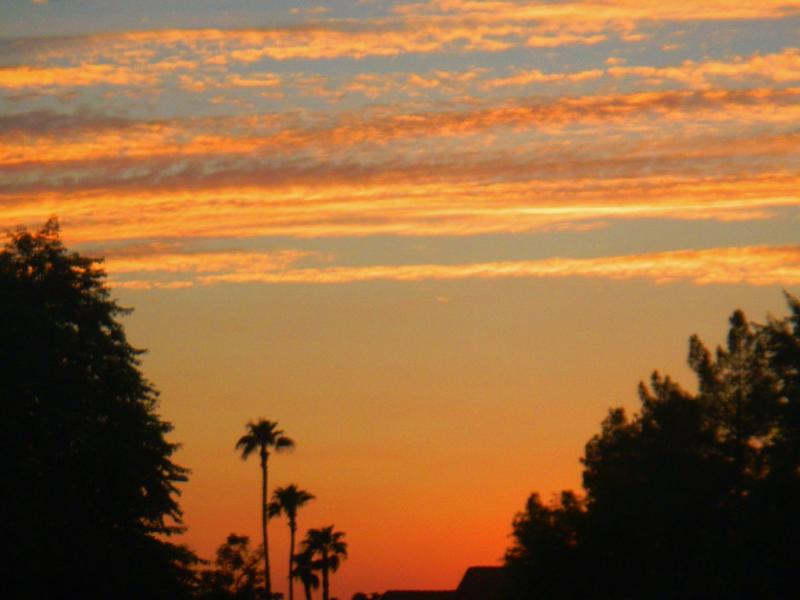 The last monsoon dust storm was yesterday for the year it seems and today feels like the first day of fall with a high of 90 F 
Formula
 

Build 1

Build 2

 Build 3

Total

%

Multigrain SD Starter

10

0

0

10

2.44%

Whole Rye

3

6

11

20

4.88%

Whole Kamut

3

6

11

20

4.88%

Whole Barley

3

6

11

20

4.88%

Whole Wheat

3

6

11

20

4.88%

Whole Spelt

3

6

11

20

4.88%

Yeast Water

15

30

55

100

24.39%

Total

40

60

110

210

26.83%

 

 

 

 

 

 

Multigrain SD Levain

 

%

 

 

 

Flour

105

25.61%

 

 

 

Water

105

25.61%

 

 

 

Hydration

100.00%

 

 

 

 

 

 

 

 

 

 

Levain % of Total

22.29%

 

 

 

 

 

 

 

 

 

 

Dough Flour

 

%

 

 

 

Whole Spelt

50

12.20%

 

 

 

Whole Kamut

50

12.20%

 

 

 

Whole Barley

25

6.10%

 

 

 

Dark Rye

50

12.20%

 

 

 

Whole Wheat

50

12.20%

 

 

 

AP

80

19.51%

 

 

 

Dough Flour

305

74.39%

 

 

 

 

 

 

 

 

 

Salt

7

1.71%

 

 

 

Black Lager 283, Water 29

312

76.10%

 

 

 

Dough Hydration

102.30%

 

 

 

 

 

 

 

 

 

 

Total Flour

410

100.00%

 

 

 

Black Lager 283, Water 29

417

101.71%

 

 

 

T. Dough Hydration

101.71%

 

 

 

 

% Whole Grain Flour

48.63%

 

 

 

 

 

 

 

 

 

 

Hydration w/ Adds

91.05%

 

 

 

 

Total Weight

942

 

 

 

 

 

 

 

 

 

 

Add - Ins

 

%

 

 

 

Red Malt

4

0.98%

 

 

 

White Malt

4

0.98%

 

 

 

Toadies

20

4.88%

 

 

 

Ground Flax, Sesame Seed

20

4.88%

 

 

 

Pumpkin, Sunflower Seed

40

9.76%

 

 

 

VW Gluten

20

4.88%

 

 

 

Total

108

26.34%

 

 

 

 

 

 

 

 

 

Multigrain Black LagerSD and YW with Soaker & Seeds

 

 

Build 1

Build 2

 Build 3

Total

%

Multigrain SD Starter

10

0

0

10

2.44%

Whole Rye

3

6

11

20

4.88%

Whole Kamut

3

6

11

20

4.88%

Whole Barley

3

6

11

20

4.88%

Whole Wheat

3

6

11

20

4.88%

Whole Spelt

3

6

11

20

4.88%

Yeast Water

15

30

55

100

24.39%

Total

40

60

110

210

26.83%

 

 

 

 

 

 

This is the total weight for bothe levains.  Each levain was 105g total one

had 10 g of SD stater and the other didn't.  All the liquid for both was YW.
 The Melon Mashing Mama