Multigrain Sourdough with Sesame and Flax Seeds Toadies and Malts
We needed to come up with a white bread that had around 30% of home milled, whole grains that did't disappoint when it came to flavor and sour.   We have been developing 80% and higher whole grains with robust flavor and sour but, some folks just don't like breads like that .....even though that should be against the bread laws :-)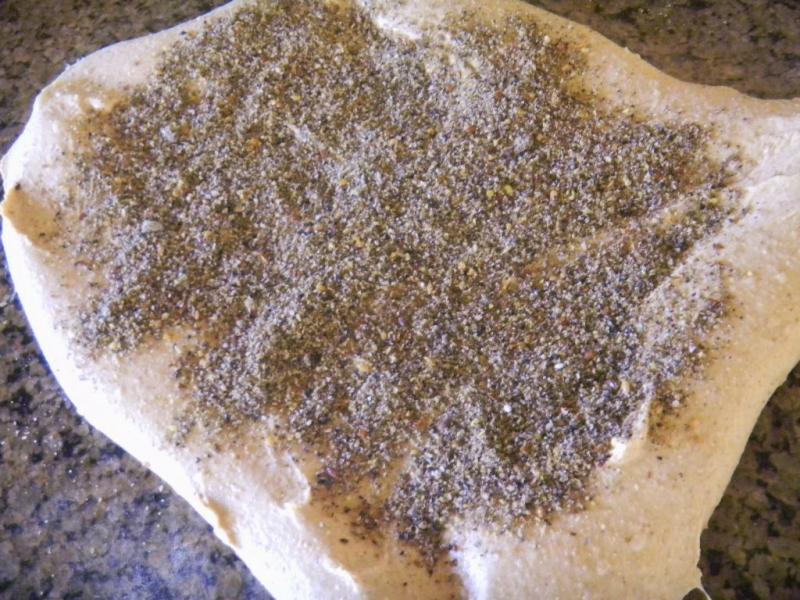 My poor apprentice still thinks that, if it isn't pumpernickel, it's not even close to real bread and she should know being the determined German she looks like and claims to be.  But, the other girls in the family still like their mamby,  pamby, cotton candy, Oroweat, supposed whole wheat bread even though, it sure doesn't look like any whole wheat I grind and bake – not even close.
Hopefully, Lucy will come up with a recipe that they actually prefer over their notion of what bread is supposed to be.   So, we took a flyer from toad.de.b and decided to do a bread that required double slap and folds.  Our 2nd set required double slaps to one fold as it was stiffer than normal!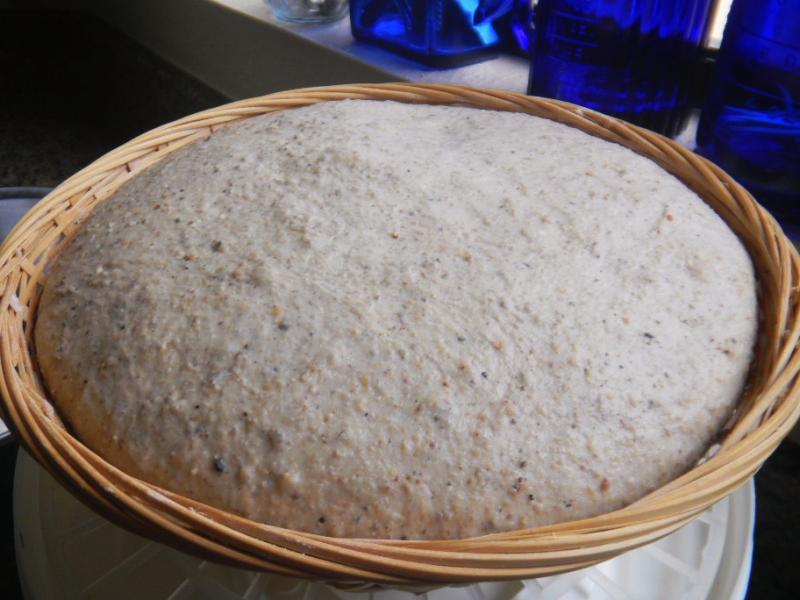 After Tom's great flavor enhancing invention that Lucy named 'Toadies' (short for Toady Tom's Toasted Tasty Tidbits), you just have to read his latest post on his summer bread experiments and incorporate what ever strikes your fancy into your methods -  like I made my apprentice over her scowls and growls.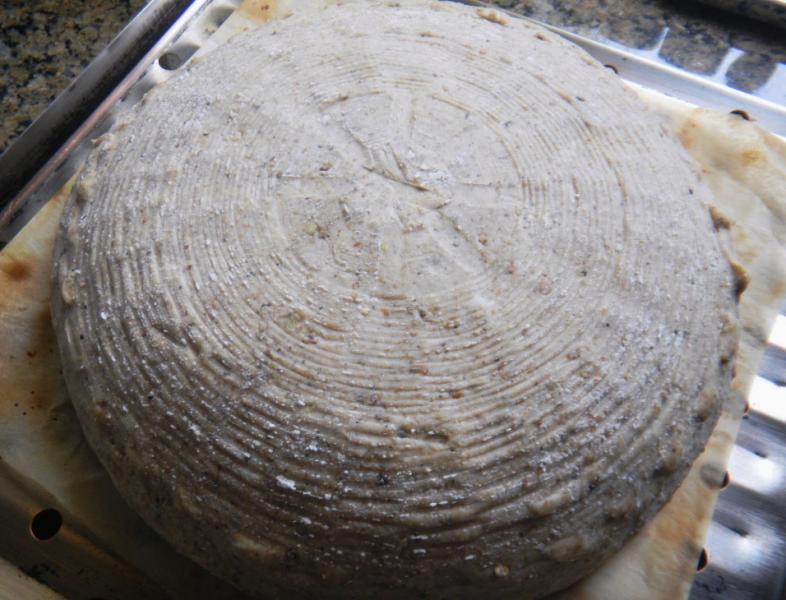 This time we dropped the whole wheat from the whole grain mix and added whole oats to the usual rye, Kamut and spelt.  For liquid, we went with water this time instead of some part being yogurt whey.  This white bread should be less tangy than our normal loaf as a result but it should still be tangy enough.
Weonce again put the whole grain bits into the levain to get them wet as long as possible.   We hoped they would be softer that wasy and not cut the gluten strands too much when we went to develop it.  We also did a 48 hour retard after the 3rd stage build had risen 25%  to promote sour and lab reproduction over yeast reproduction.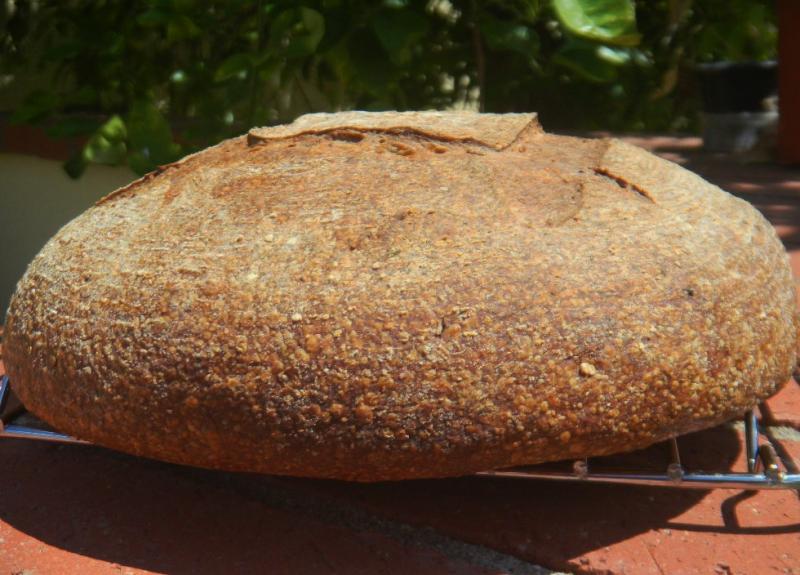 When the levain came out of the fridge to finish it's 48 hour belated doubling, we started the autolyse with everything else except the ground seeds.  We only sprinkled the salt on top of the autolyse so we wouldn't for get it later as we sometimes prone to do.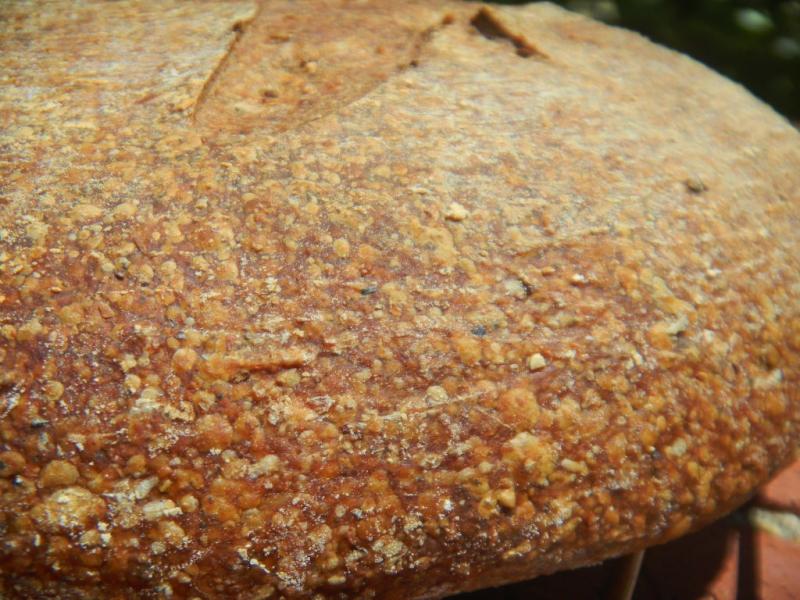 After 3 hours on the counter, the levain was ready by finishing its doubling.  We mixed it with the autolyse and then did 10 minutes of slap and folds.  After a 15 minute rest we did another 4 minutes of slap and folds before resting it again for 15 minutes.  The gluten was fully developed but we still did 2 sets of slap and folds on 15 minute intervals.  The ground sesame and flax seeds were incorporated on the first one and were evenly distributed by the 2nd set.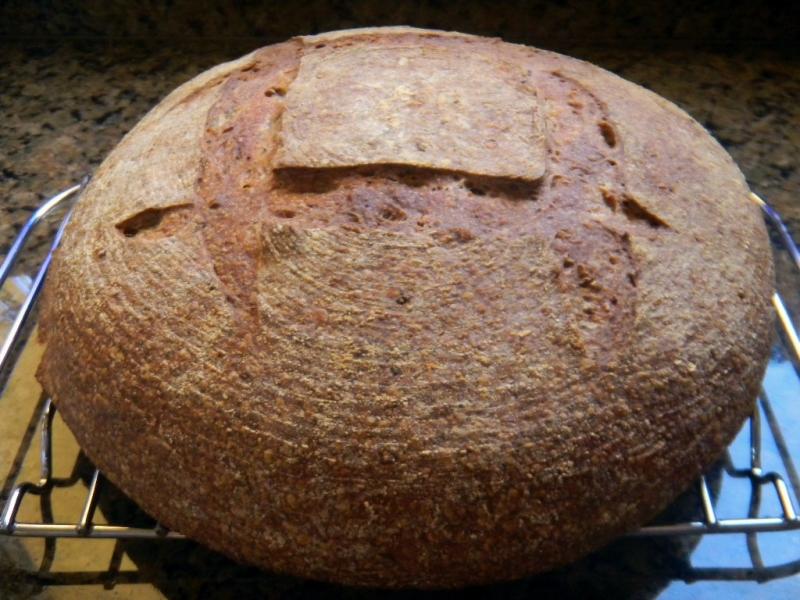 After another 15 minute rest we pre-shaped the dough into a boule and 10 minutes later shaped it for keeps and dropped it seam side up into a lightly rice floured basket.  A short 30 minute counter proof and into the fridge it went  We planned on a  retard per Toady Tom's latest near death wait of 20 hours.  We hoped the low levain inoculation of 12% would be small enough so the dough didn't explode.  Low inoculations and long low temperature retards promote flavor and sour better than any other way.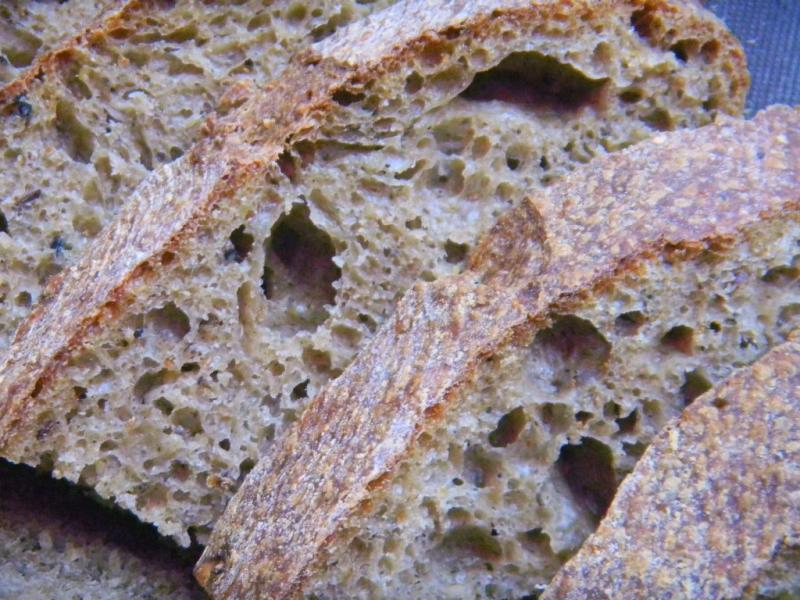 We let the boule warm up for half an hour before starting the mini oven's  preheat to 500 F.  For steam, we used the overturned stainless steel bowl over the broiler pan that had ½ C of water in the bottom.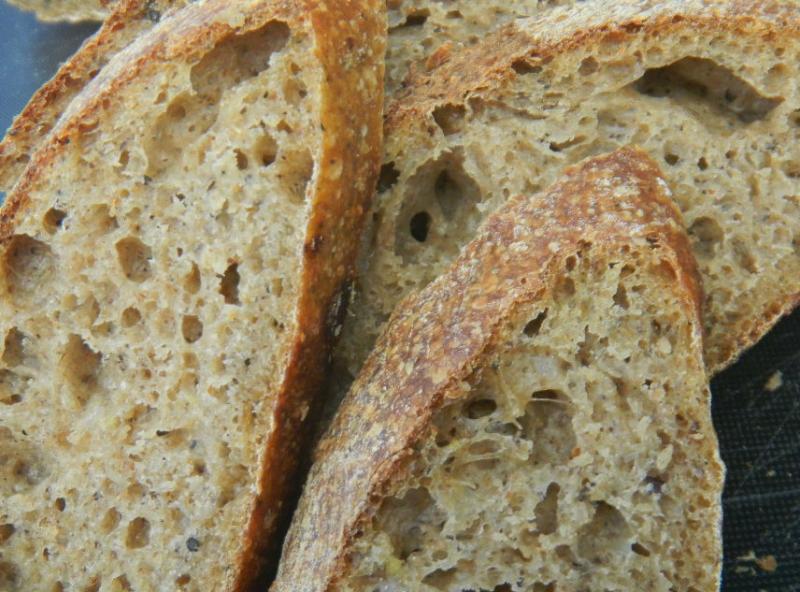 The boule was un-molded, quickly slashed in a square, covered with the stainless mixing bowl and placed into the mini oven for 14 minutes of steam.  At the 7 minute mark we turned the oven down to 475 F and at the 10 minute mark we turned it down to 450 F.  5 more minutes of steam would have been better but my apprentice forgets to add steaming time when covering with a cloche.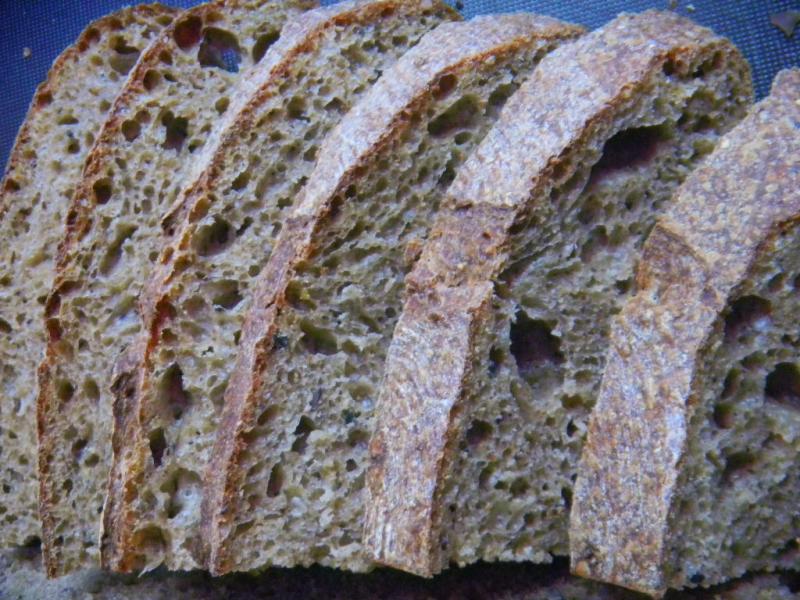 The steaming bottom of the broiler pan came out at 14 minutes and the temperature was turned down to 425 F, convection this time.  The bread didn't spring much, spread a little and bloomed some under the steam.  A sure sign the bread was proofed over 85% and or not steamed long nough.  These long ferments can be tricky to time properly when you are sound asleep :-)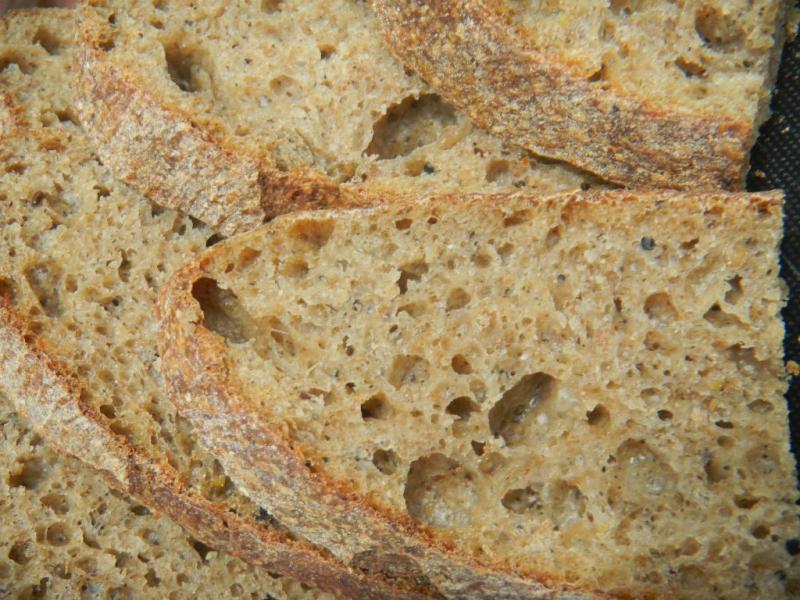 We rotated the bread every 5 minutes to make sure it browned properly.  Oddly, as soon as the steam came out, the bread sprang nicely and puffed itself up pretty well.  After 15 minutes of dry heat, the bread registered 205 on the Fahrenheit scale.   It was then moved to the cooling rack all browned up and blistered with the mini oven's typical crust.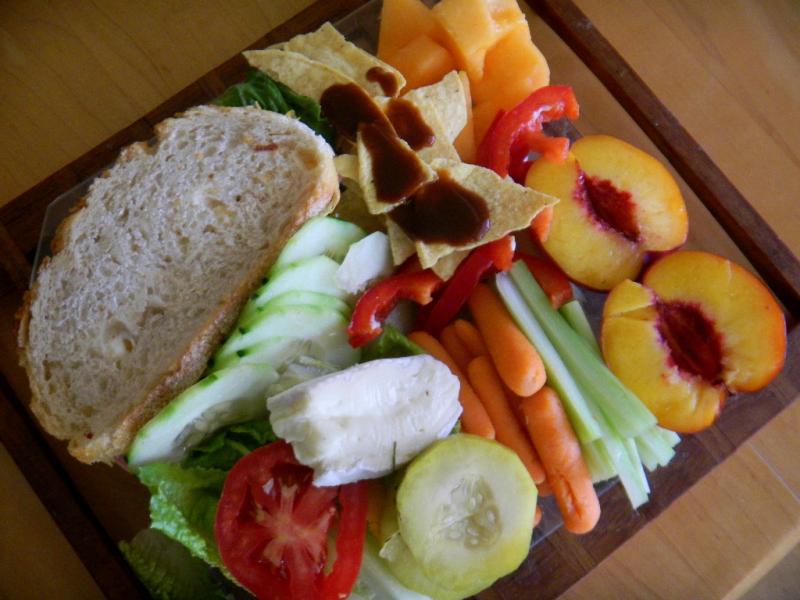 Yesterday's white bread lunch  and this moring's white bread breakfast.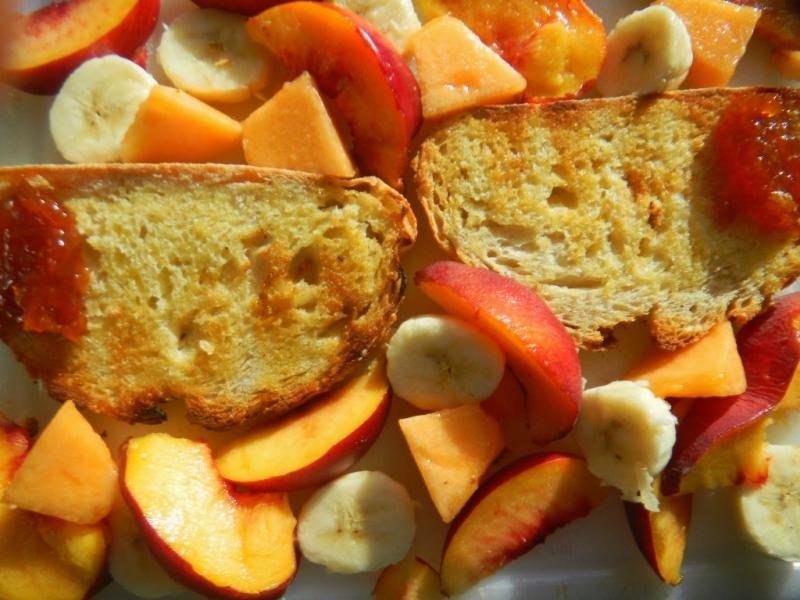 Will have to wait on the crumb shots but will have this bread for a late lunch as see how we like it.  But first a nice sunset.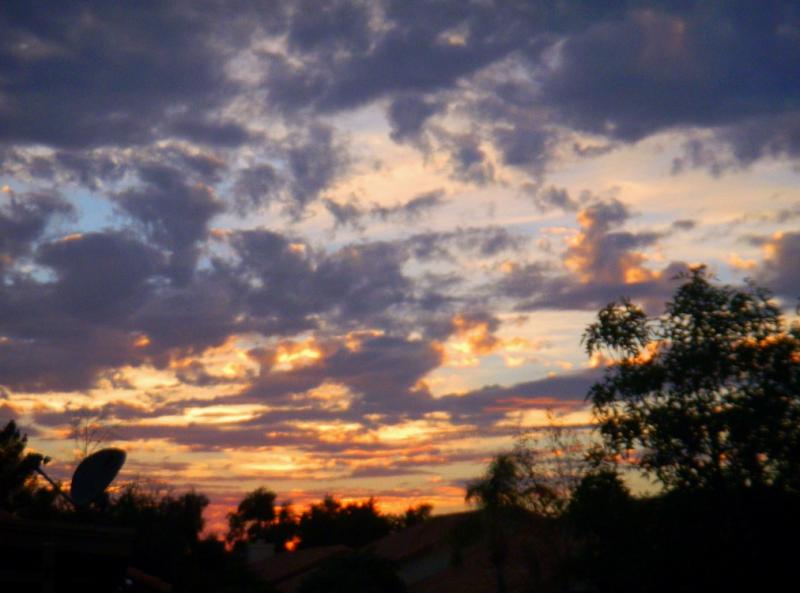 Followed by today's lunch.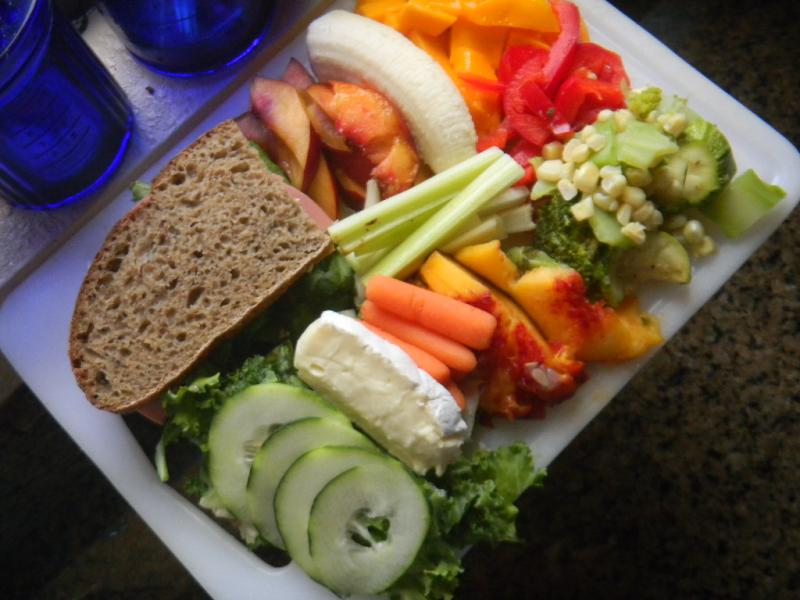 The crumb was open moist and soft.  The crust went softer as it cooled and became more chewy rather than crunchy.  If I have to eat white bread..... this is the one I want.  The seeds really come through and help make this bread flavorful and plenty tasty enough.  I was struck by the sour flavor and some of it must be because of the lowered levain amount to less than 12% and retarding of it for 48 hours.  Toady Tom's 20 hour retard of the dough didn't hurt either.  I could eat this bread all day without ever knowing it is a white bread.  We likie this bread a lot and now have to see what the girlsi think. 
Formula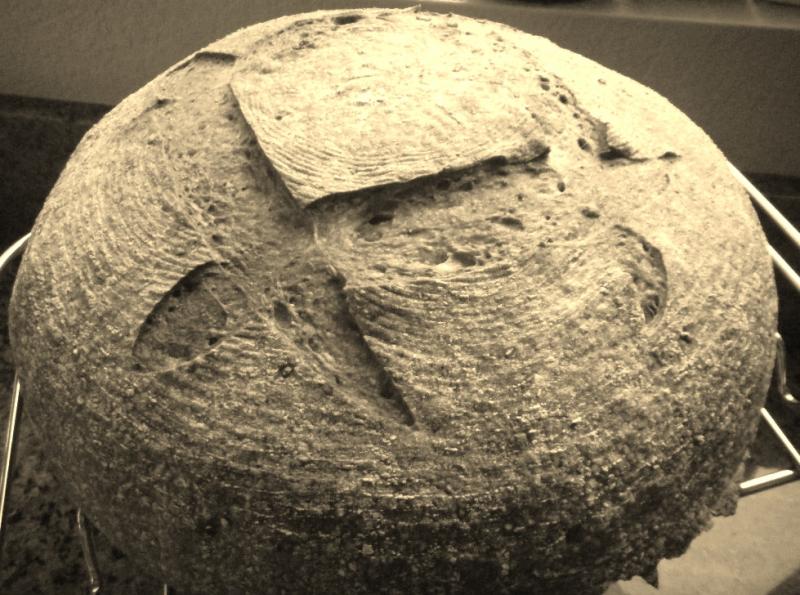 Build 1

Build 2

 Build 3

Total

%

Multigrain SD Starter

12

0

0

12

2.82%

25% Extracted Bran

6

7

9

22

5.16%

Water

12

14

18

44

10.33%

Total

30

21

27

78

23.47%

 

 

 

 

 

 

Multigrain SD Levain

 

%

 

 

 

Flour

50

11.74%

 

 

 

Water

50

11.74%

 

 

 

Hydration

100.00%

 

 

 

 

 

 

 

 

 

 

Levain % of Total

11.83%

 

 

 

 

 

 

 

 

 

 

Dough Flour

 

%

 

 

 

75% Extraction Multigrain

56

13.15%

 

 

 

AP

200

46.95%

 

 

 

Bread Flour

110

25.82%

 

 

 

Dough Flour

376

88.26%

 

 

 

 

 

 

 

 

 

Salt

8

1.88%

 

 

 

Water

306

71.83%

 

 

 

Dough Hydration

81.38%

 

 

 

 

 

 

 

 

 

 

Total Flour

426

100.00%

 

 

 

Water

356

83.57%

 

 

 

T. Dough Hydration

83.57%

 

 

 

 

% Whole Grain Flour

28.70%

 

 

 

 

 

 

 

 

 

 

Hydration w/ Adds

78.07%

 

 

 

 

Total Weight

845

 

 

 

 

 

 

 

 

 

 

Add - Ins

 

%

 

 

 

Red Malt

5

1.17%

 

 

 

White Malt

5

1.17%

 

 

 

Toadies

10

2.35%

 

 

 

Ground Flax & Sesame Seeds

25

5.87%

 

 

 

VW Gluten

10

2.35%

 

 

 

Total

55

12.91%

 

 

 

 

 

 

 

 

 

75% extraction multi-grain is: 25% Kamut,

 

 

 

 25% Oat, 25% spelt & 25% rye