Honey and salted butter bread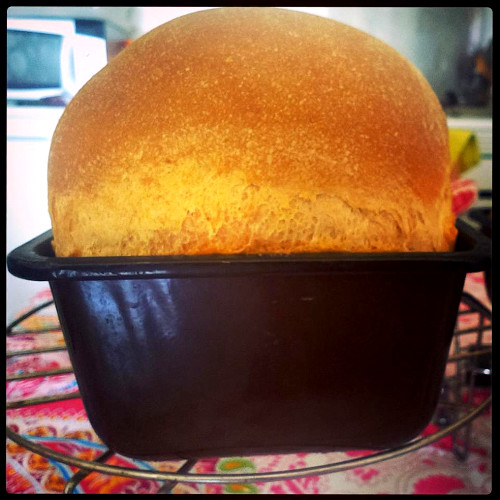 Honey and salted butter bread
This is an enriched bread, a kind of a "pain brioché" without eggs. Nice flavour, ideal for breakfast, to eat with soft cheese or with a piece of chocolate. I usually bake it in a tin, but you could shape it in litlle buns.
Ingredients for a 750 gr bread
- 240 ml of water or milk, or mix half and half
- 450 gr bread flour
- 5 gr instant yeast *
- 5 gr salt
- 40 gr salted butter
- 40 gr honey
* The quantity of yeast I suggest is only if you want to make a quick version of this bread. If you've got enough time and you want to improve the flavour of your bread, you can make a preferment with a little bit of yeast and an amount of flour and water from the recipe (poolish, or maybe a preferment at 50-60% hidratation). Another option is making a water-roux with flour and water (1 to 5 proportion).
If you use a mixer, put all the ingredients but the salted butter. The butter should be added near the end of the kneading process. If you knead by hand, mix liquid (honey and water or milk) and flour, let it rest 20 minutes, and then add butter, salt and finally yeast.
When the kneading process is completed, cover it and let it rest 1 hour and 15 min in the case you made it with all the yeast I suggest. If you use less yeast you'll have to wait more time.
Make a batard and put it in a greased tin, with the sewing in the bottom. Let it rest about 1 hour, and then put it in the oven, preheated at 240C.
When you put the tin in the oven, reduce heat to 190C. You can create a little bit of steam only during the first 10 minutes of the cooking time. Then open the door and remove the jar or the tray with water or whatever you used to create steam. The total baking time should be 37 minutes for this bread of 750 gr. If you want to have a uniform colour, at 20-25 minutes cover the bread with aluminium foil.
I hope you enjoy it!
More info: http://breadgallery.wordpress.com/