Multigrain Caramelized Pickled Veggies, Parmesan, Flax & Sesame Seeds, Barley Boil & Toadish Sourdough
We decide to use some left overs for this bake from the last bake of hot dog buns.  The left overs were the pickled onion, red pepper, tomato and poblano toppings that we added some kalamata olives too and then caramelized the whole mix to get rid of the moisture, add a roasted flavor and send this bred further down an Italian path.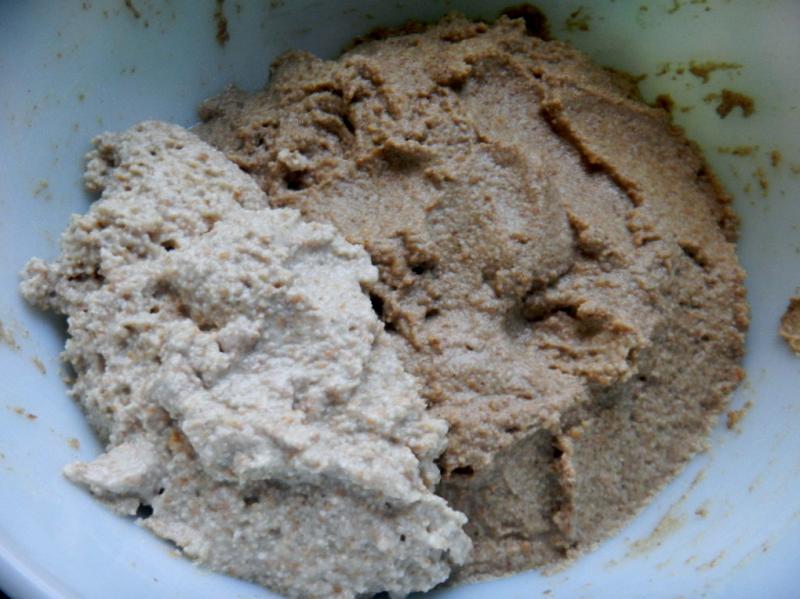 Oddly, the sifted bran, that was fed to the starter to make the levain, started out much darker than the remainder of the sifted flour used to make the autolyse.  But when they finally came together, the levain on the left was much lighter in color than the autolyse.  Very strange!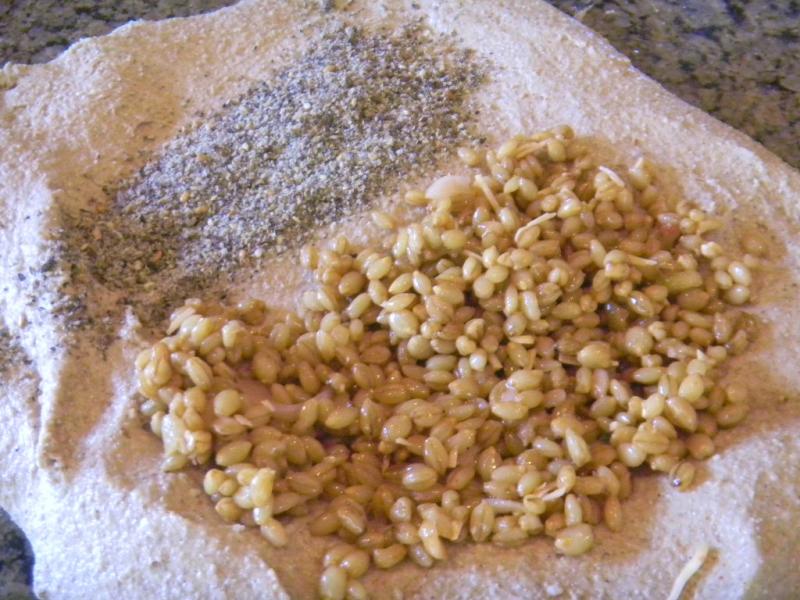 To this 100% whole multi grain bake we added some barley to the usual whole grain mix of spelt, rye, wheat and farro.  Since we ground all the grains for this bread in the tiny Krup's Coffee mill, we were able to sift out 22% from the rest of this fine flour and used it to feed the levain for this bake.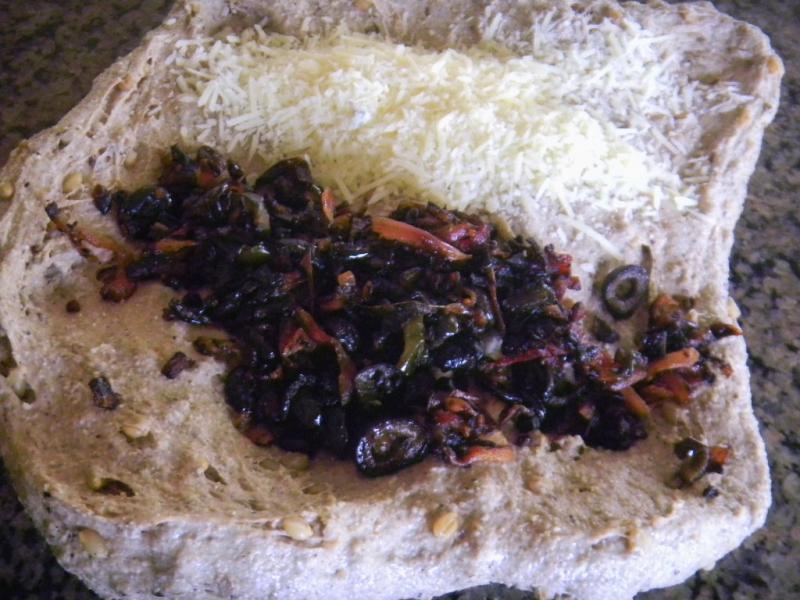 That way the bran and other bits were in the wet the longest at 36 hours to get them soft and less likely to cut any gluten strands.  Plus, they instantly make the bread 100% whole grain again and we made sure to get the hydration to over 100% this time too after our last 90% hydration bake.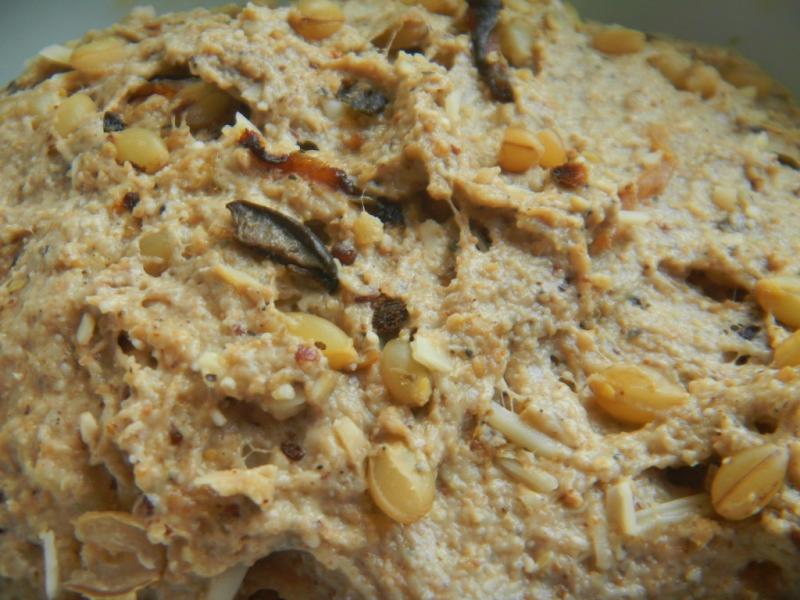 We added a large boiled whole barley component, Toadies, ground flax and sesame seeds, red and white malts were added along with just enough VWG to make sure we got some rise out this gluten deficient grain combination.  To top it off we added some shredded parmesan making sure that the Italian base was confirmed.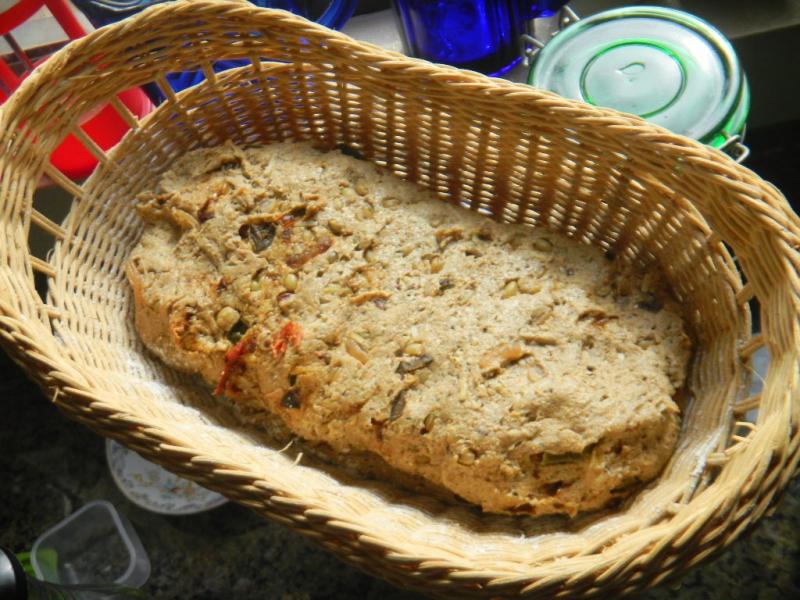 We didn't know if our fridge maintained, mixed grain, SD starter would like being fed the 22% sifted out portion of the grain so we increased the seed by 5 g to 15g for this bake.   The levain ended up being 15% of the total weight of the dough and it performed as usual.   We refrigerated it for 24 hours after the levain had risen about 25% after the 3rd feeding to increase the sour.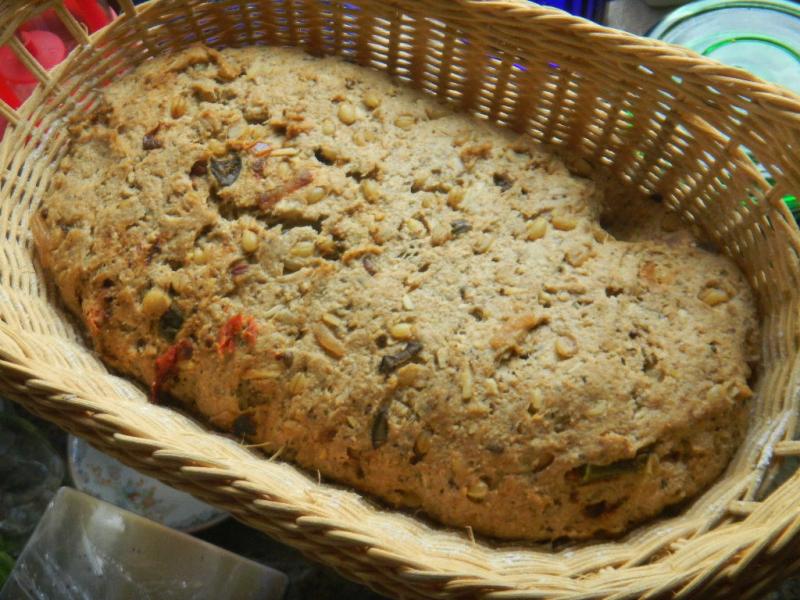 You can see the poke test and the cracking on the bottom of the loaf.  Time for the oven.
When we removed the levain from the fridge to finish it's doubling after the cold, we started the 3 hour autolyse with everything except the levain, salt, seeds, caramelized pickle mix and boiled barley.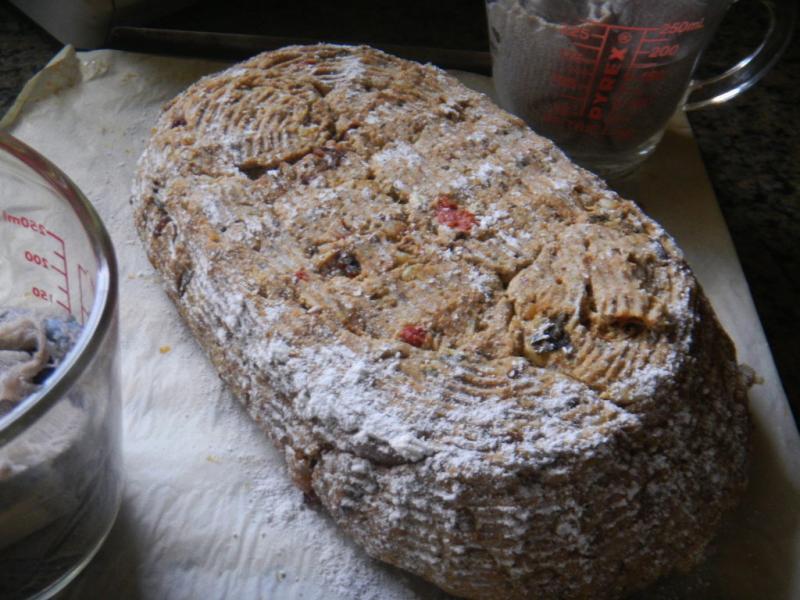 Once the levain hit the autolyse we mixed it briefly using a spoon for 30 seconds and immediately knew this dough was going to be a problem and way, way over hydrated.  The last dough was great at 90 % and 100% hydration would have been fine but this dough was different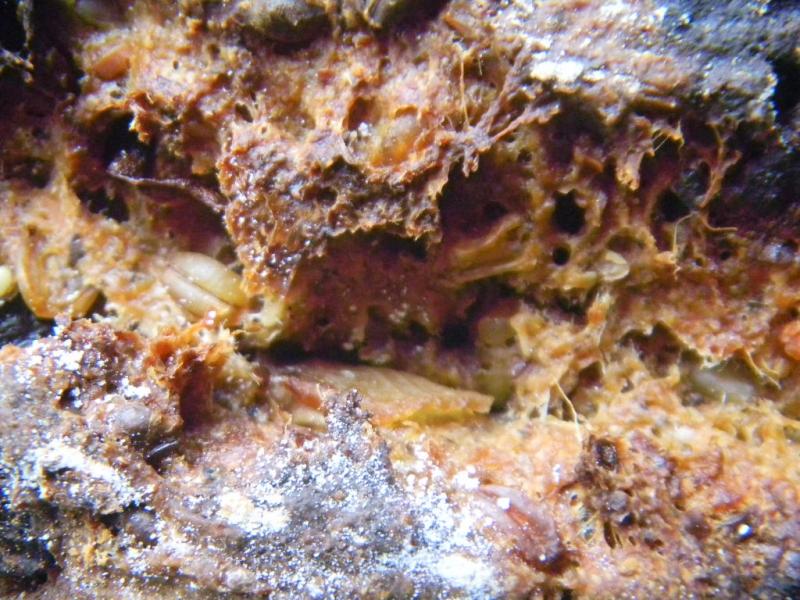 It had less wheat flours with the addition of rye and barley.   These changes made the dough very sloppy.  We let the mix sit for 20 minutes after sprinkling the salt on top.  We then did our usual 10 minutes of slap and folds where the dough barely came together.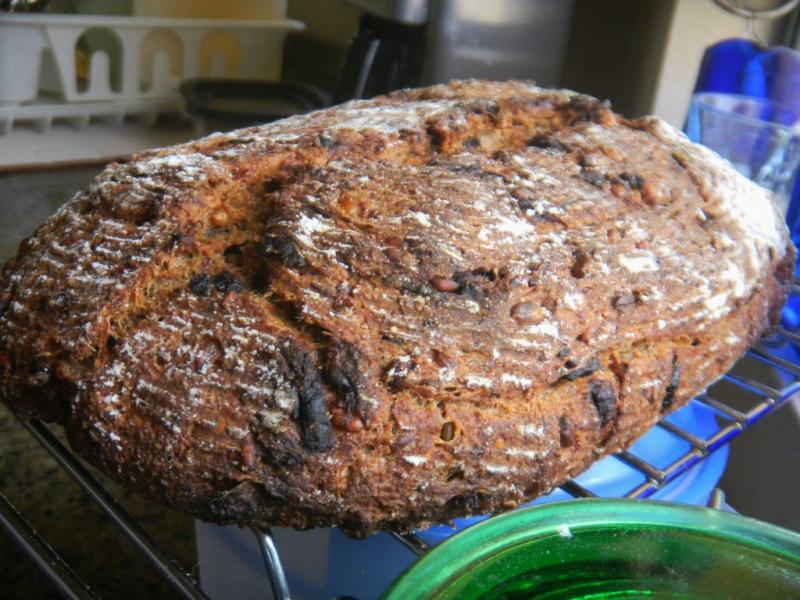 Our rule is, if 10 minutes of slap and folds don't do the trick then we add more flour.  To keep it in the Italian range our flour of choice was some whole Desert Durum.    We used some to get the sticky dough off our fingers after 10 minutes.  We let the dough rest for 10 minutes and then did 5 more minutes of slap and folds using Desert Durum to get the dough off our fingers once again and allowed the dough to rest for 10 minutes again.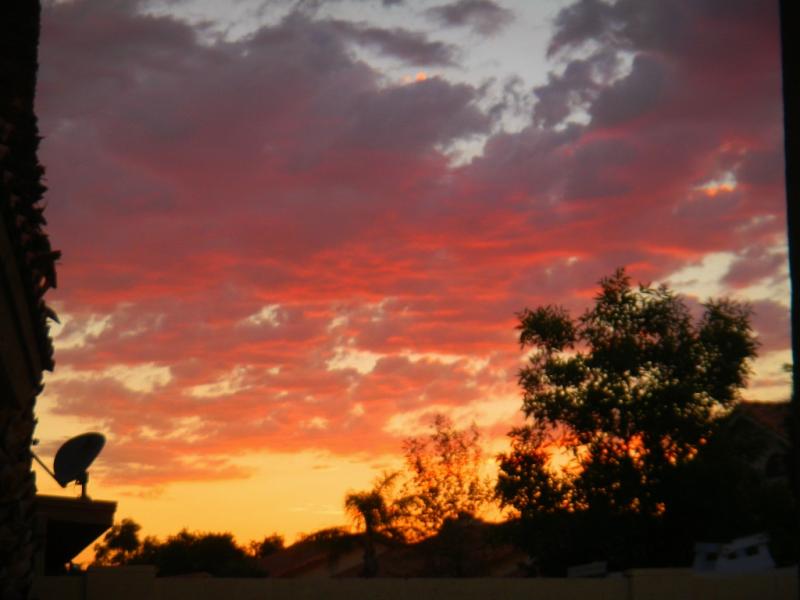 We then did 3 stretch and folds 20 minutes apart to incorporate the boiled berries and seeds on the first one, the caramelized veggies and Parmesan on the 2nd one. It's like bruschetta on the inside!  By the end of the 3rd one then add ins were thoroughly incorporated.  We then let it ferment for 20 minutes before retarding it for 16 hours in the fridge.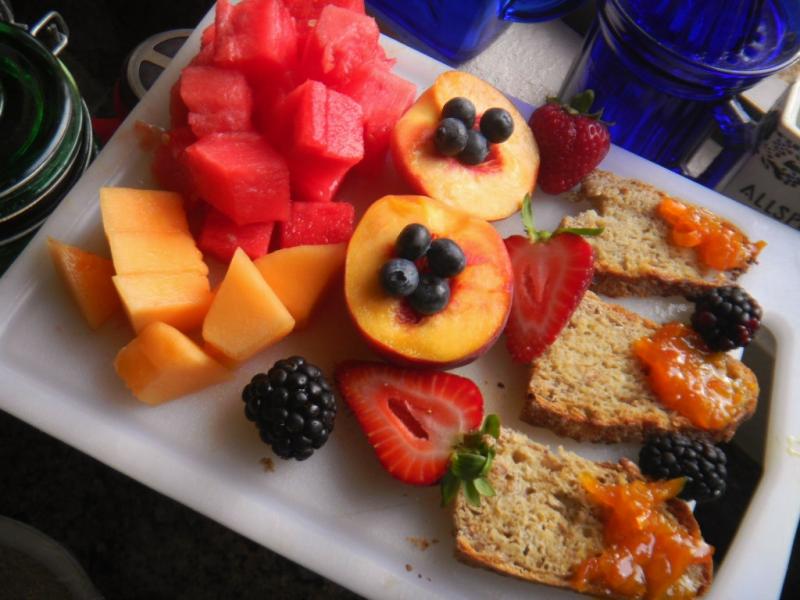 Breakfast and lunch on bake day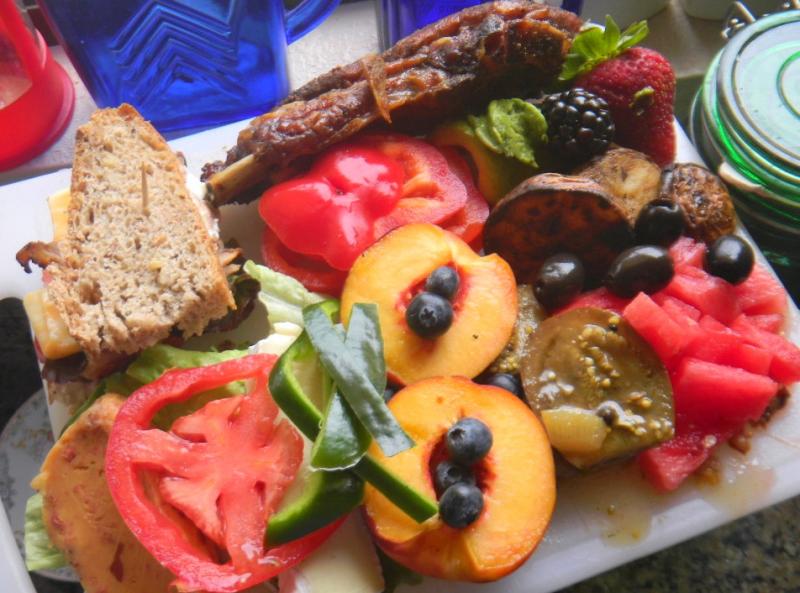 It rose well in the fridge if you consider 30% volume increase well and we let it rest for 30 minutes on the counter before shaping it into something you might find in Altamura if they do Fendu there.  The bread only had 4 g or durum in it but was still plenty Italian enough.
It was so slack it probably should have gone into a pan but we shaped it as a Snails with Tails chacon for the final proof with the fendu fold split in the middle in bottom of the basket between the snails.  The last bake was very weak when it came to snail splitting and we wanted to give it another go.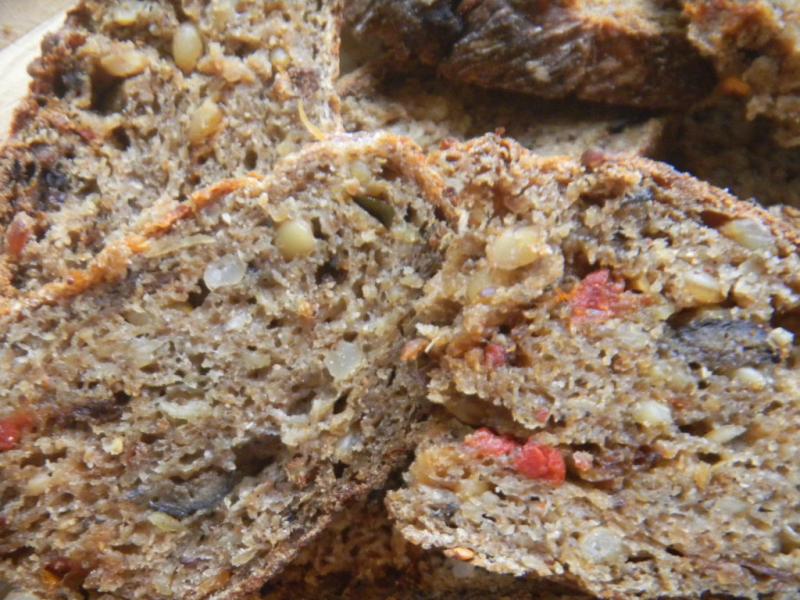 We let proof on the 84 F counter for 2 ½ hours and then we fired up the mini oven to 500F and got (2) of Sylvia's steaming cup's half full of water with dish rags inside going in the microwave.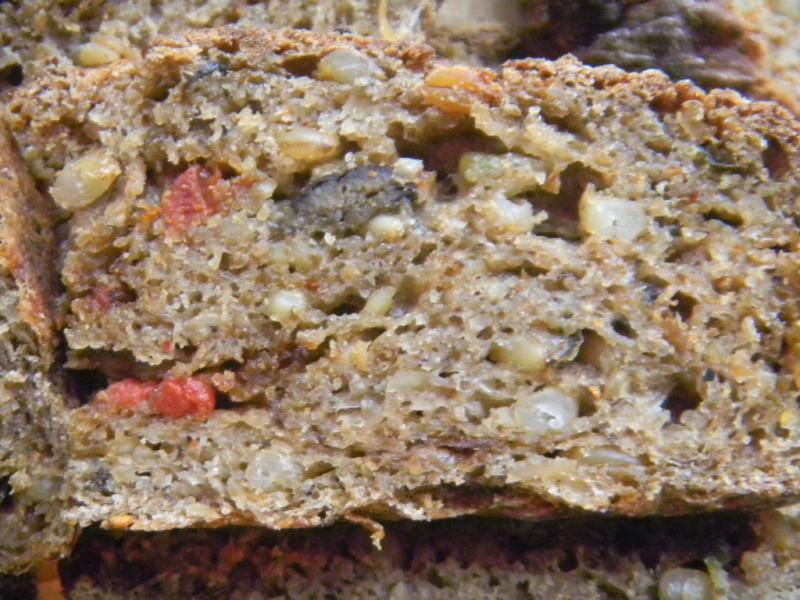 We upended the basket using the vented top of the mini's broiler pan for a peel that was covered in parchment.  The cups went on and that assembly went into the 500 F mini oven for 15 minutes of steam.  We turned the oven down to 475 F after 3 minutes.  We removed Sylvia's steam at the 15 minute mark and continued to bake at 425 F, convection this time, for another 15 minutes until then middle read 205 F.  We rotated the bread every 5 minutes under convection to make sure it browned evenly.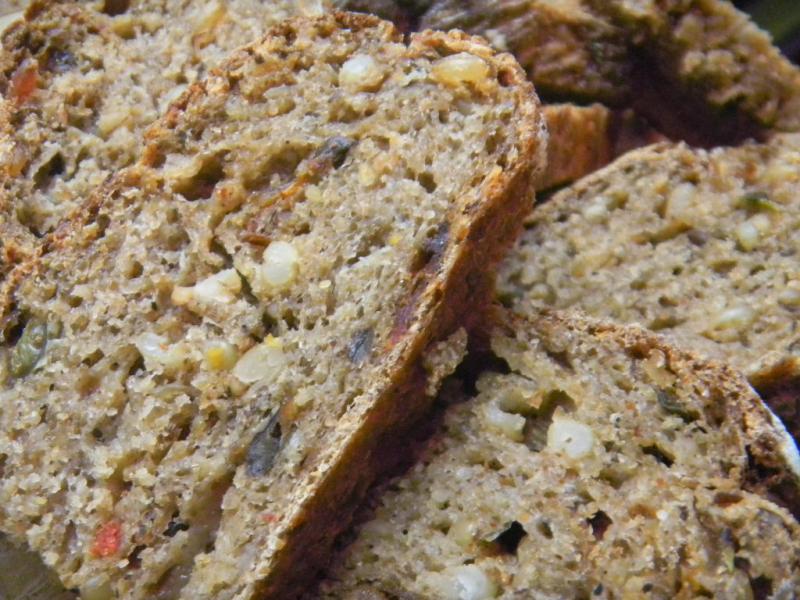 It browned nicely and the crest was very crispy – almost crunchy.  Nothing seems to put a thick, crust on bread without burning like the mini oven with mega steam in place.  Didn't notice any blisters though.  This one cracked at the Fendu Fold more than at the Snails but crack it did.  It smells powerful..   The crumb came out farly open for such a packed whoe grain bread.  It was moist and nvery soft.  It does taste like bruschetta on the inside instead of on the outside outside but the surprising thing is the spicy chipotle barley grains. What an unexpected pleasure.  Thus bread is healthy, spicy and great to munch on without toasting, butter or anything else required.  Just delicious.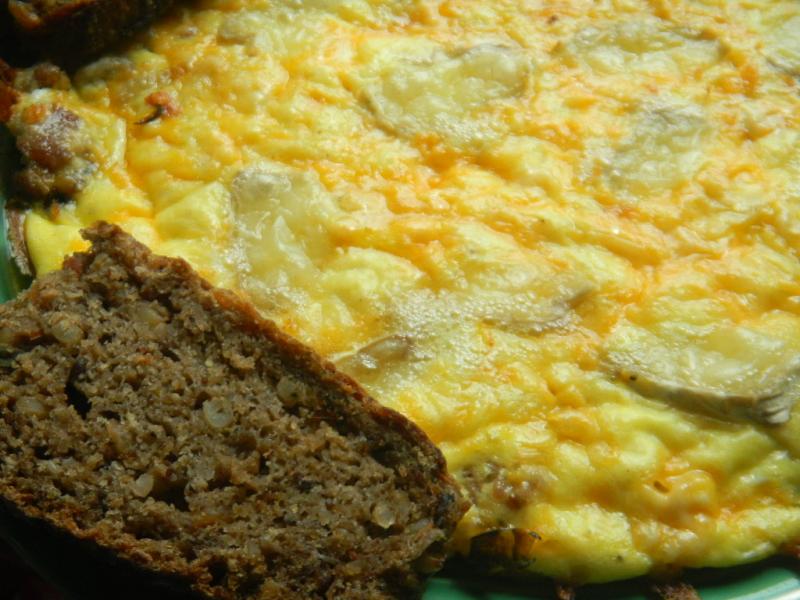 The bread went well with a fine fritatta of homemade sweet Italian sausage, red bells, poblanos peppers, onion, grey Mexicaan squash adn mushrooms with Greek yogurt mixed in with the eggs and brie, Parmesan and smoky gouda for the cheeses.
Formula
 

Build 1

Build 2

 Build 3

Total

%

Multigrain SD Starter

15

0

0

15

4.91%

Whole Farro

2.5

4

5

10.5

3.44%

Whole Rye

2.5

4

4

10.5

3.44%

Whole Barley

5

8

10

23

7.53%

Whole Wheat

2.5

4

5

11.5

3.76%

Whole Spelt

2.5

4

5

10.5

3.44%

Water

15

24

29

66

21.60%

Total

45

48

58

147

48.12%

 

 

 

 

 

 

Multigrain SD Levain

 

%

 

 

 

Whole Bran and Sifted Bits

74

24.06%

 

 

 

Water

74

24.06%

 

 

 

Hydration

100.00%

 

 

 

 

 

 

 

 

 

 

Levain % of Total

14.64%

 

 

 

 

 

 

 

 

 

 

Dough Flour

 

%

 

 

 

Whole Barley

76

24.88%

 

 

 

WholeDesert Durum

4

1.31%

 

 

 

Mixed Whole Grains

152

49.75%

 

 

 

Dough Flour

232

75.94%

 

 

 

 

 

 

 

 

 

Salt

6

1.96%

 

 

 

Water

268

87.73%

 

 

 

Dough Hydration

115.52%

 

 

 

 

 

 

 

 

 

 

Total Flour

306

100.00%

 

 

 

Water

341.5

111.78%

 

 

 

T. Dough Hydration

111.78%

 

 

 

 

% Whole Grain Flour

100.00%

 

 

 

 

 

 

 

 

 

 

Hydration w/ Adds & Boil

100.00%

 

 

 

 

Total Weight

1,004

 

 

 

 

 

 

 

 

 

 

Add - Ins

 

%

 

 

 

White Malt

3

0.98%

 

 

 

Ground Flax & Sesame Seeds

25

8.18%

 

 

 

Pickled Olive, Tomato, Onion & Poblano

60

19.64%

 

 

 

Toadies

15

4.91%

 

 

 

Red Malt

3

0.98%

 

 

 

Parmesan Cheese

50

16.37%

 

 

 

VW Gluten

15

4.91%

 

 

 

Total

171

55.97%

 

 

 

 

 

 

 

 

 

Boil

 

%

 

 

 

Barley Berries

180

58.92%

 

 

 

Total Soaker

180

58.92%

 

 

 

 

 

 

 

 

 

Weight of barley berries and pickled veg is after cooking.  The barley berries were boiled in spicy Chipotle sauce.