SD and YW Emperor Franz Joseph Buns with Same Dough Challah
I found a WW levain lurking in the back of the fridge.  It had been there for at least a week and maybe two.  It was a 100% hydration one since the hooch had separated out and was lying on top.  We poured off the liquid and fed it twice with multigrain flour and water on 4 hour intervals and it doubled in 2 hours after the last feeding.  So what to do with it?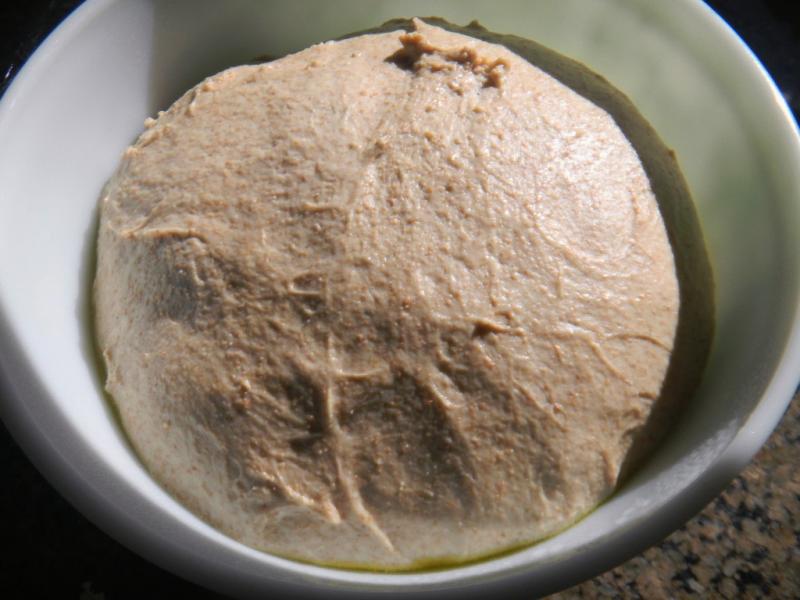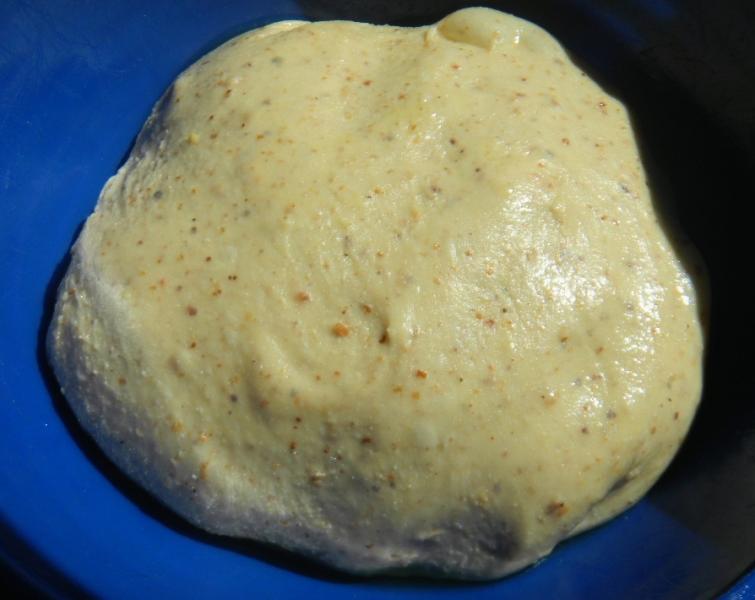 WW Sourdough                                                                       White Yeast Water - love those toadie specks
We had our monthly hamburger night coming up and were without the required buns again.  After doing our normal whole grains in the SD levain we used AP flour for the rest of the mix.  After a 2 hour autolyse using milk, we mixed the levain with the wet flours.  To enriched the dough we added butter, egg and honey.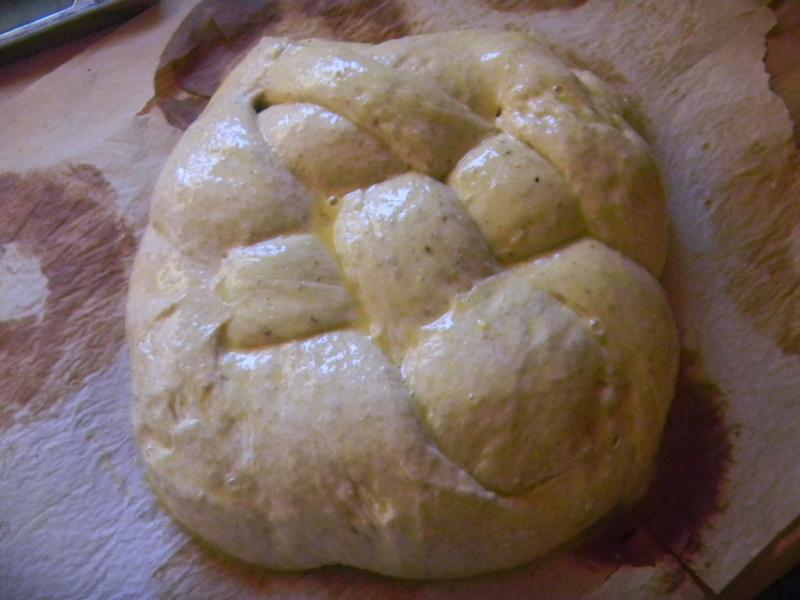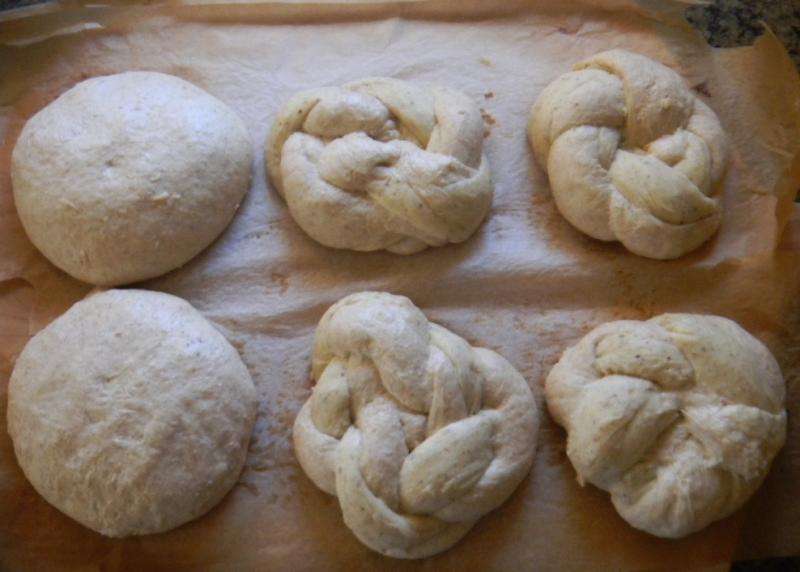 Since we have no idea what the pedigree is for the 10% protein, AP flour in the Winco bins, we added some VWG to ensure decent gluten structure.  The hydration came in at 81% which was pretty high for a 35% whole grain bread.  After 10 minutes of slap and folds and 3 sets of S&F on 20 minute intervals the dough went into the fridge for an overnight retard.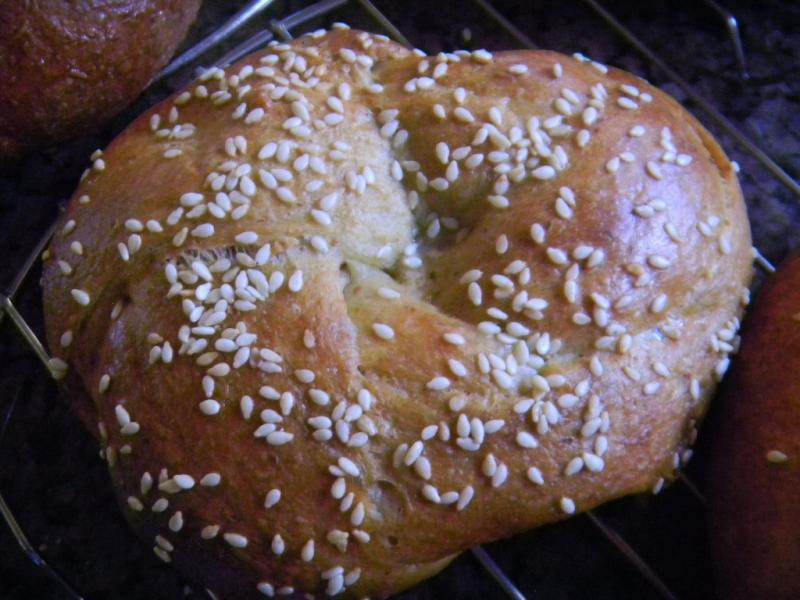 When putting the SD in the fridge I noticed that the YW had gone unused for a while and probably needed refreshment but would wait on that till the morning.  First thing in the morning I got out the YW and mixed up an enriched white dough similar to the SD but added ricotta cheese and the only whole grains were the Toadies.
No levain build, no autolyse and no retard required.  It felt much wetter than the 74% hydration it calculates to.  Still, this too is very wet for something that is supposed to be a shaped, rope roll of some kind.   So if you want more coil definition, use less liquid for both of these dough preparations.
We just tossed everything together, did 10 minutes of slap and folds and 3 sets of S&F's on 15 minute intervals and then left the dough on the counter to ferment for 2 hours,  At the end of 2 hours we retrieved the SD out of the fridge to let it warm up for and hour.   This is when Lucy sort of went berserko with her wild, hair brained ideas that she is known for executing poorly if at all.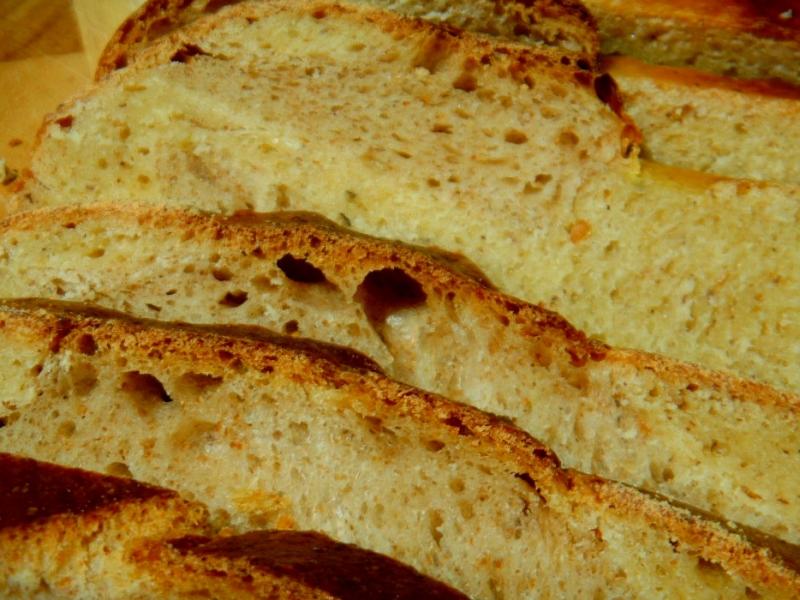 She thought it would be cool to make Franz Joseph rolls by making ropes out of the 2 varieties of dough and then twist 1 of each kind together to make a 145 g  twisted rope.  This twisted, half step sister rope could then be shaped  into Franz Joseph rolls, which are the same as Kaiser rolls but named properly from a historical point of view.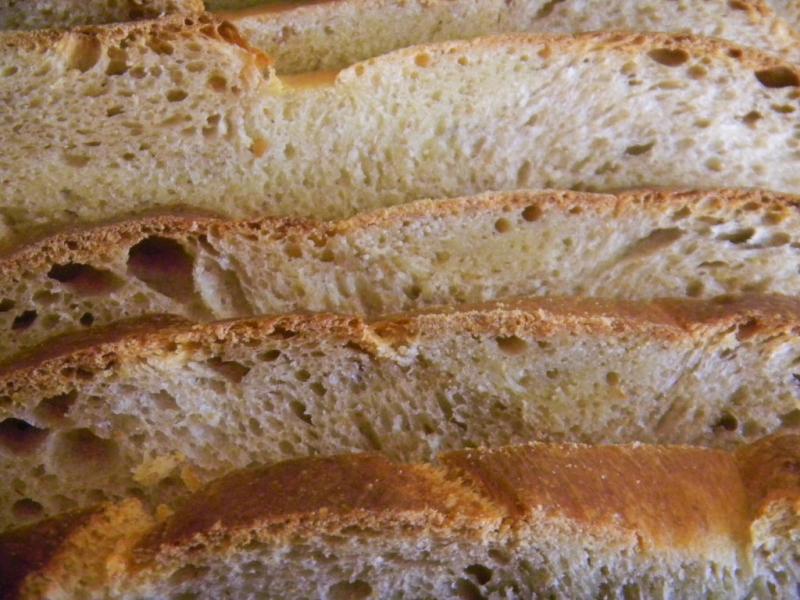 We didn't need or want 12 buns, so we took half of each  dough and used that to make a 6 strand round challah since these mixes sure looked and smelled like challah to me… only way more wet.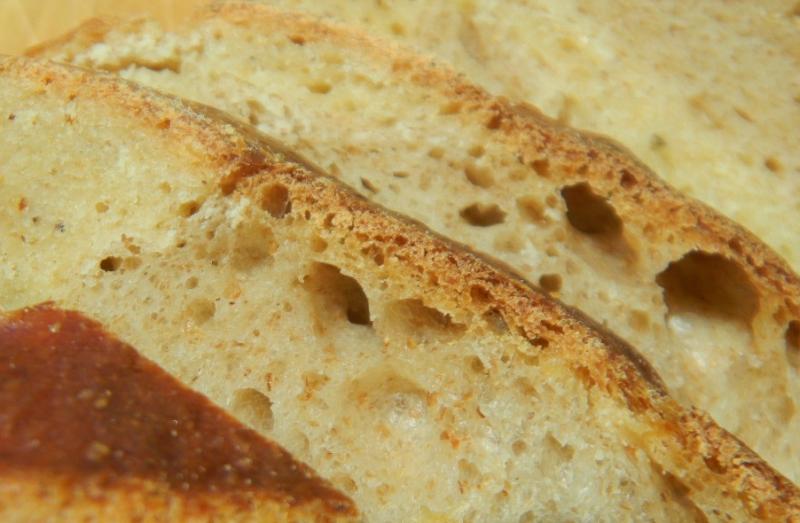 It was a bad choice since the dough was too wet and should have been in a loaf pan instead.  Always listen to Mini Oven when she says, (paraphrased) something like, 'if its not ciabatta and over 80% hydration, it belongs in a tin!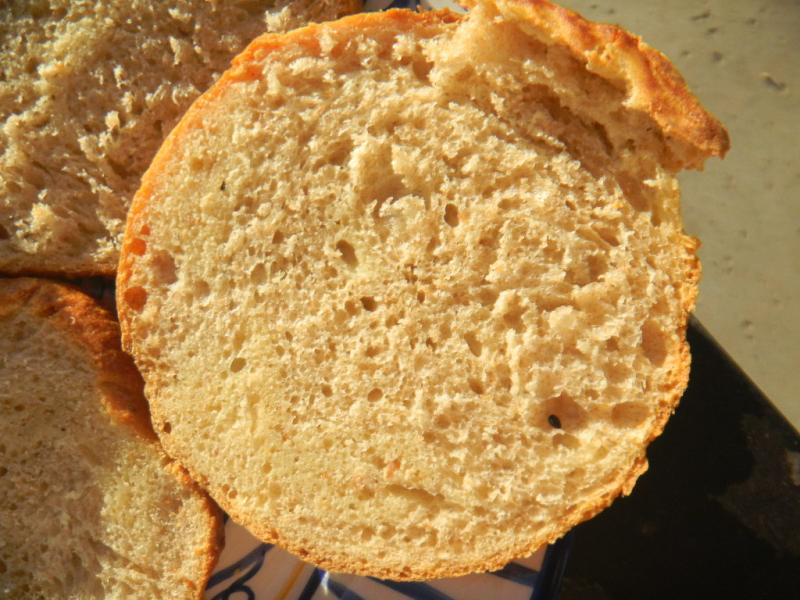 I couldn't remember what temperature to bake enriched dough at so looked at the beet infused buns and saw 350 F.  Since I know my oven is 25 F low, I baked at 375 F with steaming lava rocks in a CI skillet. I put the egg washed challah on the top stone 4 minute before the egg washed and sesame seeded rolls went on the bottom stone.  After 8 more minutes out came the steam and on went the convection at 350 F this time.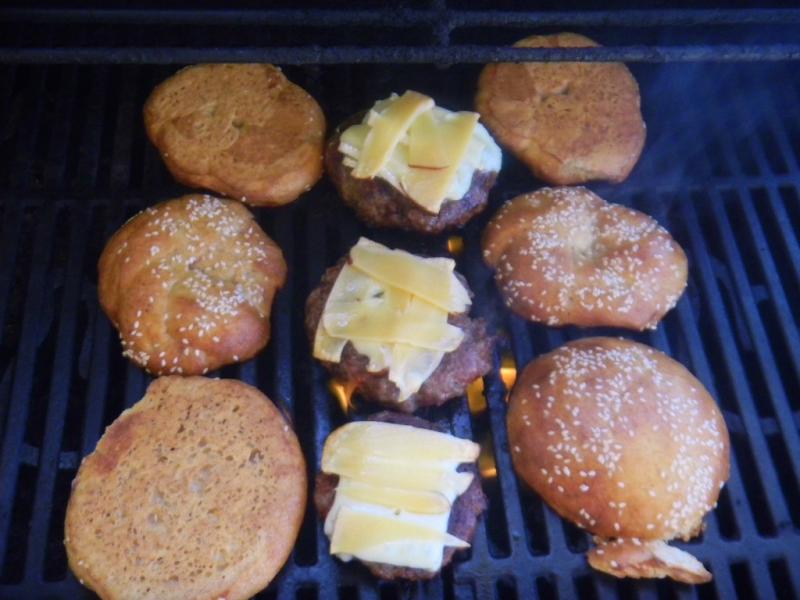 We rotated the bread and rolls every 5 minutes on the stones and at the 25 total  minute mark the rolls looked done and out they came to cooling racks without testing for temperature.  8 minutes later the challah hit 202 F.  We turned off the oven and then when the challah hit 205 F we removed it from the off oven.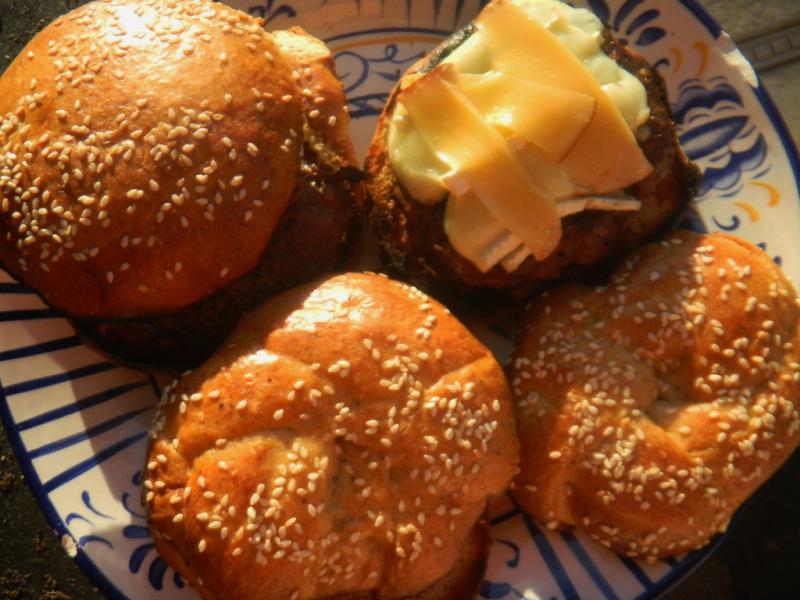 Everything browned nicely, no blisters were expected since you can't get them at 375 F no matter how much steam you have.  We sliced open the challah and found that the SD portion was more open than the YW one and it looked like the YW portion was way under proofed compared to our normal crumb but the bread.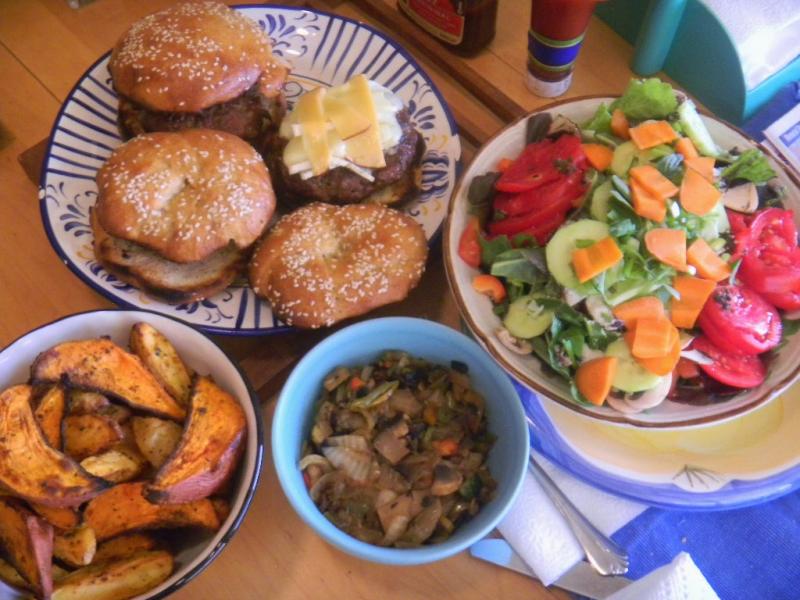 We should havelet the YW ferment for at least 2 hours more on the counter, 4 total or more hours before getting out the SD from its retard.  The cool part was the slightly darker SD portion that has tang.  Gives a unique looke to the bread. Not as dramatic a contrast as the Chaccon for Eric by far, but it is s subtle thing you can't help but notice and taste.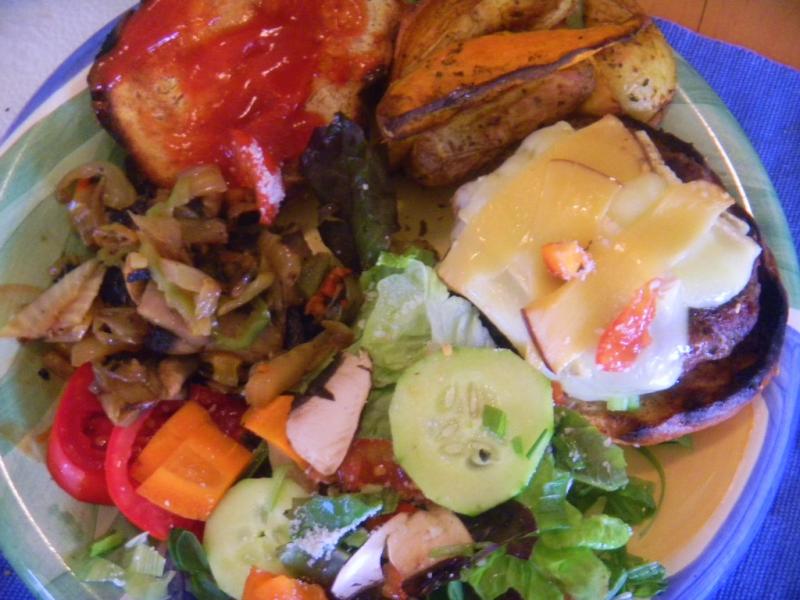 Would expect the same thing for the rolls but won't know till dinner time.  The rolls were much like the Challah on the inside adn made the perfect vehicle for the high rise hamburger where my architectural training was needed!  These burgers were 6 oz with soy sauce, garlic and onion powder, salt and pepper seasoning.  The toppings were BBQ sauce and ketchup,  grilled and caramelized onions, mushrooms, red yellow, green and Hatch peppers, apple wood smoked bacon, smoked Gouda and brie cheeses, home grown; tomato and lettuces. The sides were sweet and white rose baked potato wedges and a nice salad. When you only have ham,burgers once a month you have to go all out.  The buns held up exceptionally well structurally and their grilling really made them tasty.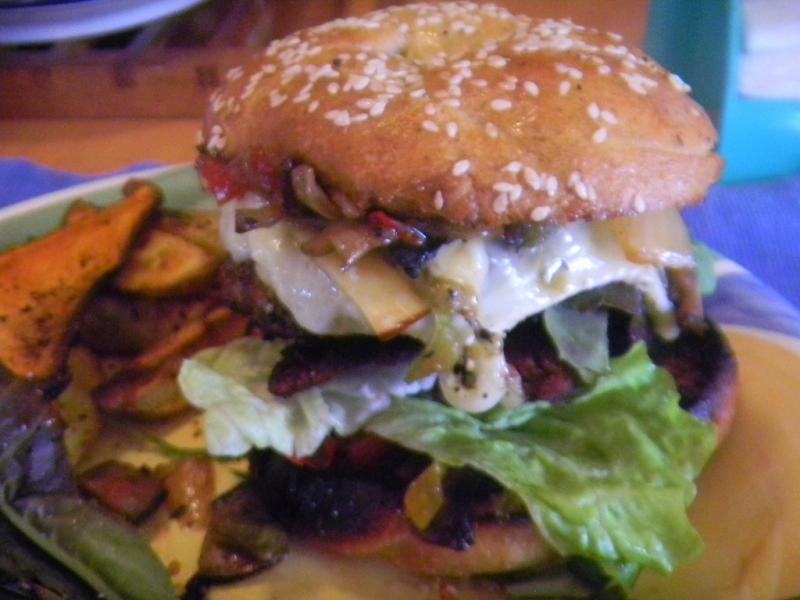 | | | | | | |
| --- | --- | --- | --- | --- | --- |
| Multigrain SD Hamburger Buns |   |   |   |   |   |
|   |   |   |   |   |   |
| Whole Wheat Levain | Build 1 | Build 2 |  Build 3 | Total | % |
| WW  SD Starter | 20 | 0 | 0 | 20 | 4.12% |
| Rye | 0 | 0 | 25 | 25 | 5.15% |
| WW | 50 | 60 | 0 | 110 | 22.68% |
| Spelt | 0 | 0 | 25 | 25 | 5.15% |
| Water | 50 | 45 | 40 | 135 | 27.84% |
| Total | 50 | 45 | 65 | 315 | 64.95% |
|   |   |   |   |   |   |
| Levain Totals |   | % |   |   |   |
| Flour | 170 | 35.05% |   |   |   |
| Water | 145 | 29.90% |   |   |   |
| Hydration | 85.29% |   |   |   |   |
|   |   |   |   |   |   |
| Levain % of Total | 32.37% |   |   |   |   |
|   |   |   |   |   |   |
| Dough Flour |   | % |   |   |   |
| AP | 315 | 64.95% |   |   |   |
| Dough Flour | 315 | 64.95% |   |   |   |
|   |   |   |   |   |   |
| Salt | 8 | 1.65% |   |   |   |
| Milk | 203 | 41.86% |   |   |   |
| Dough Hydration | 64.44% |   |   |   |   |
|   |   |   |   |   |   |
| Total Flour | 485 | 100.00% |   |   |   |
| Milk and Water | 348 |   |   |   |   |
| T. Dough Hydration | 71.75% |   |   |   |   |
| Whole Grain % | 35.05% |   |   |   |   |
|   |   |   |   |   |   |
| Hydration w/ Adds | 81.70% |   |   |   |   |
| Total Weight | 973 |   |   |   |   |
|   |   |   |   |   |   |
| Add - Ins |   | % |   |   |   |
| Egg | 50 | 10.31% |   |   |   |
| Butter | 57 | 11.75% |   |   |   |
| Honey | 15 | 3.09% |   |   |   |
| VW Gluten | 10 | 2.06% |   |   |   |
| Total | 132 | 27.22% |   |   |   |
| | | |
| --- | --- | --- |
| YW White Hamburger Buns |   |   |
|   |   |   |
| Yeast Water | 100 | 27.40% |
|   |   |   |
| Dough Flour |   | % |
| AP | 365 | 100.00% |
| Dough Flour | 365 | 100.00% |
|   |   |   |
| Salt | 7 | 1.92% |
| Water | 115 | 31.51% |
| Dough Hydration | 31.51% |   |
|   |   |   |
| Total Flour | 365 | 100.00% |
| Water | 215 |   |
| T. Dough Hydration | 58.90% |   |
| Whole Grain % | 4.11% |   |
|   |   |   |
| Hydration w/ Adds | 74.10% |   |
| Total Weight | 769 |   |
|   |   |   |
| Add - Ins |   | % |
| Egg | 45 | 12.33% |
| Butter | 45 | 12.33% |
| Ricotta Cheese | 60 | 16.44% |
| White Rye Malt | 3 | 0.82% |
| Toadies | 12 | 3.29% |
| Honey | 10 | 2.74% |
| VW Gluten | 7 | 1.92% |
| Total | 182 | 49.86% |