Whole Grain DaPumpernickel Aroma Bread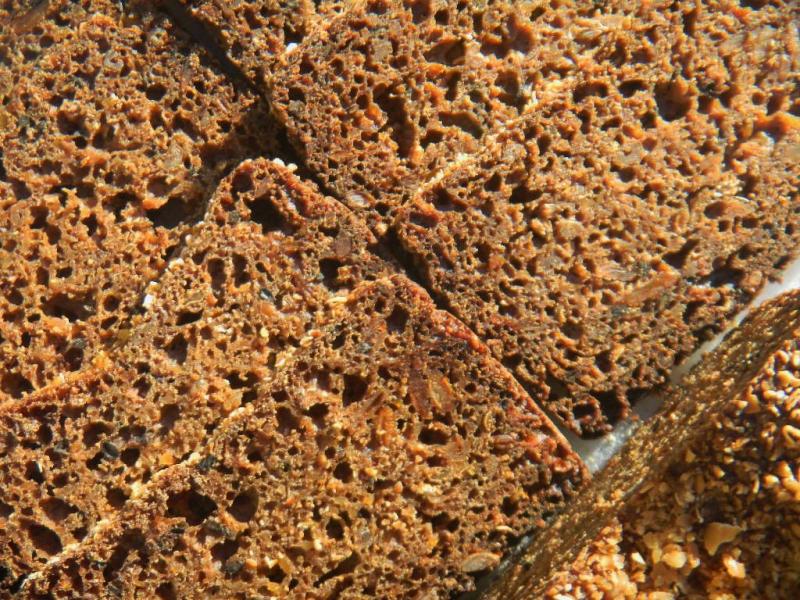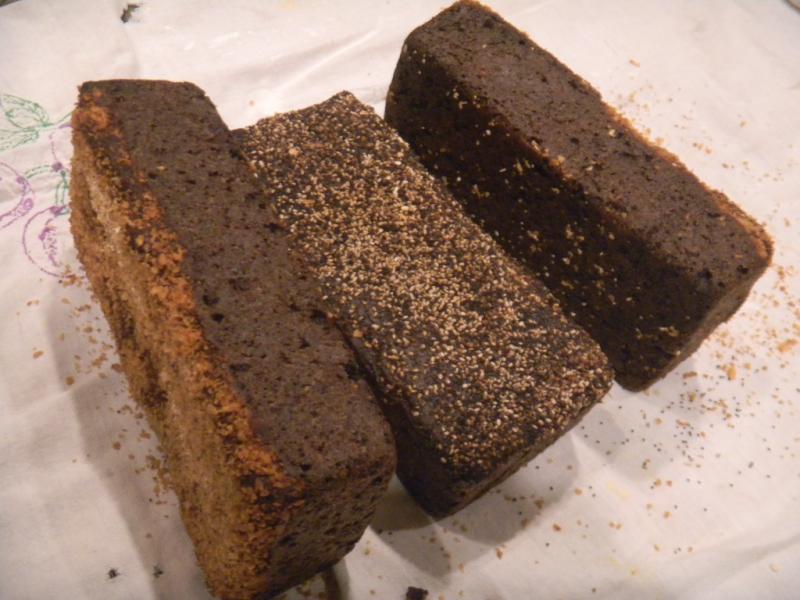 After baking out take on Karin's (Hanseata) great post with her take on Maria Speck's Aroma Bread here: http://www.thefreshloaf.com/node/32830/aroma-bread-love-story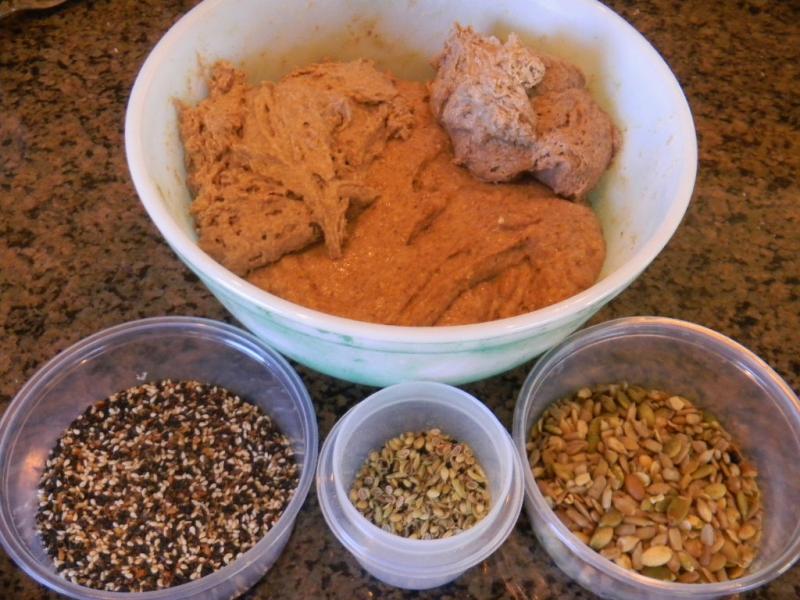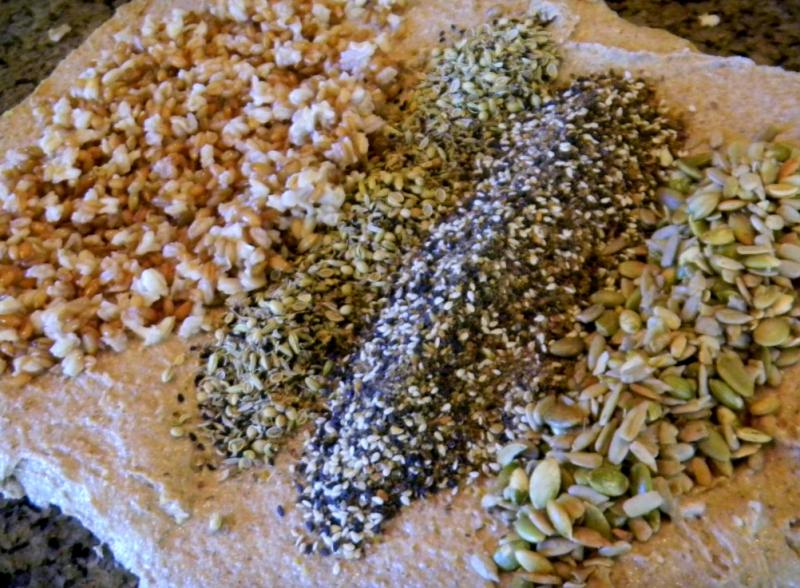 and my take here: http://www.thefreshloaf.com/node/32921/100-percent-whole-multigrain-aroma-bread-2-soakers-11-seeds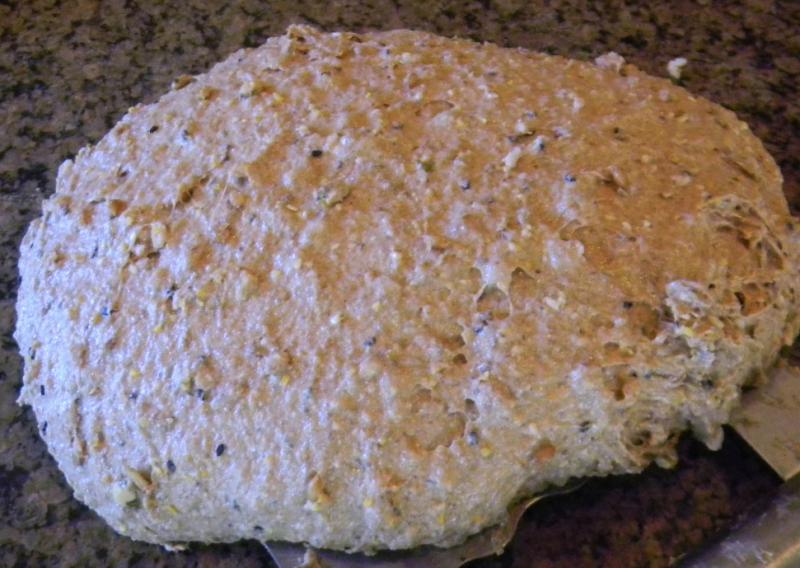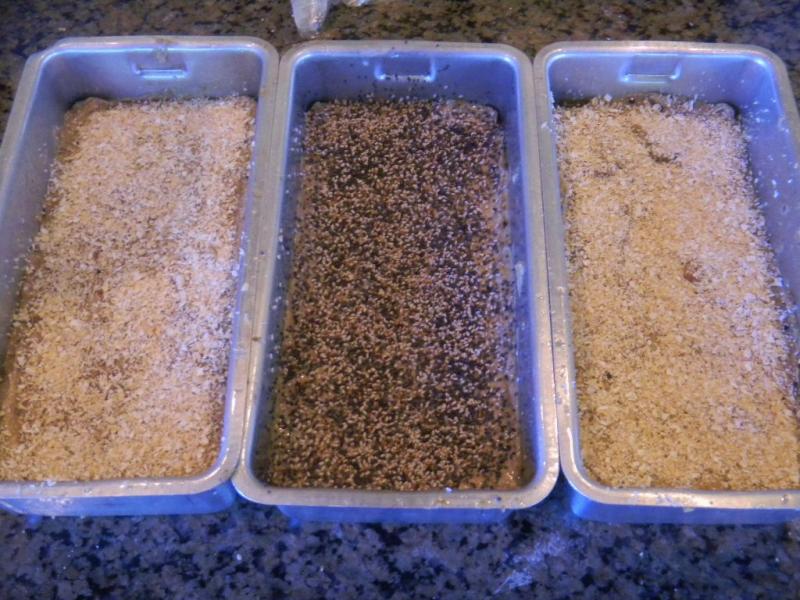 We knew that we would have to try a similar version but bake it DaPmpernickel style which is quickly becoming our favorite bread type – although we love them all . We stayed with 100% whole grains but dumped the WW portion and subbed rye in its place.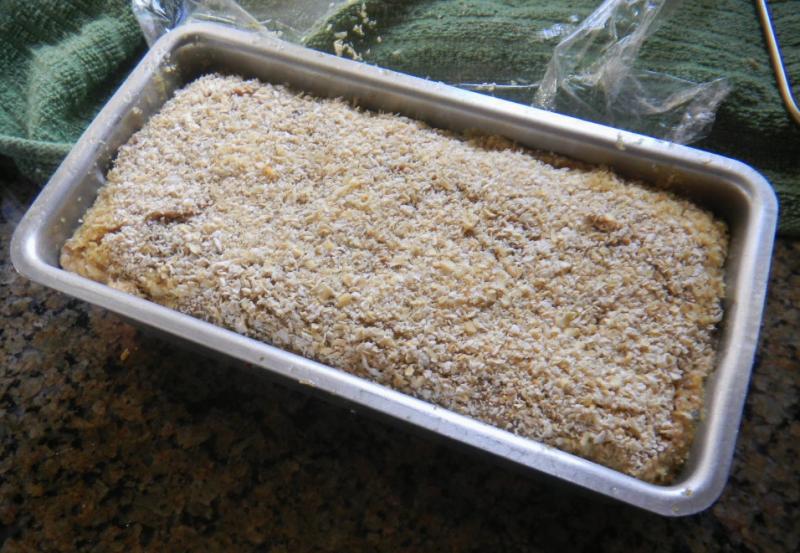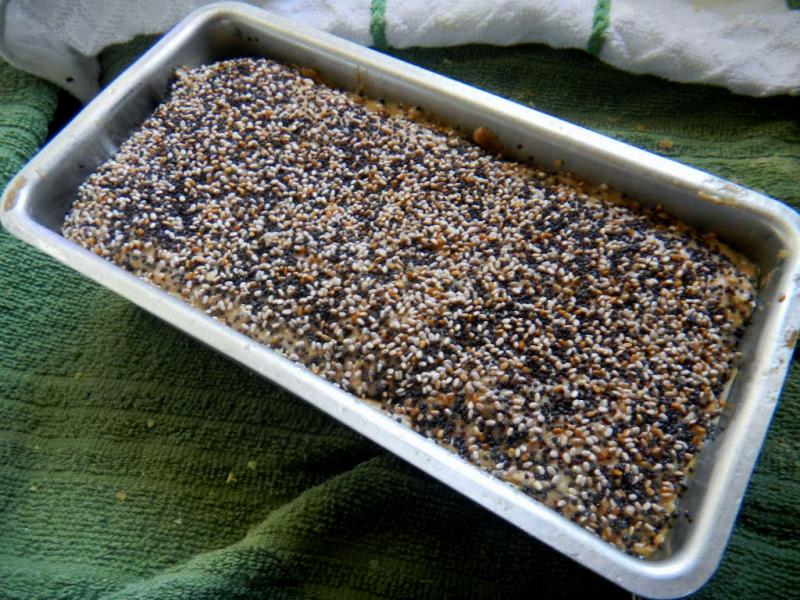 For the liquid we used yogurt whey for much of it while the add ins for seeds, scald and aromatic seeds remained the same since we had divided them in half for the last bake. We dropped the VWG since not much rise was needed and we added some molasses and barley malt syrup to counter the bitterness of the rye and help with the deep dark crumb we want Dapumpernickels to display when cut.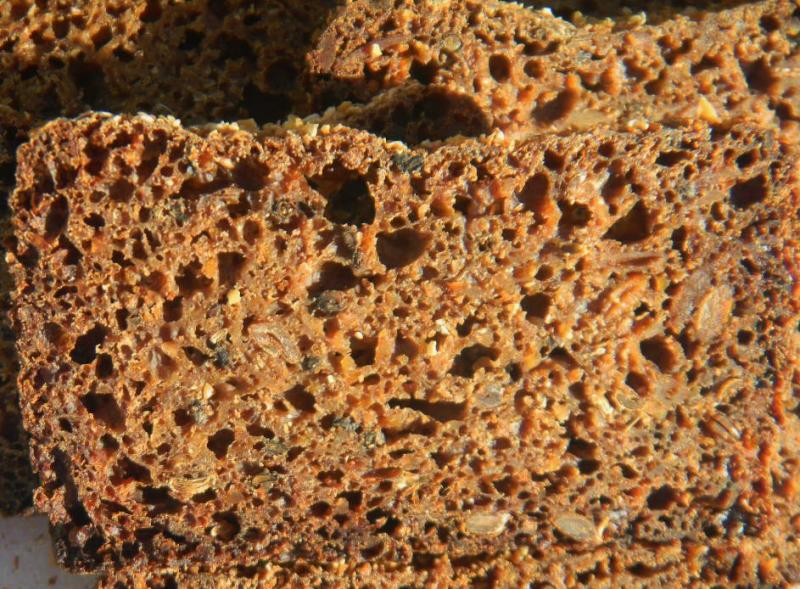 This time, even though the formula doesn't show it, we autolysed all of the dough flour with the soaker. Why we held back such a small amount from the autolyse in the previous bake didn't make much sense to my apprentice. So few things make sense to her we as it is, we just chalked this change to another one of her wild whims. We have also learned that not doing as told could cause some horrific ankle biting episode.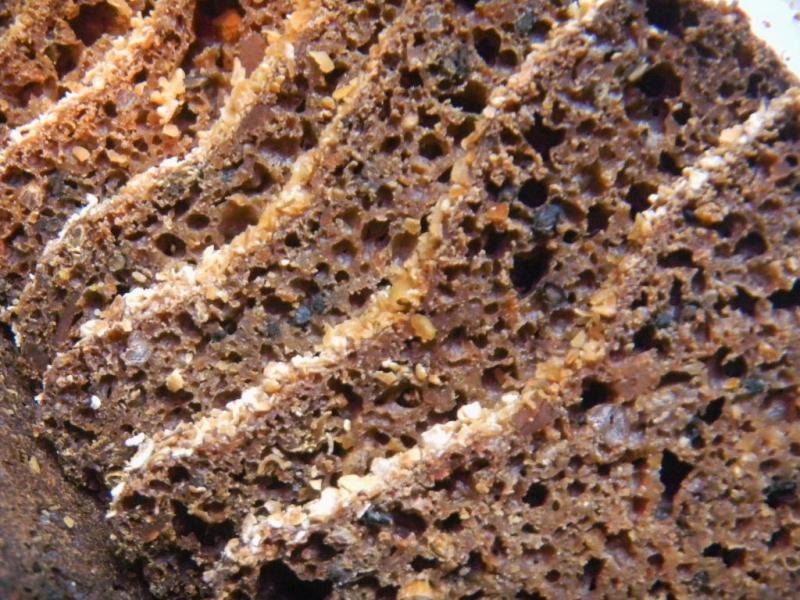 We subbed a rye sour and a rye YW levains for the poolish and the WW SD levain of the last bake. We though the rye levains in combination would be more traditional for this kind of bread even though traditions really go through the ringer around here.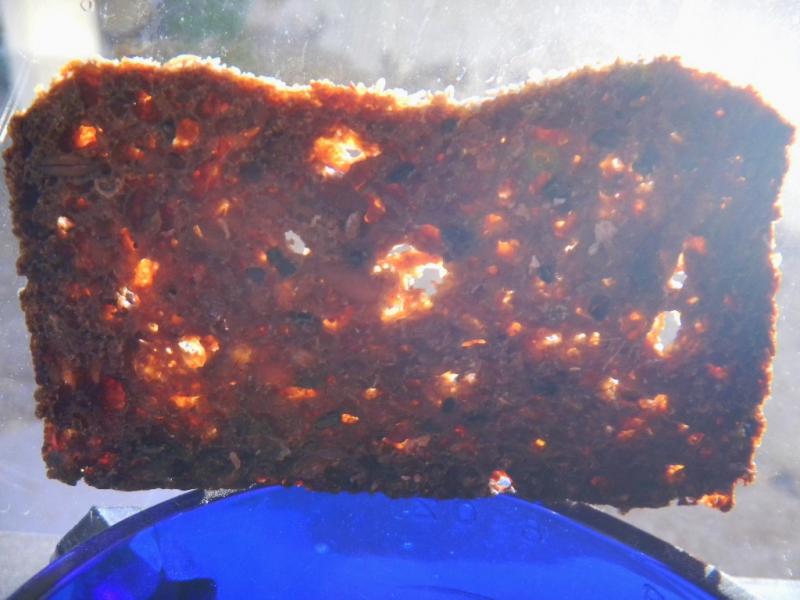 This bread worked out very different than the last one. It was much more sticky due to the rye in place of the WW and it acted like a paste instead of a dough. We did do 10 minutes of slap and folds and tried our best to get some gluten worked up but it wasn't having any of it. Se we treated it like a paste, slap by slap and folding with the add ins to get them evenly distributed and panned the sticky mess lot into (3) cocktail loaf pans to about half full and smoothed the top with a wet teaspoon.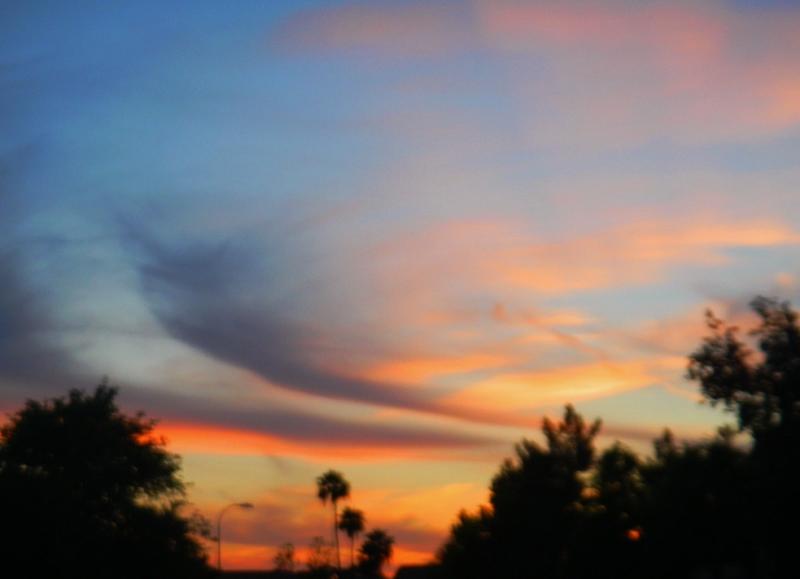 Instead of using tri-color poppy seeds to cover all of them like the last bake, for two of the loaves we used oat bran to cover. After an hour and a half proofing on the counter we put them in the fridge for a 12 hour retard. The next morning they went onto the heating pad for a 2 ¾ hour final proof at 85 F.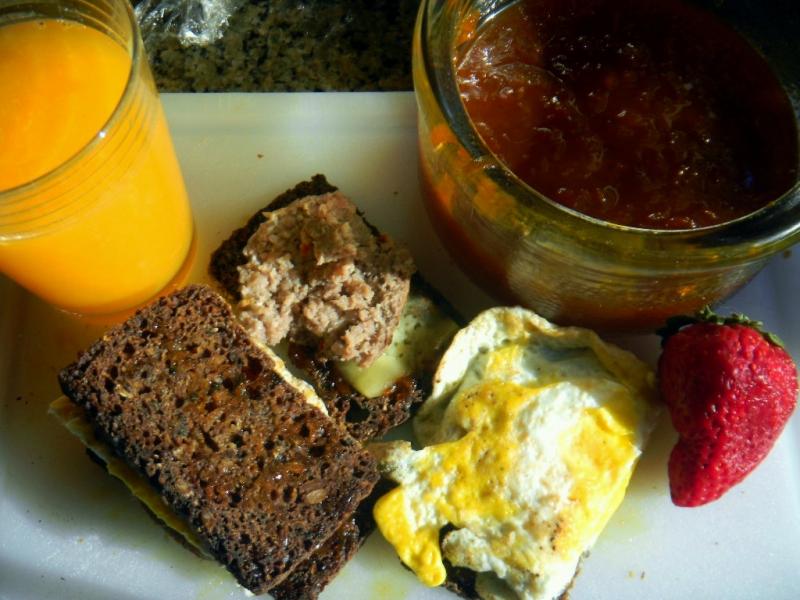 Each breakfast sandwich has 2 - 1/4" slices of DP Aroma bread, not toasted so no butter. One each slice is caramelized Minneola marmalade and 1 slice of aged white cheddar cheese on. In the middle of each sandwich is 1/2 of a hot sausage paddy and 1/2 a fried hard egg. Served with home grown and squeezed Minneola orange juice and a strawberry. Dabrownman's place is one of the few places in the world where this breakfast is occasionally served but you can recreate it in your own kitchen!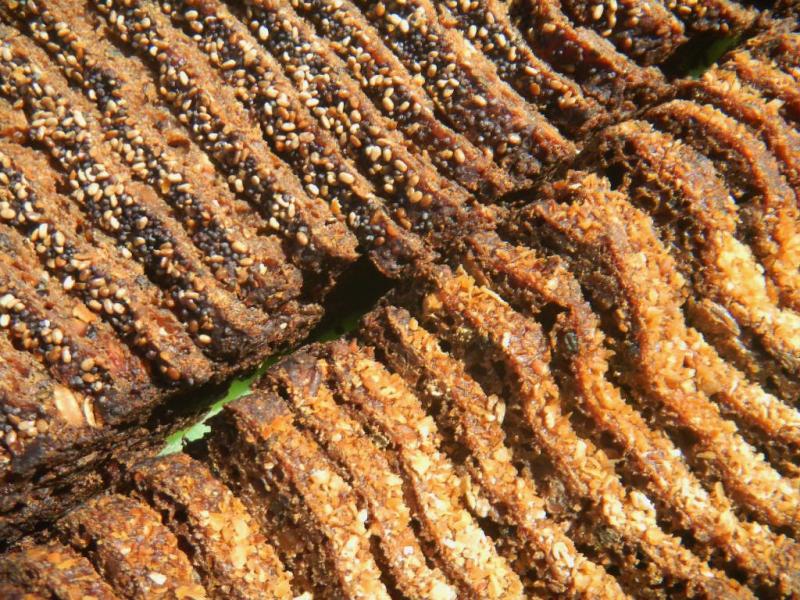 28, 29 and 30 slices for the (3) each 6 7/8" loaf.
When the dough had risen near the rim of the pans we covered tightly with aluminum foil and started the reduced temperature over time baking schedule. Last time we did a pumpernickel style bread we had let it proof over the rim and we wanted to fix that with this bake. Since these pans were smaller, we lowered the initial start temperature and reduced the baking time too. Here is the schedule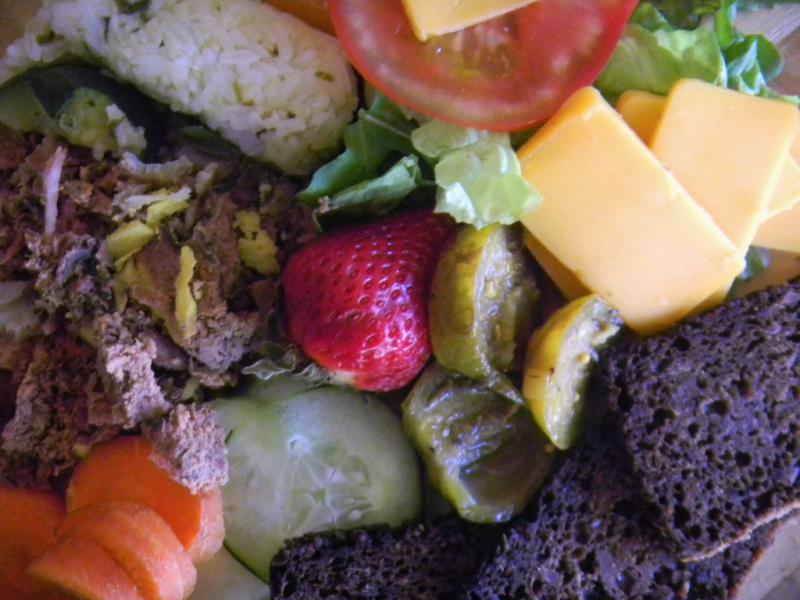 Pate Maison lunch with cukes, carrot, pickled Thai eggplant, Mexican green rice, tomato, salad, extra sharp cheddar cheese and a strawberry.
375 F - 30 minutes
350 F - 30 minutes
325 F - 2 hours
235 F - 2 hours
200 F - 2 hours
We checked the temperature at the 3 hour mark and the bread was at 205 F so the rest of the bake time it was just getting itself dried out even though it was still covered. I suppose you could take it out at the 3 hour mark if you wanted to but I'm guessing it won't be a dry loaf if baked the full 7 hours – At least it isn't 10 hours like last the laast DaPumpernickel
We haven't used this baking schedule before but my Germanic apprentice and resident DaPumpernickel expert said she doesn't really care how it gets baked as long as it is low, slow and she gets the first bite. I'm thinking she is still mad she didn't get her way when I didn't use the German made Romertopf clay baker to bake this bread in like the last bake.
One of the reasons to bake bread like this, besides it tasting terrific, is that the entire house smells fantastic the whole day! We can already tell that we will love this bread too. We won't know for sure until we can cut into it and give it a taste – in a couple of days. We let it sit in the off oven for 8 more hours before allowing the loaves to cool on a rack. We wrapped them in a cotton cloth and will let them rest for 32 hours before slicing them. Stay tuned.
This bread can be sliced 1/8" thick. I has a powerful, deep and meaty taste. It is moist, the crumb is open, dark chocolate in color and has chewy bits. The crust is very dark and chewy. It is everything you could ever want in a Dapumpernickel - and a little more! There really isn't much more to say about it except that I'm going to make breakfast and see how it works with sausage and eggs.
Formula
YW and Rye Sour Levain

Build 1

%

WW SD Starter

25

10.42%

Spelt

65

27.08%

Dark Rye

50

20.83%

Yeast Water

50

20.83%

Water

65

27.08%

Total

255

106.25%

Levain Totals

%

Flour

127.5

53.13%

Water

127.5

53.13%

Hydration

100.00%

Levain % of Total

14.24%

Dough Flour

%

Dark Rye

120

50.00%

Spelt

120

50.00%

Dough Flour

240

100.00%

Salt

10

1.69%

Whey 195 & Water

218

90.83%

Dough Hydration

90.83%

Total Flour

591.5

Soaker Water and Water

513.5

T. Dough Hydration

86.81%

Whole Grain %

100.00%

Hydration w/ Adds

86.43%

Total Weight

1,791

Add - Ins

%

Molasses

15

6.25%

Barley Malt

15

6.25%

Toadies

20

8.33%

Bi-color; Sesame, Cracked Flax

40

16.67%

Pumpkin and Sunflower Seeds

40

16.67%

W&B Caraway, Anise, Coriander, Fennel

15

6.25%

Total

145

60.42%

Multigrain Flour Soaker

%

Coarse Cornmeal

57

23.75%

Rye

75

31.25%

Spelt

92

38.33%

Water

168

70.00%

Total Flour Soaker

392

163.33%

Scald

%

WW Berries

46

19.17%

Rye Berries

46

19.17%

Spelt Berries

47

19.58%

Total Scald

139

57.92%

Weight of scald is after draining - pre scald weight was 25 g each