100 Percent Whole Multi-Grain Aroma Bread with 2 Soakers & 11 Seeds
After seeing Karin's (Hanseata) great post with her take on Maria Speck's Aroma Bread here: http://www.thefreshloaf.com/node/32830/aroma-bread-love-story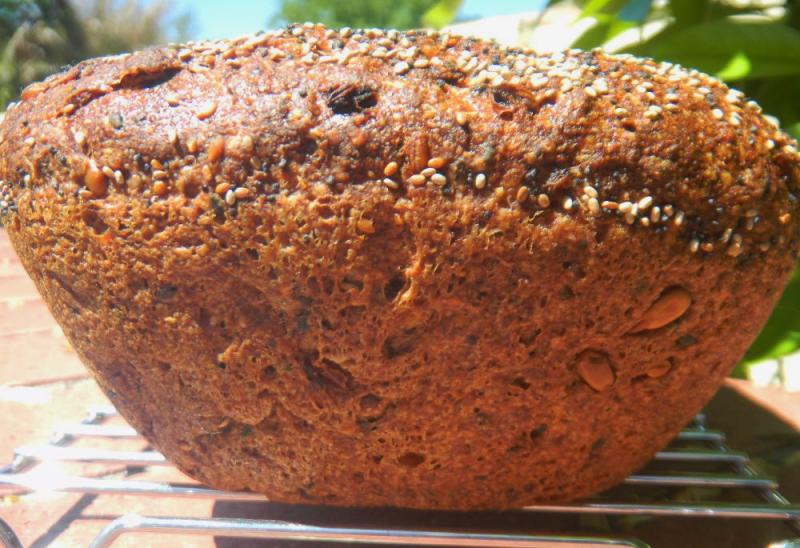 We knew that we would have to move it to the top of the baking list before anything else got baked. My apprentice immediately knew this was her kind of bread – 100% whole grains, soakers for a majority of the flours, includes the oddball cornmeal and some Toadies, a scald for the whole berries, seeds galore with multi-versions of SD starters and commercial yeast.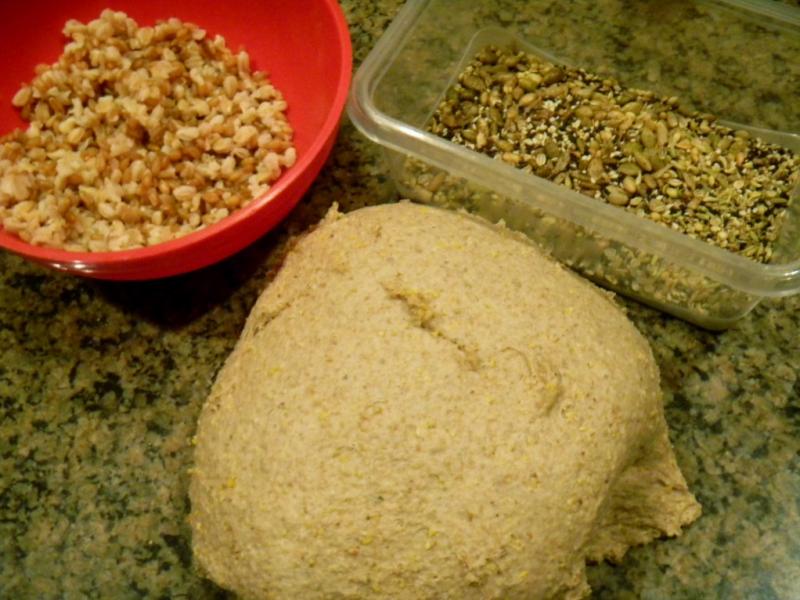 We, of course, decided to go all with the seeds getting around to 11 different ones not including the 3 whole grain seed soaker (making a total of 14). Some seeds like the coriander, anise, brown and black caraway and fennel were aromatics to spice the bread.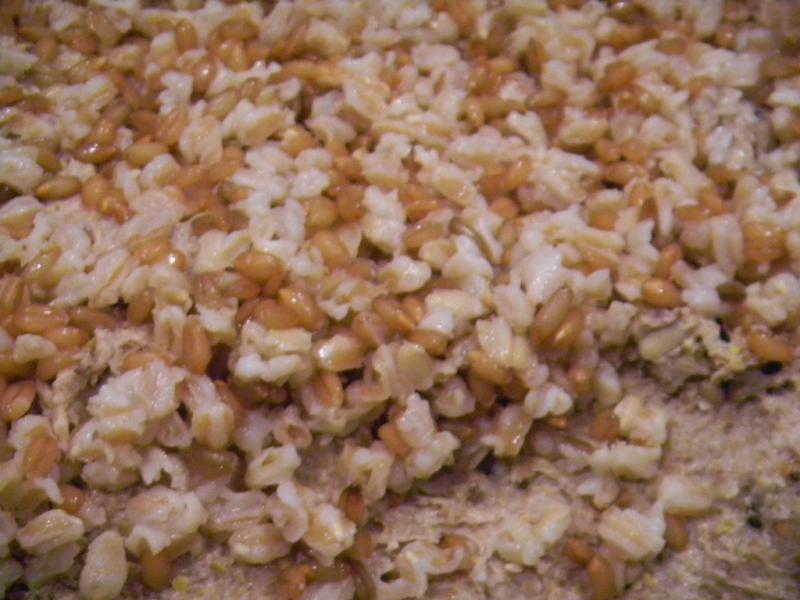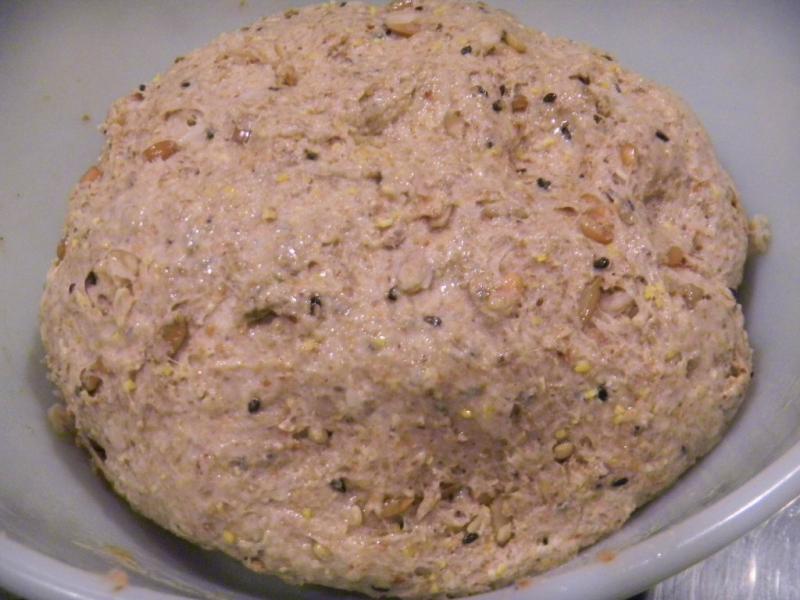 Other seeds like; cracked brown and golden flax, black and white sesame, pumpkin and sunflower seeds make the bread healthy and meaty when combined with the spelt, whole wheat, and rye scalded whole berries.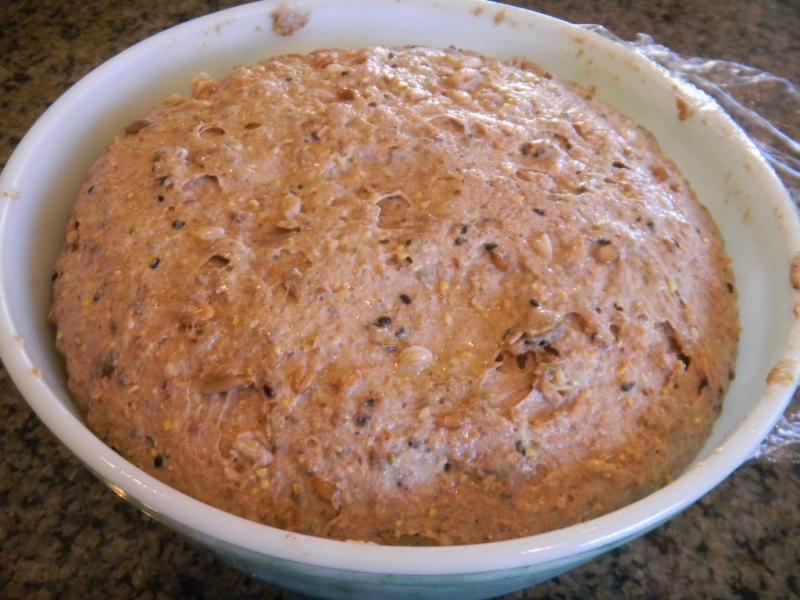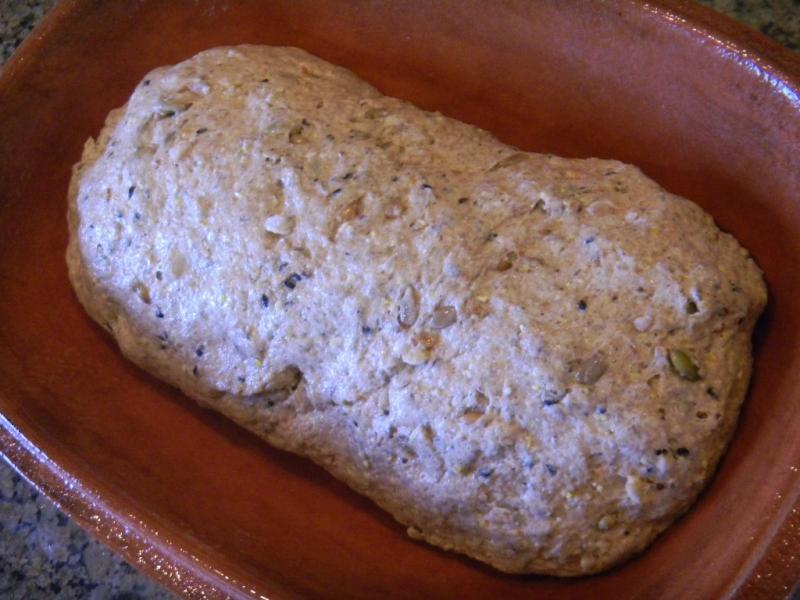 We strayed from Karin's bake in some minor ways. We used the berry soaker water for much of the liquid, had a few more and different seeds here and there. We added our new very vigorous WW starter in place of rye sour one Karin used and used a poolish in place of the commercial yeast. We added WW to the scald, tossed in some toadies and VWG since these flours have so little and also used more rye in place of some of the spelt.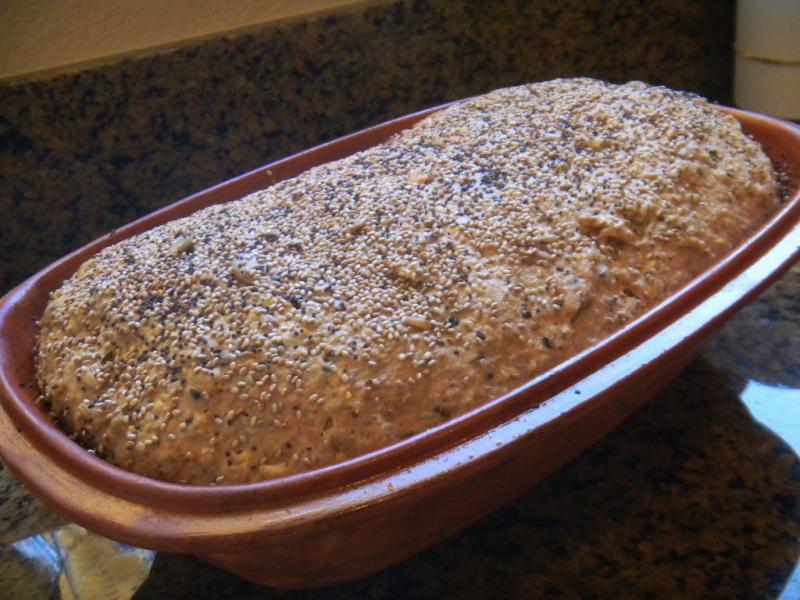 We did 10 minutes of slap and folds after everything except the sesds and scald came together to work up the gluten and then did (4) S&F's on 15 minute increments ,to incorporated the seeds and scald. After 1 hour of fermentation on the counter we bulk retarded the dough for 8 hours in the fridge.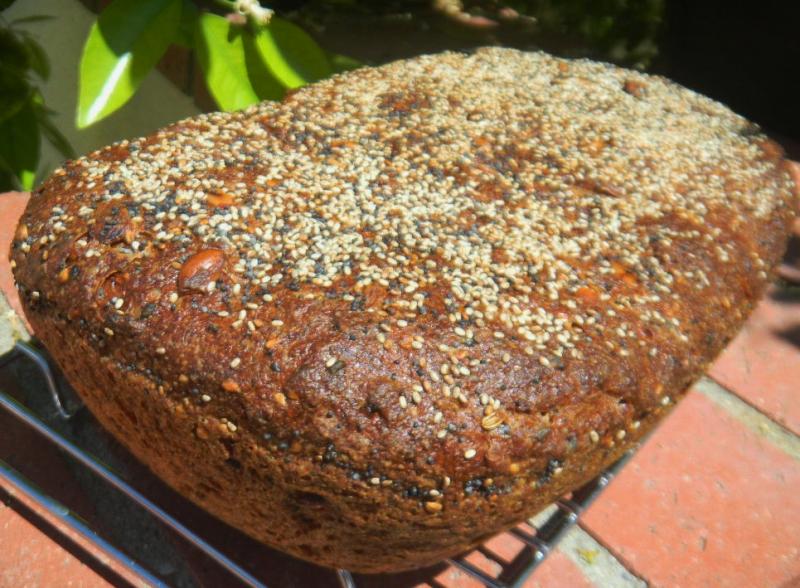 After warming up again on the counter for 1 1/2 hours the next morning and using the time to soak the clay baker, we shaped the loaf to fit an oval Romertopf and let it proof for 2 hours until it more than doubled. You might want to let yours be slightly under double so you get the oven spring we didn't get. Well, at least it didn't collapse.
We warmed the oven to 450 F with a stone below and above the rack that the cold clay baker would do its thing on. We covered the top of the loaf with our tri colored, poppy seeds for a final touch, covered with the lid and steamed the bread for 25 minutes, We then removed the lid, turned down the temperature to 425 F convection and let it bake another 20 minutes rotating the Romertopf every 5 minutes.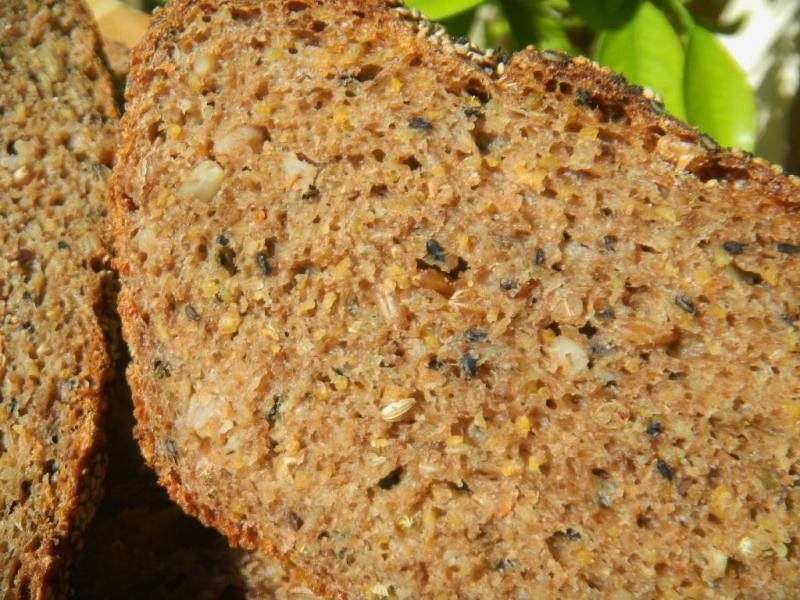 At the 45 minute mark the bread hit 200 F and we turned off the oven, leaving the bread inside, until it hit 205 F - 5 minutes later, when we removed the bread to a cooling rack. It was very aromatic, boldly brown., crispy but not sporting a blistered crust.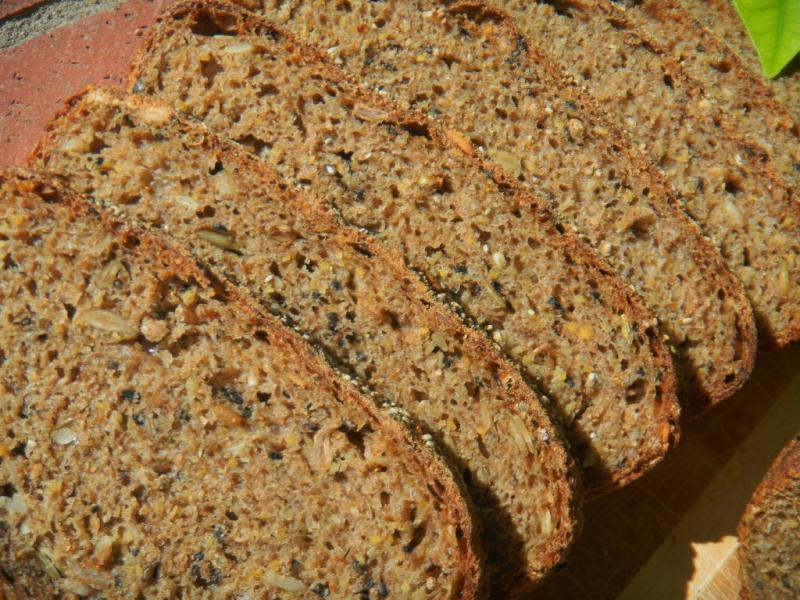 We can already tell that we will love this bread and will know for sure as soon as we can cut into it and give it a taste. It has another top 5 rating hanging over it I'm guessing. As a side note we have another nearly identical bake planned with the exception that; we will bake it like a pumpernickel to see which one we like better and it will have yeast water and Rye Sour levain in place of the WW SD and poolish used for this bake.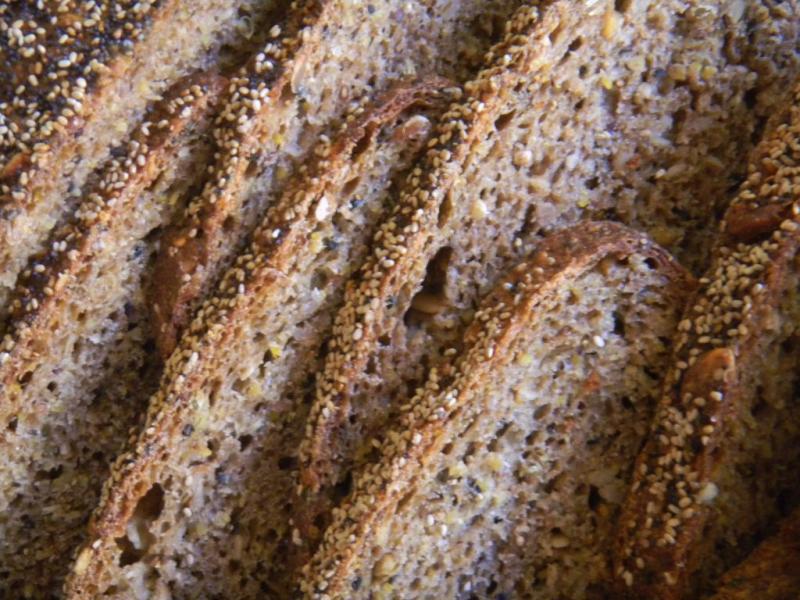 I can't stop eating this bread. Plain or toasted with butter - just fantastic. We love the deep flavor, the aroma of the toasted spice seeds, the nuttiness of the toasted more meaty seeds that give the soft crumb its chew. This is a great bread adn one i am so glad that Karin posted. It''s different than her Wild Rice Bread and, to my liking, a tad better and I love the Wild Rice Bread. It would be very difficult to craft a healthier bread too. Can't wait to have a sandwich made with it tomorrow for lunch. This bread is why I bake and put up with my apprentice....You have to try it.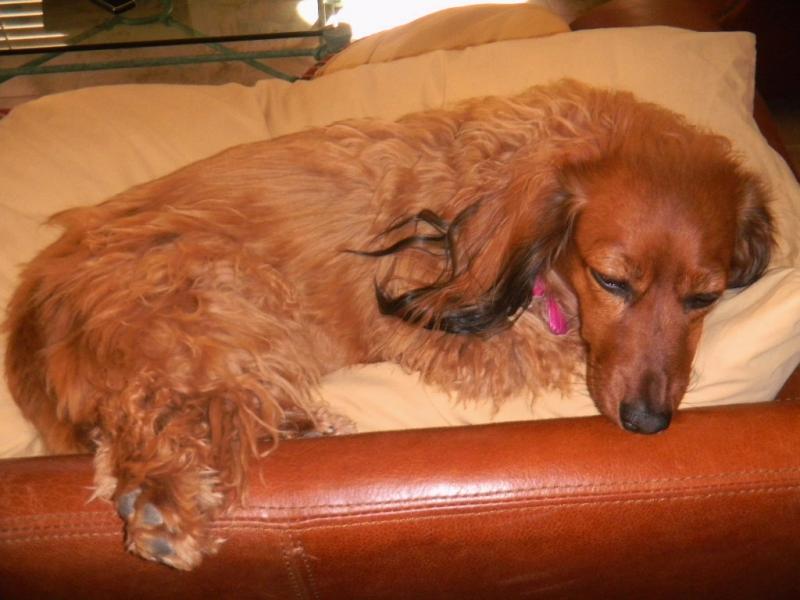 She's a tuckered doggie just waiting for the sunset.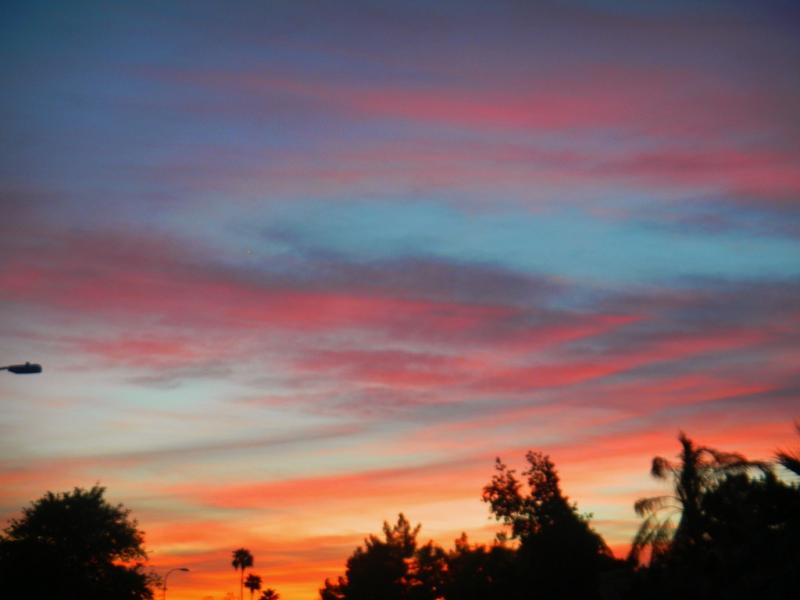 Couldn't wait for lunch. We had to have tomorrow's lunch tonight for dinner - a wise choice !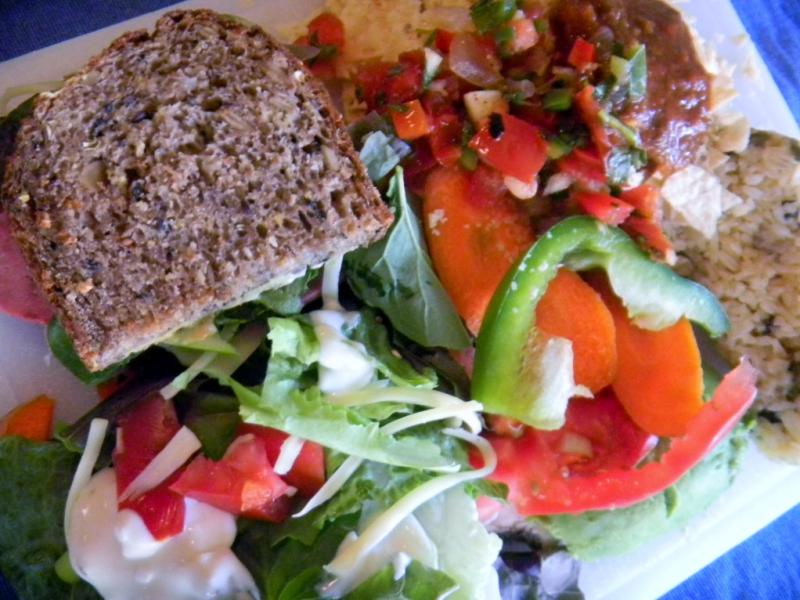 Formula
Poolish & WW SD Levain

Build 1

%

WW SD Starter

25

4.37%

Whole Wheat

115

52.27%

Water

115

52.27%

Total

255

115.91%

Flour and water is split between the poolish and WWSD levain

Poolish & WW SD Levain

%

Flour

127.5

57.95%

Water

127.5

57.95%

Hydration

100.00%

Levain % of Total

14.48%

Dough Flour

%

Dark Rye

100

45.45%

Spelt

120

54.55%

Dough Flour

220

100.00%

Salt

10

1.75%

Soaker Water for Dough

218

99.09%

Dough Hydration

99.09%

Total Flour

571.5

Soaker Water and Water

513.5

T. Dough Hydration

89.85%

Whole Grain %

100.00%

Hydration w/ Adds

83.97%

Total Weight

1,761

Add - Ins

%

VWG

20

9.09%

Toadies

20

9.09%

Bicolor Sesame, Bicolor Cracked Flax

40

18.18%

Pumpkin and Sunflower Seeds

40

18.18%

W&B Caraway, Anise, Coriander, Fennel

15

6.82%

Total

135

61.36%

Multigrain Flour Soaker

%

Coarse Cornmeal

57

25.91%

Rye

75

34.09%

Spelt

92

41.82%

Water

168

76.36%

Total Flour Soaker

392

178.18%

Scald

%

WW Berries

46

20.91%

Rye Berries

46

20.91%

Spelt Berrries

47

21.36%

Total Scald

139

63.18%

Weight of scald is after draining - pre scald weight was 25 g each. White, brown ad black poppy seeds were used as a top garnish.