An Attempt (1st) at Eric's Rye
A couple of days ago I made an attempt at Eric's Rye using this formula
http://www.thefreshloaf.com/node/5076/eric039s-fav-rye#comment-25620
substituting Bread Flour in the Final Dough since I had no access to First Clear Flour
Specifically: 
I built a Rye starter with three progressive builds over 24 hours, 2:1:1 with the following results
Build 1: 20g seed starter, 10g Whole Rye, 10g Water; the seed starter all white Bread flour, 100% Hydration
Build 2: 40g (build 1), 20g Whole Rye, 20g Water
Build 3: 80g (build 2), 40g White Rye, 40g Water
From this I used 100g of the Rye Starter + 275g White Rye + 275g Water for the sponge. I put the sponge in the proofing box (82°F) for three hours, then placed it in the wine coller (54°F) over night for 12 hours.
The next day I mixed the final dough in accordance with Eric's instructions, using Bread flour instead of First Clear flour as mentioned earlier.
I bulk fermented the dough for three hours at 82°F. It double in volume.
I shaped 1 Boule, and one Batard. The boule was 100g lighter than the batard.
I baked them at 400°F for 35 mins. Internal temperature was 198°F when I removed them. I didn't use steam, but I sprayed the loaves with water every minute, for the first 10 mins. I glazed them with the cornstarch glaze prescribed. I gave them two coats of the glaze.
Here is a photo of the crust and crumb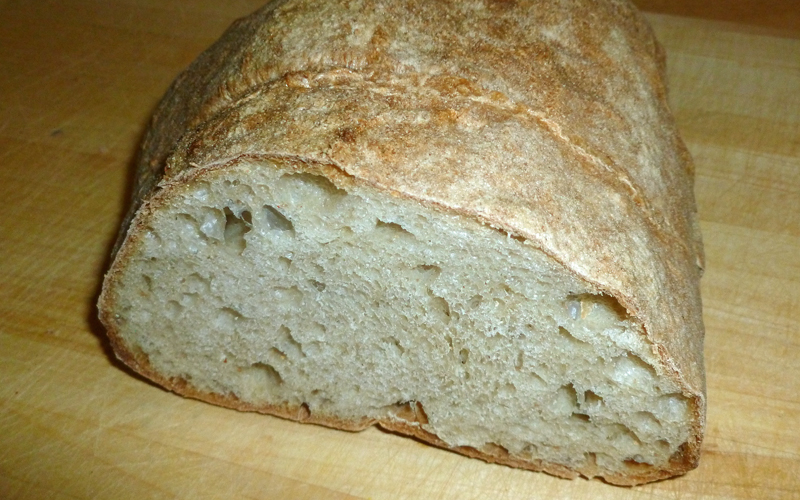 This dough behaved unlike any rye dough I've ever baked before, although I'm not an accomplished rye bread baker. In fact, I started with Eric's Deli rye because I'm on a quest to improve my rye dough handling/baking skills.
Specifically:
This bread doesn't have a rye flavor! I put ten percent Whole Rye in my "go-to" sourdough bread. This bread has 2% Whole Rye and 27% White Rye, yet it has no more Rye flavor.
The crumb appears fully developed. The crumb appears more open than other examples of Eric's rye pictured on TFL, but didn't surprise me: the dough is 73% Hydrated, and contains 71% bread flour. The crust is lighter than I expected even though it baked at a temperture higher than Eric's specified 370°F but at the mid-point (35 mins of his 30 to 40 min. estimate.)
The glaze was absorbed by the crust--both coats. This really surprised me because I've used cornstarch glaze before (Secret's of a Jewish Baker deli Rye) with high gloss results.
I attribute the lack of flavor to the high percentage of white rye, and the low percentage of Whole Rye, but maybe its also dulled by the high hydration.  Another alternative is I need a more agressive, mature starter--like Varda' description of J. Hamelman's rye starter she experience in her recent rye class.
The light crust color I attribute to not being steamed continuously in the early time baking.
I've no idea why the glaze didn't behave as I expected.
And, I'm very uncertain my analyses are correct. Please, offer opinions what went wrong, and suggestions what to do next: changes to make, or alternative deli Rye formulae to try. My goal is to bake a deli Rye loaf, consistently, to match the rye breads I ate in NYC when I was a kid eating in the Silver Dollar on Broadway with my Dad (I think it was there) before grabbing the subway to Yankee stadium.
David G