February 18, 2013 - 1:42pm
Multigrain SD Altamura - Not The Priest's Hat
Varda caught the the original Pope's Hat was really a Priest's Hat and then we found out it wasn't and Priest's Hat either so we got a chance to fix that, inserting Priest's for Pope's and also fixing that to remove the Priest's Hat entirely and our spelling and grammer errors too.  Hope this clears up the confusion in a confusing way.
We were making a stiffer levain Italian style and decided to revisit another Italian bread – Altamura style like David Snyder did here
Pane tipo di Altamura from "Local Breads"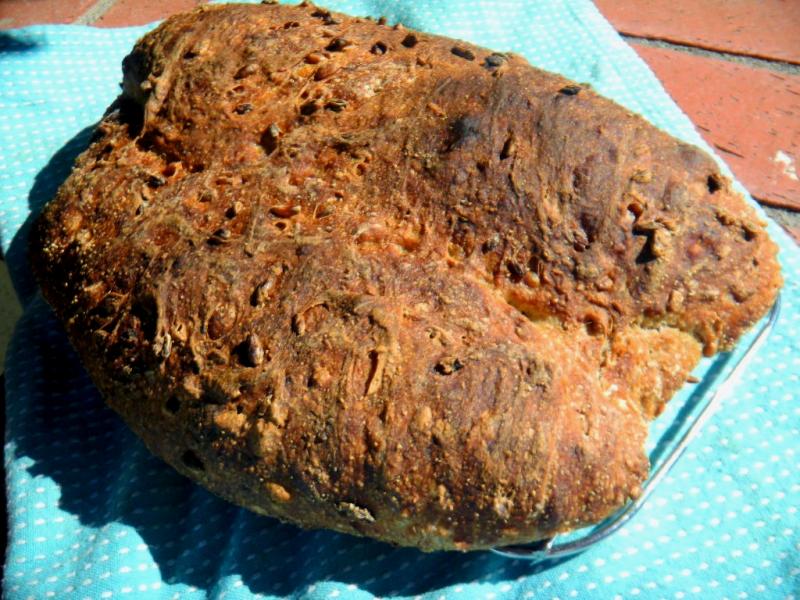 This bread is also one where the whole multi-grains were going to be in the levain.  We also decided to go more Italian style with a stiff levain - 51%.  Since the whole grains  only amounted to 35% or so and not too much rye or spelt,  we thought a good 30 hour retard would really bring out the whole grain flavor and the sour too.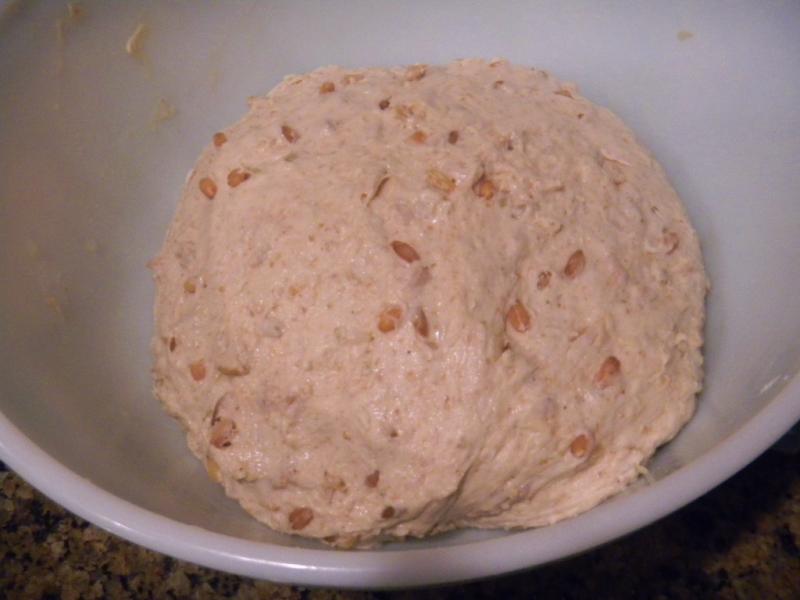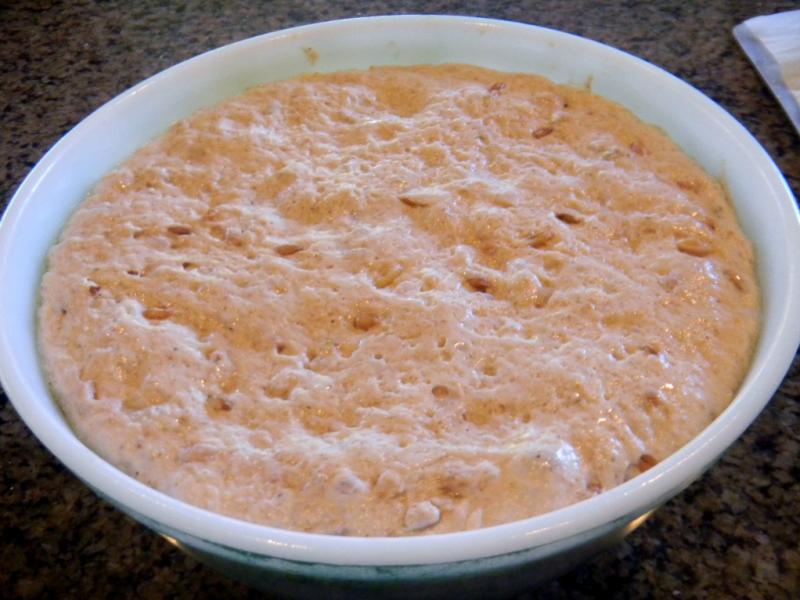 First off you simmer the soaker seeds for 3 minutes and then let them soak for 24 hours.  We would normally use the excess water at the end of the soak for the dough liquid but forgot to this time - so we saved it for the next bake.  Remember to rum a paper towel or two through the well drained soaker seeds to get rid of as much excess liquid as you can, otherwise, the dough will bee wetter than it already will be.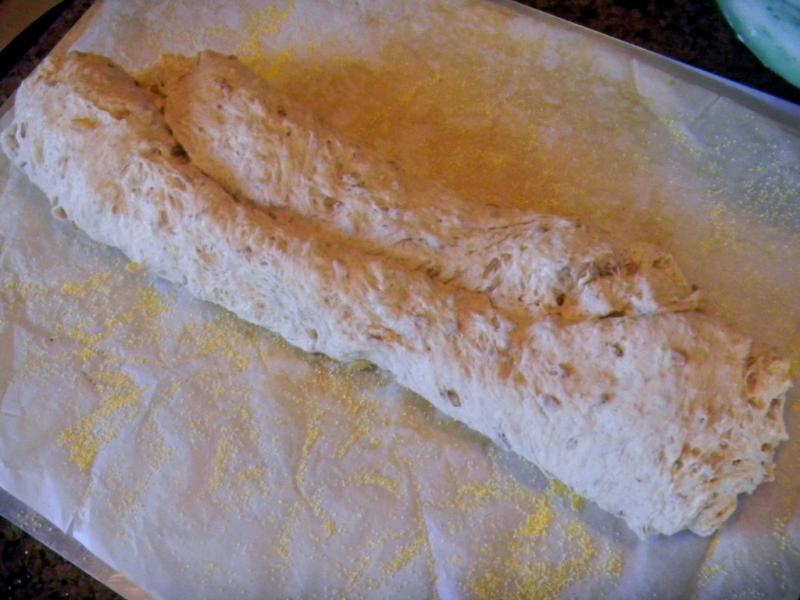 Nothing like a big picture of the reject :-)
The levain was made over (3) 4 hour builds and an additional 10 second one at the end.   20 g of the water in build 3 was added and mixed it at the 12 hour mark.  The levain was very stiff at 51% before this addition and so the normal doubling we look for went out the window.   We got 50% and that is normal for this levain type.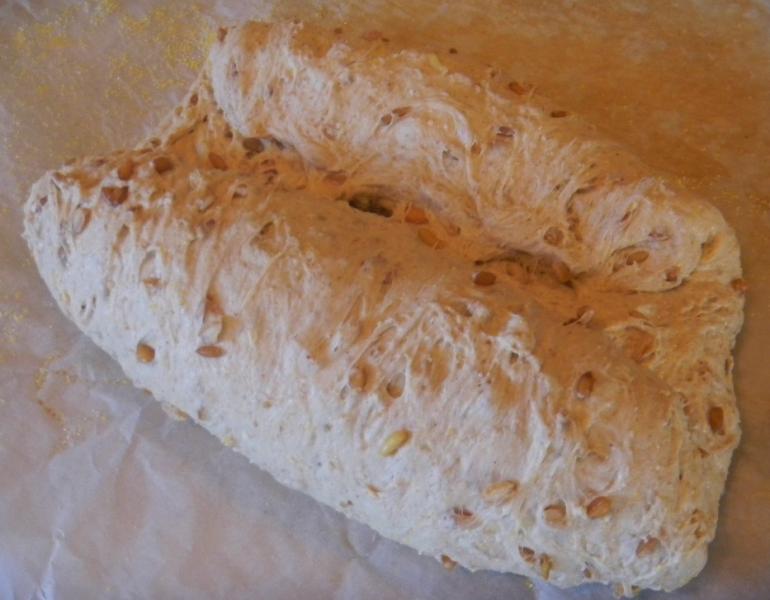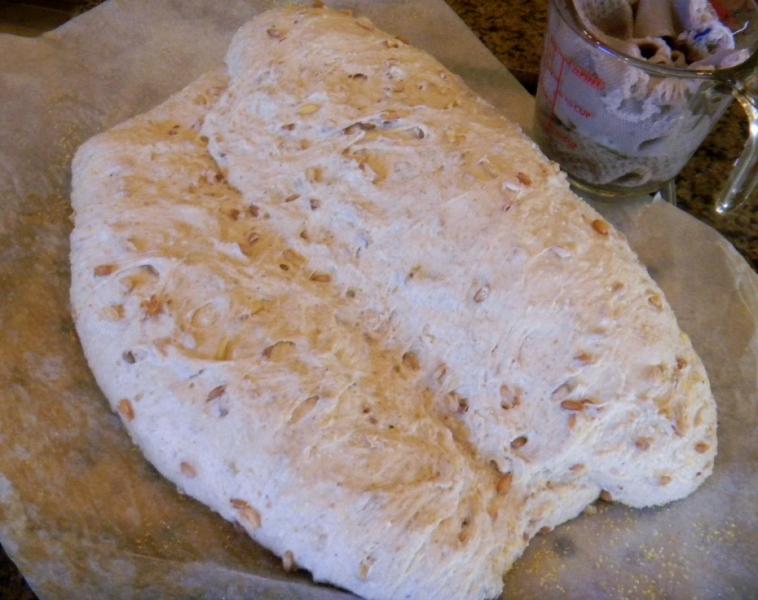 The rest of the ingredients, less the soaker seeds, were autolysed for 1 hour before mixing with the levain.   Then 10 minutes of French slap and folds followed.  After a 15 minute rest 2 sets of S&F's followed on 15 minute intervals.  Then the soaker seeds were added and 2 minutes of slap and folds were used to rebuild the gluten structure and incorporate the seeds.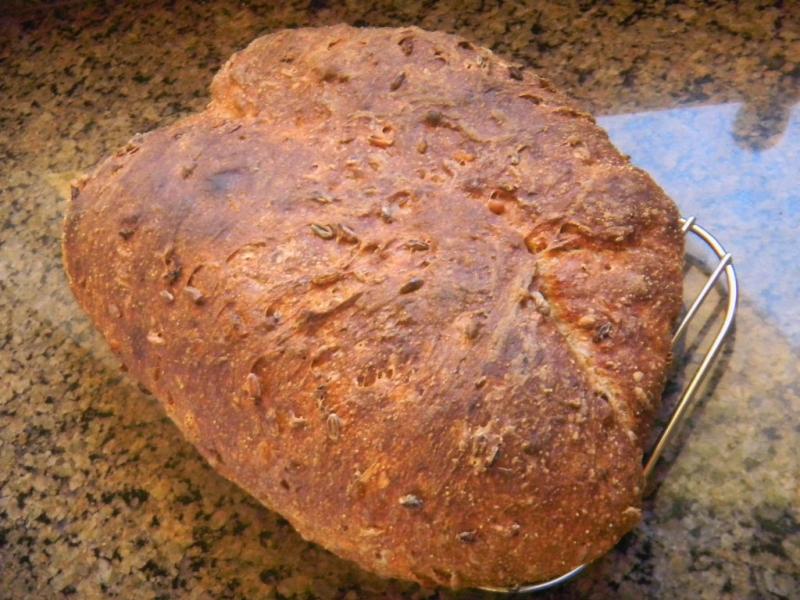 The dough was then allowed to develop on the counter for an hour in a well oiled covered bowl where the plastic was oiled too.  The dough was then retarded for 30 hours in the fridge at 38 F.  It easily doubled in volume while in the fridge.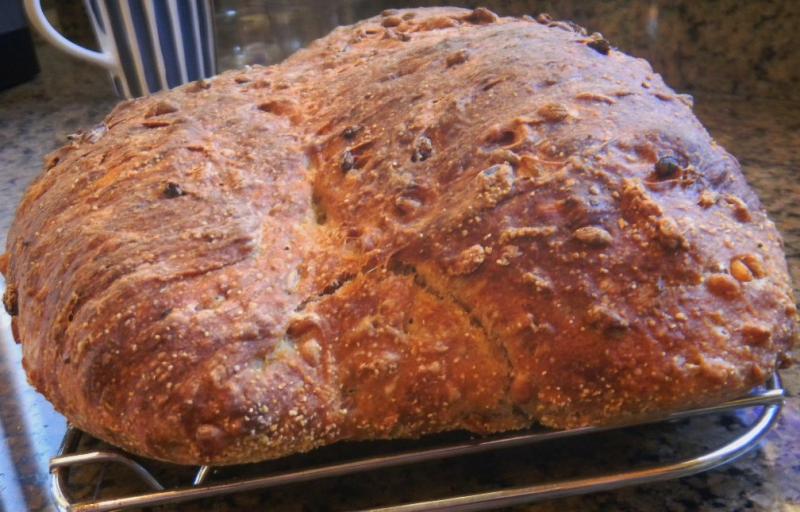 After removing from the fridge and letting it warm on the counter for 2 hours we took out first shot at shaping a Pane tipo di Altamura.  This turned out to be the pre-shape since it ended up looking like 2 ugly stuck together baguettes. Plus it wouldn't  fit on the mini ovens 12" square broiler pan.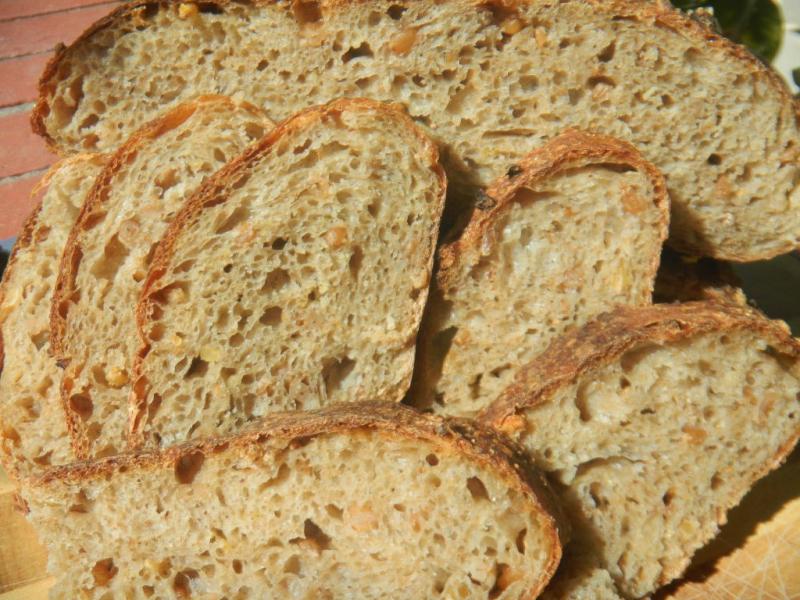 So we took another shot at the shape a few minutes later and it came out a lot better - but not at all like it should have if we were writing home about it.  But, it now fit on the top of the broiler pan too – a really good thing.  It then went into a trash can liner for final proof and was placed on a heating pad set to low with some kitchen towels on top of the pad.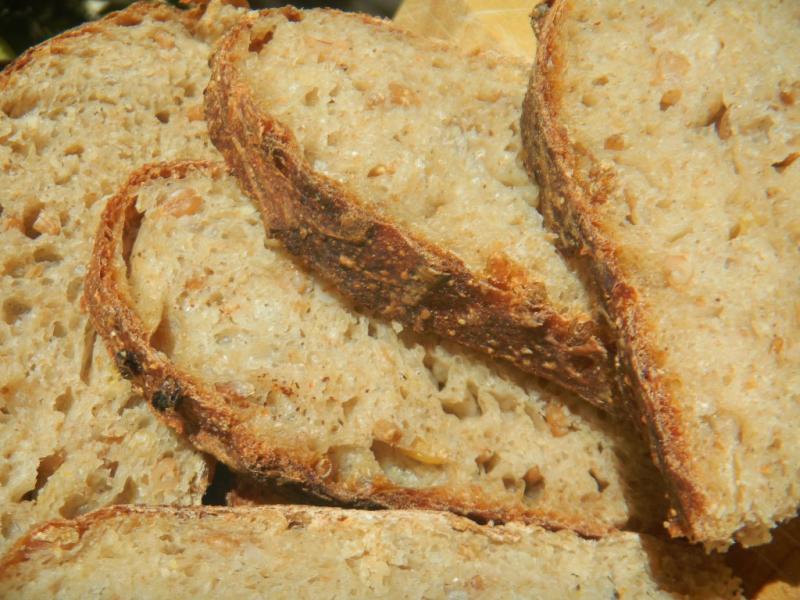 After and hour it had popped itself open at the seam so we tried to fix that by re-sealing and we were almost half way successful. Another hour and it had puffed itself up well enough to bake.  Into the 450 F preheated mini oven it went after throwing a ¼ of water in the bottom of the broiler pan and heating one of Sylvia's steaming cups for the vented top where the bread would bake.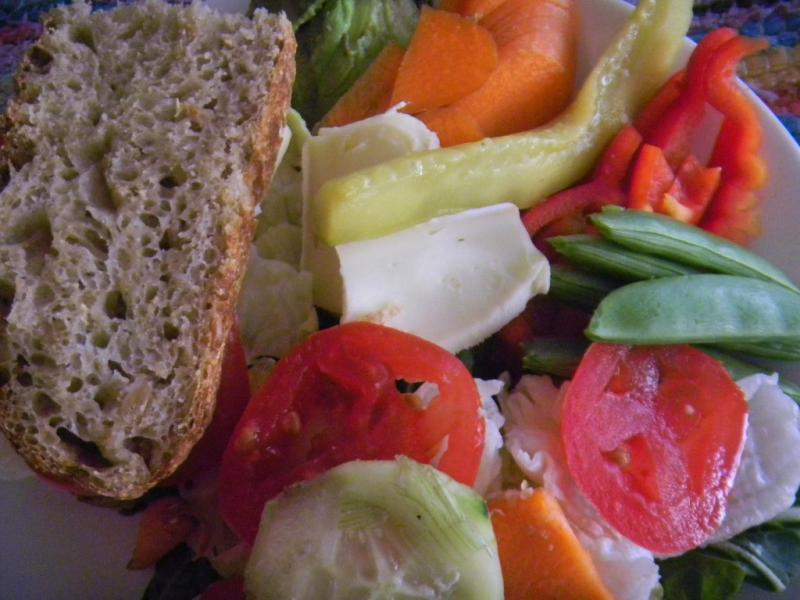 After 12 minutes of steam the Pane tipo di Altamura had sprung nicely so we removed the steam and turned down the oven to 400 F, convection this time.   We continued bake for 10 minutes rotating the bread 180 degress every 5 minutes.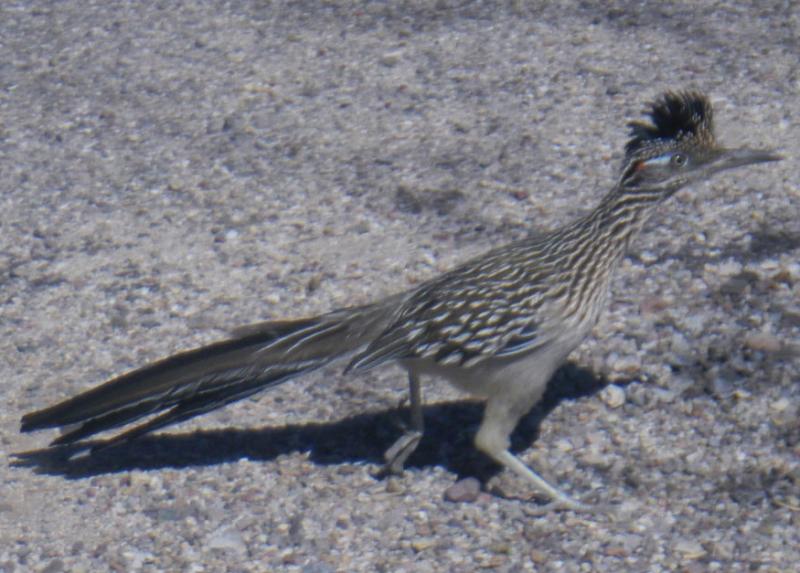 This my new apprentice.  As I was hiking in Sabino Canyon in Tucson yesterday , this Roadrunner followed me on the trail for about 1/4 of a mile.  I didn't want to scare it off but as I took a few step he would take a few too.   Next thing you know he was walking with me as I hiked along.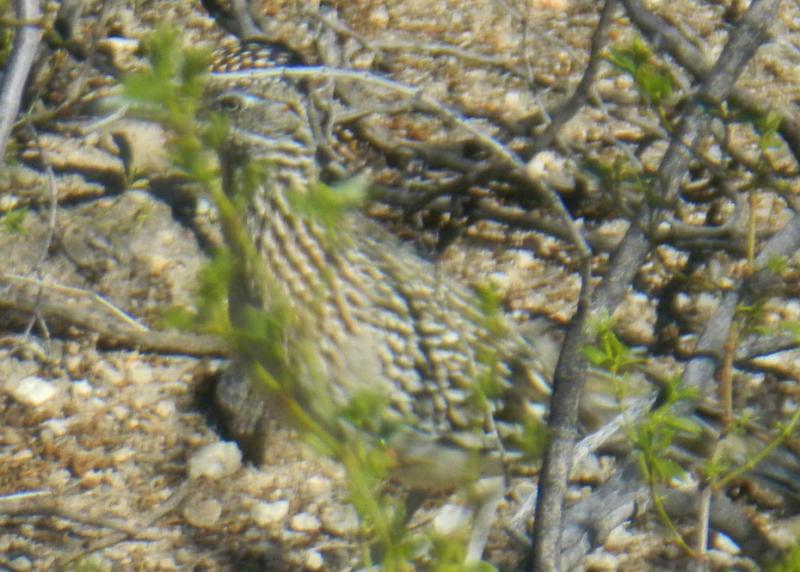 They are expertly camouflaged and if they don't want you to see them - you won't.  I already miss my new hiking buddy :-(
Then we turned the bread over on its top and continued to bake for 8 more minutes to brown the bottom when the bread reached 205 F in the thickest part.  The bread had baked a total of 30 minutes.  The crust was nicely browned and crispy but no huge bubbles which is the norm for baking this way in the mini.   The crumb went chewy and soft as it cooled.
The crumb turned out very soft and moist with chewy bits of soaker seeds - just liked we hoped.  The surprising thing about this bread is that it tastes great.  The grain flavors and sour are front and center.   It has to be one for best tasting crusts and crumbs we have ever managed and my new apprentice would have approved as much as old one did. 
Formula
| | | | | | |
| --- | --- | --- | --- | --- | --- |
| Starter Build | Build 1 | Build 2 | Build 3 | Total | % |
| SD Starter | 22 | 0 | 0 | 22 | 4.80% |
| Oat | 3 | 5 | 3 | 11 | 3.24% |
| Buckwheat | 3 | 5 | 3 | 11 | 2.40% |
| Quinqoa | 3 | 5 | 3 | 11 | 2.40% |
| Amranth | 3 | 5 | 3 | 11 | 2.40% |
| Kamut | 3 | 5 | 3 | 11 | 2.40% |
| Spelt | 3 | 5 | 3 | 11 | 2.40% |
| Dark Rye | 3 | 5 | 3 | 11 | 2.40% |
| Whole Wheat | 3 | 5 | 3 | 11 | 2.40% |
| Millet | 3 | 5 | 3 | 11 | 2.40% |
| Farro | 3 | 5 | 3 | 11 | 2.40% |
| Water | 30 | 2 | 22 | 54 | 11.79% |
| Total | 82 | 52 | 52 | 186 | 40.61% |
|   |   |   |   |   |   |
| SD Starter Totals |   | % |   |   |   |
| Flour | 88 | 19.21% |   |   |   |
| Water | 65 | 14.19% |   |   |   |
| Starter Hydration | 73.86% |   |   |   |   |
| Levain % of Total | 20.09% |   |   |   |   |
|   |   |   |   |   |   |
| Dough Flour |   | % |   |   |   |
| Red Malt | 3 | 0.66% |   |   |   |
| Toadies | 4 | 0.87% |   |   |   |
| Vital Wheat Gluten | 10 | 2.18% |   |   |   |
| White Malt | 3 | 0.66% |   |   |   |
| AP | 350 | 76.42% |   |   |   |
| Total Dough Flour | 370 | 80.79% |   |   |   |
|   |   |   |   |   |   |
| Salt | 8 | 1.75% |   |   |   |
| Water | 275 | 60.04% |   |   |   |
| Dough Hydration w/o starter | 74.32% |   |   |   |   |
|   |   |   |   |   |   |
| Multigrain Scald & Soak | 0 | % |   |   |   |
| Buckwheat | 20 | 4.37% |   |   |   |
| Rye | 20 | 4.37% |   |   |   |
| WW | 20 | 4.37% |   |   |   |
| Kamut | 20 | 4.37% |   |   |   |
| Spelt | 20 | 4.37% |   |   |   |
| Farro | 20 | 4.37% |   |   |   |
| Total Scld & Soak | 120 | 26.20% |   |   |   |
|   |   |   |   |   |   |
| Total Flour w/ Starter | 458 |   |   |   |   |
| Water | 340 |   |   |   |   |
|   |   |   |   |   |   |
| Hydration w/ Starter & Adds | 74.24% |   |   |   |   |
| Total Weight | 926 |   |   |   |   |
| % Whole Grain | 36.24% |   |   |   |   |