December 17, 2012 - 6:54pm
ITJB FR Week 13 FINAL BAKE Chiffon Cake pps. 197-99
We 3 gmas DID IT!!!! We perservered and finished the challenge of baking almost all the recipes in the first edition of "Inside the Jewish Bakery" .  We just completed our last week of baking exclusively from this great book... Thank you Stan for your input throughout our adventure. Your book will always be a tribute to Norm, maybe he will be watching from above.  We finished our schedule with the Chiffon cake selections beginning on page 197 Perfect Chiffon Cake, Helen made this one; Orange Chiffon Cake, page 198 made by Barbra; and I made the Chocolate Chiffon Cake on 199...  These were great fun to bake... and they will be even more fun to eat.  
I will post these in order of the pages in the book this time.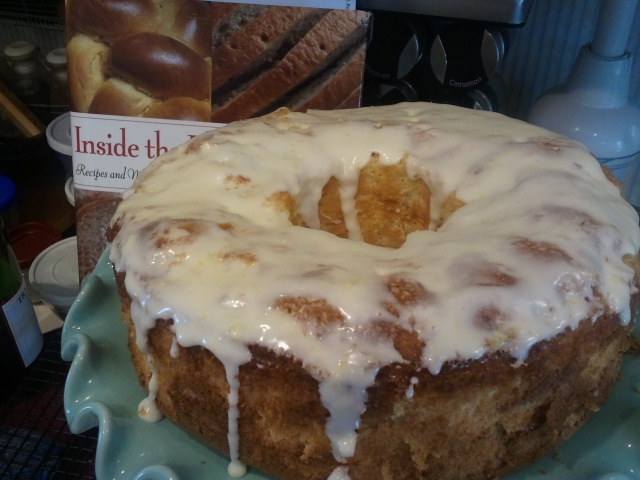 Here is Helen's Perfect Chiffon Cake all glazed
and looking like a lemon dream.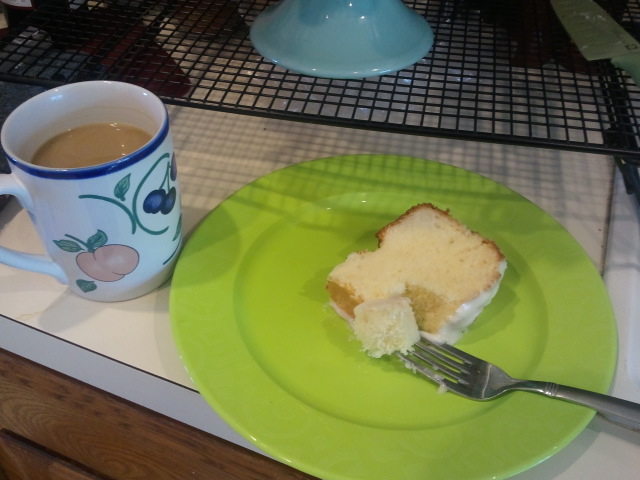 She is taking a small coffee break before packaging up this marvelous cake and covering it for coffee time, when her daughters drop by... I am sure it will be enjoyed. Coffee or tea, either one would go well with this sweet cake, topped with a cream cheese and lemon glaze.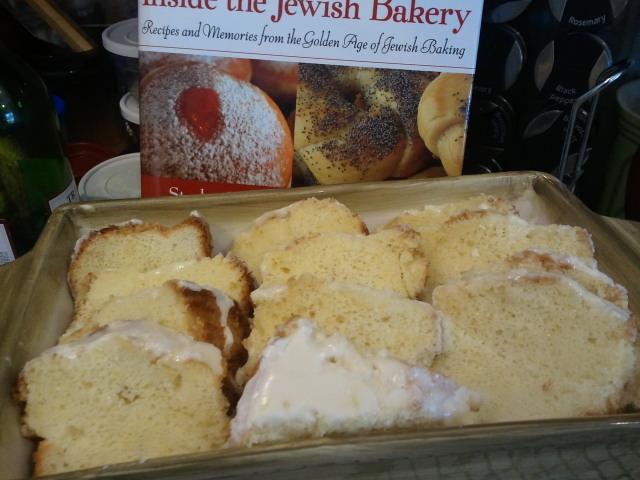 Beautiful job, Helen - all throughout this challenge you have made exceptional desserts and breads. Good Job, youngest sister! "The braided bread queen."
And now the sister that started all this!!! Barb, inspired Helen and I to loftier dreams of baking... Barb made the Orange Chiffon Cake on page 198. How nice it looks, all orange and light looking.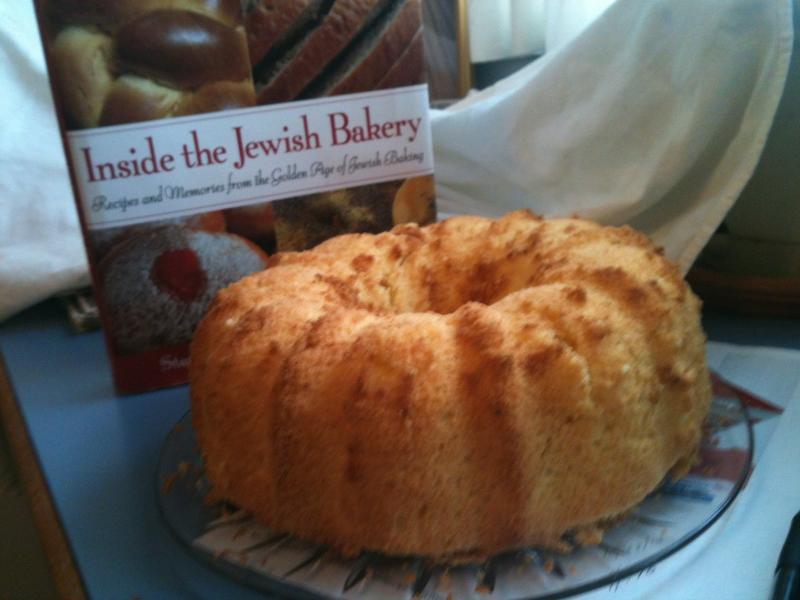 She decided to put a chocolate glaze on top... and you can certainly see why she chose to do so.
This is a beautiful piece of Holiday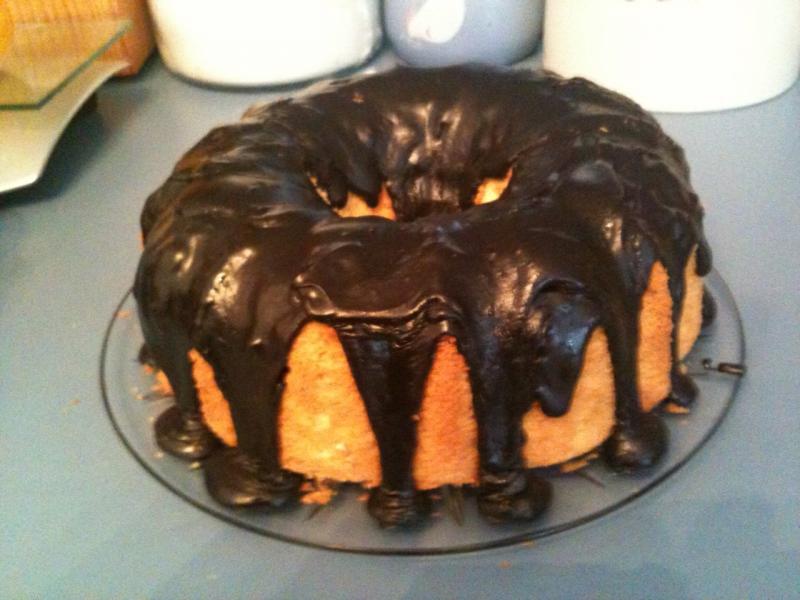 baking.  I thought she was avoiding cutting into this delight, because she had it in mind for a delivery somewhere, as she usually "gifts" her family with her treasures... but I just received this crumb shot, indicating that Barb herself is getting to enjoy her creation.
Looks very good... all that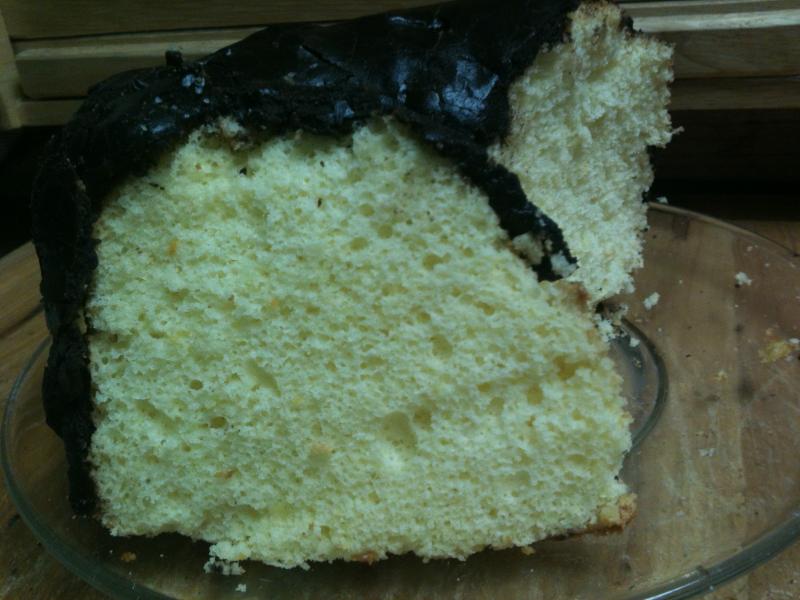 dark chocolate and that light and airy crumb .  Well, our elder role model, you did good! We followed your lead and you led well. Thank you for taking Helen and I along on this adventure... It has been one of the better ones! ;-)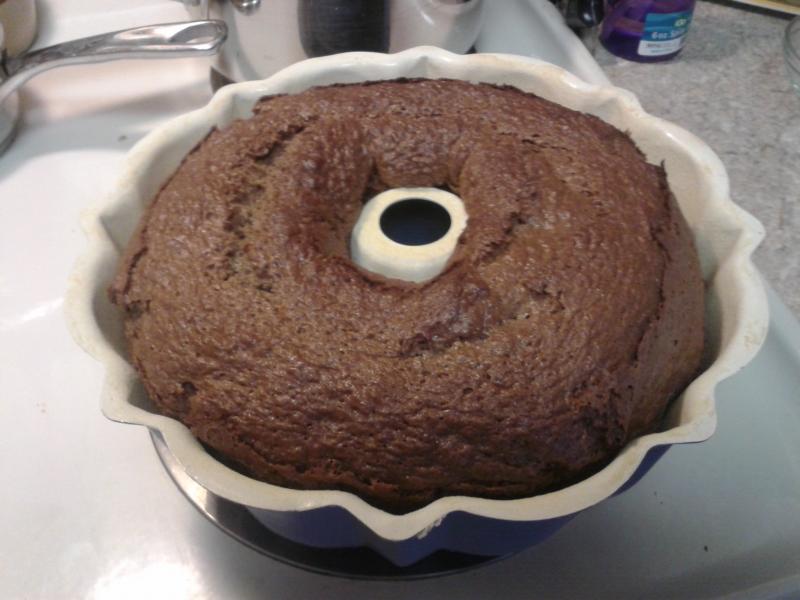 I made the Chocolate Chiffon Cake  on page 199. This cake was very easy to make, let me add, I like the way the cookbook splits up the ingredient list on these recipes... made the putting together of it very easy and easy to check to make sure one didn't miss anything.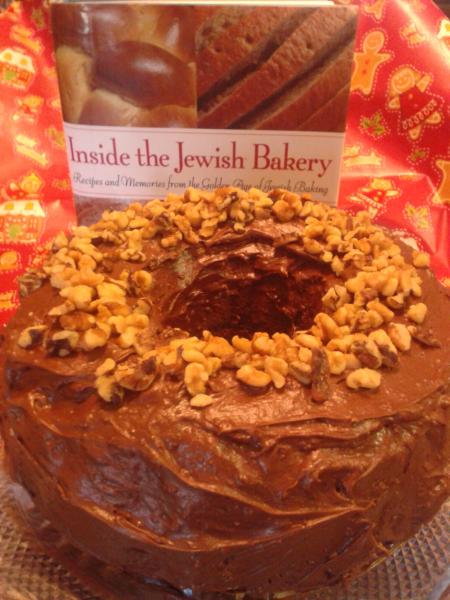 I made the chocolate buttercream icing that is on page 272...  put a few walnuts on top and whalla... a nice decorative dessert fit for holiday company...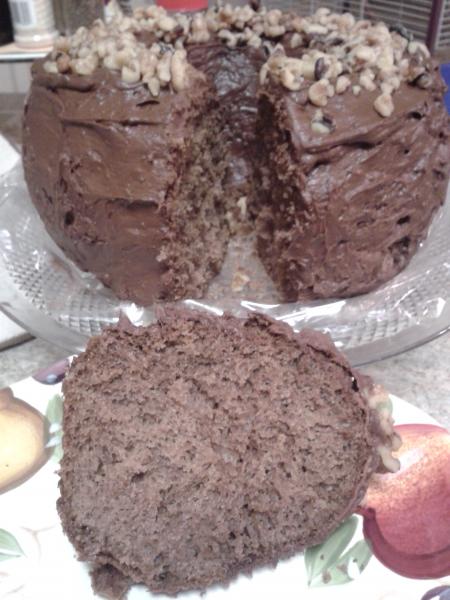 Here is my crumb. This is a nice light brown chocolate. Not overbearing, moist and delicious... just gifted 1/4 of the cake to a neighbor who dropped by... (I am turning off the porch light, LOL)... We had a good baking day.  We had a good baking year, thanks to "Urchina" and "Elagins" and my sisters, it has been fun... We will still bake together each week... on to new projects. We are actually going to throw in some whole meals... and breads from many sources.  When the topic is bread related... you will see us here, often, I am sure. 
Thank you to those who have followed our posts, given advice many times, and cheered us on...
Merry Christmas and Happy New Year to you all. 
Sincerely, the 3 gmas: Barbra, from Colville, WA; Helen, from Haltom City, TX and myself, Diane, from Granbury, TX = See ya'll next year.