October 25, 2012 - 2:05pm
San Franciso Sourdough - 15% Whole Grain
After watching David Snyder develop his SFSD and baking it several times it tuned out to be as good as his San Joaquin and Pugliesi Capriosso.  All 3 are fine SD breads but each is a little light on whole grains that we love so much around here for taste, as well as, health reasons.  We would like to get to at least 25% whole grains in most of our breads.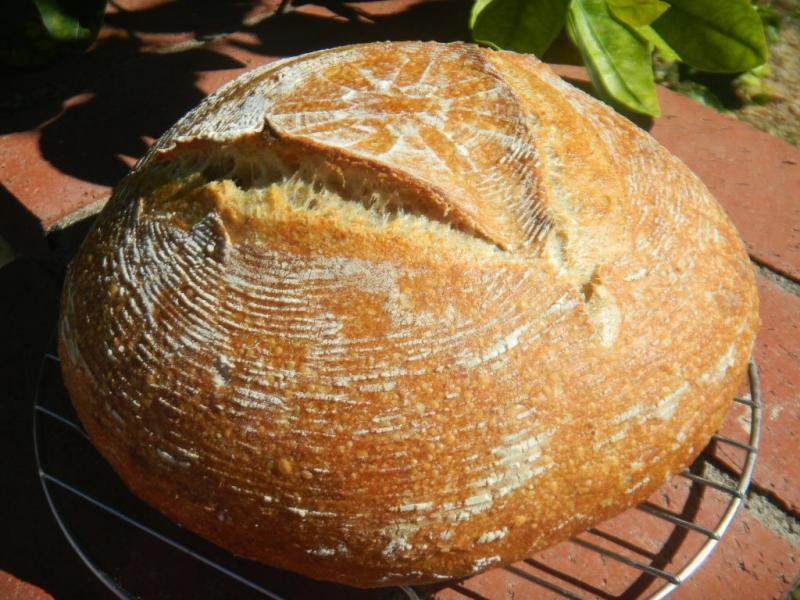 The problem is that the more whole grains you put in, the more likely the big holes are going to disappear.  But Empress Ying has no problem getting big holes in her famous 36 Hour Baguettes - even with 40% whole grains.  Both David and Ying are amazing bakers - really!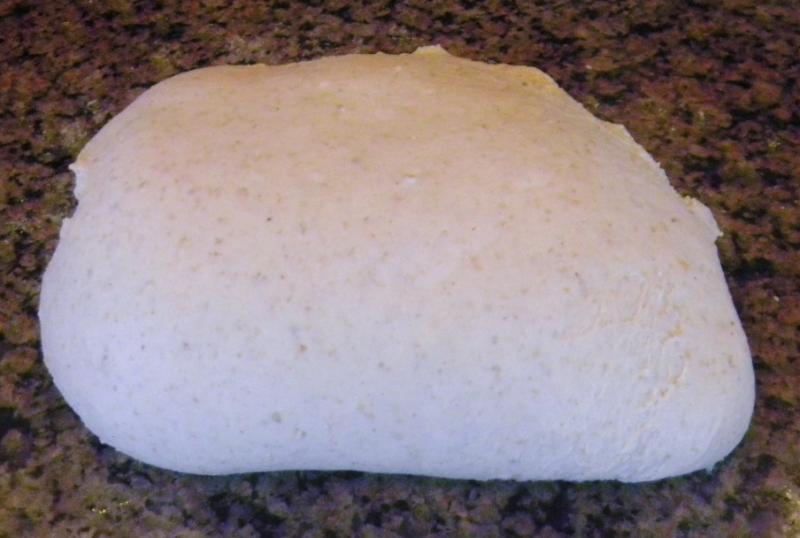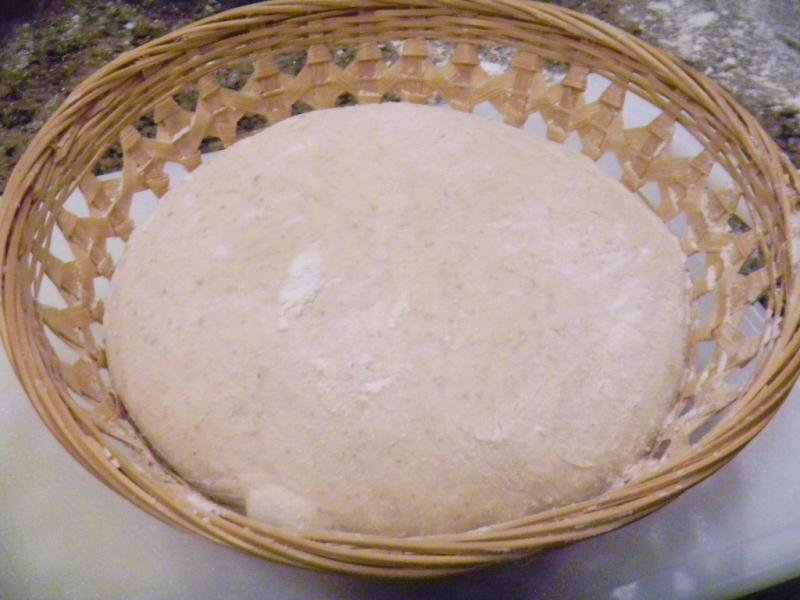 So, we feel that with a little luck we should be able to get some decent holes in some SF style SD bread with up to 40% whole grains but, we realize that we won't get the holes Ying or David manage to coax out their breads - at least not in this lifetime or even on this planet for that matter.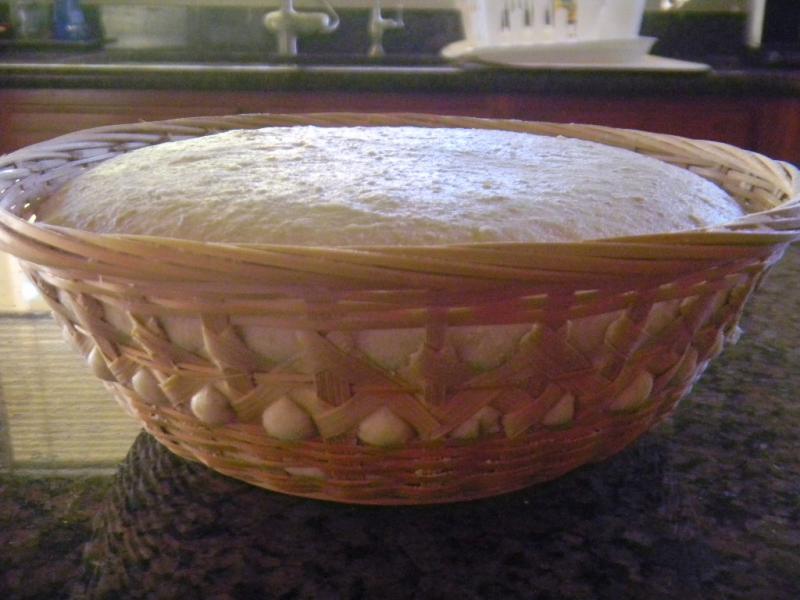 We decided to start with 15% whole grains made up of equal amounts of Spelt, WW and Rye and work our way up over time to 40% whole grains and see what happens.  We started out with 72% hydration on the initial bake and will up the percent as the whole grain increases.  We like the flavor that these 3 whole grains bring to SD breads.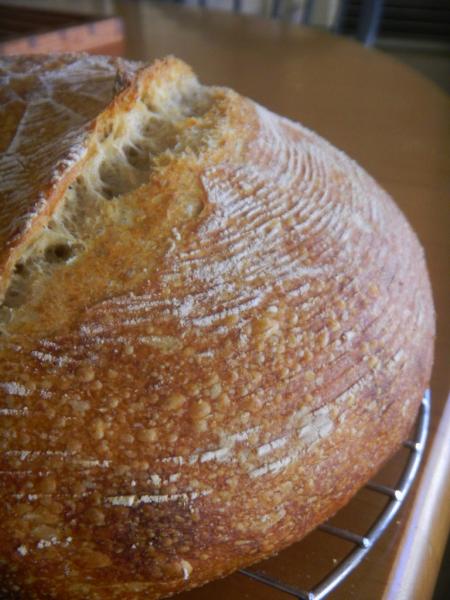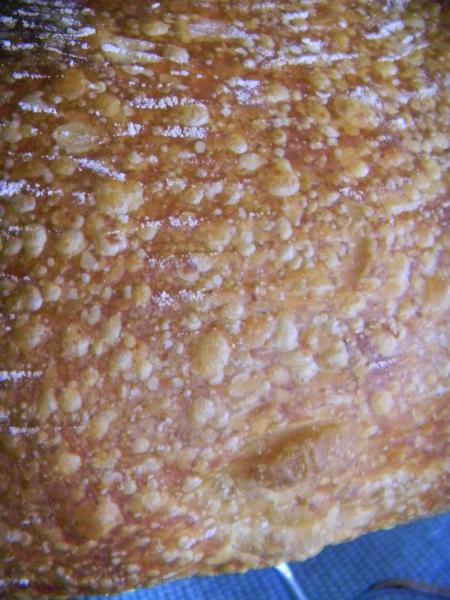 We used 15 g of our Desem and Rye Sour starter and made one build to 175 G of levain over 6 hours.  The levain ended up being 20% of the total weight of the dough - a percent that we like to build to for a 12 hour 37 F retard.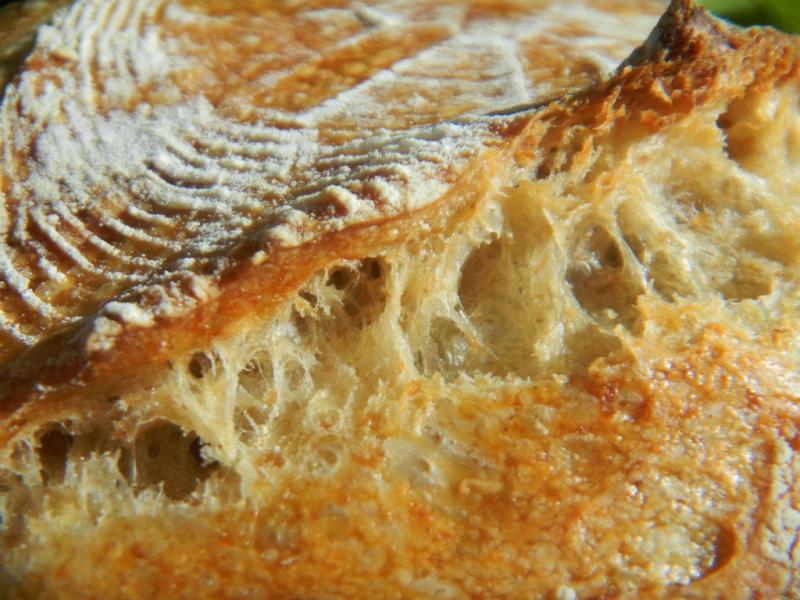 We also did a 3 hour autolyse with the salt, water and flour.  After the levain was hand mixed into the autolyse, we did 10 minutes of French slap and folds and then allowed the dough to rest for 30 minutes in an oiled plastic covered bowl.  We then did 3 sets of S&F's on half hour intervals.  We stopped each set when the dough started to resist the stretch.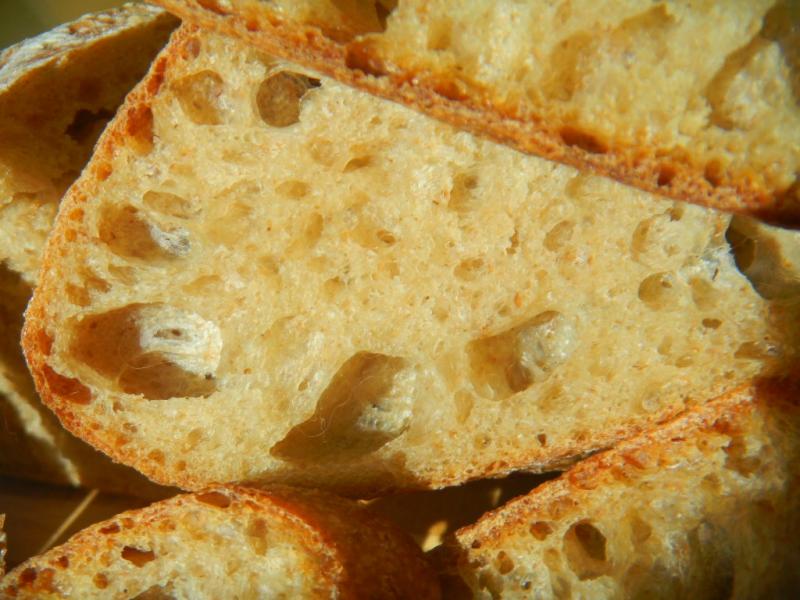 The dough was then pre-shaped into a boule and allowed to rest for 10 minutes before final shaping and placing seam side up in a floured basket.  It was immediately placed in a trash can liner, end closed with a rubber band and placed into the fridge for a 12 hour retard.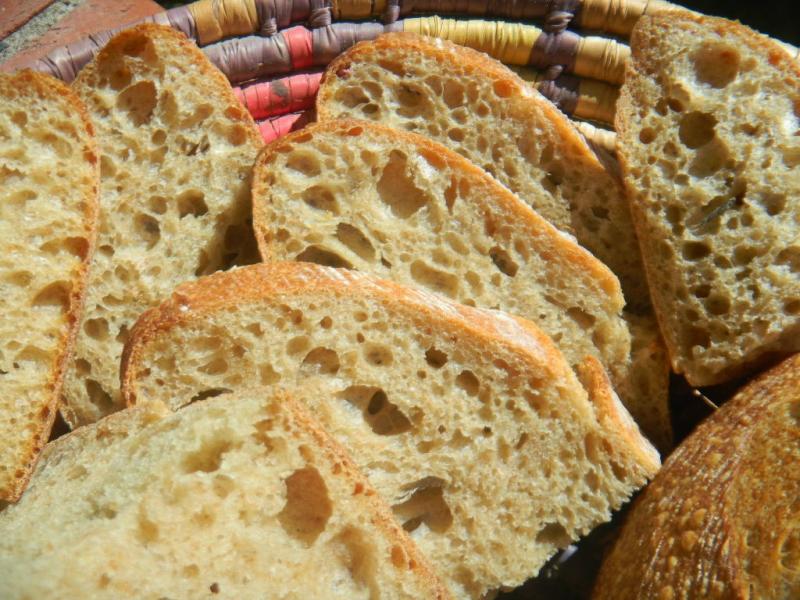 The next morning the basket and liner were removed from the fridge and allowed to come to room temperature and the finish proofing – about 3 hours total.  I've used this basket several times before, with much wetter dough but this time the dough pushed itself out through the lower set of  holes for some reason.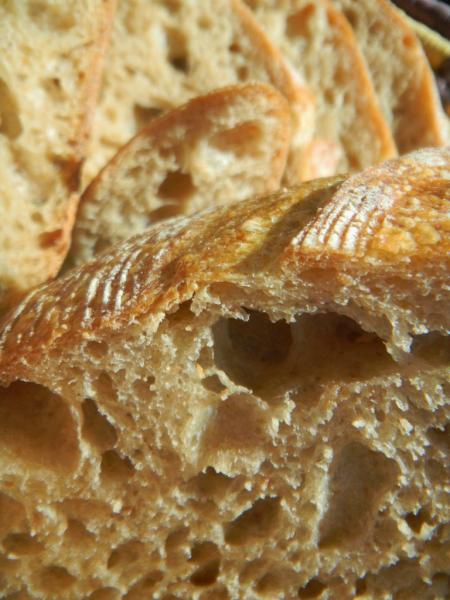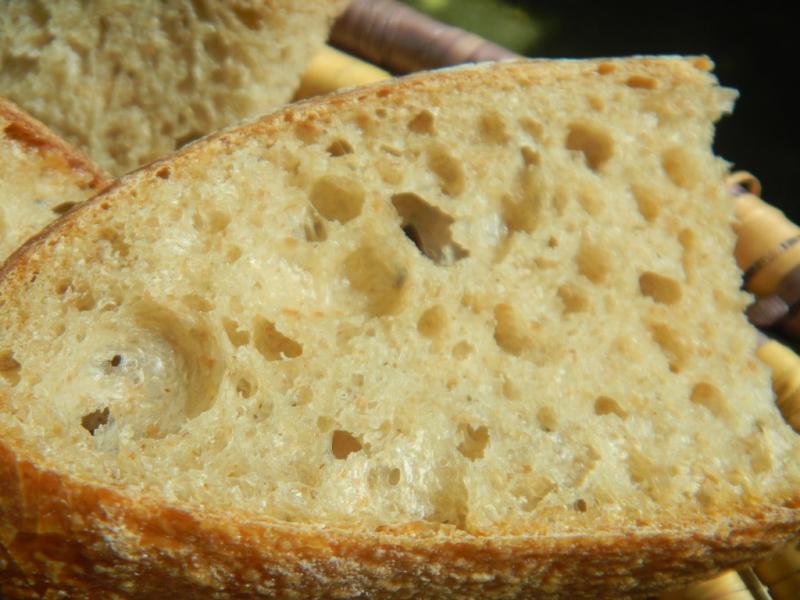 It made for a more difficult dough removal and I had to sort of rotate the dough and basket as I jiggled and pried the dough out gently.  It did deflate a little bit but I was surprised that it didn't really deflate like a higher hydration dough surly would have.  We slashed it in a triangle shape with a non serrated paring knife and will never use a single edge razor blade again.  We tried a different method for each slash.  The first one was 30 degrees and ½" deep trying for an ear, the 2nd was 45 degrees a ¼" deep and the 3rd was 90 degrees and 1/8" deep trying to get bloom.  All 3 worked out great for once as the pictures show.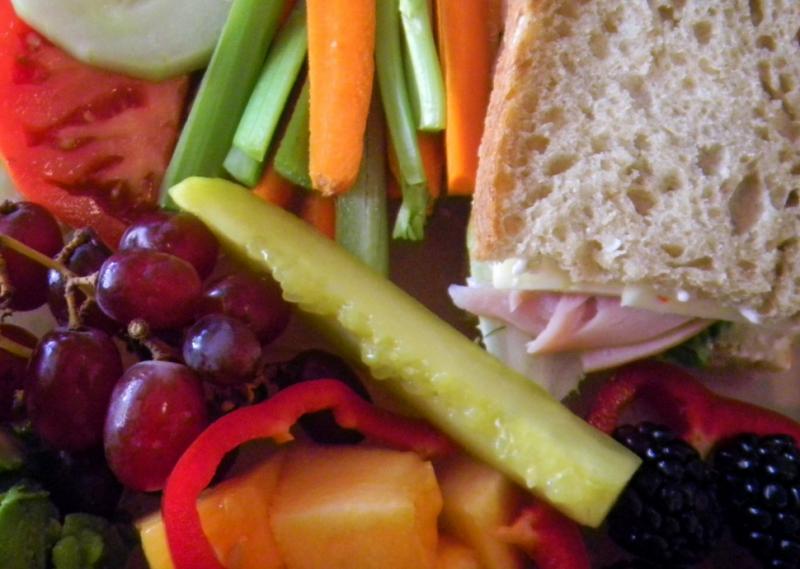 We chucked it with peel and parchment onto the stone in the 500 F preheated oven (45 minutes) with 2 of Sylvia's steaming pans.  We also tossed in 1/2 C of water into the bottom of the oven as we shut the door.  We immediately turned the oven down to 450 F.
At the 12 minute mark we removed the steam, turned the oven down to 425 F convection and baked the bread for another 10 minutes turning it 180 degree on the stone every 5 minutes.  At the 22 minute mark it registered 208 degrees.
We turned the oven off and let the boule crisp on the stone for another 10 minutes with oven door ajar.  It hit 210 F while crisping.  We removed it to a cooling rack and let it sit for 1 ½ hours before slicing. 
This is the best looking inside and out and best testing SFSD bread we have ever manage to bake.  The spring was very good.  The crust went soft as it cooled, was well blistered and was a beautiful shade of reddish brown.  The crumb was open, soft and moist.  The taste was tangy sour but not overly so – just delicious.
Can't wait to start the next bake upping the whole grains and hydration to see if we like it better but this bread will be hard to beat.  It is nice when a bake comes together so well.  Thanks goes out to David Snyder for his work on his fine SFSD version 4 that this bread was based on.
| | | |
| --- | --- | --- |
| Formula |   |   |
|   |   |   |
|  Starter | Build 1 | % |
| SD Desem & Rye Sour | 15 | 2.99% |
| Spelt | 20 | 4.83% |
| Whole Wheat | 20 | 4.83% |
| Dark Rye | 20 | 4.83% |
| AP | 20 | 4.83% |
| Water | 80 | 19.32% |
| Total Starter | 175 | 42.27% |
|   |   |   |
| Starter |   |   |
| Hydration | 100.00% |   |
| Levain % of Total | 20.05% |   |
|   |   |   |
| Dough Flour |   | % |
| Bread Flour | 191 | 46.14% |
| Whole spelt | 3 | 0.72% |
| Dark Rye | 3 | 0.72% |
| Whole Wheat | 3 | 0.72% |
| Insant Potato Flakes | 10 | 2.42% |
| AP | 200 | 48.31% |
| Dough Flour | 414 | 100.00% |
|   |   |   |
| Salt | 8 | 1.93% |
| Water | 276 | 66.67% |
| Dough Hydration | 66.67% |   |
|   |   |   |
| Total Flour | 501.5 |   |
| Water | 363.5 |   |
| T. Dough Hydration | 72.48% |   |
| Whole Grain % | 15.25% |   |
|   |   |   |
| Hydration w/ Adds | 72.48% |   |
| Total Weight | 873 |   |