100% Whole Grain Rye with Rye Sprouts – YW & SD Combo Starter
After reading Juergen Krauss's blog on making 100% Russian Rye here
  http://www.thefreshloaf.com/node/29773/making-russian-rye-photos
and re-reading Andy's (ananda) many posts on rye breads, we decided to see if yeast water levain, in conjunction with rye sour levain, could do a better job of lifting this heavy dough to new heights and provide a more open crumb.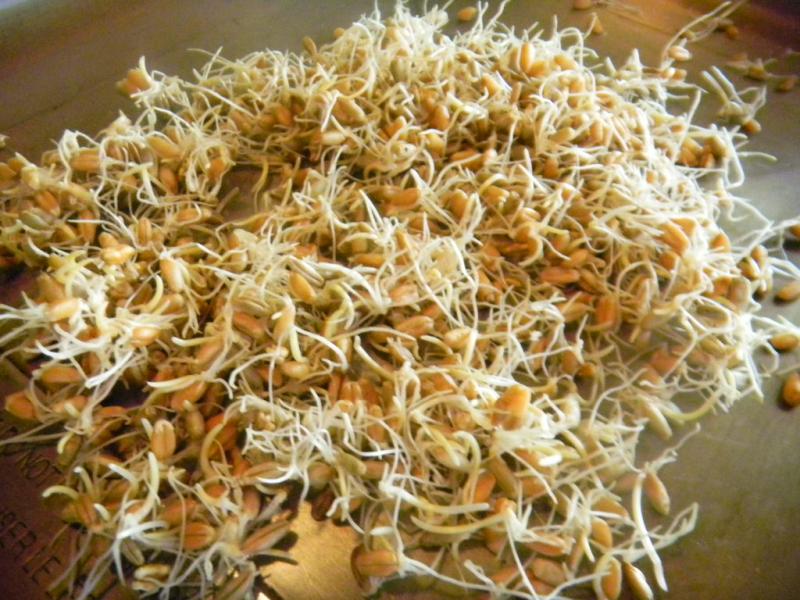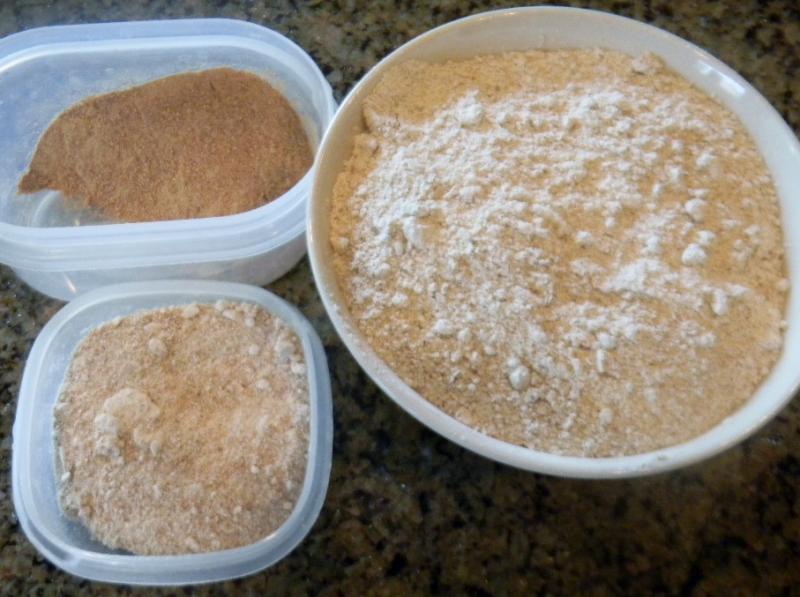 We wanted to stay near the 85% hydration, 35% preferment, 100% whole rye grain that both these fine bakers use.  We added home milled whole grains to this model.  But, we do like rye sprouts, prunes and a combination of seeds;  fennel, anise, coriander and caraway, that go so well in 100% whole rye breads to produce a more complex flavor and interesting crumb texture.  No scald was used as Andy sometimes uses in his rye breads.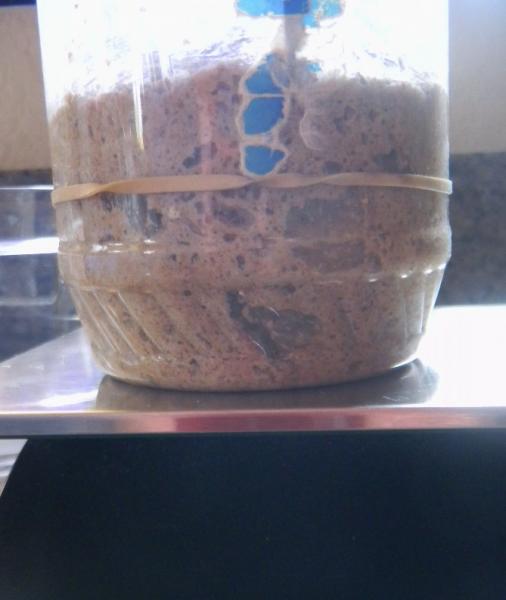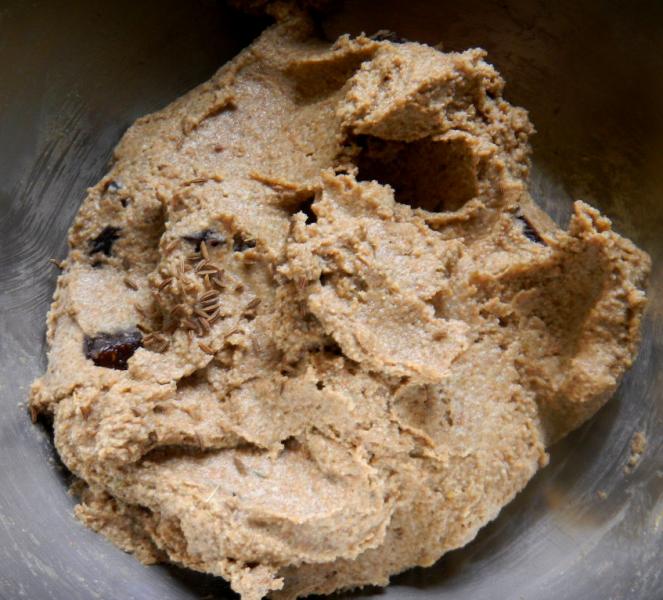 We also added some barley malt syrup and home made white and red (diastatic and non diastatic) malt to sweeten things up a tad and get some more enzymatic action working on the carbs turning them to sugars that the combo yeasts could use to make CO2 and hopefully more and bigger holes.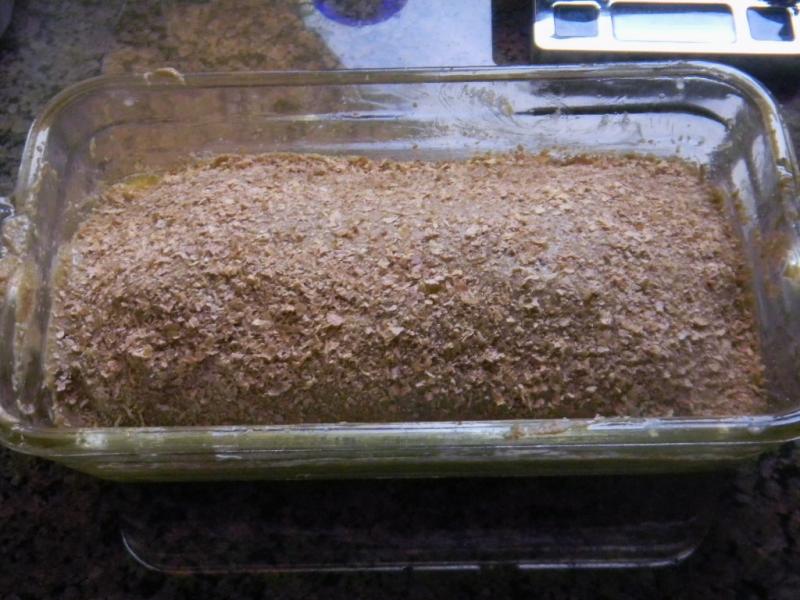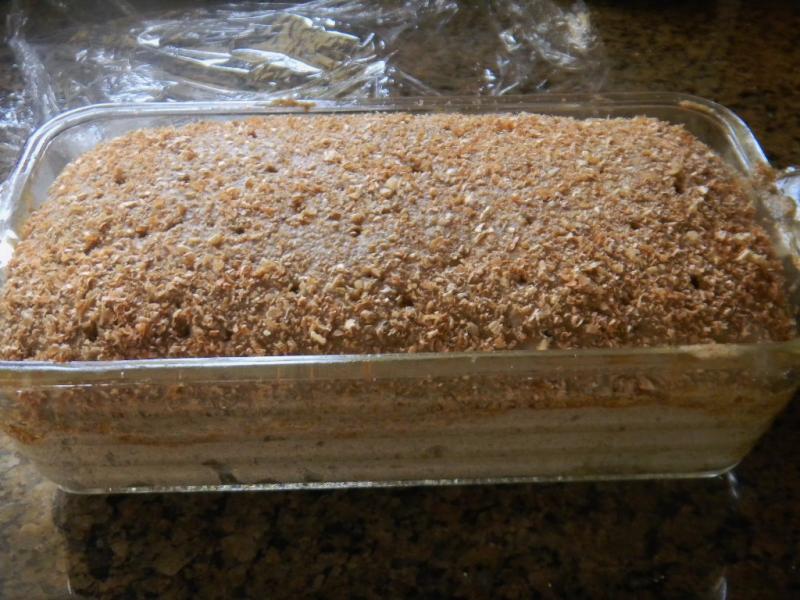 This was a lean toward Andy's methods. We figured the sprout and prune addition would only make the rye even more difficult to lift to a more open crumb.  We also decided to take the hydration up to over 92% to account for the fresh home milled thirsty flour.  We added a 2 hour autolyse for the water, flour, salt and 3 malts.  No retardation for this loaf for some reason but it's loss leaves another thing to try someday and see how the bread changes.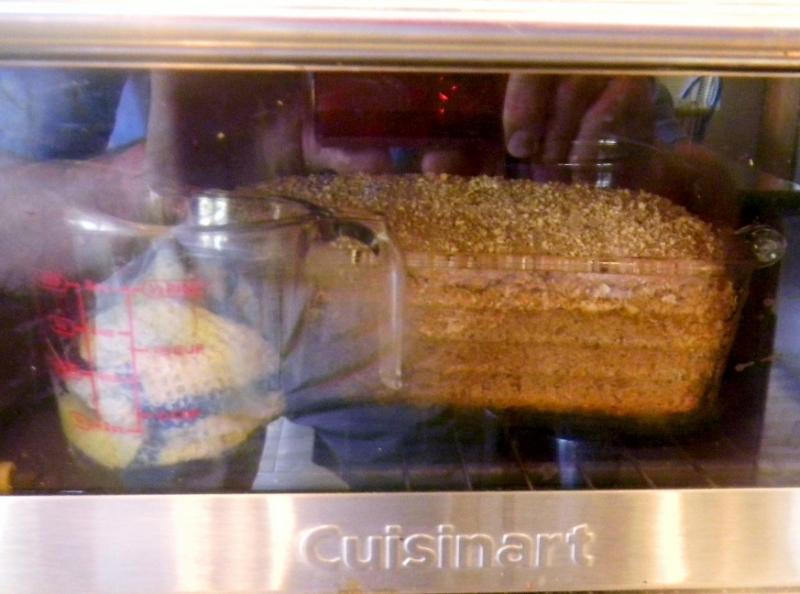 We decided to use Juergen's baking temperature and schedule rather than Andy's since we just didn't have 6 ½ hours to bake low and slow as Andy does sometimes.  Someday, we will use Andy's bake temperature and time schedule, to see the differences it will surly make.  We used Juergen's uncovered baking method instead of Andy's covered low and slow one.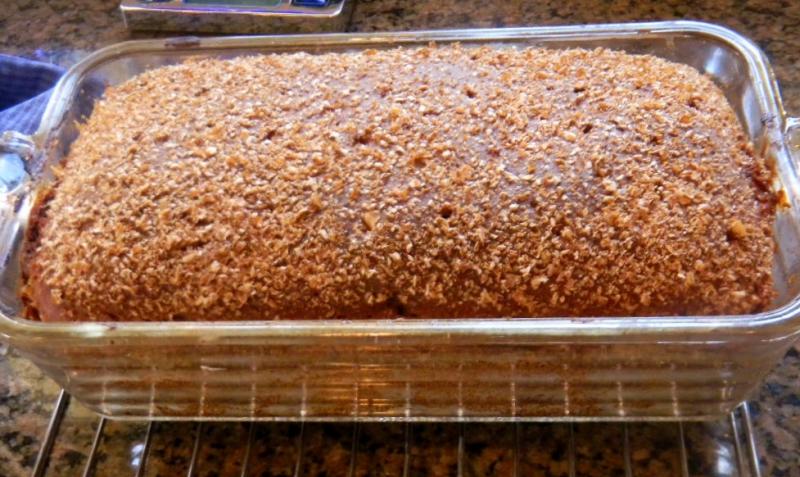 The dough nearly doubled in the pan, was docked with a toothpick and placed in the steaming oven.   The bake went well in the mini oven with Sylvia's steam contained within.   The loaf sprang another 1" in the oven which was unexpected for this bake.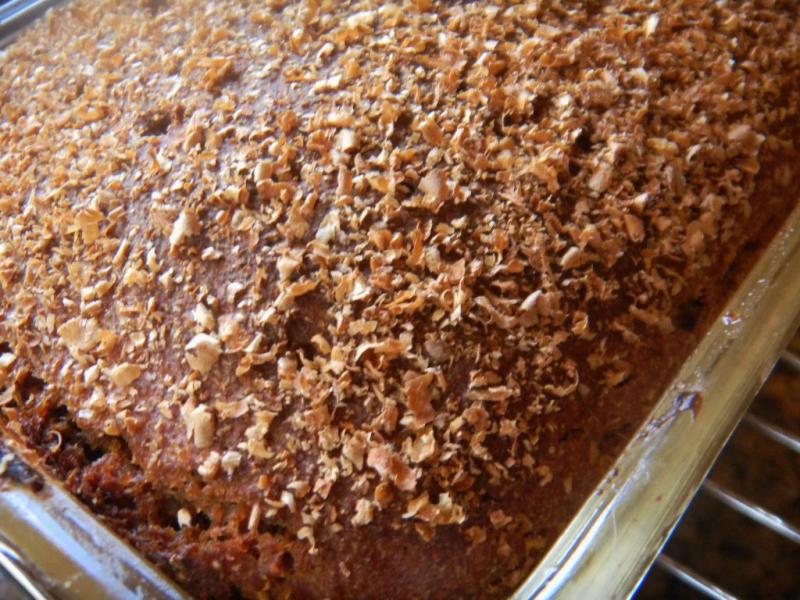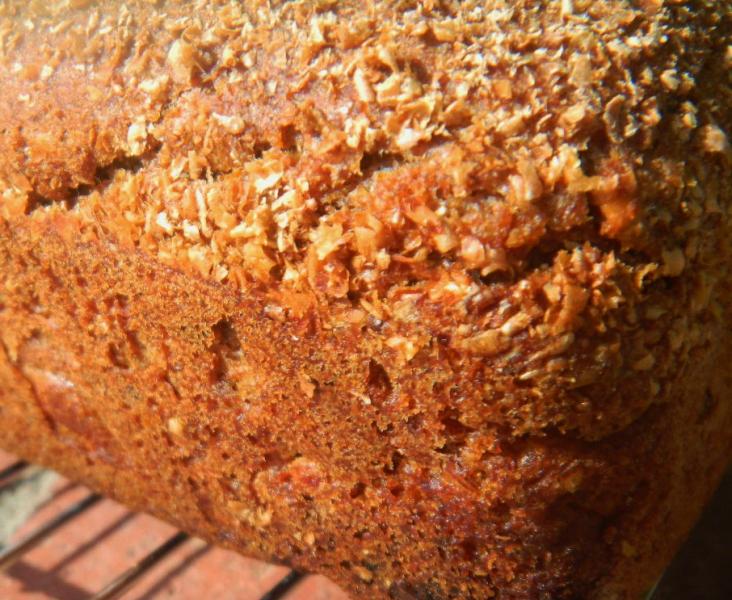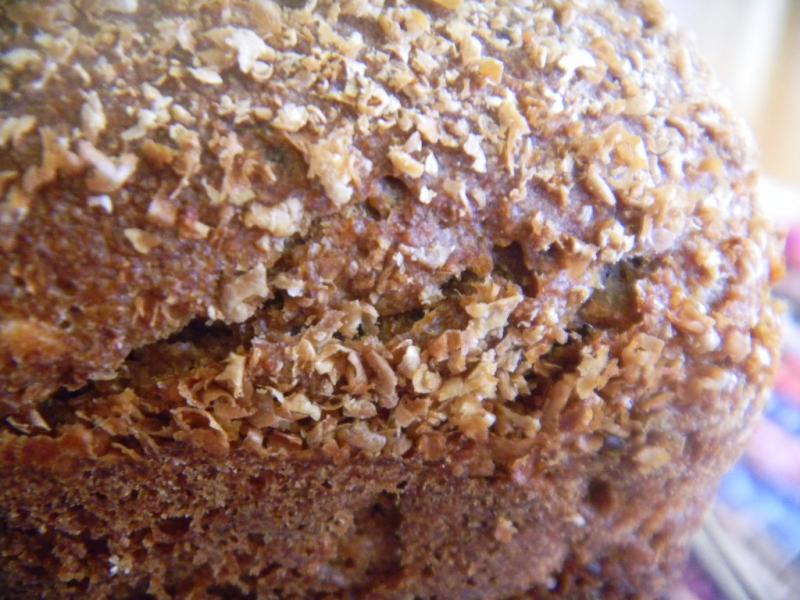 When the loaf finished cooling, we wrapped the loaf in the parchment paper we use for tamales (much less quality and 1/3rd the price) instead of bread parchment.  The parchment covered loaf was then wrapped in a towel for the 24 hour (or more if I can make it that long) wait to slice requirement.    I'm shooting for 48 hours and a Sunday cut and taste.  Haven't ever made it that long before :-)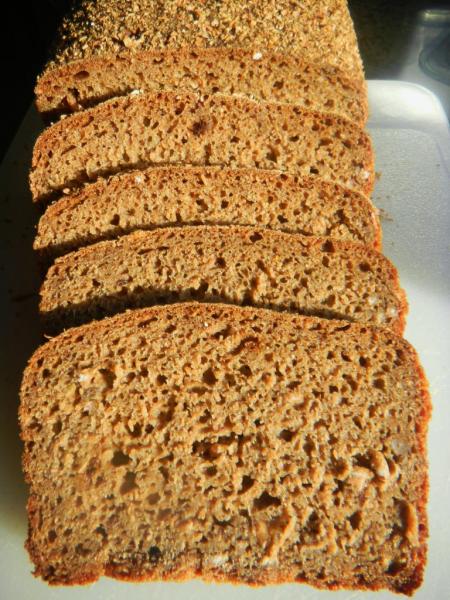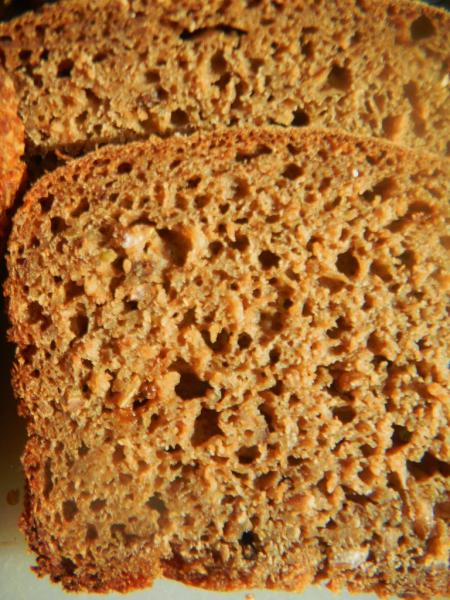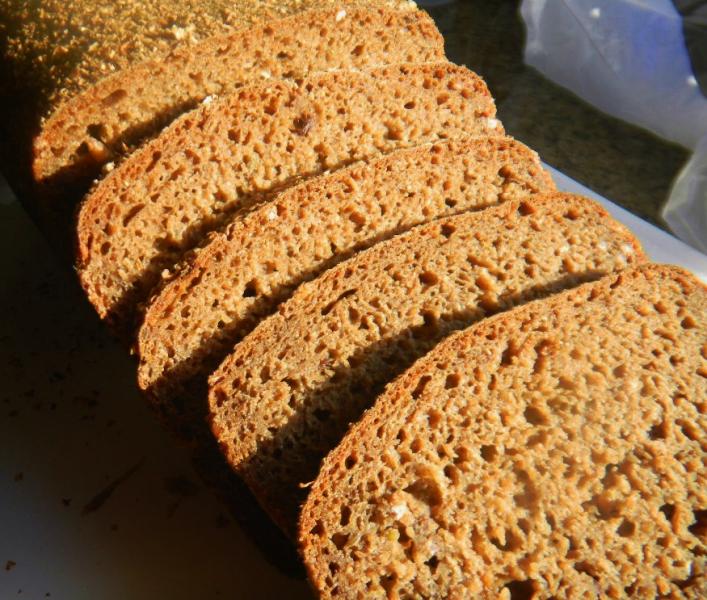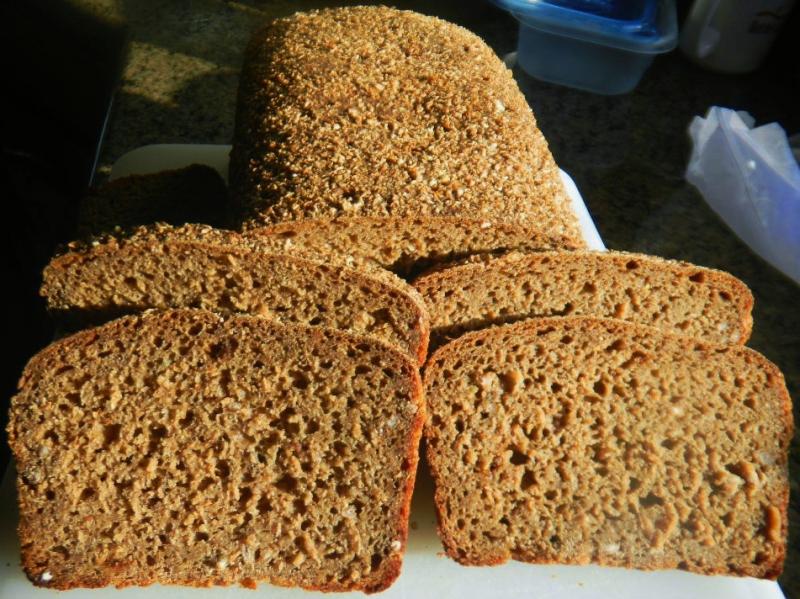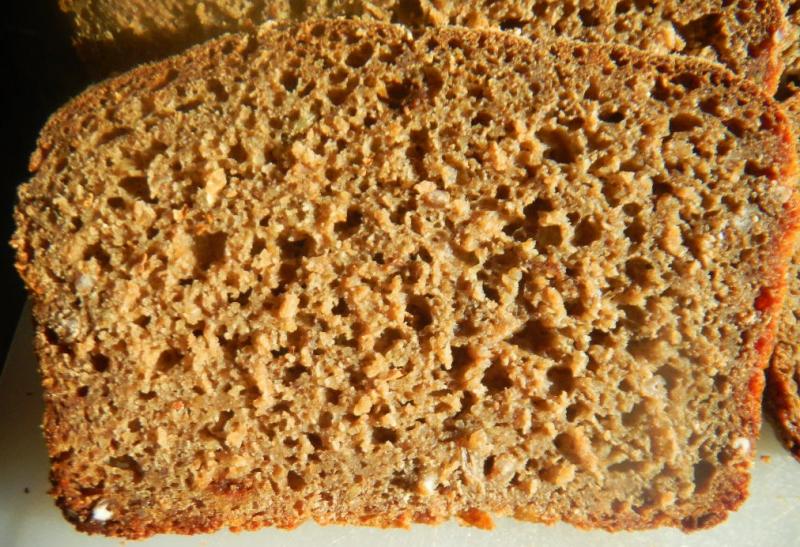 The formula follows the pix's.  Last night's sunset - 'red sky at night , sailor's delight'  Was a good omen for a old sailor like me.  This bread easily sliced 1/4" thick., had a nice open crumb, was very moist , very tasty and just plain delicious.  toasted with butter it was  sublime.........can't wait for lunch and pate!   Enjoy the sunset.  Lunch photos follw it.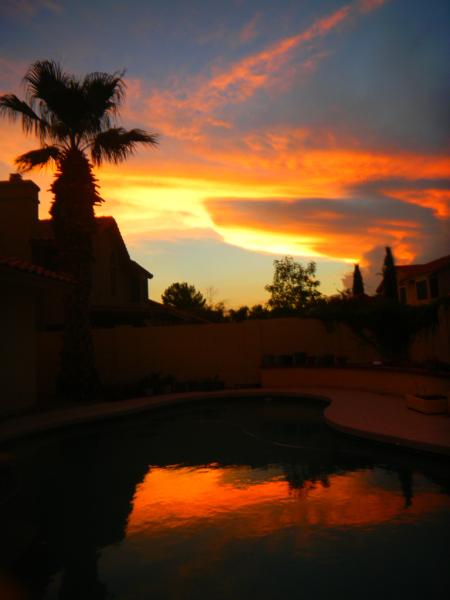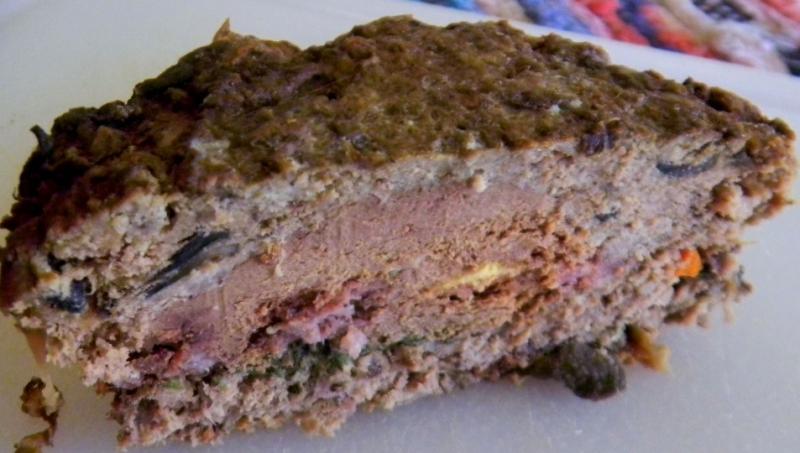 The pate doesn't look too interesting cut in half, but ,once cut in quarters the caramelized onion and mushrooms, egg, Swiss chard and carrot come out.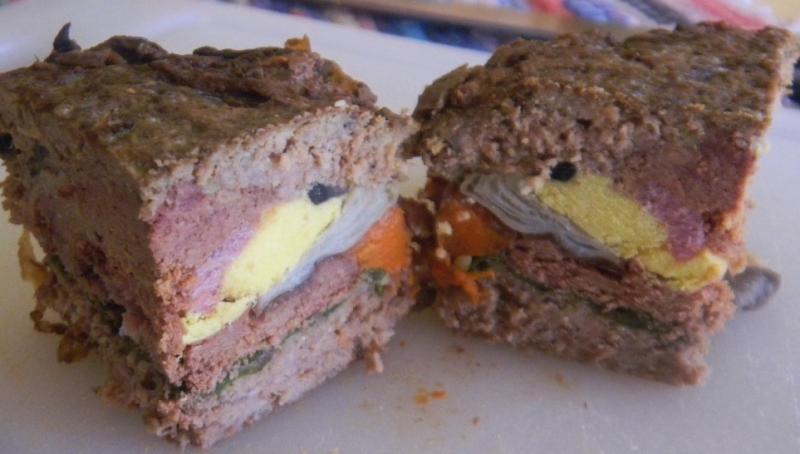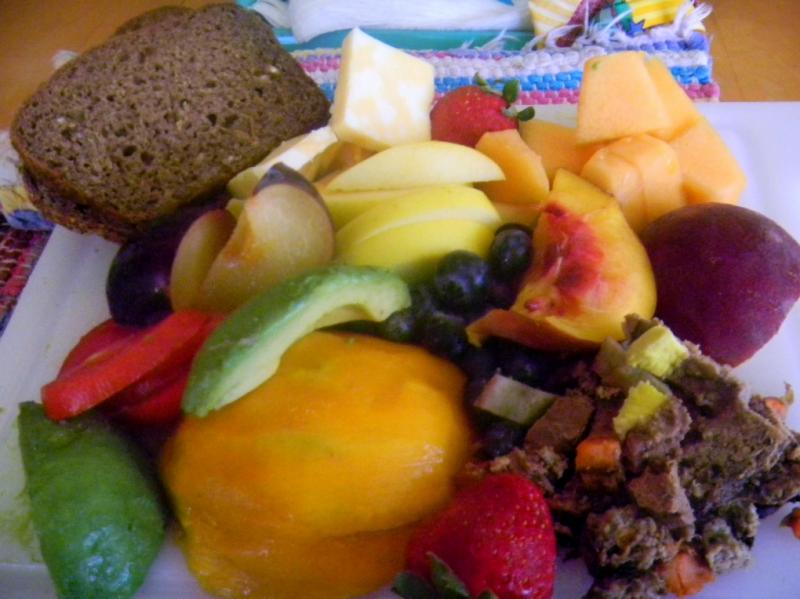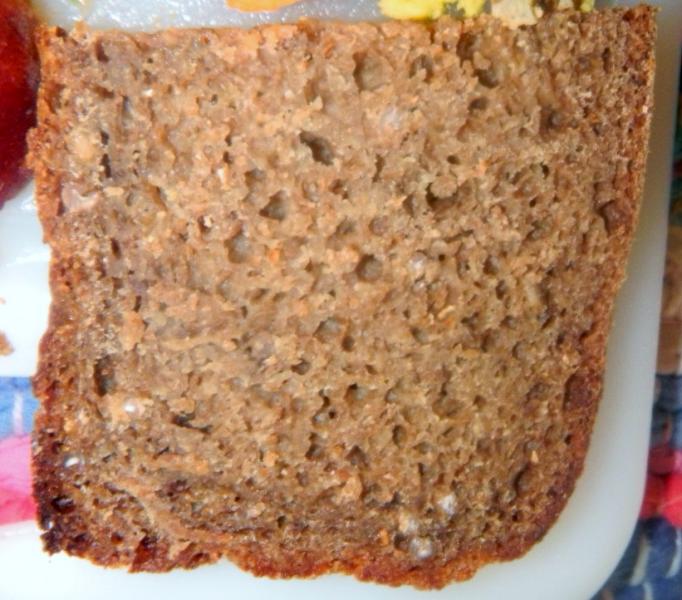 Method
The rye berries were ground to medium flour consistency in the Krups coffee grinder.  The sprouts were started by soaking the rye berries for 3 hours and then sprouting them between layers of damp paper towels covered in plastic wrap and a kitchen towel.  The sprouts were done in 20 hours, just in time for the mix.
My apprentice actually forgot to put them in and we had to de-pan, mix the forgotten sprouts in and then re-pan.  Whew!  I'm sure it didn't hurt the dough any since it is not a dough but a grayish, tan paste that sticks to water and oil and anything else all at the same time – no problem.
The two levains were built separately over (2) 4 hour builds with an overnight 10 hour retard between the two to allow the sprouts to germinate.  The flour, water, salt and 3 malts were incorporated and allowed to autolyse for 2 hours before the rye sour levain was added and mixed on KA 2 for 2 minutes and then allowed to rest and develop for 30 minutes.
The rye sour was behind the YW levain in doubling so it was allowed to catch up in the dough before the YW levain was added 30 minutes later and also mixed on KA 2 for 2 minutes.  The seeds and prunes were added and mixed in.  Then the sprouts were mixed in by hand. 
The dough was allowed to ferment for 30 more minutes before being shaped with wet hands and placed in to a canola sprayed Pyrex loaf pan.   The top was lightly sprinkled with bran.
The panned dough was allowed to proof for 90 minutes.  When the bran on top had barely cracked the loaf was lightly docked and the pan was placed into the preheated 500 F mini oven with 2 of Sylvia's steaming Pyrex cups in place.  The temperature was turned down to 450 F after 2 minutes and the loaf was steamed for an additional 10 minutes.
At the 12 minute mark the temperature was turned down to 425 F and the loaf baked for another 10 minutes.  At the 22 minute mark, the steam was removed and the temperature turned down to 375 F (convection this time) and baked for another 20 minutes, rotating the pan every10 minutes until the inside temperature reached 205 F.
The bread was cooled on wire racks, wrapped in parchment paper and the towel to rest for 24 - 48 hours before being cut.
| | | | | |
| --- | --- | --- | --- | --- |
| 100% Whole Grain Rye with Rye Sprouts - YW and Rye Sour Combo Starter |   |   |   |   |
|   |   |   |   |   |
| Mixed Starter | Build 1 | Build 2 | Total | % |
| SD Starter | 20 | 0 | 20 | 4.21% |
| Yeast Water | 60 | 0 | 60 | 19.67% |
| Dark Rye | 110 | 50 | 160 | 52.46% |
| Water | 50 | 50 | 100 | 24.59% |
| Total Starter | 240 | 100 | 340 | 111.48% |
|   |   |   |   |   |
| Starter |   |   |   |   |
| Hydration | 100.00% |   |   |   |
| Levain % of Total | 33.86% |   |   |   |
|   |   |   |   |   |
| Dough Flour |   | % |   |   |
| Non - Diastatic Malt | 3 | 0.98% |   |   |
| Diastatic Malt | 2 | 0.66% |   |   |
| Dark Rye | 300 | 98.36% |   |   |
| Dough Flour | 305 | 100.00% |   |   |
|   |   |   |   |   |
| Salt | 6 | 1.97% |   |   |
| Water | 260 | 85.25% |   |   |
| Dough Hydration | 85.25% |   |   |   |
|   |   |   |   |   |
| Total Flour | 475 |   |   |   |
| Total Water | 430 |   |   |   |
| T. Dough Hydration | 90.53% |   |   |   |
| Whole Grain Rye % | 100.00% |   |   |   |
|   |   |   |   |   |
| Hydration w/ Adds | 92.11% |   |   |   |
| Total Weight | 1,004 |   |   |   |
|   |   |   |   |   |
| Add - Ins |   | % |   |   |
| Caraway, Anise, Fennel, Coriander | 1 | 0.33% |   |   |
| Dried Prunes | 52 | 17.05% |   |   |
| Barley Malt | 15 | 4.92% |   |   |
| Total | 68 | 22.30% |   |   |
|   |   |   |   |   |
| Sprouts |   | % |   |   |
| Rye | 25 | 8.20% |   |   |
| Total Sprouts | 25 | 8.20% |   |   |