Tired Monday's - YW 20% Whole Grain Bag Lunch
This lunch was made with the 20% whole grain baggies.  After a busy weekend doing nothing much, it was nice to have some ready made sammy materials to use for lunch.  This YW bread was made for flavor as opposed for holes.  It came out of the freezer in good shape.
Had some left over grilled Japanese eggplant to go with leftover Holiday Ham, last nights salad, half a tomato, last of the brie cheese, home made Dijon mustard and some mayo.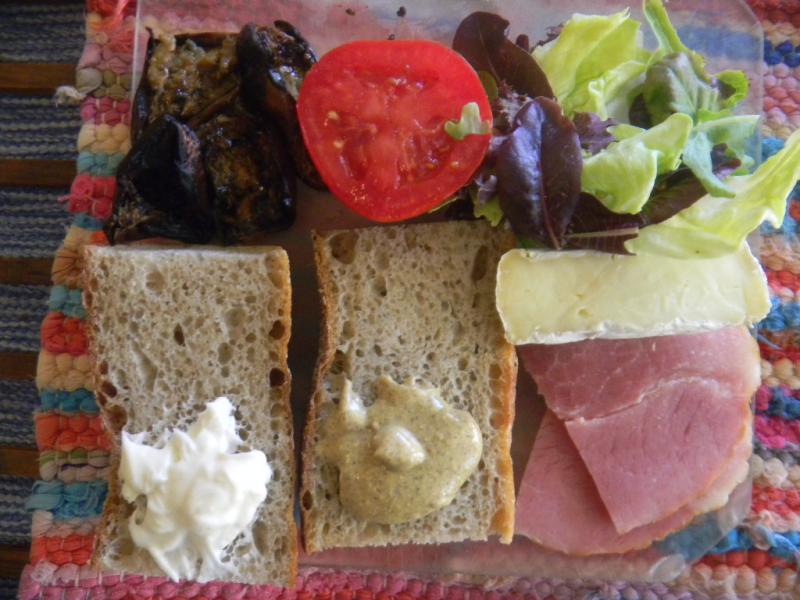 After the Sammy was piled high, a couple of different home made pickles, a lovely left over polenta made with garbanzo flour instead of corn, Parmesan, Pecorino, Feta, Swiss chard, chipotle pepper and sun dried tomato.  Pink Lady apple slices left over from feeding the YW, (I wonder why there are no Brownmen apples to go wih the Pink Ladies - they must be lonely), some sliced carrots, olives and a dolop of the last of some home made hot sauces (red and green mixed) at one end of the polenta.  A very nice leftover lunch to remember.