20% Rye and WWW Potato SD Baggies Meet the Same Made with YW
I have been wanting to do some whole rye and whole wheat SD baguettes that has at least 20% whole grains.  I wasn't going for holes but for taste.  The starter was a Rye and WW one as well.   I also told teketeke that I would try her baguettes she makes with YW and I am becoming a real YW convert  Since her baggies are YW using white flours, this doesn't qualify for doing hers yet but I didn't want her to think I had forgotten. The SD is nice and sour and YW is not.  Both have the same moist crumbthat is fairly open for so much whole flours.   I am OK with the slashing and know it could have been worse. :-)  The YW did spring slightly more.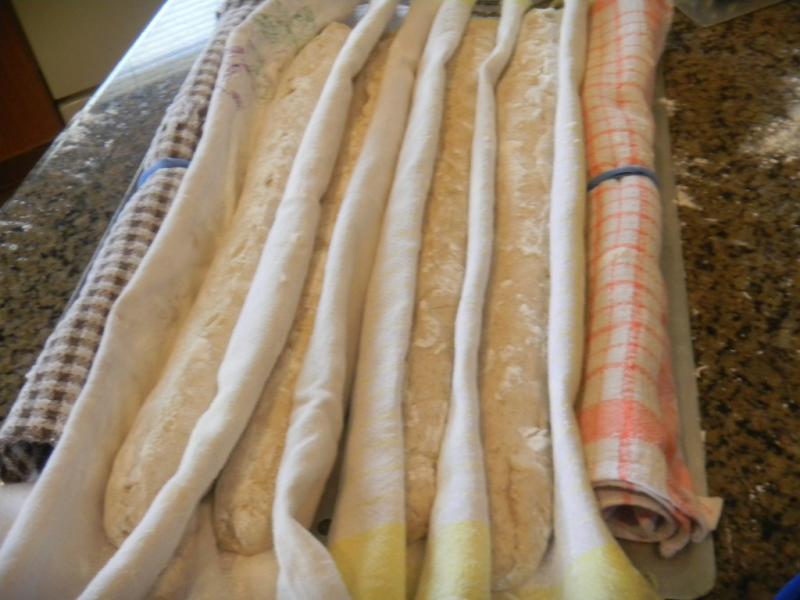 Below left is SD and Right is YW.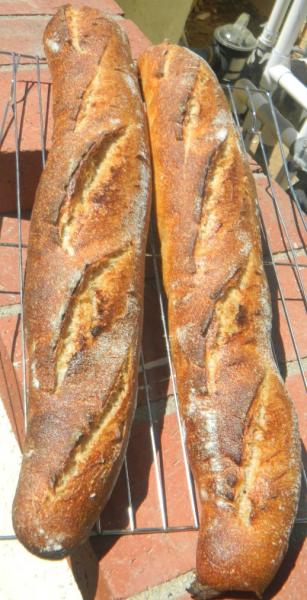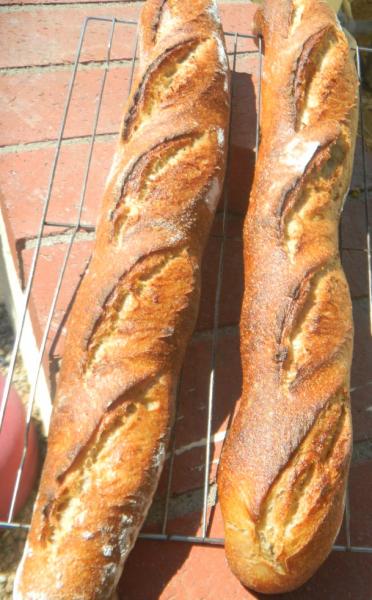 Slash of SD below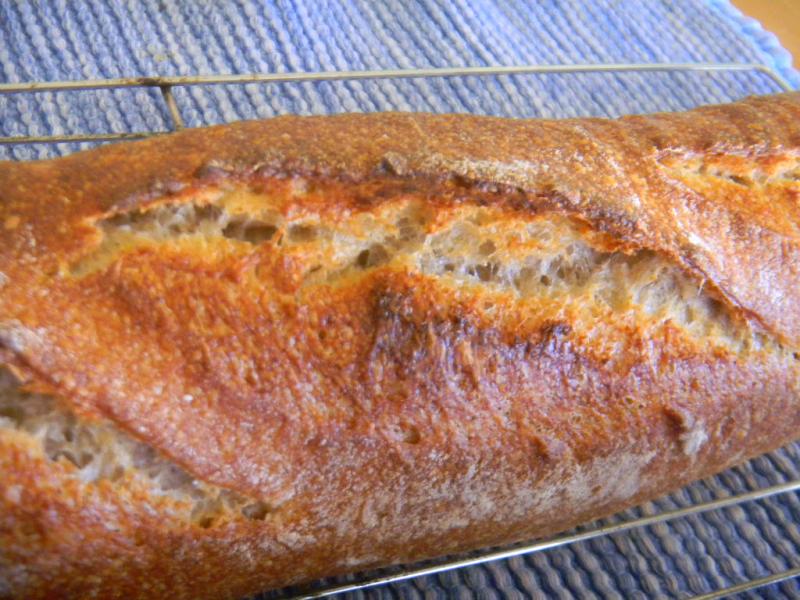 Slash on the YW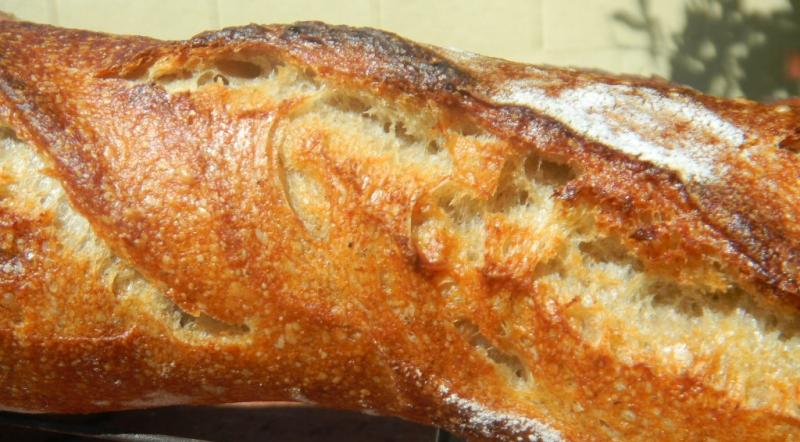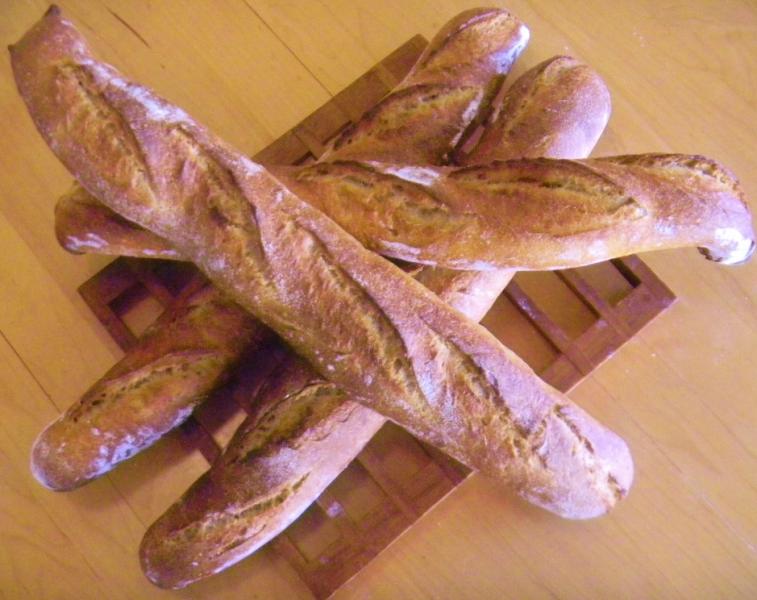 Crumb shots follow SD top adn YW bottom
Close ups YW first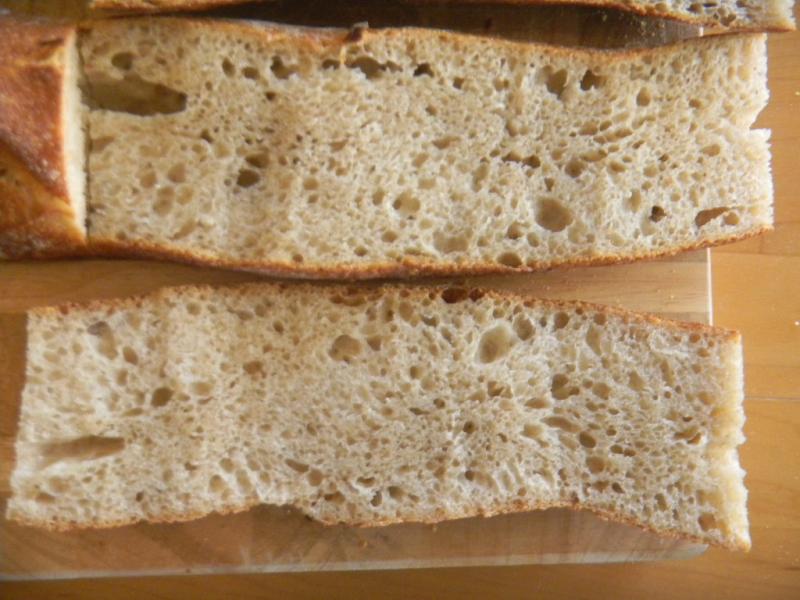 SD below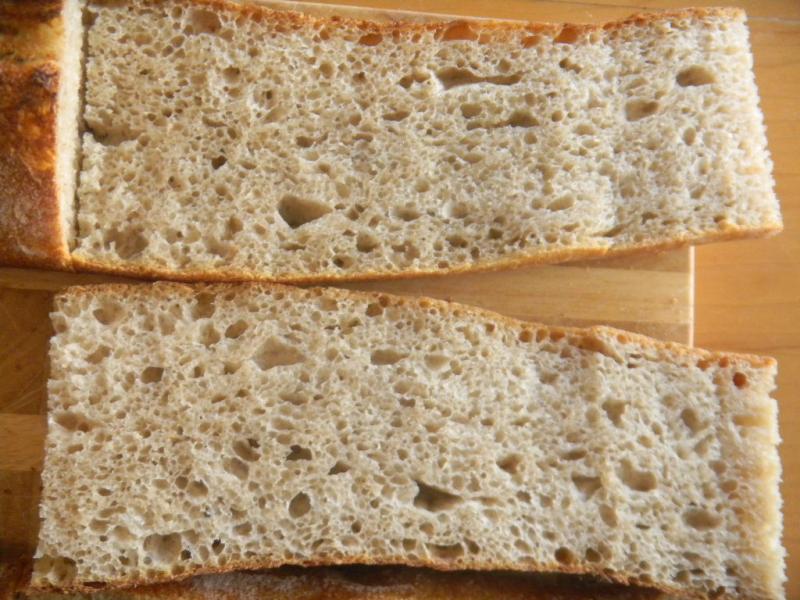 Below SD is on top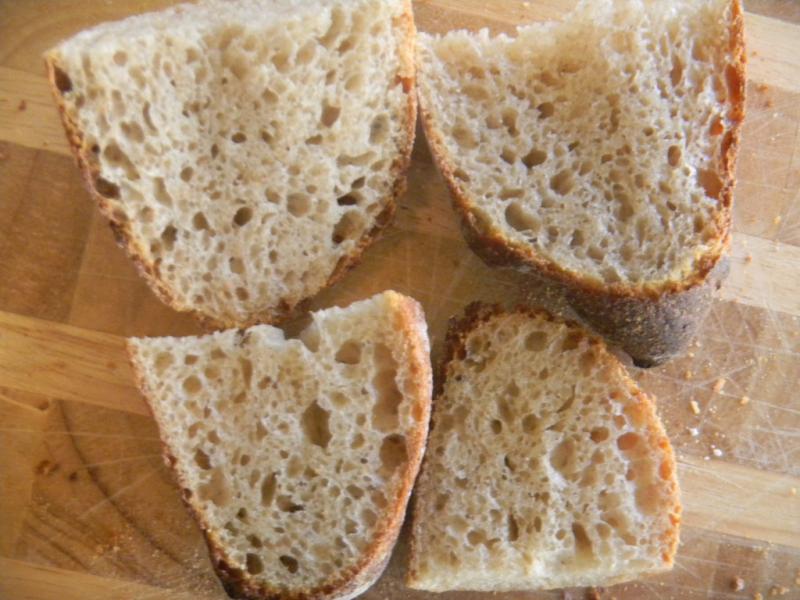 Method was the same for both.  Levain build in 3 stages over 12 hours and then retarded in the refrigerator overnight.  The next morning the levains were allowed to sit out on the counter for 1 hour to warm up.  The entire levain was placed in the mixer with half of the flour, 75% of the water and the rye malt.  This is mixed on KA 4 with the wisk for 4 minutes.  Then it autolysed for 30 minutes covered.
The rest of the flour and water is added and the dough hook goes on to knead for 4 minutes on KA 3.  Then the salt goes in and you knead on KA 3 for 2 more minutes.  The dough goes into a covered and oiled bowl to rest.  5 S& F's are done on an oiled counter 4 times every 15 minutes.  The the dough is formed into a ball and sits in the covered oiled bowl on the counter for an hour and half before going into the fridge for 22 hours. 
The next morning the dough sits on the counter for 1 1/2 hours to warm up and then is shaped, placed in a floured couche and then into a plastic bag for final proofing.  Mine took 3 hours. 
Preheat at 500 F regular bake with stone and steam in place.  Slash the baguettes and put into the oven to steam for 8 minutes.  Remove steam, turn down to 450 F convection and bake for another 8 min or so until done.  Here are the formulas.
YW Baggies  - All numbers in grams
 
 
 
 
 
 
 
 
 
 
 
 
 
 
 
 
 
 
 
 
 
 
 
 
SD Starter
 
 
 
 
 
Dough Flour
 
%
 
Multigrain Sprouts
%
 
Build 1
B 2
 B 3
Total
%
 
Rye
30
3.89%
 
Buckwheat
 
0.00%
SD Starter
 
 
 
0
0.00%
 
WW
30
3.89%
 
WW
 
0.00%
Rye
 
 
 
0
0.00%
 
Buckwheat
 
0.00%
 
Rye
 
0.00%
WW
 
 
 
0
0.00%
 
Spelt
 
0.00%
 
Bulgar
 
0.00%
Buckwheat
 
 
 
0
0.00%
 
Farro
 
0.00%
 
Barley
 
0.00%
Dark Rye
 
 
 
0
0.00%
 
Barley
 
0.00%
 
Spelt
 
0.00%
WWW
 
 
 
0
0.00%
 
6 Grain Cereal
 
0.00%
 
Water
 
0.00%
Bread Flour
 
 
 
0
0.00%
 
Millet
 
0.00%
 
Total Sprouts
0
0.00%
AP
 
 
 
0
0.00%
 
Amranth
 
0.00%
 
 
 
 
Water
 
 
 
0
0.00%
 
Lentils
 
0.00%
 
Scald
 
 
Total
0
0
0
0
0.00%
 
Dark Rye
 
0.00%
 
Buckwheat
 
0.00%
 
 
 
 
 
 
 
Semolina
 
0.00%
 
WW
 
0.00%
YW Starter
 
 
 
 
 
Bulgar
 
0.00%
 
Rye
 
0.00%
 
Build 1
B 2
 B 3
Total
%
 
Oats
 
0.00%
 
Bulgar
 
0.00%
Yst Water
60
30
10
100
12.95%
 
White WW
 
0.00%
 
Barley
 
0.00%
Rye
 
 
 
0
0.00%
 
Potato Flakes
5
0.65%
 
Spelt
 
0.00%
WW
 
 
 
0
0.00%
 
Ground Flax Seed
 
0.00%
 
Water
 
0.00%
Buckwheat
 
 
 
0
0.00%
 
Bread Flour
 
0.00%
 
Total Scald
0
0.00%
Dark Rye
 
 
 
0
0.00%
 
AP
250
32.38%
 
 
 
 
WWW
 
 
 
0
0.00%
 
Dough Flour
315
40.80%
 
Add - Ins
 
 
Bread Flour
 
 
 
0
0.00%
 
Salt
7
0.91%
 
Barley Malt
 
0.00%
AP
60
30
30
120
15.54%
 
50% Water/ Whey
215
27.85%
 
Molasses
 
0.00%
Water
 
 
 
0
0.00%
 
Dough Hydration
68.25%
 
 
Honey
 
0.00%
Total
120
60
40
220
28.50%
 
 
 
 
 
Olive Oil
 
0.00%
 
 
 
 
 
 
 
Total Flour
435
 
 
Egg
 
0.00%
Total Starters
 
 
 
 
 
Total Water
315
 
 
Red Rye Malt
 
0.00%
 
 
%
 
 
0.1724
 
T. Dough Hydrat.
72.41%
 
 
White Rye Malt
15
1.94%
Flour
120
15.54%
 
 
 
 
 
 
 
 
VW Gluten
 
0.00%
Water
100
12.95%
 
 
 
 
Hydration w/ Adds
70.00%
 
 
Sunflower Seeds
 
0.00%
Hydration
83.33%
 
 
 
 
 
Total Weight
772
 
 
Nuts
0
0.00%
Levain % of Total
28.50%
 
 
 
 
 
 
 
 
Total
15
1.94%
 

SD Baggies  - All numbers in grams

 
 
 
 
 
 
 
 
 
 
 
 
 
 
 
 
 
 
 
 
 
 
 
 
SD Starter
 
 
 
 
 
Dough Flour
 
%
 
Multigrain Sprouts
%
 
Build 1
Build 2
 Build 3
Total
%
 
Rye
30
3.65%
 
Buckwheat
 
0.00%
SD Starter
20
 
 
20
2.43%
 
WW
 
0.00%
 
WW
 
0.00%
Rye
 
 
10
10
1.22%
 
Buckwheat
 
0.00%
 
Rye
 
0.00%
WW
 
10
 
10
1.22%
 
Spelt
 
0.00%
 
Bulgar
 
0.00%
Buckwheat
 
 
 
0
0.00%
 
Farro
 
0.00%
 
Barley
 
0.00%
Dark Rye
 
 
 
0
0.00%
 
Barley
 
0.00%
 
Spelt
 
0.00%
WWW
 
 
 
0
0.00%
 
6 Grain Cereal
 
0.00%
 
Water
 
0.00%
Bread Flour
 
 
 
0
0.00%
 
Millet
 
0.00%
 
Total Sprouts
0
0.00%
AP
80
20
20
120
14.60%
 
Amranth
 
0.00%
 
 
 
 
Water
60
30
20
110
13.38%
 
Lentils
 
0.00%
 
Scald
 
 
Total
160
60
50
270
32.85%
 
Dark Rye
 
0.00%
 
Buckwheat
 
0.00%
 
 
 
 
 
 
 
Semolina
 
0.00%
 
WW
 
0.00%
YW Starter
 
 
 
 
 
Bulgar
 
0.00%
 
Rye
 
0.00%
 
Build 1
Build 2
 Build 3
Total
%
 
Oats
 
0.00%
 
Bulgar
 
0.00%
Yst Water
 
 
 
0
0.00%
 
White WW
30
3.65%
 
Barley
 
0.00%
Rye
 
 
 
0
0.00%
 
Potato Flakes
5
0.61%
 
Spelt
 
0.00%
WW
 
 
 
0
0.00%
 
Ground Flax Seed
 
0.00%
 
Water
 
0.00%
Buckwheat
 
 
 
0
0.00%
 
Bread Flour
 
0.00%
 
Total Scald
0
0.00%
Dark Rye
 
 
 
0
0.00%
 
AP
250
30.41%
 
 
 
 
WWW
 
 
 
0
0.00%
 
Dough Flour
315
38.32%
 
Add - Ins
 
 
Bread Flour
 
 
 
0
0.00%
 
Salt
7
0.85%
 
Barley Malt
 
0.00%
AP
 
 
 
0
0.00%
 
50% Water/ Whey
215
26.16%
 
Molasses
 
0.00%
Water
 
 
 
0
0.00%
 
Dough Hydration
68.25%
 
 
Honey
 
0.00%
Total
0
0
0
0
0.00%
 
 
 
 
 
Olive Oil
 
0.00%
 
 
 
 
 
 
 
Total Flour
465
 
 
Egg
 
0.00%
Total Starters
 
 
 
 
 
Total Water
335
 
 
Red Rye Malt
 
0.00%
 
 
%
 
 
0.2043
 
T. Dough Hydrat.
72.04%
 
 
White Rye Malt
15
1.82%
Flour
150
18.25%
 
 
 
 
 
 
 
 
VW Gluten
 
0.00%
Water
120
14.60%
 
 
 
 
Hydration w/ Adds
69.79%
 
 
Sunflower Seeds
 
0.00%
Hydration
80.00%
 
 
 
 
 
Total Weight
822
 
 
Nuts
0
0.00%
Levain % of Total
32.85%
 
 
 
 
 
 
 
 
Total
15

1.82