Advice needed on overbrowning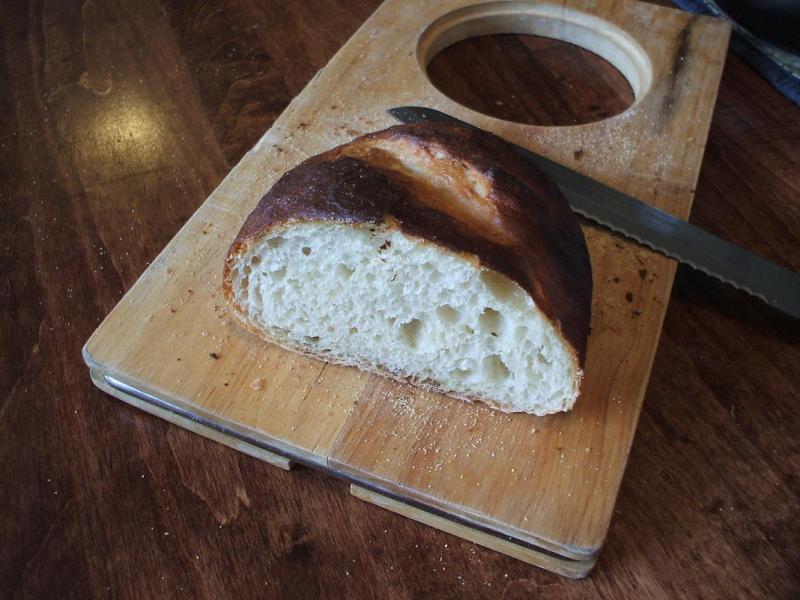 So I spent what seemed like a large portion of my day making this bread (any portion over 15 minutes is pretty large, sometimes, since I have a three month old baby).  It's a basic sort of french bread recipe, using a poolish, from the Fresh Loaf Pocket Book of Bread Baking.  It says bake for 20 minutes (rotating halfway through) at 465 F.  I usually check about 5 min. before the stated end time of a recipe because my oven can tend to run hot, but I got busy and figured it would be alright because the last bread I baked (the non-poolish french bread from the book) took longer.  At 20 minutes, I tested with a probe thermometer and it didn't quite reach 200, while the recipe says it should register slightly over 200 if they're fully baked.  Since they were already overbrowned (and nearly burned in places) I took them out anyway.  As you can see by the stub of loaf that is left, we could barely choke it down. :)  But I would like to figure out the problem and not repeat it.  I really don't like my breads very browned.
Now the bottom crust is overdone in places which I think is because I used a cookie sheet and not my baking stone this time.  My cheapo oven only has 25 degree increments on the knob, so I sort of guestimated between 450 and 475.  I'm just puzzled how the outside can be overdone and the inside temp is still reading a little low.
I would be especially appreciative of suggestions that don't involve buying new equipment.