Super-grain Challah w/ Whey Water, Sprouts, Potato, Lentil, Sunflower Seeds and 2 Starters - SD and YW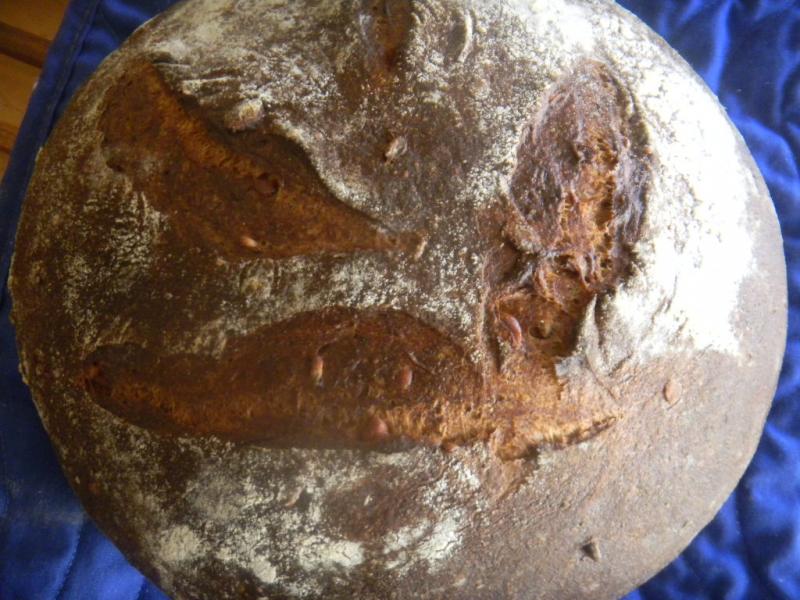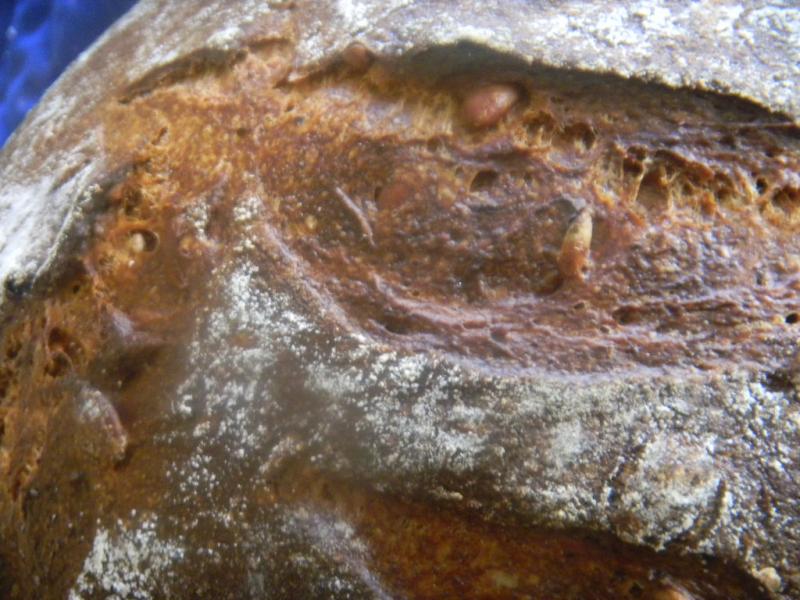 This is version 5 of my SD multi-grain challah called Brachflachen Mehrere Vollkombrot but wanted to make a special one this year - that non Jews would like - by Easter.  I added; whey water, a Yeast Water levain on top of the SD one, sunflower seeds,  white diastatic rye malt, malted barley, lentils, vital wheat gluten and various sprouted grains while cutting back on; the egg,  molasses and honey.  The crust came out lighter than usual but was still very dark and thick but soft after it cooled.  The crumb was more moist, more open, even with 40% whole grain and more interesting with the the sunflower seeds and the sprouted berries.  The taste is far superior and everything I would want in this bread.  It its a lot of work but you will be rewarded with a fine Holliday bread.  The method and formula follows the pix's.  I had an identical boule retarding in the fridge overnight, have now baked it off and those pictures will follow at the very end. I also added the 20 g of Pink Himalayan sea salt to the formula which was missing.  I do like using both starters.  SD for taste and YW is known for its spring and mpoist crumb by my experience.  These 40% whole grain breads with sprouts and seeds need all the help they can get and the YW seemed to help in spring and moistness.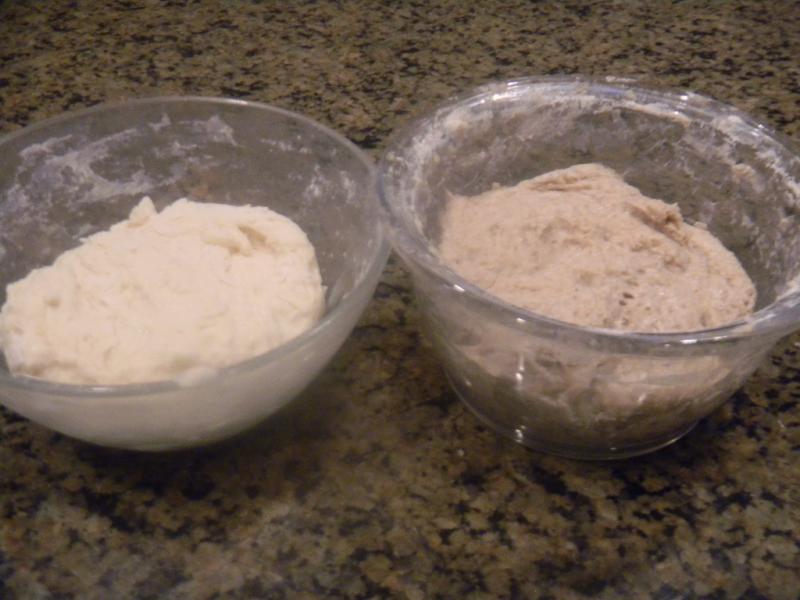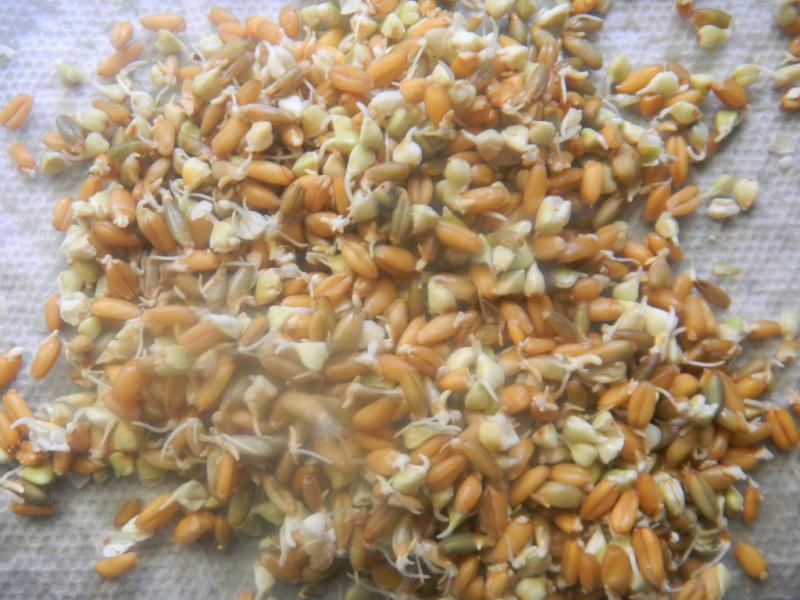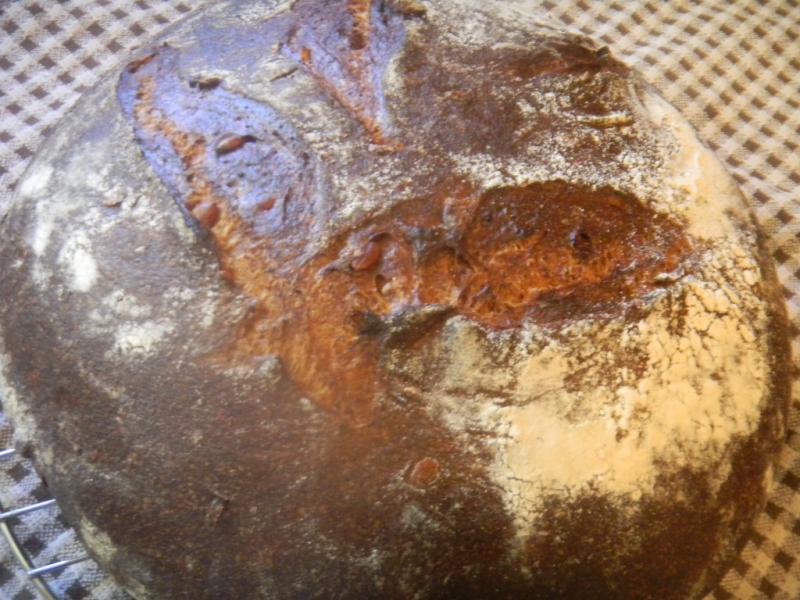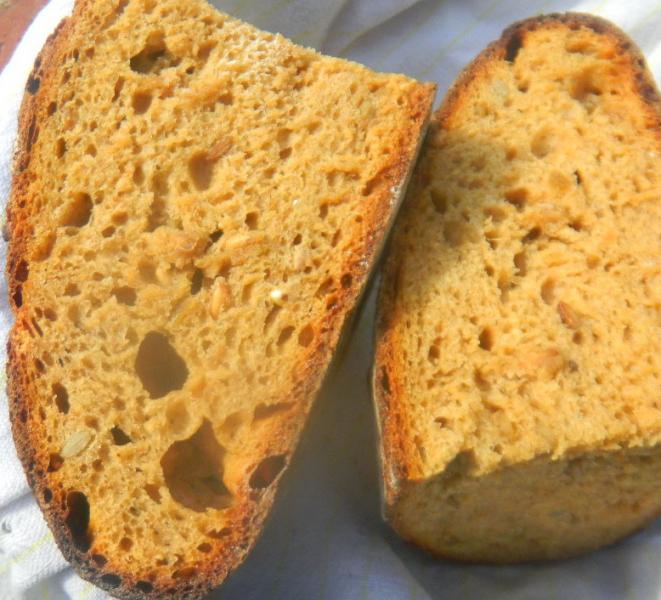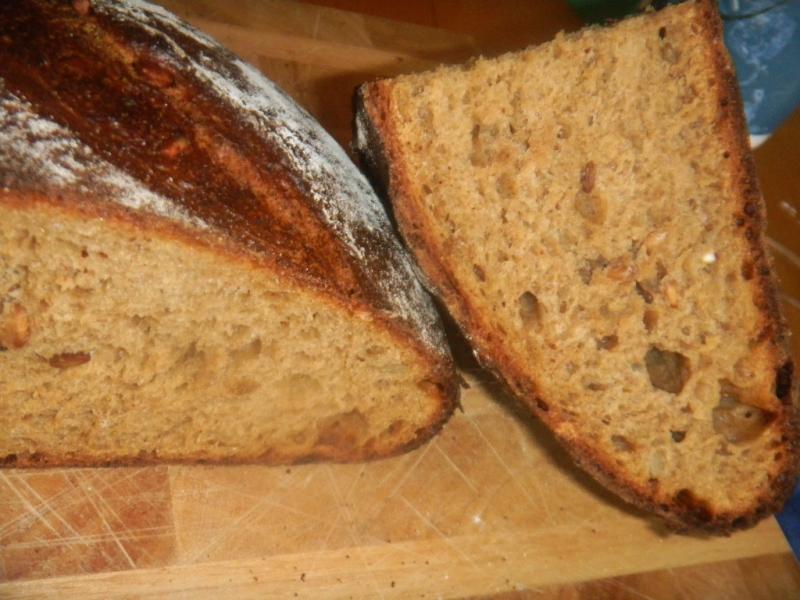 Method
2 days before bake, take the berries and soak them in water for 5 hours.  Place a sheet of  wet paper towel on a tray and spread the seed out on top of it.  Cover with two more sheets of wet paper towel.  I just get the towels wet, squeeze out the water and unravel them to flat. Cover the whole shebang with plastic wrap and let sit until needed'
1 day before baking make the 2 starters.  There is 4 hours between each of the builds.  At the 12 hour mark, put both levains in fridge overnight for retardation of 8 hours
In the morning, take out the levains and put them on the counter for one hour as you autolyse the dough flours with the whey water and water (I used an equal part mix as usual) in your mixer bowl with the paddle on KA 1 then cover with plastic.
After an hour add the levains and mix again until they are incorporated and cover.  Let autolyse for one more hour.
Add the salt and all the mix-ins except the seeds, switch to dough hook and knead on KA 2 for 8 minutes.  Add in the seeds and the sprouts and mix until combined.  Transfer dough to a well oiled and plastic covered bowl.  Let rest 15 minutes.
 Do 10 S&F's on a floured work surface, form into a ball and put back into a plastic covered oiled bowl.  Do 3 more S & F's at 15 minute marks only do 4, 3 and 2 S&F's.  Let dough develop in plastic covered oiled bowl for 1 hour.
Divide dough in half and pre-shape into boules.  Do final shaping 10 minutes later making sure the skin is stretched taut, dust top with 50/50 mix of AP and Rice flour and place top down in basket lined with a well floured towel, using the same dusting flour combination.  Place baskets in a tall kitchen trash can liner for 1 hour.  Place in fridge overnight to retard or, when dough has risen 70%, it is ready to bake when it passes the poke test.
Pre-heat the oven at 500 F on regular bake for 45 minutes with your steaming method and stone in place.  Invert baskets onto parchment paper on a peel, do a T-Rex or, my favorite, 3 Toed Chicken Slash or a beauty of your own and slide into oven on the parchment paper.  Turn down temperature to 450 F and steam for 15 minutes.  Remove steaming apparatus and parchment, turn oven to 425 F convection and bake for another 25 minutes or so turning the boule every 8 minutes 1/3rd of a turn.  When the bread has reached 205 F inside, turn off oven, keep door ajar and let boule crisp on the stone for another 12 minutes.  Then remove to a cooling rack until cool.
If retarding, take the bread out of fridge in the morning and leave in the plastic bag.   Immediately start your pre-heat of the oven and bake as above.  My retarded boule will be going in the oven shortly.  It rose beautifully in the fridge.
 This bread also bakes very well Tartine Method in a cold or hot Dutch Oven. 
Dabrownman's Multigrain SD YW Challah 
 
 
 
 
 
 
 
 
 
 
 
 
 
 
 
 
 
 
SD Starter
 
 
 
 
 
 
 
 
 
 
Build 1
Build 2
 Build 3
Total
 
Dough Flour
 
 
Multigrain Sprouts
SD Starter
20
 
 
20
 
Rye
35
 
Buckwheat
15
Rye
10
 
10
20
 
WW
35
 
WW
15
WW
10
 
 
10
 
Buckwheat
35
 
Rye
15
Buckwheat
 
10
 
10
 
Spelt
35
 
Bulgar
 
Dark Rye
 
10
 
10
 
Farro
20
 
Barley
 
WWW
 
10
 
10
 
Barley
20
 
Spelt
15
Bread Flour
 
 
 
0
 
6 Grain Cereal
20
 
Water
15
AP
20
30
10
60
 
Millet
20
 
Total Sprouts
75
Water
40
60
 
100
 
Amranth
20
 
 
 
Total
100
120
20
240
 
Lentils
20
 
Hydra. w/Sprouts
72.18%
 
 
 
 
 
 
Dark Rye
20
 
 
 
YW Starter
 
 
 
 
Semolina
20
 
Scald
 
 
Build 1
Build 2
 Build 3
Total
 
Bulgar
20
 
Buckwheat
 
Yst Water
30
20
20
70
 
Oats
20
 
WW
 
Rye
 
 
 
0
 
White WW
20
 
Rye
 
WW
 
 
 
0
 
Potato Flakes
20
 
Bulgar
 
Buckwheat
 
 
 
0
 
Ground Flax Seed
20
 
Barley
 
Dark Rye
 
 
 
0
 
Bread Flour
280
 
Spelt
 
WWW
 
 
 
0
 
AP
280
 
Water
 
Bread Flour
 
 
 
0
 
Dough Flour
960
 
Total Scald
0
AP
30
30
30
90
 
 
 
 
 
 
Water
 
 
 
0
 
50% Water/ Whey
700
 
Hydra. w/Scald
71.03%
Total
60
50
50
160
 
Dough Hydration
72.92%
 
 
 
 
 
 
 
 
 
 
 
 
Add - Ins
 
Total Starters
 
 
 
 
 
 
 
Barley Malt
50
 
 
 
 
 
 
Total Flour
1180
 
Molasses
50
Flour
220
 
 
 
 
Total Water
880
 
Honey
50
Water
170
 
 
 
 
Total Hydration 
74.58%
 
Olive Oil
50
Hydration
77.27%
 
 
 
 
 
 
 
Egg
50
 
 
 
 
 
 
 
 
 
Red Rye Malt
 
 
 
 
 
 
 
 
 
 
White Rye Malt
10
 
 
 
 
 
 
 
 
 
VW Gluten
10
 
 
 
 
 
 
 
 
 
Sunflower Seeds
75
 
 
 
 
 
 
 
 
 
Nuts
0
 
 
 
 
 
 
 
 
 
Total
345
 
 
 
 
 
 
 
 
 
 
 
 
 
 
 
 
 
 
 
 
Hydrat w/ Adds
79.96%
 
 
 
 
 
 
 
 
 
Total Weight

2,480