So, I used a recipe from my school text, "On Baking" for a San Francisco Sourdough boule.
180 grams of start, 240 grams of water and 454 grams of flour.  Also, there was around 16 grams of salt and yeast.  It kneaded about 10 minutes, bulk fermented until it doubled, around 75 minutes or so.  I balled it and put it into my brotform that I had dusted with flour and cornmeal.
After about an hour or so, I dusted the top (seam side) with cornmeal, put my halfsheet on the brotform and turned it over until it released.  Scored it and stuck it in a 450F oven for 4 minutes with a cup of ice in a cast iron skillet in the bottom.  After 4 minutes, I dropped it down to 375 and ditched the skillet while venting the steam and baked it another 35 minutes or so.
I had high hopes, but some of the issues with the appearance alone are obvious and I'd like any tips:
The shaping of the brotform didn't stick around.  Is this from using too wet of a hydration?
The ears are pretty pathetic.  I don't have a lame, so I used my good serated bread knife -- I tried cuting on an angle to the bread, but it's not pretty.  Any troubleshooting ideas from what you can see?
It's cooling right now...  once it cools I'll cut into it and update.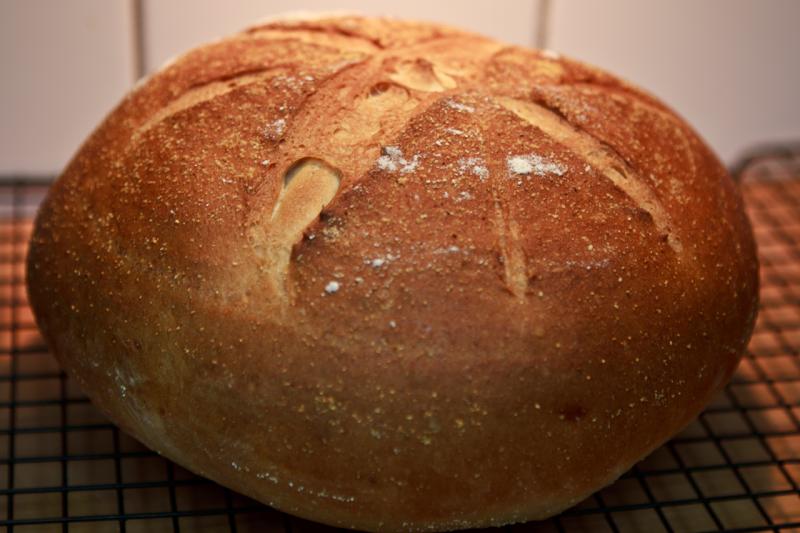 UPDATE: Going to wait until tomorrow morning to cut into it, but I'm optimistic about the crumb...  picking it up and pressing in on the crust, I can tell there are a lot of structural weak points all over, indicating some good tunneling.  Can't wait!