Chad Robertson's Country SD - Modified
Isand66 (Ian) has been using a much greater percentage of starter/Levain in his recent SD breads.  As I was looking around for a place to start with this idea, I ran across Chad Robertson's Country SD that uses this same technique.  I also prefer at least 10% rye and WW in the finished loaf and wanted to make sure that was the case in this bread.  I also wanted a higher hydration dough and one that had more AP flour and less bread flour.   This bread sure looks good on the outside but I can't cut into it yet until my wife gives the OK since she is taking it into work tomorrow.  I'm hoping the crumb is fairly open this time - and it was fairly airy.  It was also delicious, especially toasted with butter.  This one is a keeper!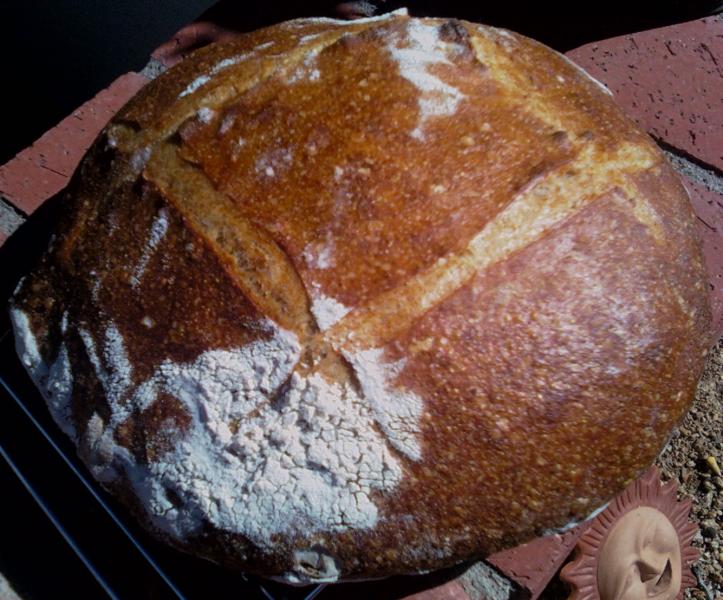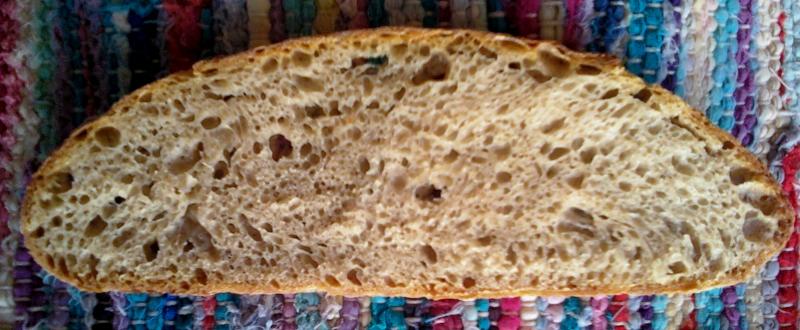 Chad's Sourdough - Modified - makes 1 large boule
Levain Build - Two days before bake day
82 g starter @ 100% hydration (50% rye and 50% WW)
45 g bread flour
60 g rye flour
60 g WW flour
125 g water
Mix and ferment for 6  hours at 68 F and the refrigerate overnight
Noon -  before bake day
370 g starter @ 75% hydration (all from above)
185 g bread flour
185 AP flour
280 g water
14 g salt
Mix all except salt for 2 minutes on KA 1 and autolyse for 1 hour. Then add salt and mix on KA 3 for 4 minutes.  Move to an oiled bowl and let rest 30 minutes.  Do 10 S&F's in the bowl and let rest 30 minutes.  Do 5 S&F's in theowl and let rest 30 minutes.  Do 1 S&F on a floured bench, return to the oiled bowl and let rest 30 minutes.   Do 1 more S&F on a floured bench and form into a ball, return to the oiled bowl and let rest 1 hour.  Retard dough overnight.    The dough will rise about 10-20% in the fridge.
Remove from fridge and let rest on counter for 1 hour.  Do 1 S&F gently  and do final shape into a boule.  Make sure to tighten the skin properly.  Place in cloth and floured bennaton and let rise in a plastic trash can liner for 2 hours. 
One hour before boule is proofed, heat oven to 500 with stone and steaming apparatus in place.  Remove boule from benetton onto parchment lined peel and put in the oven.  After 2 minutes turn down oven to 450 F .  After 15 minutes total, remove steaming apparatus and bake at 400F convection for  another 15- 25 minutes until the temp hits 205 F in the center of the boule.  Turn off oven and  left bread sit on the stone with the oven door ajar for 10 more minutes.  Remove bread to cooling rack until completely cool.