January 10, 2012 - 12:19pm
January Baking-Pane de Campagne with Red Fife and a Rye- Barley Mash Loaf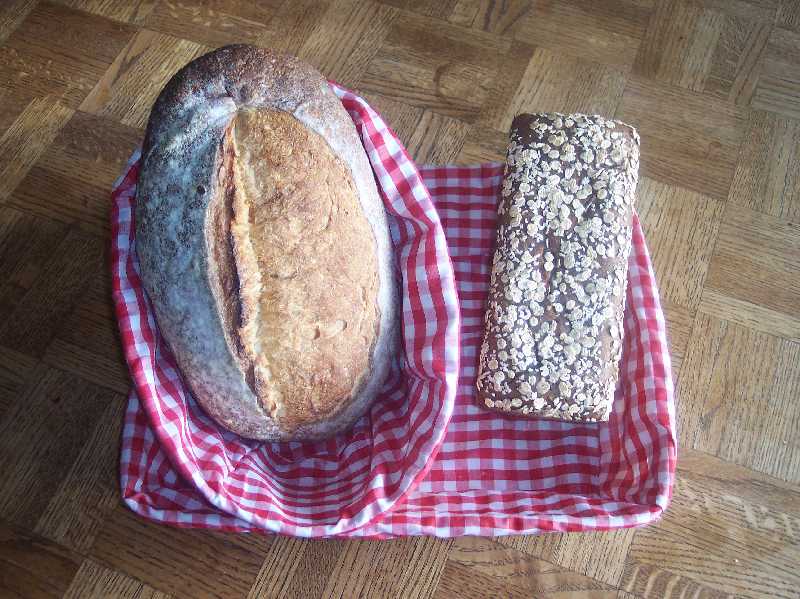 Pane de Campagne with Red Fife 75% sifted and Rye Bread with Barley 
The bread I've been making most often over the last month or so is a Country style bread similar to Robertson's Tartine CB that I've adjusted to suit my preference for a more sour flavour than his formula results in. The percentage of leaven is 15% greater than Robertson's 20%, and instead of using just white and whole wheat flours, it has a mix of AP, Red Fife 75% sifted, and Dark Rye flours, all of them organic. The combination of these three flours in the respective percentages of 75%, 15% and 10% seems to be the sweet spot for my tastes and makes for a well rounded flavour profile that I enjoy eating on a daily basis. Mostly it gets used in sandwiches but I like it for toast and preserves as well, making it a versatile bread for my everyday use. The dough has a 2 1/2 hour bulk ferment in the Brod & Taylor proofer at 76F/24C, with a stretch & fold at 60 and 120 minutes. After it's rested for a 1/2 hour it goes into the refrigerator covered until I get home from work the next afternoon, about 20 hours later. I have previously made this bread in only one day but the flavour result is nowhere near as deep or complex as when it's left for the long haul. That this long cold fermentation also accommodates my work schedule is a huge bonus for me since I don't always have time to bake on my days off. Other than that the procedure is much the same as for Tartine Country Bread, though I don't necessarily use a Dutch Oven when baking it off, simply because I don't always want a boule shaped loaf. The batard shaped loaves won't develop the nice dark caramelization that they would in a DO environment, but sometimes a batard shape is preferable for sandwich making. I guess I'll have to wait until I can build or buy a WFO to have it both ways. Until then, baking directly on the stone delivers a well flavoured crust, that if I've taken it at the right point (slightly less than full proof), will send shards of crust flying as soon as the knife bites into it. So far my brother, step-son, and his father-in-law have all tried it and loved it, but that's sort of like preaching to the converted since they like their bread on the sour side anyway. The Red Fife sifted used in this formula I realize has limited availability to most folks, but I think that a high extraction flour or a sifted whole wheat would work just fine. Having enough of the bran in small particles gives this formula a good deal of it's flavour, but doesn't create a coarse texture and mouth-feel, which I feel gives the bread a broader range of appeal...if you like your bread tangy to begin with.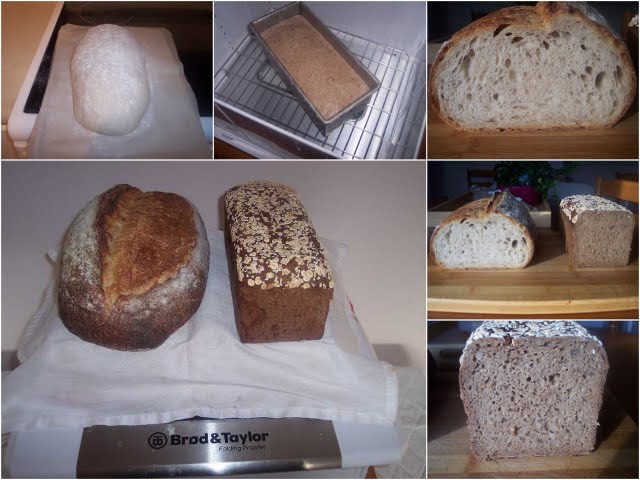 Procedure for Pain de Campagne with Red Fife 75% sifted 
Mix all ingredients for levain and ripen for 14-18 hours @ 70F

Final dough:

Autolyse the flours and water for 1 hour.

Mix all ingredients except the salt on 1st speed for 3-4 minutes until dough is cohesive. Add the salt and continue mixing for 7-8 minutes on 2nd speed until the dough is uniform and well developed.

Bulk ferment at 76F for 2 hours giving 2 stretch and folds in the first 2 hours. Place dough in refrigerator over night, or for up to 18 hours. Remove from fridge and bring allow the dough to sit at room temp for 90 minutes.

Round lightly and rest for 20 minutes.

Shape as desired.

Final rise of 2-3 hours @ 78F or until slightly less than fully proofed.

Place on a floured or parchment covered peel, score as desired, and bake in a preheated 500F oven with stone or Dutch Oven. Use preferred steaming method if baking on a stone.

Reduce oven heat to 460 and bake for 15-20 minutes, rotating the loaf for even colouring ( remove the lid if using a DO) and bake for 25-35 minutes longer. * Note* heavier loaves of 1600 grams or more will require longer baking times as will higher hydration loaves.

Turn the oven off, prop the door open slightly and leave the loaf in the oven for 20 minutes to cool gradually.

Wrap the loaf in linen and place on a wire rack for 12 hours or longer before slicing.

The formula spreadsheet can be found through the link below.

 
https://docs.google.com/spreadsheet/ccc?key=0AjicIp92YPCTdDZxVHFiMmRXQkFoVmZHWl9kZXZBcHc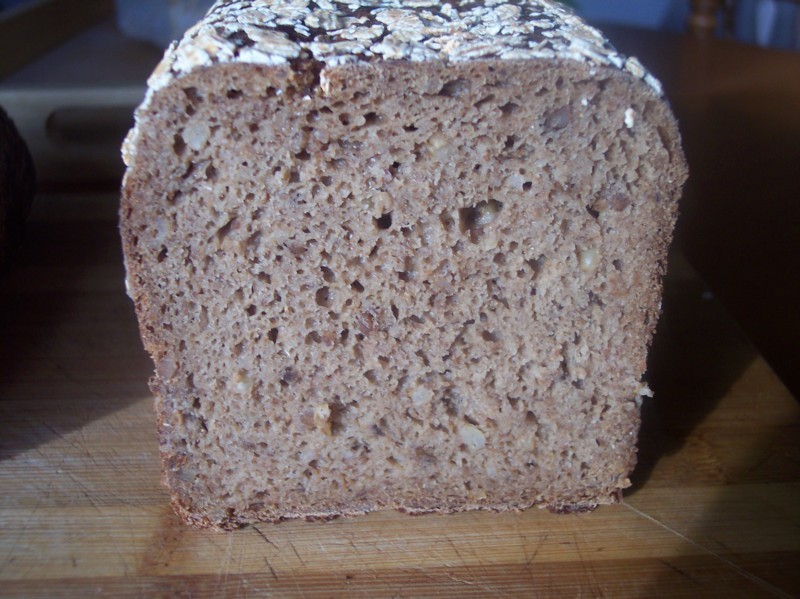 This next loaf is one of my bread experiments gone uncharacteristically right on a first try for a pleasant change. Elizabeth David's 'English Bread and Yeast Cookery' is a book I've been reading off and on over the Fall, which I think had a lot to do with finally deciding to make a bread that uses barley as part of the grist. I've consumed a fair bit of barley over the years but mostly in liquid form, so shortly before the week of Christmas I picked up some whole barley grain at the local organic store to see if I could come up with a way to use it in a sour bread of some kind. The 'barley project' needed to be put on hold till after Christmas, as other more Seasonal matters took precedence, giving me some time to think about how to use the barley. Taking inspiration from some of Andy's/ananda http://www.thefreshloaf.com/blog/ananda  posts where he utilizes a "boil-up" as he calls it, for softening various grains before adding into his bread mixes, I thought this would be a good place to start. At this point I hadn't formalized a recipe, nor did I have an entirely clear concept of what I wanted or how to go about it, other than the boil -up. It's funny how sometimes it takes forever to come up with a formula concept, while at other times it can just come to you while watching a pot of water come to a boil. While I was watching the water and barley simmering away, softening and opening, I thought to myself that this eventual mash would be an excellent medium to grow wild yeast in....like for beer perhaps? One of those light bulb moments for someone who doesn't brew beer. Once the grains were soft enough to mash with a fork and had cooled to room temp, mature rye starter, along with a scant amount of salt was added to the mash. The plan was to let the mash ferment slowly over the course of a few days to build flavour, the addition of salt would help keep it in check and hopefully prevent a runaway fermentation. After 4 days at 70F in the B&T proofer, the mash had developed a distinctly (or stinky according to my wife) sour nose to it. Rather than push it any further and run the risk of contamination the mash was transferred to the fridge for safe keeping until I was ready to use it in the final mix. Including an altus in the mix came to me just the day before I'd planned to make the bread when I ran across a heel of Horst Bandel Pumpernickel in our freezer. I remembered having saved it for this very purpose and this seemed like the perfect opportunity to use it up. The mix itself went as it would for a typical high ratio rye bread, with little gluten development and a sticky paste to work with. With some minor adjustments for hydration it formed a slightly wet paste, but came together without too much effort. Bulk ferment was around 80 minutes at 81F/27C, then shaped, using the wet hands/scraper method to form it into a log shape then deposited into a 4 1/2"x 9 1/2" Pullman tin, sprinkled with barley flakes, lid on, and set in the B&T proofer for a final rise of 2 1/2 hours at 81F/27C.
Full formula and procedure below.
After 20 minutes in the oven the bread was giving off a noticeably beery aroma that gradually changed to a rich, roasted fragrance of grain and malt over the remaining course of the bake. At first taste the bread is just inside my sour tolerance level, but the flavour is fantastic! Malty, sweet & sour, with a moist, chewy bite to it, it's the sort of bread that delivers on all levels. I expect it will pair well with other foods once it's mellowed over the next few days and the initial sharpness has come in to balance with the other ingredients, but my guess is I'll be eating most of it just for it's flavour alone.
Wishing everyone the very best for the New Year!
Franko 
PROCEDURE
Mash
Combine the water and whole barley in a heavy bottom pot and bring to a slow boil, cooking and stirring till the grains become soft. Add the rye meal and salt, stir and allow to cool to room temperature.
Mix the rye and barley mash 4-5 days in advance of the final mix and allow to ripen at room temperature 70F/21C for the first 48 hrs, then keep in the fridge or at a temperature of 50F/10C max until ready to make final mix. Allow the mash to come to room temperature before including in the final mix, or gently warm on low in the microwave. The mash should have a strong sour smell when ready to use and longer ripening times may be necessary.
Sour
Mix the mature sour with all of the water and 50% of the rye flour and ripen for 14-18 hr at 70F/21C with the second feeding of rye flour at the midway point of the ripening period.
Altus
Soak the old rye bread in hot water and leave overnight. Squeeze as much water as possible from the bread, reserving the water for the final mix. The old bread should be of a high percentage rye bread, the darker the better.
Final Mix DDT-81-84F/27-28C
Combine all the ingredients except the sour and mix till thoroughly combined. Add the sour and continue mixing till the paste is smooth and uniform. Using wet hands and a scraper, work the paste on the bench by scraping and folding it over itself for several minutes, adjusting hydration as needed to achieve a medium consistency. The dough should be slightly on the wet and sticky side. Place the paste in a bowl and begin the bulk ferment.
Bulk Ferment
Ferment the paste for 60-90 minutes. Times will vary according to individual conditions, but the paste should show a small increase in volume during this period.
Shaping and Final Rise
Form the paste into a log shape and deposit in a 4 1/2" x 9 1/2" paper lined or well glazed Pullman pan. Smooth the paste evenly into the corners and along the sides creating a slight peak from the sides to the center of the surface. Sprinkle the top evenly with barley flakes, brushing with water if needed to make them stick. Begin the final rise at a temperature of 82F/27-28C with some humidity present. Allow the paste to rise to within 3/4"-1/2" of the top of the pan before sliding the cover of the Pullman over top. The final rise may take upwards of 2 1/2 hours and should be monitored every 30 minutes to avoid over-proofing.
Baking
Place the closed pan on a baking stone in a well preheated 500F/260C oven and bake for 10 minutes before lowering the temperature to 460F/238C. Continue to bake for 45-50 minutes then lower the heat to 375 for an additional 15-20 minutes. Check the loaf to see if it has pulled away from the sides of the pan. If not continue baking till it has. Remove the lid from the pan, turn the heat off and leave the loaf in the oven for 30 minutes. Remove from the oven and cool for 5 minutes in the pan before de-panning to a wire rack. Wrap in linen and cool for 12-24 hours before slicing.
The formula spreadsheet can be found through the link below.
https://docs.google.com/spreadsheet/ccc?key=0AjicIp92YPCTdEptQl82UWtwdzFiUExjY3BHWXh4eEE