An experiment with a rye mash soaker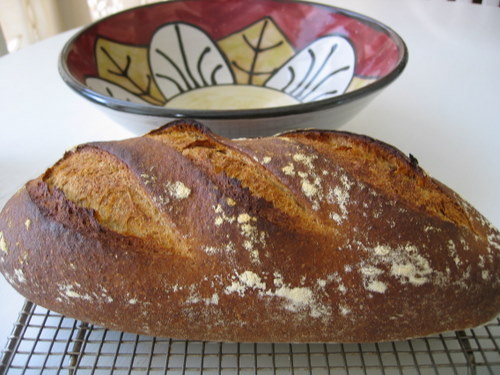 I shared in a forum recently that I've been wanting to try to make what is in essense a rye mash instead of using the standard hot soaker.  The inspiration for this is the distilling experiences using rye of my friends Scott and Becky Harris at their distillery in Purceville, VA - Catoctin Creek Distilling Company.  Here they make two wonderful certified organic and kosher ryes - one casked and the other an uncasked white whiskey, and a rye based gin. (Unabashed plug, their micro-distillery products are now available in Virginia, Maryland, Washington, DC, and yes, the Sacramento area of California.)  I've been able to taste their rye mash, and it's incredibly sweet.  Way beyond anything I've been able to achieve using a hot rye soaker.
With this goal in mind, I contacted one our of resident experts, Debra Wink, to see how I might proceed.  Debra, in turn, drew on some of her expert baking friends, and with her help and their advice I decided upon a plan of action - namely, to attempt to slowly cook a mash of whole rye flour and water for nearly 7 hours at a temperature just below 170°F, which, I believe, is the temperature at which amylase, which is responsible for converting the starches in rye to simple sugars, becomes denatured.
So this weekend I set aside a day and proceeded first to build a formula.  I decided upon a 40% rye, with a mash equivalent to 40% of the total dough weight and a starter just over 20% of dough weight (more on this later). I used Hamelman's rye recipes as general guidelines in determining what percentages both the starter and soaker would be, though I deviated downwards significantly in the percentage of the starter in relationship to overall dough weight, and as we'll see, that may not have been entirely a good idea.  The rye flour used throughout is Heartland Mill's Certified Organic Whole Rye Flour which I am able to procure from my friends Scott and Becky.  Although it is a whole rye flour, in texture and composition it seems comparable to medium rye flours I've seen.  The AP flour used is KA's Sir Galahad.
The total dough weight was to be 1004g, just a bit over 2 lbs.  My overall formula is:
Ingredient      Baker's Percent   Weight
Flour                   100%                       560 g
Water                   76%                        426 g
Salt                        2%                           11 g
Yeast                      1%                           6 g
Starter
Rye Flour               100%                  112 g
Water                      80%                     90 g
Levain                       5%                       6 g
Mash/Soaker
Rye Flour               100%                  109 g
Water                     264%                   288 g
Final Mix
AP Flour                 337 g
Water                        45 g
Salt                            11 g
Yeast                          6 g
Levain                    208 g
Mash/Soaker          397 g


I made up my starter approximately 10 hours before the final mix.  The soaker I began in early afternoon by mixing the flour and water in a double boiler and then bringing the temperature slowly up on my simmer burner.  My goal was to achieve and maintain a temperature of 160°F for approximately 7 hours.  This proved easier said than done.  I found it necessary to stir the covered double boiler every hour, after I achieved my desired temperature, which took me about an hour of stirring at 15 minute intervals until I was there.  However, maintaining a consistent temperature was difficult.  I had to add a small amount of cold water to the double boiler at hour intervals, and in the end, the temperature reached was 170°F which was cutting it close if not too high.
Frankly, a slow cooker would be the ideal way to do this.  Unfortunately, unless you are making mash for 15 loaves or so, there is insufficient volume to make this viable.  If anyone out there has any suggestions of other methods for maintaining a constant temperature under 170°F for 7 hours, by all means share.
I left the cooked rye mash covered overnight.  The next morning I uncovered it, and found that it was sweet - more so than my hot soakers, but less so than Catoctin Creek's mashes, and about the consistency of cream of wheat.  I realized after the fact that I should have taken some pictures, but....
The final mix was accomplished by mixing first soaker, starter and the final water, and then adding the AP flour, yeast and salt to the mixture.  I realized that during my hourly stirrings of the mash, a certain amount of liquid was being lost due to steam evaporation.  This was borne out as I mixed the dough, and I ended up adding an additional 20g of water, which is reflected in the formulas above.  I mixed the dough for 3 minutes on speed one, and then an additional 5 minutes on speed 3, at which point it showed definite signs of gluten development.
Using Hamelman's section on ryes in Bread I did a one hour bulk ferment, followed by shaping a batârd.  I couched it and left it for final proofing for one hour as I preheated my oven to 450°F.  I presteamed the oven, loaded the batârd and steamed with a cup of boiling water thrown on my lava rocks, then followed this again in two minutes with another steaming.
Bake was for 15 minutes at 450°F, then 20 min. at 425°F, and finally 15 min. more at 400°F.
The loaf emerged from the oven looking nice.  I was pleased that my grignes had opened.  But the question that arose immediately in my mind was: So, would you do this again?  For the answer to that, I had to await a tasting.
Here are a couple shots of the bread: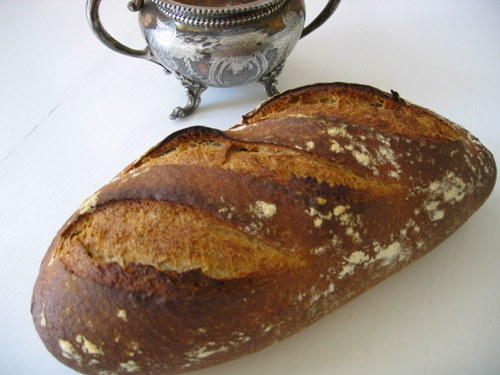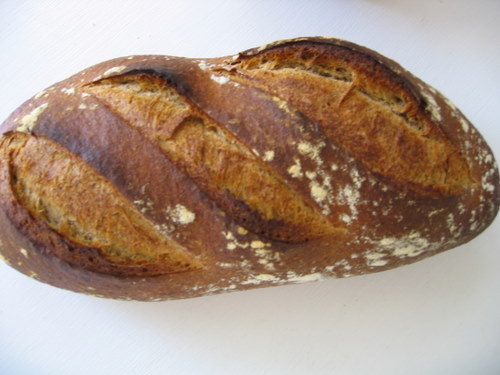 One of the grignes and the crackly crust that developed: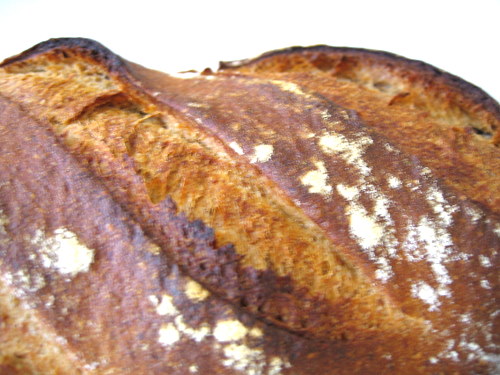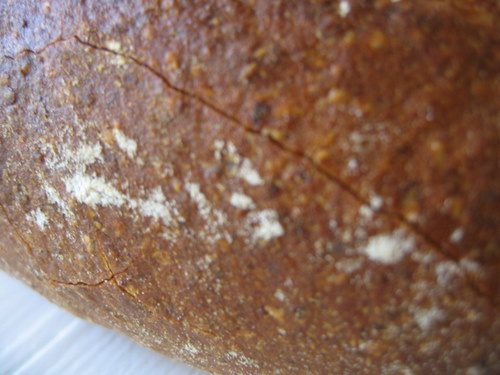 The crumb was somewhat more closed than I expected, given a mere 40% rye.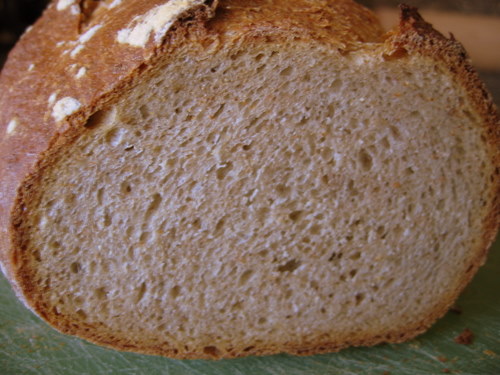 However, thinking about it, I realized that I used a much lower proportion of starter than Hamelman does in his recipes.  This was intentional - I wanted to devote more rye resources to my mash/soaker.  But I think if I did this again, I'd either find a way to raise the percentage of starter to around 30%, or, I'd up the yeast from 1% to 1.5% to compensate.
Notwithstanding, the crumb is in no way what I would call dense; it's very moist and it does in fact have a sweetness I haven't been able to realize with a hot soaker.
So, would I do this again?  Maybe.  If I had a day with nothing to do but putter around the house and stir my mash hourly, yeah.  But it's a time intensive method I've utilized, and I would be more likely to repeat this on a frequent basis if I could find a better way (i.e., less labor intensive) way of cooking the mash.
But when all is said and done, there is nothing quite like sitting down at day's end, with some fresh rye spread with good goat's cheese, and a Catoctin Creek Roundstone Rye old fashioned.  Ahhh, the blessings of rye and mash!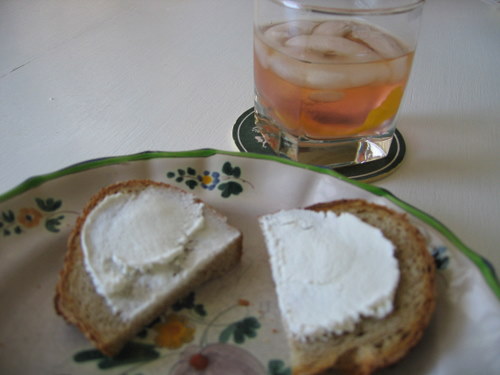 Larry