Pugliese bread from the Lighthouse Bakery
My wife's christmas present was a baking course at the Lighthouse Bakery, a small bakery focussing on teaching and some wholesale.
We were 4 participants and made some wonderful breads out of 5 different doughs using biga, rye sourdough, sponge, poolish and pate fermentee.
The most surprising and spectacular of the breads we made was the pugliese, which is also the "signature" loaf of the Lighthouse Bakery.
Liz and Rachel, who run the bakery, are happy for the formula to be shared, so here it is: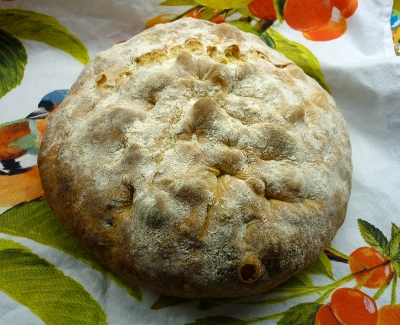 This bread is made with strong flour, water, salt and yeast, and yet has a sweetish, creamy crumb. It keeps well and is still excellent as toast 4 days after baking (given it survives that long).
Here is the formula:
Biga
The biga can be stored in the fridge and keeps for a week.
| | | |
| --- | --- | --- |
| Ingredient | Weight(g) | Percent |
| Strong White Flour | 500 | 100 |
| Water | 350 | 70 |
| Fresh yeast | 4 | 0.8 |
Mix and ferment at room temperature for at least 1 hour (until the yeast gets going), then put it into the fridge overnight. It will expand further, so choose an appropriate bowl.
Here a picture of the biga after 1 night in the fridge (the surface scraped off):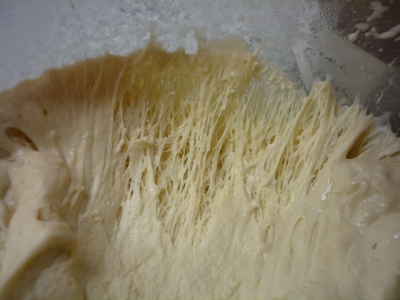 Dough
The given amounts make 1 loaf.
| | | |
| --- | --- | --- |
| Ingredient | Weight(g) | Percent |
| Strong White Flour | 500 | 100 |
| Water | 340 | 68 |
| Biga | 100 | 20 |
| Salt | 10 | 2 |
| Fresh yeast | 4.5 | 0.9 |
Mix and work the dough.
Our teachers recommend to use a mixer: 5min on medium speed and 5min on high speed.
I have no mixer; but I got great results with Bertinet's slap and fold technique.
Bulk ferment for about 3 hours (until trebled in size).
Preheat oven to 220C.
Shape into boule, be careful not to handle the dough too hard, it's quite sloppy at this stage.
Avoid using flour on the worktop.
Put the dough onto a baking parchament for the final proof (about 1 hour, check with the finger test).
Here a picture of the boule after final proof, it spreads a bit, which is not a bad thing: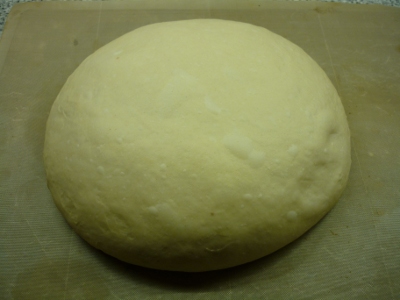 Then dust it with flour and dimple it with your fingertips - a bit like captain Nemo playing the organ in his submarine.
Here is the result, ready to go into the oven: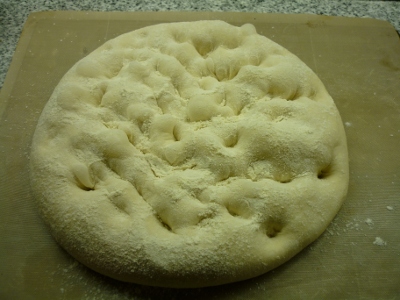 Rather flat.
But the oven spring is quite amazing, and on the course when the oven door opened there was an astonished Ooooh in unison.
Bake for 35 to 40 minutes at 220C without steam.
The result is the first picture in this post, here a shot of the crumb: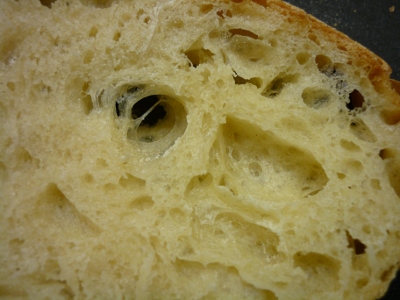 It needs to rest a couple of hours after baking, the taste improves a lot and you are rewarded for your patience.
I hope you enjoy making this bread as much as I do,
Juergen