How to get better steaming?
Hi everyone,
I regularly bake a whole grain sourdough (using cooked Kashi grains, cornmeal and 5-grain oatmeal), using Reinhart's WGB method (soak grains overnight along with prefermenting sourdough).  (It's basicaly his "transitional" whole grain loaf)
Today I baked four loaves, and was under some time constraints and my sourdough was not at its most vigorous, so I added yeast, too.  The flour is about 50/50 KA white whole wheat and KA white bread flour.  The loaves came up wonderfully!  But one much more so that the others (though they were treated identically up until they went into the oven).  Here's a side by side comparison: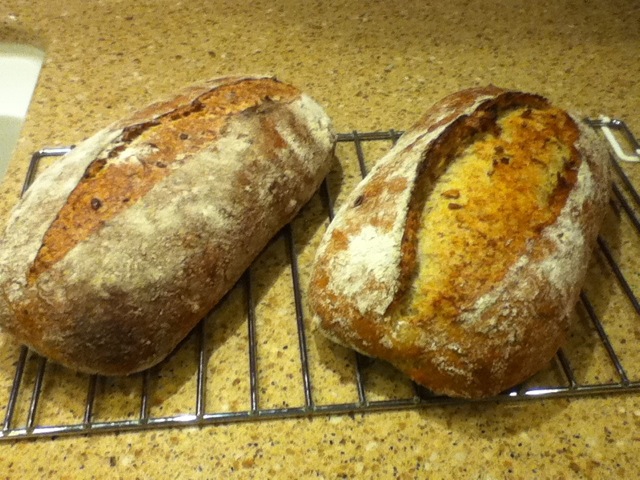 As you can see, the one on the right opened much more, with a much better grigne.  I put the difference down to steam.  The explanation is the arrangement of my oven: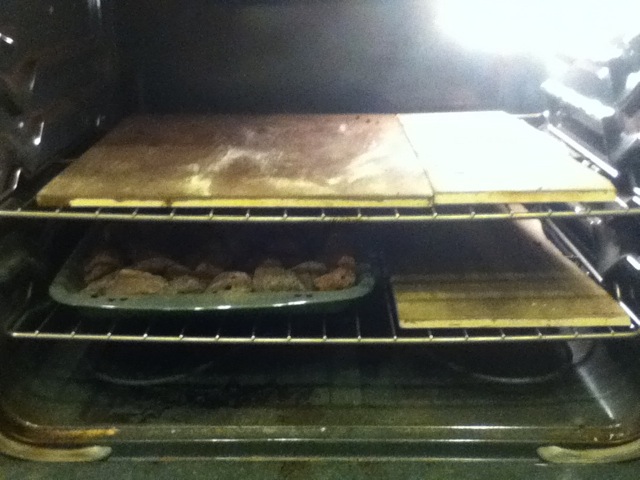 I have two large square pizza stones (From Bed Bath and Beyond--$16 each!) but I broke one in half to make a large baking surface on the top of the oven.  I use the other half for extra space next to the tray of lava stones I use for steaming.
When inserting loaves I put three loaves on the top and one next to the tray of lava stones.  That lower one obviously gets more steam; the more opened bread comes from there (moved to the top rack after 20 mins baking to crisp up the grigne).  It was very much softer on the top when I moved it.
There is a good 1 1/2 to 2 inch gap around the top stone on all sides, which should let enough steam up there.  (A gas will expand to fill the volume it's in.) My theory is that the oven vents the steam pretty well, so the steam doesn't stay around the loaves at the top of the oven.
My question is how to get more steam to the top loaves?
Blocking the steam vets is out of the question (I have seen reports here from folks who have fried their oven's electronics doing that).  
Would getting another oven tray for the top shelf of the oven and lining it with another stone better trap the steam in lower parts of the oven?  
Or perhaps I just need to pour on more water than the (guesstimate) 1 1/2 cups biking water I pour on the rocks.
Or perhaps move the whole arrangement closer to the top of the oven?
Any advice would be appreciated.  Thanks!  
Mason.