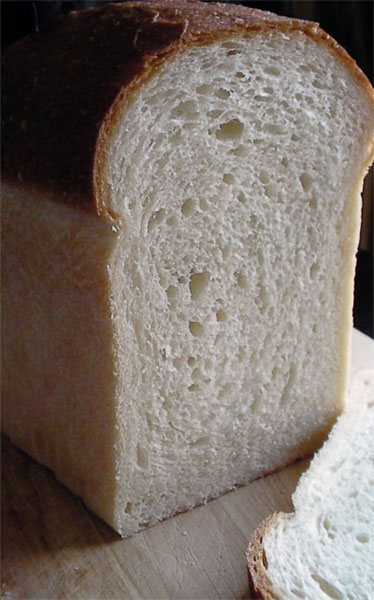 Poolish

250g all purpose flour
250g water
1/16 - 1/8 of a tsp yeast (more if it is cold, less if it is hot)

Mix together and leave for 12 hours.

Dough

300g white bread flour 
130g milk (scalded)
unsalted butter 6g
10g salt
3g instant yeast
a little less than 1/4 tsp of ascorbic acid
[Hydration = 69%]

Scald milk and add butter and salt to it. Stir until dissolved. Allow milk to cool to room temp.  Add to poolish, then add dry ingredients.

Knead for 5mins - rest for 5mins - knead for 5mins. Allow to proof until doubled. A stretch and fold half way through fermentation is necessary not so much for gluten strength, as it is to degas the dough.  Pre-shape. Shape and put into a two pound tin. Let it rise until coming about an inch over the top of the tin. (My tin is a 10x19x11cm 900g loaf tin).

Bake at 230 C with steam for 15 mins and without steam at 190 C for 35 mins. Remove from tin for last 10 mins .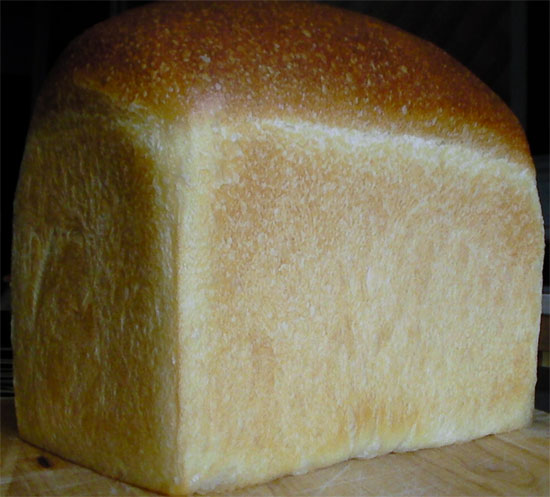 This loaf has a crisp crust and a tender, moist crumb.  It toasts very evenly and makes a good sandwich.  It keeps well, too.
Syd