February 18, 2011 - 4:33pm
I made SteveB's croissants today. Here is his formula and method.  http://www.breadcetera.com/?p=117  Thank you, Steve!
I highly recommend it! It was absolutely delicious! Although I used my raisin yeast water instead of the instant yeast, therefore I decreased the amount of sugar.  It is very easy to make raisin yeast water which means fruit yeast water.  I recommend to use orgainc ones that is much better taste than the others.  Here is the link of fruit yeast water that Ron and Daisy and I had worked on.  http://www.thefreshloaf.com/node/20460/banana-saga-%E9%95%B7%E7%AF%87%E6%95%85%E4%BA%8B   and  http://www.thefreshloaf.com/node/20693/culturing-growing-and-baking-range-wild-yeasts   You can read Wao's post that is helpful, too.  http://www.thefreshloaf.com/node/6012/baking-natural-wild-yeast-water-not-sourdough   Ron and Karin made some great breads using apple yeast water. Daisy and I have raisin yeast water that is one of powerful fruit yeasts.  If you are not fond of soury bread, or you are looking for a new thing, you may enjoy it.
 Here is my ingredients that I change are Bold letters.
Poolish
145 g I used KA AP flour
145 g Raisin yeast water
-------------------------------
Final dough
335 g I used Bread flour
115 g Water
65 g Milk
36 g Sugar
10 g Salt
20 g Butter
290 g Poolish (all of the above)
----------------------------------
Roll-in
225 g Butter
-----------------------------------------------------
I replaced new pictures that I took them in the morning. They look clear and nicer.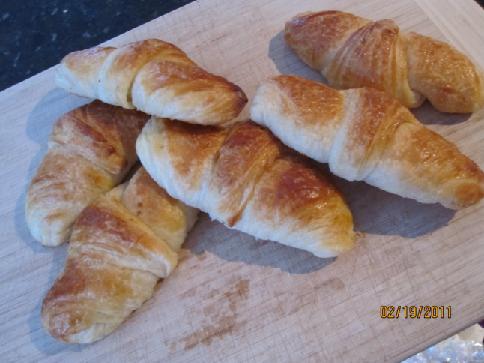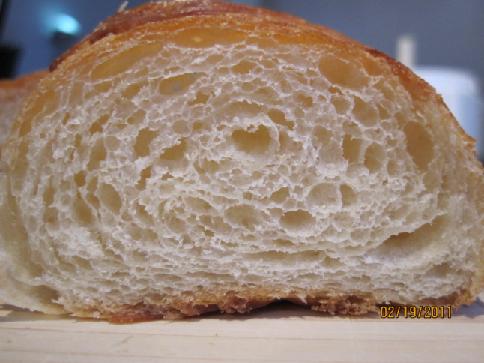 I will practice to shape the croissants more...  I have a problem when I let put the dough in a refrigerator before shaping because the dough is always dry when I take out the dough from the refrigerator so that I can see some crack when I am about to strech the dough to roll it into the croissant shape.  So I didn't put the dough in a refrigerator this time, I put the dough in a basement that was around 15℃. That is why these croissants look little shaky. 

 Brush your teeth after eating,please :)
Happy baking,
Akiko
-----------------------------
I tried this croissants again. My goal is like Mrs London's croissants that are totally art. Of course, the taste was wonderful.
You can see Mrs.London's croissants here.
http://www.realbakingwithrose.com/2010/09/upstate_new_york_splendors_par.html
Here is the pictures of Mrs London's croissant that I bought.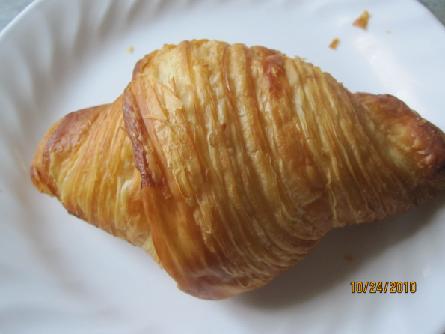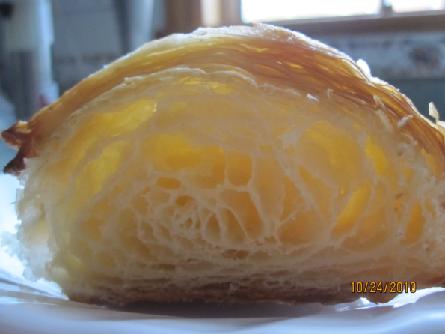 Here is my croissants that I tried a couple days ago.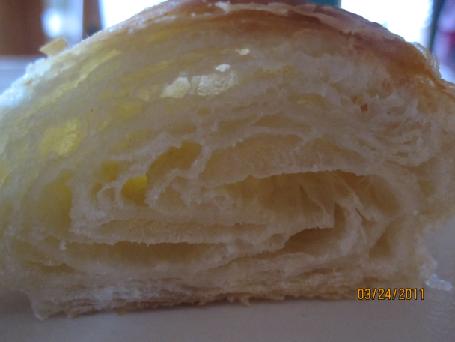 My problem is shaping... Hmmmm..
------------------------------------------------
3/31/2011  I tried again..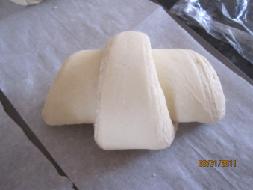 After I cut the dough triangle shapes, I put them in the refrigerator for a couple hours to shape nicely. I can't get such a length to roll many times.   I saw other Japanese home bakers shaping very well..  hmmm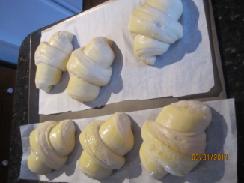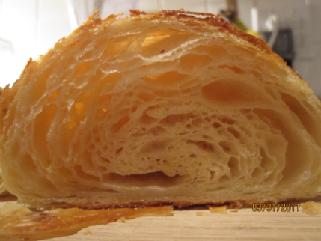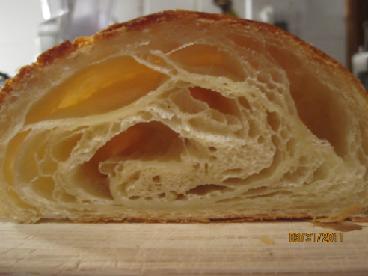 While the dough was at proof, I had to leave the dough for 2.5 hours.I wanted 2 hours proofing time though. I can't tell if the tast is good or not because I haven't eaten it yet.
Next time, I may not put the triangle dough in a refrigerator because I saw some crumb are not flaky but doughy.  I don't know if the method produce doughy crumb..
I hope that it is good.  They will be our breakfast.. Giant croissants.
Best wishes,
Akiko