January 23, 2011 - 7:43am
This miche has a superb flavor!
Inspired by all the miche baking of late (breadsong's, dmsnyder's and Ryan Sandler's to mention but a few that I can remember) I just had to bake one for myself to see what all the fuss was about.  I followed dmsnyder's recipe to the letter and (wow)! at the risk of sounding over excited, this has to be one of the best tasting breads that I have ever had the good fortune to sink my gnashers into!  I knew I was onto a good thing when I started to toast the wheat germ.  It released a sweet, malty smell that was intoxicating and had me doing a little dance in the kitchen.  I don't know who came up with that idea, but toasting that wheat germ was a stroke of sheer genius.  
I was tempted to cut down on the salt.  dmsnyder's recipe calls for 2.5% and at first I put in 2%, but after I tasted the raw dough, I realised it could do with the full 2.5%.  The extra salt is needed to offset the sweetness of the wheat germ.
The only addition I made was a 0.5% addition of diastatic malt because I have had really good results with it lately, particularly with sourdoughs that are retarted overnight. 
The crust:
The crumb: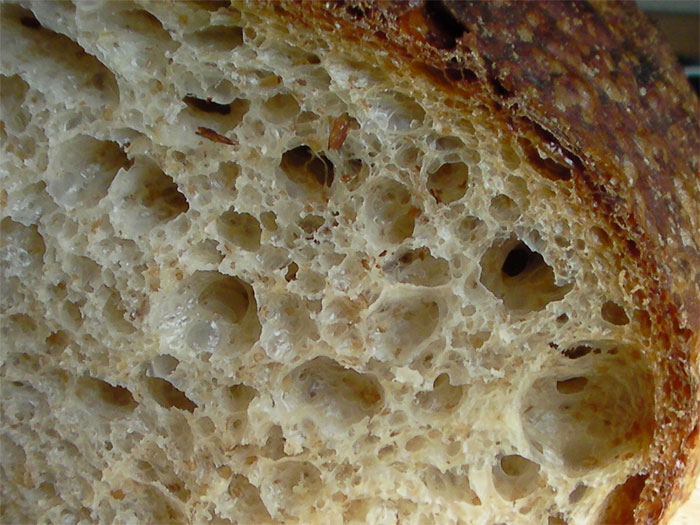 The taste really is something to write home about.  Like dmsnyder, I cut it after four hours.  It is one of those loaves that you want to tear open right there on the baking stone.  The crust shattered into little shards when I cut it.  It was beautifully crisp with a deep caramel, wheat flavor.  The crumb was tender and sweet with a very mild tang:  the perfect contrast to the crust.  It had a whole lot of levels of flavor that I can't even begin to describe, but suffice it to say, it had me oohing and ahhing and wishing I had doubled the recipe. (I had been tempted to scale down the quanitities and I am so glad I didn't).  Many thanks to all those who inspired me to bake this and especially to dmsnyder for the recipe.  This one is definitely a keeper.
Syd