Hey there Freshloafers,
I thought I'd poke my head out of the dough and cloud of flour to update you on the bakery's progress.
A few weeks ago I noticed that we had our two year bakery anniversary.  I think it went like this:
Me:  "Last week was two years for the bakery."
Sharon:  "Really?  When?"
Me:  "I don't know, some time last week, I think."
It wasn't exactly a 'stop the mixers and break out the champagne' type of celebration, but it was pretty cool to think of the progress we've made in such a short time.  Rather than summarizing the last two years, I thought I'd let you know what's happened in the past 12 months or so.  (Here's the post I did on our opening day two years ago; This is the post I did on our first year strategy)
During the slow months last year (November through April), I continued the baking for my wholesale accounts while working to finish the construction on the upstairs of our house.  Sharon had been patiently looking at sheetrock screw heads for the past couple of years.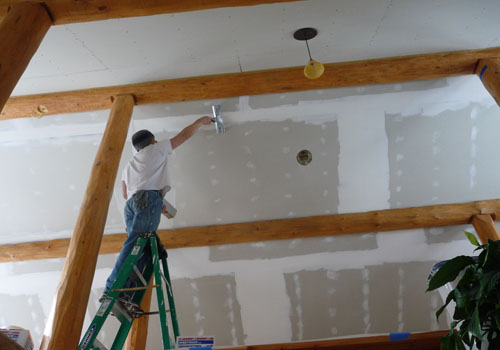 taping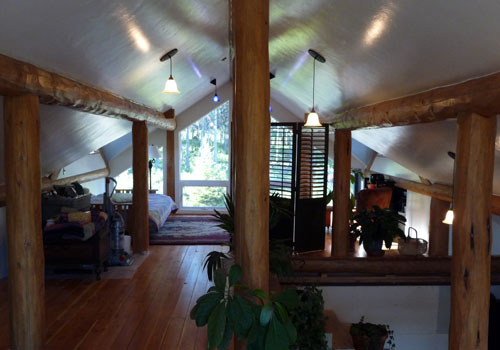 the loft
I also put in a new floor downstairs, which I completed just hours before our first farmers' market in the spring.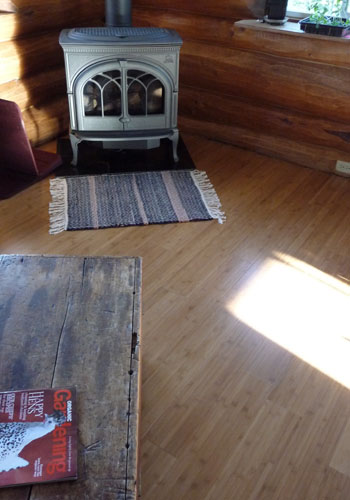 bamboo floor
The other goal during the off-season was to take my first days-off with the wife in two years.  If you missed that post, here's the link to my entry about our trip to Vancouver Island.
As far as the Baking Business goes, I continued the first year plan while making a few adjustments like:
1.  Cutting back on wholesale deliveries.  Thursdays is now my prep day which comes in awful handy now that the busy season is here.  It's now my laminating day since the place stays nice and cool without the ovens on.
2.  More special orders and special deliveries.  Last winter I used Friday as my 'home delivery' day to extend my farmers' market season a little bit longer.  I'll continue it this winter as I offer everything that I do at the market for home or workplace delivery ($10 minimum).  The new customers are very excited about this deal.
3.  DVD sales.  Last winter I started selling some baking technique DVDs, and that's definitely helped to supplement the long and slow winter.  Here's my post on them.  The next one will be on croissants.
Other than that, it seems that it's mostly business as usual.  There have been a lot of improvements as far as efficiency goes which have added up to 'a little less work making a little more product'.  I sleep in an hour later each day, but mornings are absolutely filled with baking and/or pastry prep for the busier days.  This leaves my afternoons a little more relaxed.  Funny thing, but the difference between waking up 1 hour later each day and sleeping in on Sundays is a big deal.  Ask any of the interns if they could've used an extra hour of sleep each day!  Plus sometimes we even get to eat dinner before 7.  Hey, not all the time, but every once in a while.
Anyway, that's about it.  I'll leave you with a few pictures of some of the special orders that I've worked on this past summer and spring.
Happy Baking.
-Mark
http://TheBackHomeBakery.com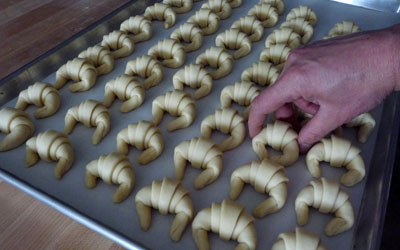 mini croissants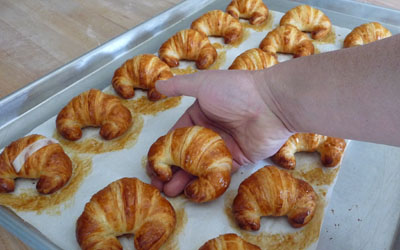 mini croissants baked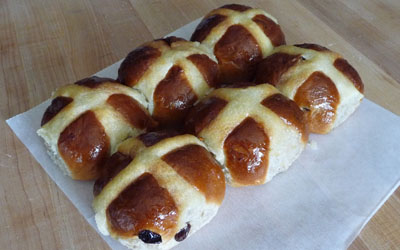 hot cross buns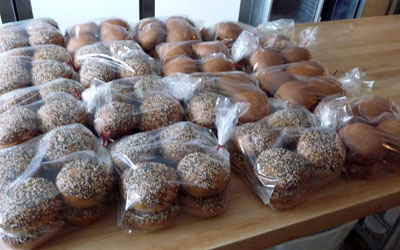 burger buns